"I am not throwin' away my shot''
Hamilton Road Trip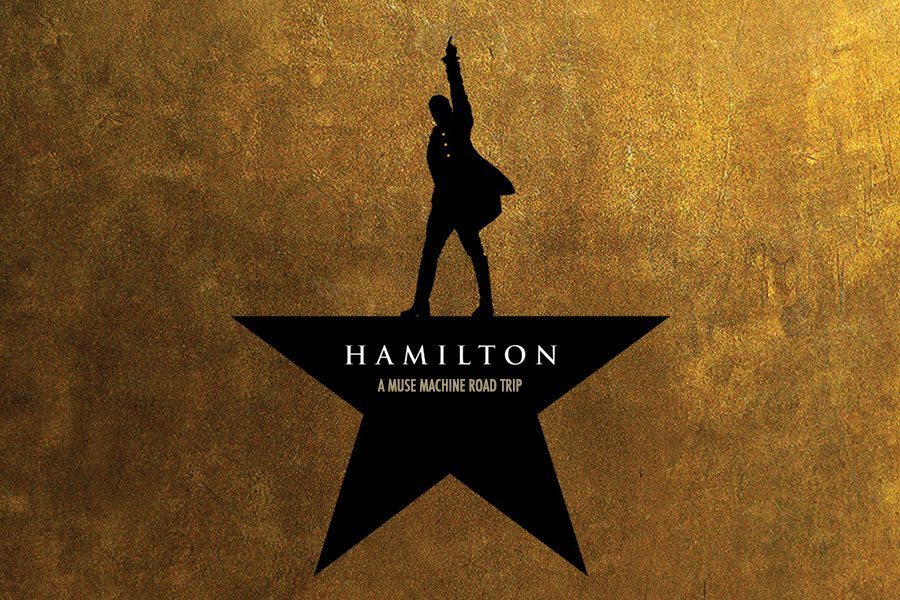 When tickets went on sale for the first run of the smash musical Hamilton in Chicago, months of performances sold out in a few hours. We'll take a bus to Chicago this March, filled with Muse members and the hottest tickets on the planet! Registration occurred in November, 2016 and hundreds of people turned out for the golden tickets. Approximately 50 lucky students were selected and will head to the windy city to enjoy Hamilton (and a bit more)!
Information below this area is for the students who are attending the Hamilton Road Trip and their families
Update: Thursday, March 9
Arrive at Muse Machine on Fri, Mar 10 between 4:00 and 4:40. Here's a helpful checklist for those attending the trip this weekend—you MUST have these things:
• have your liability release form (signed by a parent) in-hand as you enter the building (see Liability Release Form link, bottom of this page)
• $50 cash for meals
• if you plan to purchase Hamilton merchandise (entirely optional), know that items are rather expensive
• a WINTER coat (predicted 17-29 degrees; we will be walking outside!)
• a mobile phone (if possible)
• snacks for bus rides to and from Chicago (and drinks should have sealable caps, screw-top bottles, etc).
• one modest size bag (like a gym duffle) can ride under the bus and one backpack size bag can ride on board with you
• we will arrive back in Dayton late Saturday night, probably between midnight and 1:00am. Students will be advised when we are 60 from arrival and 30 minutes from arrival so parents can be notified. IT IS IMPORTANT THAT PARENTS BE WAITING DOWNTOWN WHEN THE BUS ARRIVES.
Basic Timeline
Students will check in at the Muse studio (this is where you registered to attend the trip back in November) between 4:00 and 4:40 on Friday, March 10.
Staff will check to confirm that each student does have:
•A signed copy of the Liability Form (link found below)
•$50 cash to cover meals (you may opt to bring additional $ for Hamilton souvenirs, but that is up to each family)
•One modest size piece of luggage—like a duffle bag, not a large suitcase—which can travel beneath the bus (you will not have access to this bag while on the road). This may contain your Saturday outfit, sleep clothes, items you need to get ready.
•One small bag—like a backpack—which will travel inside the bus with you. You may want any medications, homework, things to keep yourself busy, to travel in this bag.
•A winter coat (non-negotiable).
•A mobile phone, if possible.
Staff will look inside everyone's bags and purses to confirm that you have what you should and to confirm no alcohol, drugs or weapons are brought. Students will be taken to the bus where they and their bags will be loaded.
The bus will depart promptly at 5:00pm. Be clear—you cannot arrive at 5:00 (arrive between 4:00 and 4:40).
Along the way, the bus will stop once for dinner (fast food) and restrooms.
Expected arrival at our hotel (the Marriott Courtyard Chicago Downtown North) is approximately midnight. We'll check in and chaperones confirm that everyone is in their rooms and all is well.
The next morning (time TBA) we will wake the students, give a little time to get ready and eat breakfast together at the hotel. After breakfast, we will board the bus and transport across town to the theatre. After brief sightseeing, we'll eat lunch and then move into the theatre to find our seats prior to the 2:00 curtain time.
Following our time in the theatre, we'll convene, load back onto the bus and depart Chicago. Again, we'll stop en route once for fast food dinner and rest rooms. Estimated arrival time in Dayton is approximately between midnight and 1:00am.
Some of the time on the bus is your own, plus we'll have discussions and movies.
Cars & Rides
Have a family member drop you off on Friday and pick you up on Saturday. We cannot recommend a place that you can safely leave your car that will also be accessible to you when you return. Play it safe and arrange rides.
Friday is easy—be at Muse between 4:00 and 4:40.
On Saturday, the bus driver will tell students when we are one hour from arrival and 30 minutes from arrival. Students can call their rides so that rides can be downtown when we arrive. Cars can line up along Main Street, outside the Victoria Theatre. We will exit the bus in one fell swoop and will be happy to walk students to any cars if they like. Police are aware of our return and will provide extra attention.
What To Wear
Friday is about comfort. From the time you arrive at Muse you'll be on a bus almost the rest of the day, emerging briefly to pick up food at a fast food restaurant. Be appropriate but be comfortable.
On Saturday you'll have to dress with multipurpose in mind. You'll be outside in downtown Chicago a bit (current predictions in the 30s and 40s). You'll be in a wonderful theatre. And you'll be back on the bus for the ride home. You may not have an easy opportunity to change for the bus ride, but you might dress with layers that you can shed when you get to the bus, etc.
We'll be in close company so be aware of hygiene. Shower. Use deodorant. Do not use perfume or cologne. Comfy shoes on the bus are great, but do use shoes.
Rooms
First, we are not in these rooms very long. Be clear that we will sleep in these rooms and then check out again. There will be two people in each room, same gender. If two students already know each other and want to room together, we'll honor that. If a student does not yet know anyone on the trip, we'll pair them with a new friend. Each room has a Queen bed and a sleeper sofa and roommates can determine who sleeps where (or flip a coin). Using the link below, please indicate if you know with whom you'd like to room or if you'd like us to suggest someone.
Two New Forms
Because who doesn't love forms! These are quick, we promise. Linked below, these should be filled out by a parent or guardian.
The first provides emergency contact information. It will ask for contact info for the student's doctor and dentist as well as info about their insurance (a little heads-up so you can have that info handy before you fill out the form). Please complete and submit this form this weekend (before the morning of March 6).
The second second is a liability form (similar to the one signed when the student joined Muse Machine). This is a paper form—please print, have a parent sign and this MUST come with the student on Friday.
Roommate Preference
Emergency Info Form
Liability Release Form