Introduction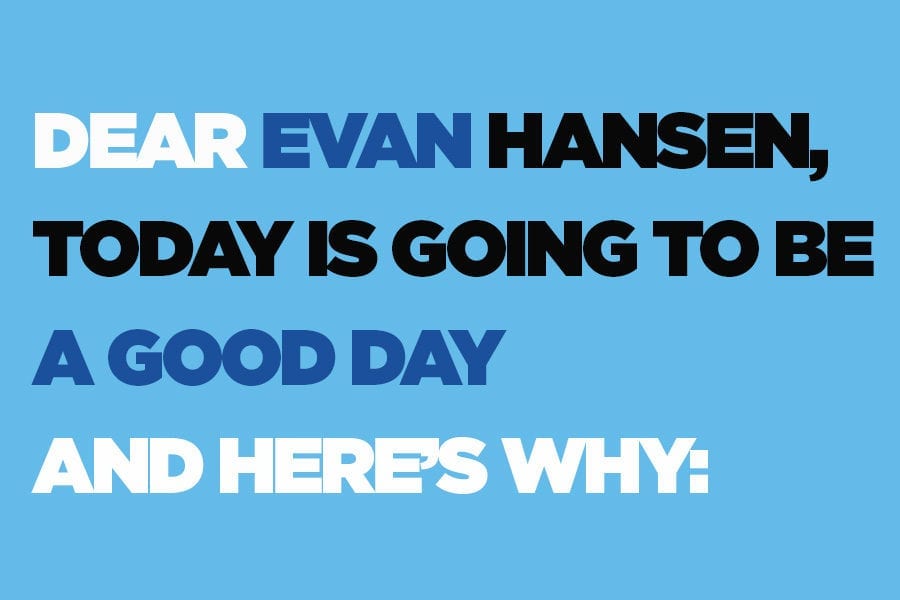 A letter that was never meant to be seen, a lie that was never meant to be told, a life he never dreamed he could have. Evan Hansen is about to get the one thing he's always wanted: a chance to fit in. Both deeply personal and profoundly contemporary, Dear Evan Hansen is an original American musical about life and the way we live it.
Cast of Characters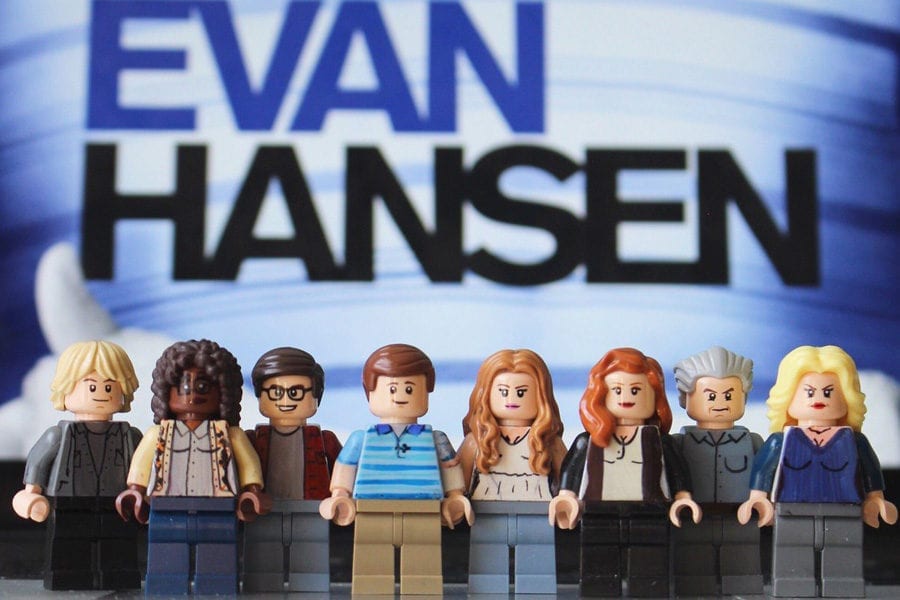 From the notebook of book writer Steven Levenson:
Evan Hansen (17) Smart, sincere, and cripplingly self-conscious, Evan prefers to hover in the background, a supporting player in his own life, too afraid to step forward into the spotlight and risk ridicule or, what might be worse, no one noticing him at all.
Heidi Hansen (40s) Evan's mother. Overworked and stretched too thin, Heidi loves her son fiercely, but fears they have begun to grow apart. She is prepared to do anything to repair the damage.
Zoe Murphy (16) Sensitive and sophisticated, Zoe couldn't care less about the status games and popularity rites of high school. Funny and bright, she feels a terrible ambivalence about her brother's death, finding it difficult to forgive him for all he did, and forgive the part of herself that finds relief in the fact that he's gone.
Connor Murphy (17) An angry, disaffected
loner, Connor has been a troubled kid for as long as anyone can remember, an enigma and a source of endless consternation to his long-suffering parents and sister.
Cynthia Murphy (40s) Connor and Zoe's mother. To Evan, she seems to be the perfect mother, nurturing, available, and willing to talk about anything. To her own children, it's a bit more complicated.
Larry Murphy (40s) Connor and Zoe's father. Though often tense and taciturn, Larry shows a different face to the world, representing for Evan the dad he always wished for: strong, confident, and, more than anything, reliable, someone to be counted on.
Jared Kleinman (17) Droll and sarcastic, Jared claims to be forced by his parents to hang out with family friend Evan, for whom he ostensibly has nothing but disdain. Jared covers his own obvious insecurities with a well-practiced braggadocio and a know-it-all arrogance.
Alana Beck (17) Alana is an incredibly genuine person. Everything she does comes from a place of deep honesty and tremendous feeling. All of the characters in this musical put up masks of sorts. For Alana, it's a façade of cheerfulness. She is always ready with a smile, a note of encouragement. This hides the loneliness underneath.
Members of Dear Evan Hansen's Broadway cast and the book writer chat and perform at the Talks At Google event:
At this TEDx Broadway presentation, a Dear Evan Hansen audience member tells her story of the transformative power of seeing herself reflected on stage:
Musical Numbers
ACT I
"Anybody Have a Map?"…Heidi, Cynthia
"Waving Through a Window"…Evan, Company
"For Forever"…Evan
"Sincerely, Me"…Connor, Evan, Jared
"Requiem."…Zoe, Larry, Cynthia
"If I Could Tell Her"…Evan, Zoe
"Disappear"…Connor, Evan, Alana, Jared, Cynthia, Larry, Zoe
"You Will Be Found"…Evan, Company
ACT II
"Sincerely, Me" (Reprise)…Connor, Jared
"To Break in a Glove"…Larry, Evan
"Only Us"…Zoe, Evan
"Good for You"…Heidi, Alana, Jared, Evan
"You Will Be Found" (Reprise)…Company
"Words Fail"…Evan
"So Big/So Small"…Heidi
"Finale"…Company
To listen to the Dear Evan Hansen Original Broadway Cast Recording, explore character-inspired playlists and more, visit the Dear Evan Hansen artist profile on Spotify.
"Waving Through a Window" performed at the 2017 Tony Awards:
In Conversation with Steven Levenson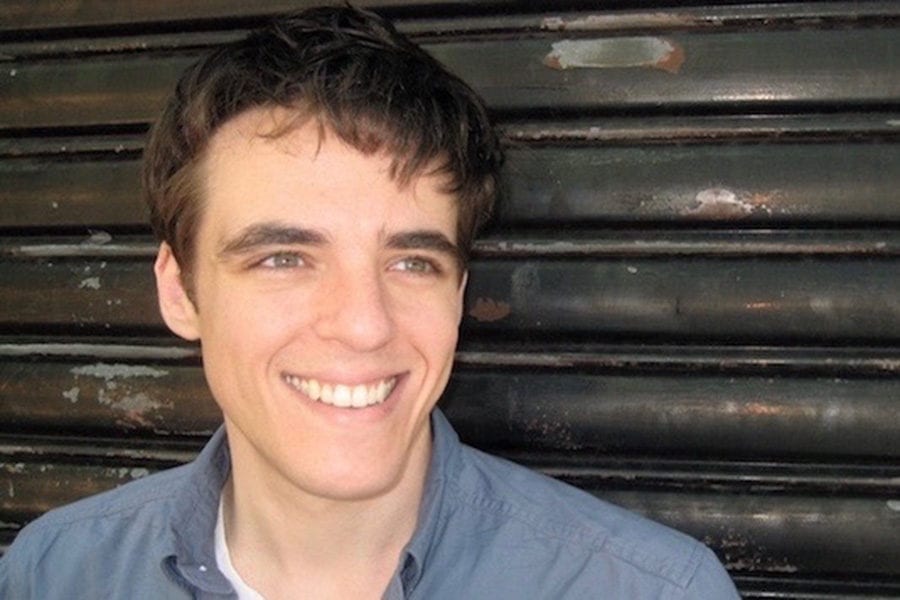 Steven Levenson is a celebrated playwright, and a 2017 Tony Award winner for writing the book for Dear Evan Hansen.
On the role of a book writer:
In the case of the musical, as a book writer, your job in a lot of cases is to support the score and to make sure the most important moments emotionally are happening in song. So, it's a lot of figuring out when to step out of the way, and to make sure that you've laid the ground enough — and not too much — so that those characters can make the leap into song.
On creating a new musical:
In a way, there's a great freedom about [creating an original work]. We are not beholden to any preexisting vision, but with that freedom comes a lot of anxiety — because we can do anything we want. That can be both freeing and terrifying. [As told to The Washington Times]
On collaborating with Benj Pasek and Justin Paul:
I think the role of the book writer can be very different things. In this case, since there was no source material, it was really the three of us coming up with this idea together. We started with this idea of "connection" — people's desire and thirst and need for connection. My instinct was to create a story about someone who could not connect in a world that is all about connection and interconnectedness. What does it mean to have a protagonist who is somehow unable to connect? So slowly, Evan began to take shape.
It seemed like the best idea was for me to just write the story like it was a play, because we didn't have anything else to go on. So I started writing the first act. Where we had talked about possibly placing songs, I would leave space in the script. I would either have nothing or I would have a long monologue — a soliloquy, really — with a character diving into his thoughts to suggest what was happening emotionally. That's how it all started, with this first draft.
From there, Benj and Justin started writing songs, but there was a lot of back and forth and rewriting. It was an endless dialogue — two steps forward and one step back — because you are building this thing together. It's a little bit chicken and the egg. You have to be constantly making it and remaking it to accommodate one another — always in service to the story.
On writing plays versus musicals:
It's so different in so many ways. The big obvious difference is that it's collaborative from the start — and that your vision is not the only vision. It's about finding a shared vision with your collaborators. You want to be a little bit hidden in the background at times — you want the music to be the star and the music to do the heavy lifting. So it's a lot of cutting the things you love the most, and allowing the ideas that you have or the dialogue that you've written to become a song. It's actually really amazing, though, because it feels like something that you just had in your head becomes three dimensional in a way that you could never imagine.

On social media as a character in the show:
We knew we wanted to tell a contemporary story that's set today, and we knew that we had to somehow talk about social media. I compare it to Bye Bye Birdie, when they're using the telephones in "The Telephone Hour." It's like they're not using the telephones to talk about telephones, they're using them because that's how their world functions. And if we tried to tell our story today without cell phones and social media, there would be a real inauthenticity about the show. And at the same time we wanted to be sure we're using social media as a storytelling device and we were never interested in exploring social media as a theme or as an idea. We always wanted to make sure it was grounded in the story and part of the grammar of the show. [As told to Broadway Direct]
On creating two very different families for Dear Evan Hansen:
Both families really came into focus as the story itself took shape. Larry and Cynthia Murphy, we knew, had to represent everything that Evan's own splintered family wasn't, his fantasy of what two stable and emotionally available parents might look like. As with all fantasies, Evan's rose-colored vision of the Murphys turns out to have a tenuous relationship to the reality underneath, but that discovery will only come later for him.
In contrast to this ostensibly perfect family, Evan's mother, Heidi Hansen, strives to be what her son needs her to be, but everything she does seems only to push him further away. The most important thing for us, in creating these characters, was to present them honestly and without judgment: three parents striving in their own flawed and imperfect way to do what's best for their children.
Original Source Material:
DiLella, Frank. "Dear Evan Hansen: A Contemporary Musical for All Ages ." BroadwayDirect.com, November 1, 2016.
Leslie, Emily. "Levenson's Dear Evan Hansen Opens at Arena Stage ." The Washington Times, July 7, 2015.
Steven Levenson (Book) Author of The Unavoidable Disappearance of Tom Durnin (Roundabout Theatre Company, Outer Critics Circle Award), Core Values (Ars Nova, Drama Desk nomination), Seven Minutes in Heaven (Colt Coeur), The Language of Trees (Roundabout), and the book for Dear Evan Hansen (Second Stage; Obie, Outer Critics Circle Awards for Best Musical and Best Book of a Musical; Arena Stage, Helen Hayes Award). His plays are published by Dramatists Play Service and Playscripts. A graduate of Brown University and former artist in residence at Ars Nova, he is a founding member of Colt Coeur and an alumnus of MCC's Playwrights Coalition.
Composing with Pasek & Paul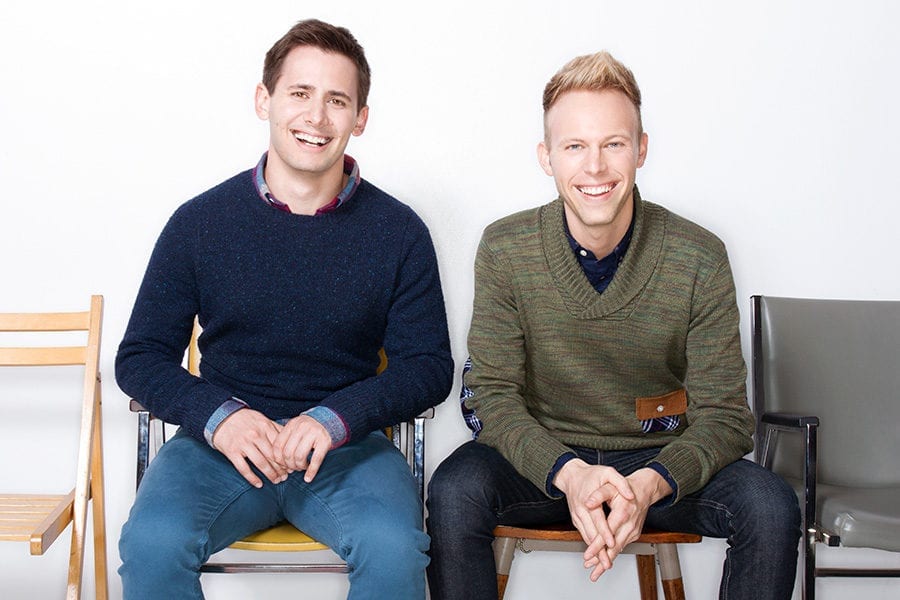 The Oscar, Tony and Grammy Award-winning pair of Benj Pasek and Justin Paul have worked together as a dynamic musical duo since their college days—a partnership that has taken them to Broadway, Hollywood and beyond. You might have also heard their work in film projects such as La La Land and The Greatest Showman. Here, the two talk about how their collaboration began and how they brought their original musical to life.
How did you become a composing team?
BP: We both went to the University of Michigan for musical theater. We went there to be actors. For a lot of people who love the theater, when you're young, acting is your way in. But halfway through school we realized maybe we're not cut out to be performers… After many failed attempts to get good roles in our school shows, we saw the writing on the wall and thought, "Why don't we write our own show, and see what we can make of that?" [As told to Metro Weekly]
JP: We just started doing it for fun. We were freshmen in college when we began tinkering. It was fun to develop songs thinking from characters' perspectives. We decided to string some of these songs together and make a song cycle our sophomore year. People were receptive. I think before we even knew what was happening we had begun a collaboration. [As told to Metro Weekly]
What role did music play in your childhood?
JP: I grew up in a pretty musical household. Neither of my parents are professional musicians, but they're very, very musical. My dad and my mom would sit down and play the piano. I grew up playing a lot of music in church, and singing with my parents. I started taking piano lessons when I was 7. So they were always very encouraging and they knew that I had a love for it and a knack for it. [As told to Metro Weekly]
In addition to being a performer, I always wanted to be in the pit orchestra, playing piano or percussion. I always saw myself being involved on the musical side of things in musical theater. I just figured it would be interpreting and teaching and working out other people's music. I hadn't really planned on it being my own music. [As told to Metro Weekly]
BP: My mom created a bunch of kids' albums where she would document whatever we were doing growing up and she would turn those moments into songs. She had a children's music group in our local area of Philadelphia. So I grew up just witnessing my mom, who's a psychologist — not a professional musician — turning life moments into song. That's essentially what we do every day, when we try to create theater. Watching her interpret things that were happening in the world, or in my world as a kid, and setting them to music — I think that really sparked an interest in writing and creating and interpreting life moments into song lyrics. [As told to Metro Weekly]
Facebook and YouTube were instrumental in circulating your early music. Can you elaborate on the role the Internet played in launching your career?
JP: For us, in terms of songwriting, having our stuff out online was a huge way to be able to connect with people, and musical theater fans all over the country and all over the world, in a way that couldn't have happened 20 years ago. People knew our songs and knew our music before we ever had a show in New York City.
BP: In terms of our careers, I think we were in the right place at the right time, and started writing songs at the right time. We were in college in 2005 and that was a year after Facebook began. And the year that YouTube began. And I think that really changed the way that people had access to new material.
BP: Before that, shows needed to exist in New York — you needed at least an Off-Off-Broadway production to spread the word. What was so revolutionary about Facebook and YouTube was this democratization of who could have access to putting stuff online, and being able to see it right away. So, you could be in Iowa or Singapore and you could see your content immediately without having to go to New York. And as writers, we didn't have to go through any traditional means of getting it out there [through agents or producers] — we just put it online. [As told to TCG]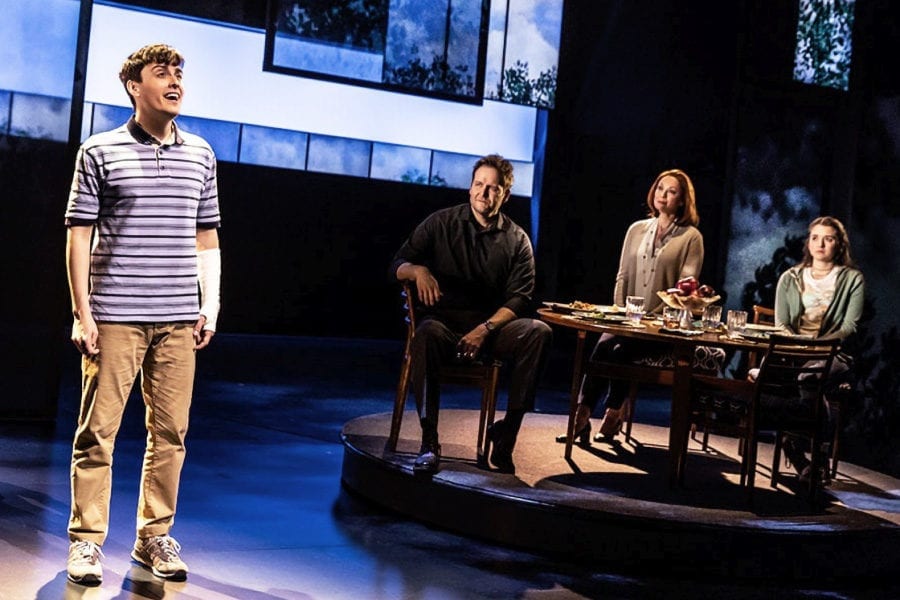 Tell us a bit about how the idea for Dear Evan Hansen originated. I understand that it was born out of your own high school experience.
BP: There was a student who was sort of anonymous. He died of a drug overdose, and it was sort of unclear whether it was intentional or not. After he passed away the student body became very, very close to him. Everybody sort of claimed him as their best friend after he died, and began to write their college essays about him, and began to talk about how amazing he was and how important he was in their lives. [As told to Metro Weekly]
When Justin and I met in college, and we began to write musicals, this moment from my high school days continued to be fascinating. We talked about exploring it in a musical. Since then, we've brought up a lot of other themes that we wanted to talk about — there's sort of a need to connect, the need to be part of a community, the need to be a part of something larger than yourself, especially in the digital, isolated age that we now find ourselves in. We began to explore how we could take those themes and turn them into a musical. And that's when the amazing Steven Levenson came into the picture and helped us to churn our ideas into an actual plot. [As told to Metro Weekly]
JP: We noticed certain things about our culture… some things that were fascinating about the modern response to tragedy and loss. We became very interested in the world's response to loss. And how people grieve and also communicate in the era of social media.
JP: It made us think about our desire to connect, and our desire to be a part of something larger than ourselves. Despite our great connectedness through Facebook and Twitter and all of these social media platforms, despite being as connected as we've ever been as a society …
BP: We're more isolated than ever. All of us, teenagers and adults alike.
JP: And so we wanted to use that as the backdrop of our story, but we're telling it through the specific story of a family. This family is looking for that kind of connection, and in losing someone they love, they try to fill that void.
Can you talk a bit about the character of Evan Hansen? He is a risky, unusual protagonist.
JP: It's definitely an unusual one in that he's riddled with issues and anxieties, and with lots of self-esteem issues and a lot of other things. But I think that's what makes him very accessible and identifiable and relatable. Hopefully everyone can go and see the show and see a little bit of Evan in themselves, and feel like they can connect with him, or at least connect with the situations that he finds himself in — he doesn't know the right thing to say to people, or how to fit into a conversation, or how to be himself and not try to create or embellish a story about himself that is better than what he thinks his real life is.
It's a different sort of character and maybe not your typical musical theater leading man, but that's definitely what we were hoping to write — a contemporary and relevant and accessible character. [As told to Metro Weekly]
BP: Traditionally, in Musical Theater 101, you learn to try to write a protagonist who people like and root for on their journey. In Dear Evan Hansen, we have a protagonist who does things that are really morally questionable. It's our jobs as writers to try to get the audience to identify with him and to support why he does what he does. We wanted to try to a create character who was more complex — and more nuanced — than maybe more traditional musical theater characters. We'll let critics and audiences be the judge of whether or not we have succeeded or failed. [As told to Metro Weekly]
Benj and Justin talk about being composers in the age of YouTube at TEDx Broadway:
Steven, Benj and Justin discuss Dear Evan Hansen on Theatre Talk (Part 1):
Steven, Benj and Justin discuss Dear Evan Hansen on Theatre Talk (Part 2 – this video begins at 15:00 with the Evan Hansen portion of the program):
Original Source Material:
Rule, Doug. "Perfectly Composed: Pasek and Paul are the future of the American musical ." MetroWeekly.com, August 13, 2015.
Evans, Suzy. "You Tubesicals: The Internet Is Reinventing How Musical Theatre Is Distributed and Licensed — and Even How Shows Are Being Written ." American Theatre, Highbeam.com, July 1, 2014.
Benj Pasek and Justin Paul (Music and Lyrics) are the Tony, Oscar, Grammy and Golden Globe Award-winning songwriting team behind Dear Evan Hansen. Other Broadway: A Christmas Story, The Musical (Tony, Drama Desk, Outer Critics Circle nominations). Off-Broadway: Dear Evan Hansen (Second Stage; Obie, Drama Desk, Drama League, Outer Critics Circle awards); Dogfight (Second Stage; Lucille Lortel Award and Drama League, Outer Critics Circle, London Evening Standard Award nominations). Regional: James and the Giant Peach (Seattle Children's Theatre) and Edges (Capital Repertory Theater). Film: La La Land (2017 Academy Award and Golden Globe Award), The Greatest Showman (2018 Academy Award nomination and Golden Globe Award), Trolls. Upcoming film projects: Aladdin, Snow White, Foster. Television: "A Christmas Story Live!" (2018 Emmy Award nomination), "Smash,""The Flash." The Dear Evan Hansen original Broadway cast recording received the 2018 Grammy Award for Best Musical Theater Album, and The Greatest Showman original motion picture soundtrack is certified Quadruple Platinum in the U.K., Double Platinum in the U.S., and Platinum in Australia, Canada and New Zealand. Additional honors: Richard Rodgers Award for Musical Theatre (American Academy of Arts and Letters), ASCAP Richard Rodgers New Horizons Award, Jonathan Larson Award. Both are graduates of the University of Michigan Musical Theatre Program and currently serve on the Board of Directors for the Dramatists Guild Foundation.
Direction from Michael Grief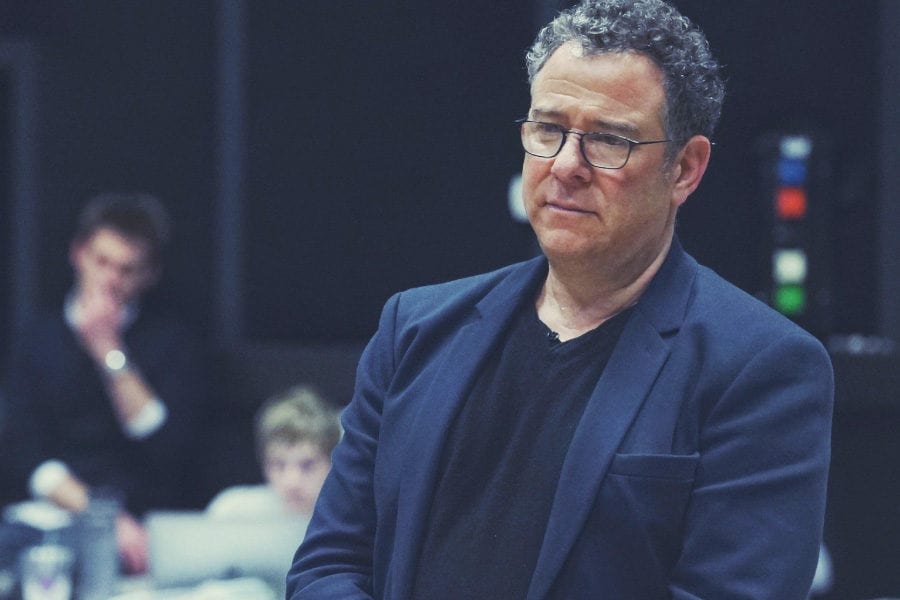 Can you talk a bit about the process of developing a new musical? What drew you to this project in particular?
What drew me to the piece initially was the opportunity to work with these collaborators, who I thought were exciting, and young, and very interesting theater makers. And then, when I first heard about what the piece was, I was very drawn to the complicated and emotional lives of the characters. I really thought that Benj, Justin and Steven were creating a piece where the characters… had very good reasons to express themselves through song and music. In such a heightened emotional arena it… the stakes are so high that it feels like the characters are singing for their lives. [As told to Playbill.com]
How would you describe the story of Evan Hansen?
It's a really truthful, smart, and sophisticated story about how 17-year-olds live in the world today … and about how parents relate to their children and how kids relate to their parents…. [It's] about a lonely kid, and how a family in crisis, a grieving family, in many ways adopts this lonely kid. And this kid finds a lot of love and a lot of support from this family, but also always knows that in many ways he doesn't deserve their love and support. At the same time the family is dealing with an extraordinary loss. And … they really make this kid a part of their family because they need this kid to be a part of their family. It fulfills an enormous need that they're suffering from — to have a surrogate son. [As told to Playbill.com]
What message would you like for people to take away from Dear Evan Hansen?
That everybody deserves a chance. And everybody deserves a second chance.
Original Source Material:
Rothstein, Mervyn. "Next to Normal's Michael Greif Stirs Up More Family Drama with Dear Evan Hansen ." Playbill.com, July 6, 2015.
Michael Grief (Director) received his fourth Tony nomination and a Helen Hayes Award for his work on Dear Evan Hansen. Other Broadway credits: Rent, Grey Gardens, Next to Normal, Never Gonna Dance, If/ Then, War Paint. Recent work includes Our Lady of Kibeho and Angels in America (NY's Signature Theatre); The Low Road, The Intelligent Homosexual's Guide…. Regional work includes premieres and revivals at Williamstown Theatre Festival (ten seasons), La Jolla Playhouse (AD, five seasons), Arena Stage, Center Stage, Mark Taper Forum, Dallas Theater Center, Trinity Repertory Company. Television: "RENT: Live." Greif holds a BS from Northwestern University and an MFA from the University of California, San Diego.
Making Music with Alex Lacamore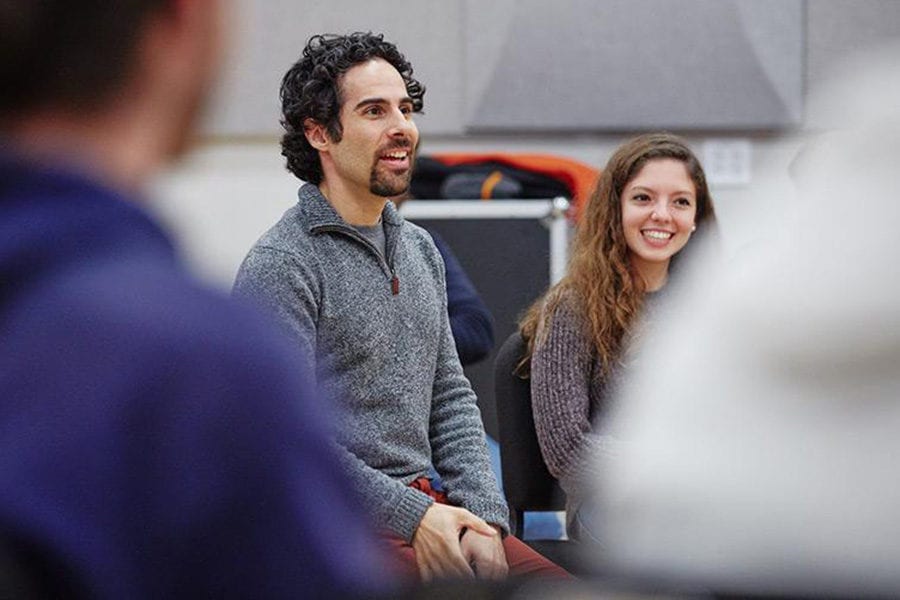 What exactly is the role of the Music Supervisor and how do you work with the composers to deliver the musical elements of the show?
The actual job of the music supervisor is to oversee all of the music in the show. I teach music to the actors. I work as a liaison between the composer and the actors, so if the composer wants to have a phrase sung a certain way or a song to be interpreted in a certain way, he will tell me and I will tell the actors and/or the music director. All musicals need a music director, but not all shows have a music supervisor. A music director, in our case, is the person who is actually conducting eight shows a week, playing piano, leading the band. As music supervisor, I have global supervision without having to be at the theatre for every performance.
As music supervisor I also work with the band to give them notes about how I think the music should be interpreted. I also work with the sound designer and give him notes about balance — "For this song I need the acoustic guitar to be softer, and for this other song I would love for you to play with the amount of reverb you have on the singer's voice."
I also work with the director of the show, Michael Greif. He will give me notes about certain things that he sees, like if he thinks that something isn't sounding clear or if there's an issue of musicaltiming. It's my job to actually figure out how to help music timeout with the lights and time out with the scene so that it feels right and organic and it is to the director's wishes.
So it's a lot of servicing. I cater to the director. I cater to the composer. I try to make the actors feel comfortable. And that is what I do just as a music supervisor without even discussing the fact that I'm also the orchestrator!
Tell us about your role as orchestrator.
The job of an orchestrator is to actually write down what every individual instrument in the orchestra plays.
As an orchestrator, it was my job to decide what I thought was the best number of musicians to have in the band for Dear Evan Hansen, which has eight players. And then it was my job to actually write out what we call "charts" — the sheet music for the band. So, for example, if I want the strings to play a chord, I have to sit down and figure out, "OK, the violin plays this note,the cello plays that note, and the viola plays this note, and the three of them together make this chord." I make decisions about what instruments play at any given time, because you don't want to have all eight instruments playing every second of the show — you need to use different colors at different moments.
For example: The guitarist doesn't play just one type of guitar; he has an electric guitar and a steel-string guitar. It's my job to decide which of those instruments he plays in any moment based on what I think sounds best for that song. I could have also asked for other guitars, like a mandolin or a nylon-string acoustic, but I didn't think those were the right flavors to have in the score.Same thing for the bass player: He has an electric bass and an acoustic bass and I have to decide which of those two he's going to use for which song, and when he's playing the acoustic bass I decide if he should use the bow to play it or does he use hisfingers to pluck it. I have to make those decisions and actually write that down for every bar of music in the show.

That's incredible because, when the composers give it to you, it might only be the piano part.
That's exactly right. A composer might hear in his head what he wants, but he might not have the technique or the vocabulary to make it happen. So I'm a translator in that respect.
You have experienced hearing loss since you were a child. How has this impairment affected your music and the work you do as musical supervisor?
My hearing loss probably makes me listen a little harder, makes me listen a little more closely to music. It's hard for me to hear someone when they are talking from far away, so because of that it allows me to live in my own bubble. I think that actually developed a lot of focus for me, because I can really zero in on music and just tune out the world and everything around me. Maybe because of the fact that I have to work to listen, it makesme really get into finer details of music that by now are verysecond nature to me. I often wonder, Is my handicap actually an asset? [As told to the Miami Herald]
Frias, Carlos. "How a Miami musician overcame hearing loss to help create the music to Hamilton." MiamiHerald.com, October 13, 2016.
Alex Lacamoire has won three Tonys and three Grammys for his work on the Broadway musicals Hamilton, Dear Evan Hansen and In The Heights. He won his fourth Grammy producing the soundtrack for The Greatest Showman, and is the recipient of the 2018 Kennedy Center Honors Award for his work on Hamilton. As Music Director, Arranger and/or Orchestrator on/off Broadway: Bring It On; Wicked;High Fidelity; Annie (2011 B'way revival); The People In The Picture;9 to 5 (Drama Desk and Grammy noms.); Legally Blonde, Bat Boy: The Musical. Film and television credits include FX's Fosse (Supervising Music Producer), The Greatest Showman (Executive Music Producer), Incredibles 2 (Arranger/Orchestrator), and Sesame Street (Emmy-nominated composer). Other credits: Godspell (2001 National Tour), orchestrations for The Rockettes and for the Oscars.
An Eye for Scenery: David Korins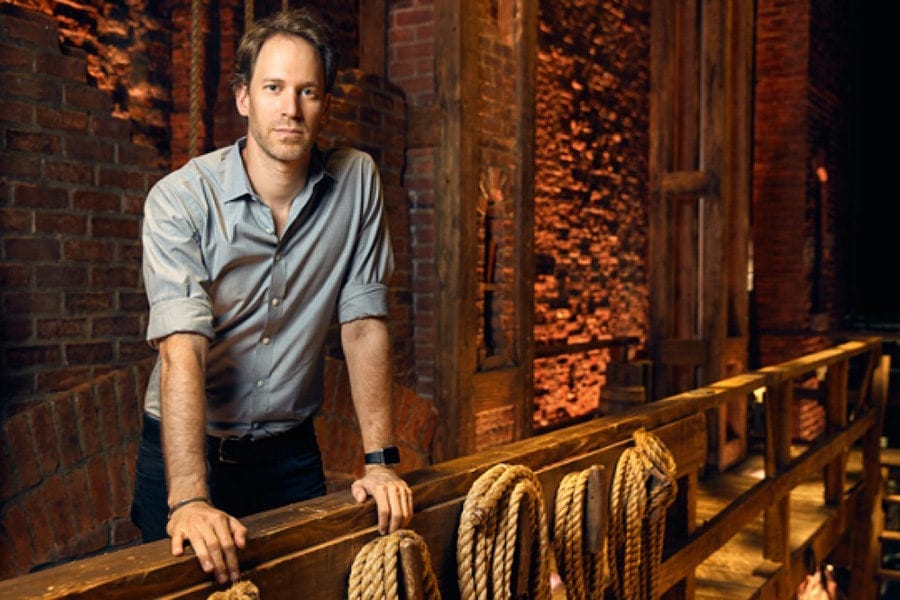 "Every design process has many steps — there is research involved, and ground plans, renderings, and models — but what was unique about the Dear Evan Hansen process was that I had an immediate visceral, emotional response to what I was seeing and hearing . I was trying to maintain this idea ofpeople floating through a void,on tectonic plates of life with their own internal monologues and their own emotional space, while at the same time trying to connect to each other and the world around them." —David Korins
David Korins' initial sketch and concept models for the Dear Evan Hansen set: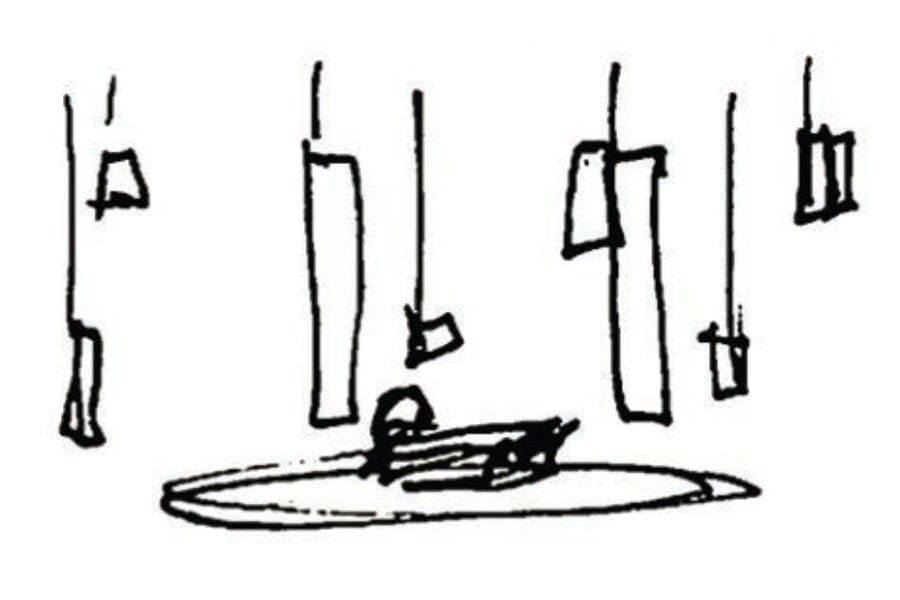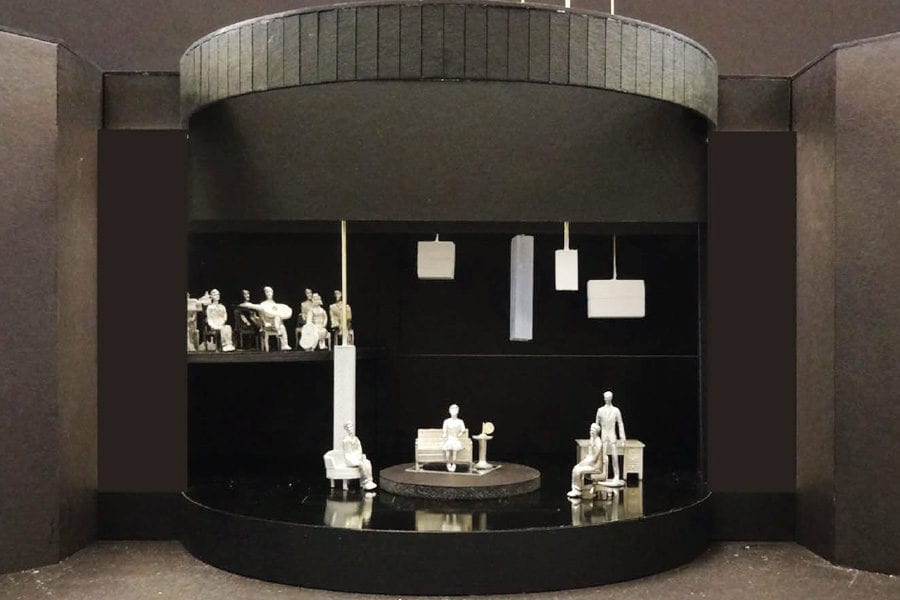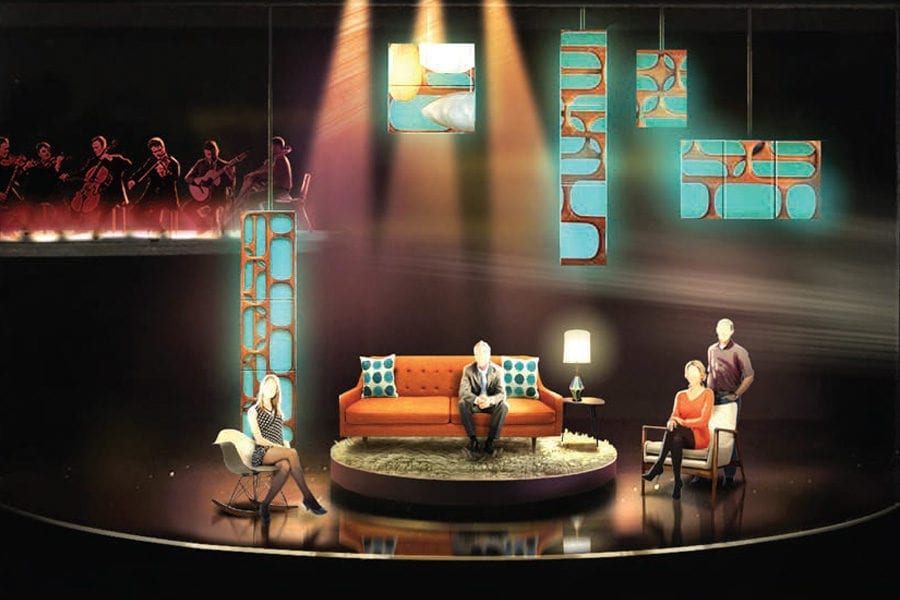 David Korins (Scenic Design) Broadway: Hamilton (Tony nom.), Bandstand, War Paint (Tony nom.), Misery, Motown, Vanya and Sonia…, Annie, Bring It On, Magic/Bird, An Evening With Patti LuPone and Mandy Patinkin, Godspell, Chinglish, The Pee-wee Herman Show, Lombardi, Passing Strange and Bridge and Tunnel. TV: "Grease: Live!" (Emmy Award). Concert: Bruno Mars, Lady Gaga, Kanye West, Sia, Mariah Carey, Andrea Boccelli. Extensive Off-Broadway, regional theatre, hospitality, event and experience design.
Focus on Projection: Peter Nigrini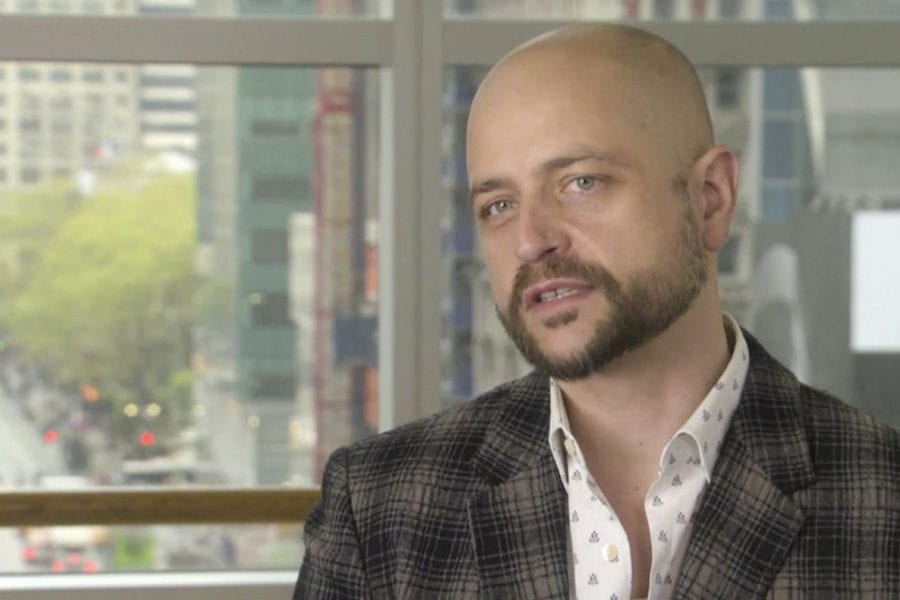 Can you talk a bit about the role of projections in the show?
From the beginning of my involvement, which was shortlyafter the script and score were solidified and really beforethere was an idea of what the whole physical production would become, the basic question revolved around the fact that so much of this story is about the way our characters interact with an online community, with social media, with people who maybe are not communicating face to face, but rather via Facebook and Snapchat and various social media platforms.
So Michael Greif asked me, "How do we put that community on stage and how do we represent them theatrically?" That was the challenge — how to breathe life into this online world,which is often very difficult to portray onstage, and how to dothat theatrically. That was the most important part. How do we both show those interactions but keep them poetic and lyrical? The same way that emotion is lifted by song, we needed to take what are often rather mundane interactions, like looking at our Facebook feed on our cell phones, and make that into something theatrical.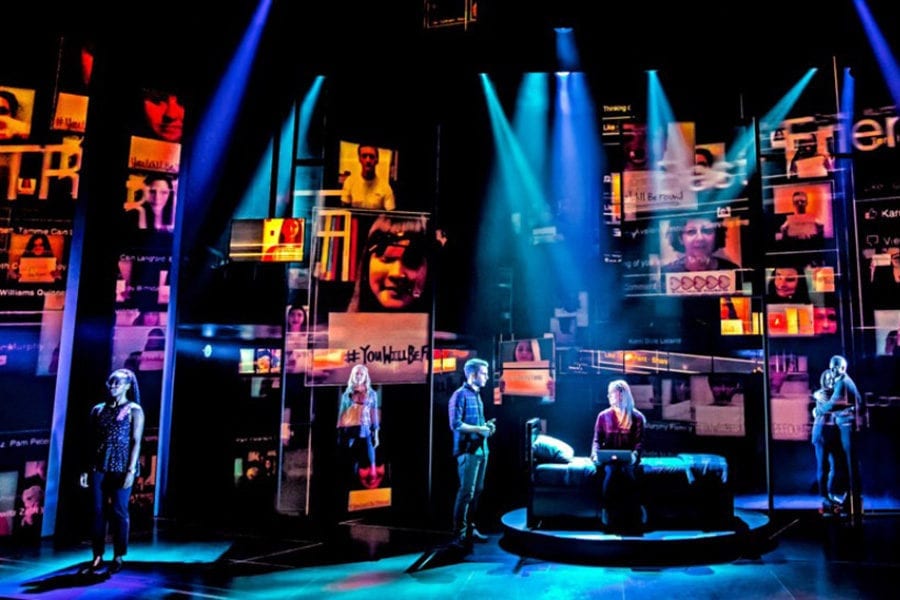 What is your process for building the projections?
The design process really started with coming up with a visual style and visual metaphor for how we wanted to present this information. So, long before we ever knew what David Korins was going to design for the set, there was this question of coming up with the style, coming up with a language for how image would be used and how it would move. So that's very abstract. That's about looking at art and other images and resources and trying to capture the feeling of the show. After that's done, it's then about how we implement that style.
A major part of the design comes from social media and using fragments of images that are part of social media. In a way, all of the images in the production are also drawn from that. So even in the situations where what we're trying to do is ultimately set a scene, like in the Murphys' living room, the way we are manifesting that onstage is by actually using fragments of images you might believe are snapshots that someone took of the Murphys' Thanksgiving dinner, for example. Then from that we're taking tiny little fragments of those photographs and piecing together almost a memory what the Murphys' living room might have been. So what that means is that the entire design is constructed out of tiny, tiny, little fragments of images that we've gathered from anywhere and everywhere so that the design is made up of over 1,000 images, and each of those is carefully processed and stitched together into this sort of collage that is the overall look of the show.
Peter Nigrini (Projection Design) Broadway: SpongeBob SquarePants; A Doll's House, Part 2; Amélie; An Act of God;The Heidi Chronicles; The Best Man; Fela!; 9 to 5. Elsewhere: The SpongeBob Musical (Chicago), Grounded and Here Lies Love (The Public Theater), Wakey Wakey (Signature Theatre), Notes From Underground (TFANA), Grace Jones Hurricanetour, Don Giovanni and Lucia di Lammermoor (Santa Fe), Blind Date (Bill T. Jones). For Nature Theater of Oklahoma: No Dice and Life & Times (Burgtheater, Vienna). Currently: Ain't Too Proud, Beetlejuice, Dave (Arena Stage).
Costuming Today: Emily Rebholz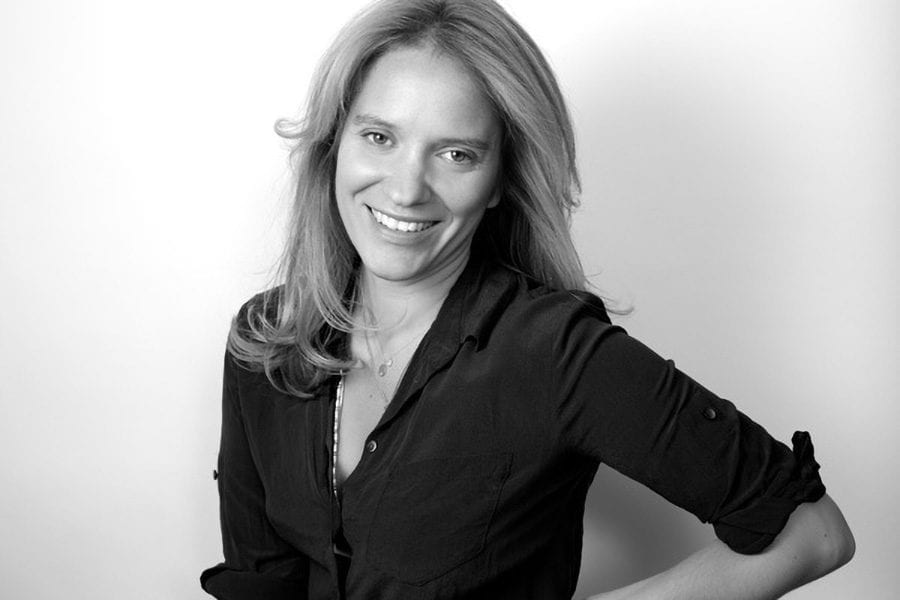 "I build a closet for each character and try out different options depending on the set and lights . But that L .L . Bean polo for Evan was never in question . It's an iconic piece of clothing … a safe choice for a teenager who is just trying to blend into the background . Footwear or something like that, especially for guys, it tells a lot about someone: where they shop, what they want to project, what clique they're in . Especially with teenagers, there's so much about image and what you're putting forward ." — Emily Rebholz
Emily Rebholz's creative concepts for the Dear Evan Hansen costumes: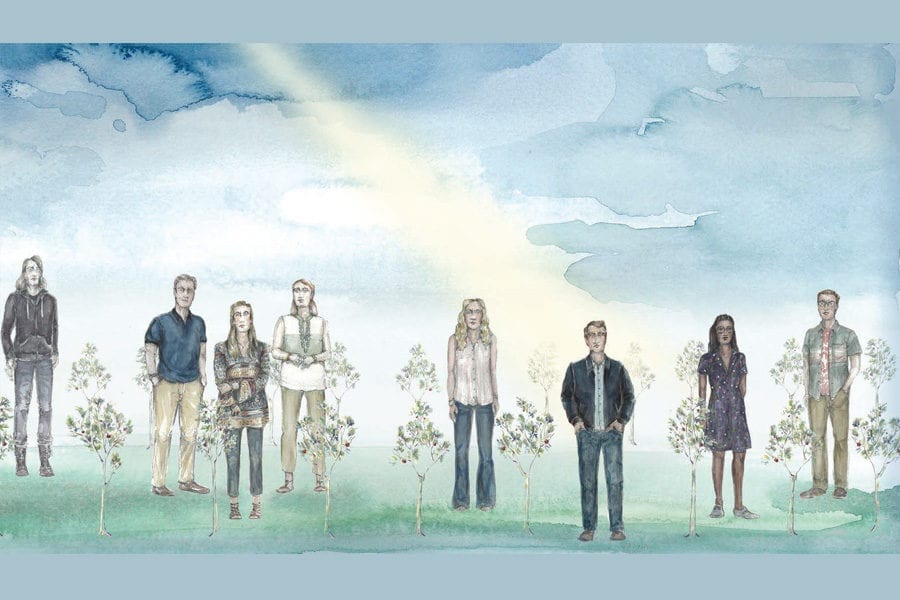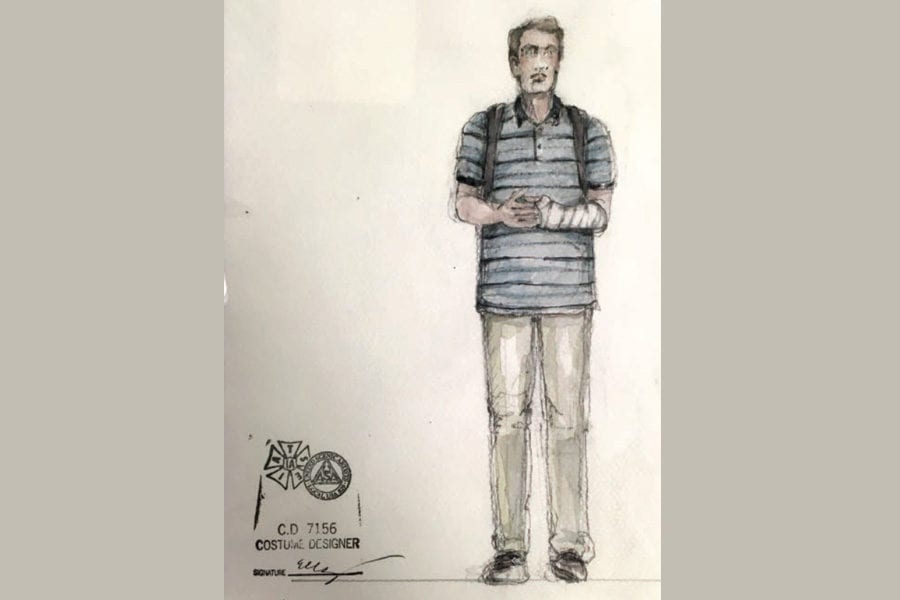 Emily Rebholz (Costume Design) Broadway: Indecent, Oh, Hello; If/Then; Vanya and Sonia and Masha and Spike; Bloody Bloody Andrew Jackson. Select Off-Broadway: Indecent (Vineyard Theatre); All the Ways to Say I Love You (MCC); Dear Evan Hansen, The Way We Get By (Second Stage); The Robber Bridegroom (Henry Hewes Design Award nomination, Roundabout); The Tempest (Shakespeare in the Park). Recent designs include Don Giovanni (Santa Fe Opera), La Bohème (Opera Theatre of St. Louis), Another Word for Beauty (Goodman Theater) and Disney's Freaky Friday (Signature Theatre). MFA, Yale University.
Think About It
Shaping Your Own Personal Narrative
In Dear Evan Hansen, Evan — with the help of his friend Jared — "reinvents" Connor through a series of fictitious emailsdetailing their "friendship." Through this imagined friendship, Evan also begins to reinvent himself. Together in "Sincerely Me" they sing:
'Cause all that it takes is a little reinvention
It's easy to change if you give it your attention
All you gotta do
Is just believe you can be who you wanna be
Sincerely, Me
Do you think it is possible to "reinvent" yourself — either how you perceive yourself or how others perceive you? How can believing in yourself help to shape your personal narrative?
Social Media: Catalyst and Accelerator
It happens every day in our modern world. We post a photo, a video or a "newsworthy" event to Facebook, Instagram or Twitter and within seconds the "likes" come pouring in, followed by dozens of comments, re-tweets and shares. Within minutes these numbers can multiply and within hours they can explode. Before we know it, that story is trending. The speed at which information can spread over the Internet is undeniable.
How can social media be used to control the flow of information/mobilize events/shape perceptions and alternatively how can it spin out of control — taking on a life of its own?
Your Online Self: Is It the Real You?
Some might say that social media sites offer them a place to share more of themselves than they might feel comfortable sharing in real life. Others might feel pressure to curate the most perfect version of themselves since it's so publicly on display.
Is the persona you project through social media the real you? Do you behave differently on different forms of social media?
The cast and creators of Dear Evan Hansen talk about growing up amidst social media:
Understanding Social Anxiety
In Dear Evan Hansen, the title character struggles with social interaction and maintaining relationships, isolates himself, and fears being judged by others. Although Evan's specific problem is not named in the play, these are classic signs of social anxiety disorder, a mental health disorder that affects many young people, usually beginning during the early teen years.
Also in the play, the character Connor Murphy takes his own life. Before his suicide, he is depicted as angry, oppositional, and isolated, which may be seen in young people struggling with depression. Self-harm, suicide attempts, and completed suicide are also strongly linked to adolescent mood disorders such as depression.
What is social anxiety?
In the teen years, young people start being more aware of what other people think. There are "right" things to wear, or say, or do — and things that teens shouldn't do that could be embarrassing or weird. Some feel so worried about what others are thinking about them that it starts to impact negatively on their everyday lives. This kind of worry is called social anxiety disorder.
Kids with social anxiety disorder aren't just nervous when they are at parties or giving a speech in class. Even answering a question in class can feel extremely scary; some kids worry they will humiliate themselves simply by eating in the school cafeteria or walking into a room. That's because kids with social anxiety fear they might do something embarrassing or offensive, and it will make others judge or reject them.
What is depression?
A young person with depression experiences persistent, intense feelings of sadness, hopelessness, and irritability that make it hard to function day to day. We don't know exactly how or why depression develops, but it's not usually caused by bad things happening.
Depression is called an "internalizing disorder," which means that it primarily affects a young person's emotional life rather than their behavior. Because of this, it can take a while for others to recognize it — or for a young person to realize that his/her thinking, and emotional responses, is troubled. Adolescent depression is more common than some people think. According to some statistics, more than 12 percent of teens ages 15 and 16 struggle with depression . For teens ages 17 and 18 it jumps to more than 15 percent.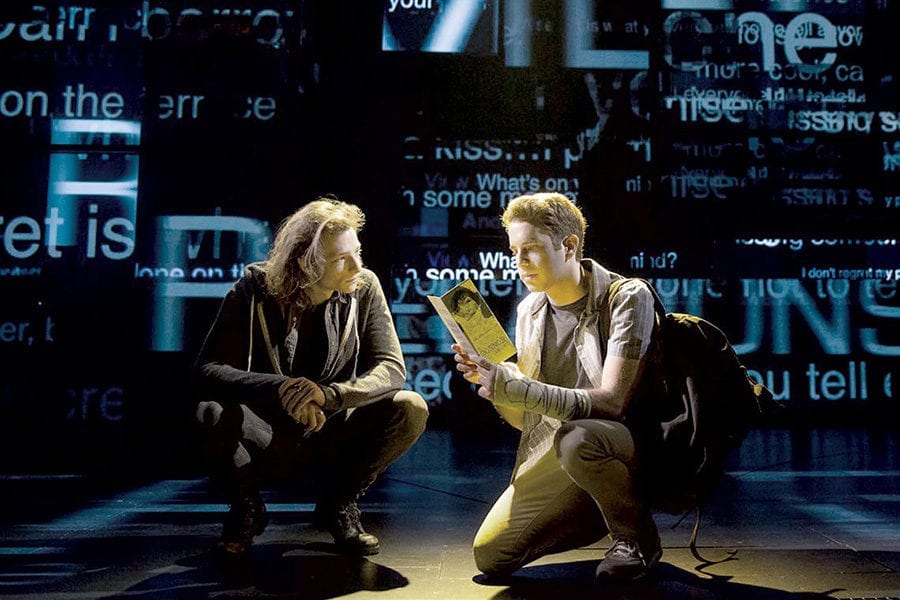 How can you spot social anxiety and depression?
Young people with social anxiety disorder often think their anxiety is obvious, which can create more anxiety. But, in actuality, other people might not recognize it, because a lot of the symptoms of anxiety are happening under the surface. Panicked thoughts, a racing heart, or an upset stomach aren't apparent from the outside. For other kids, however, anxiety can produce outward signs such as anger or aggression.
Similarly, since adolescents are often moody, it can be difficult to recognize when someone has become depressed. The first signpeople tend to notice is withdrawal from friends, or when someone stops doing things he/she usually likes to do.
These are some of the most prominent signs of depression in teens:
Persistent sadness or irritability
Feeling worthless, or hopeless about the future
Diminished interest in most activities, especially things they used to enjoy
Changes in eating or sleeping patterns
Low energy and motivation
Decline in academic performance
Decreased ability to think or concentrate
Thinking about suicide or death
The stigma of mental health disorders
Many people don't want to believe that young people can have mental health disorders such as depression and anxiety. They say that young people with serious mental health problems are just going through regular growing pains. As we see in Dear Evan Hansen, the emotional problems that young people face are very real.
Adolescent psychiatric disorders are common (one in five childrenand teens struggle with a diagnosable disorder), and have real biological and environmental causes. But the denial of these facts leads struggling teens and their families to feelings of shame and fear of judgment. Millions of children and teens don't seek treatment because of this stigma, but it is vital to be open and ask for help.
How can teens get help if they are anxious or depressed?
Teens who think they need help with an emotional or mental health issue might not know how to ask for help. If they are very anxious, it might be embarrassing for them to admit that things that seem easy for other people are very hard for them. If they are depressed, they may worry that others won't understand and will tell them to "snap out of it" — or that family and friends will be disappointed.
But parents, teachers, and friends can be more sympathetic and less judgmental than teens imagine. First, however, they need to know how a young person is feeling. The sooner a teen asks for help, the sooner they will start feeling better.
Members of the Dear Evan Hansen cast discuss the importance of talking about anxiety and depression:
Don't Be Afraid To Ask For Help
The Child Mind Institute is an independent, nationalnonprofit dedicated totransforming the lives of children and families struggling with mental health and learning disorders. Their teams work every day to deliver the highest standards of care, advance the science of the developing brain, and empower parents, professionals, and policymakers to support children when and where they need it most.
The Child Mind Institute is dedicated to helping children reach their full potential in school and in life and is driven to create a brighter future for children through the following three commitments:
Give children access to the best, most effective treatments
Advance the science of the developing brain to improve diagnosis
Provide information that empowers families and communities to get help
The organization does not accept funding from the pharmaceutical industry. All resources are free.
Connect with the Child Mind Institute on Facebook, Instagram, Twitter and YouTube.
When a young woman texted DoSomething.org with a heartbreaking cry for help, the organization responded by opening a nationwide Crisis Text Line for people in pain. Nearly 29 million text messages later, the organization is using the privacy and power of text messaging to help people handle addiction, suicidal thoughts, eating disorders, sexual abuse, and more. But there's an even bigger win: The anonymous data collected by text is teaching us when crises are most likely to happen — and helping schools and law enforcement to prepare for them.
Text the Crisis Text Line at 741-741.
JED is a nonprofitthat exists to protect emotional health and prevent suicide for our nation's teens and young adults. JED partners with high schools and colleges to strengthen their mental health, substance abuse prevention and suicide prevention programs and systems; equips teens and young adults with the skills and knowledge to help themselves and each other; and encourages community awareness, understanding, and action for young adult mental health.
Learn more about JED programs: JED Campus (jedcampus.org), ULifeline (ulifeline.org), Half of Us (halfofus.com), Love Is Louder (loveislouder.com) and Set to Go (settogo.org).
Connect with JED: Facebook, Instagram, Twitter, YouTube and Email: jedfoundation.org/email
Founded in 1998 by the creators of the Academy Award®–winning short film Trevor, The Trevor Project is the leading national organization providing crisis intervention and suicide prevention services to lesbian, gay, bisexual,transgender and questioning (LGBTQ) young people ages 13 to 24.
Every day, The Trevor Project saves young lives through its accredited, free,and confidential phone, instant message,and text messaging crisis intervention services. A leader and innovator in suicide prevention, The Trevor Project offers the largest safe social networking community for LGBTQ youth, best practice suicide prevention, educational trainings, resources for youth and adults and advocacy initiatives.
Connect with The Trevor Project: Facebook, Instagram, Twitter and YouTube.
Led by Lady Gaga and her mother, Cynthia Germanotta, Born This Way Foundation was founded in 2012 to support the wellness of young people and empower them to create a kinder and braver world. To achieve these goals, Born This Way Foundation leverages rigorous academic research and authentic partnerships in order to provide young people with kinder communities, improved mental health resources and more positive environments—online and offline.
Connect with Born This Way Foundation: Facebook, Instagram and Twitter.
Hotlines for Help
If you or someone you know is having thoughts of suicide—don't wait…
Tell a trusted adult (parent, teacher, school nurse, coach, doctor, etc.)
Call an anonymous hotline:
The National Suicide Prevention Lifeline at 1-800-273-8255 (TALK)
The Trevor Lifeline at 1-866-488-7386
1.800.LIFENET (543-3638)
Text the Crisis Text Line at 741-741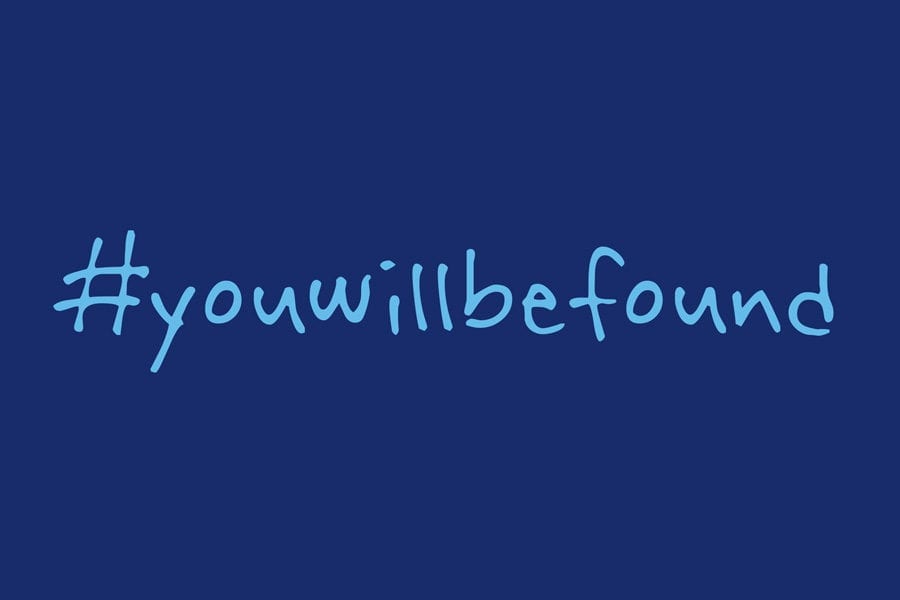 Visit the official Dear Evan Hansen website.
Most of the content of this resource comes from the Dear Evan Hansen Official Study Guide, compiled by Rachel Weinstein and Caitlin Clements for StageNotes.