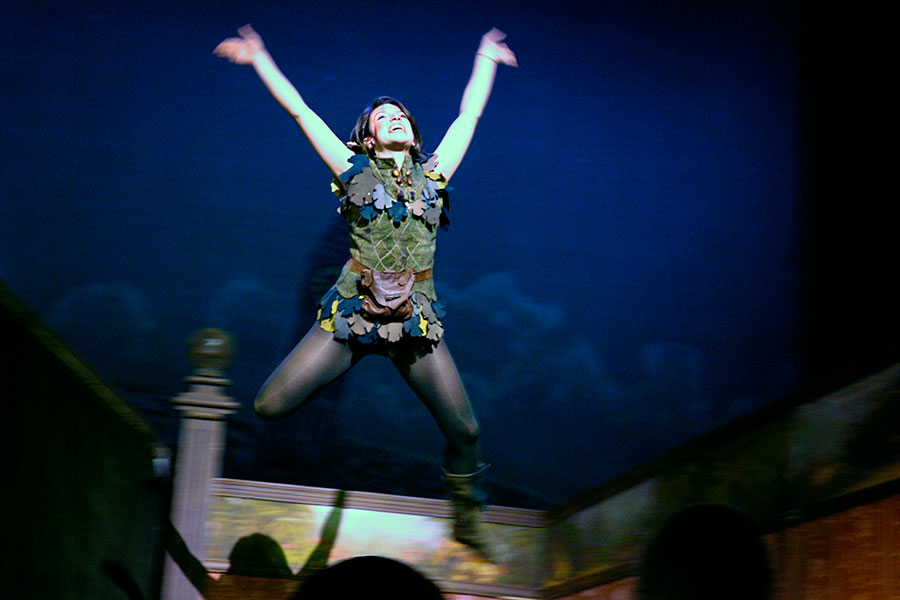 A CONVERSATION WITH ALEX FINKE
Ryan Vallo talks to Muse alum Alex Finke, who has received acclaim on Broadway, in London and in national touring productions.
RYAN   How have you been?  What's going on with you lately?
ALEX  I've filmed a couple of commercials. But on set, it's been crazy. I did a commercial for a local health company. There was a scene where they were celebrating Grandma's birthday, and they were blowing out candles on the birthday cake. The props guy started handing out pieces of the cake and asking if we wanted a piece — no thanks!
I wished I could have seen your Broadway debut in Les Mis on Broadway! After that you did Sweeney Todd?
That actually started over in London. It was an immersive production, set in one of the oldest pie and mash shops.  It was an operational shop during the day, with patrons coming in to have their lunch — and at night, they performed Sweeney Todd.
Stephen Sondheim actually attended and saw that production, and he was very instrumental in getting it moved, to have another production in the West End and  the US. Very wild and really fun.
How are you doing now?  With the whole community, with everything that's happened?
It depends on the day, to be honest. I don't think that people realize that with business and with Broadway being shut down — it's also so many people outside of the acting community that have been affected. And it's just not on Broadway and in New York, it's theatre everywhere.
Even during the Depression, Broadway went from 250 shows to 70 shows. But this is unprecedented with the entire industry being shut down.
Nationally, it's a $9 billion industry. The arts contribute more to the economy than the transportation industry. There is a tiny light at the end of the tunnel. The conservative estimate now is that maybe in the fall things will open up. We'll see, especially after vaccinations. I hope that there's a day soon where we can all be in a room together, singing. I think that the second it's safe, people will be saying "Get me to a concert, get me to the show!"
You're teaching now?
Yes, I work for a company called "Musical Theatre College Auditions" which helps high school students with applying, auditioning for college theatre musical and acting programs. As you know, it's such a specific process and so many high schools don't have the resources to fully help navigate a student through that process. I've been working with this company as a side job since I have lived in NY. I help students with song interpretations, coaching, acting technique and selecting repertoire. It's nice because it's creative, helps pay the bills, helps fellow artists and it's stimulating for me.
It's also giving, paying it forward.
Yes! Muse Machine was so instrumental for us as high school students, to have that community. I emailed Doug the other day, I was remembering how before my college audition, he met me to go over my audition stuff. So helpful.
What are your favorite memories of Muse? 
Just looking back on my high school experience, my most favorite memories were of Muse. I think back to On the Town — you and that cast were my heroes. That was my first musical. I received my letter from Muse which listed all the numbers I was in, and I remember saying to my mom:  "Mom, I get to be in nine numbers!" Nat and Lula really embraced our creativity — so fun!
I spoke to Nat recently. He's still doing 100 push-ups in his 90s!
I love him so much! I think that is why the bond of Muse Machine is so strong. It's all family. It was my show family. There's a trust required of everyone. There's a vulnerability to creatively share and to keep growing and developing as an artist. That's why I think arts are so necessary — to give people the tools to creatively express themselves, to work through this trauma, to empathize… All of this is necessary for healing and growth.
Alex was interviewed by Muse alum, writer, historian and actor Ryan Vallo.