Developed by Julie Crace
Springboro High School, Springboro
Visual Arts
Grade Levels: 9-12 Intro to Art
Introduction
Edgar Degas is best known as a chronicler of the ballet, yet his work in monotype printmaking reveals his restless need for experimentation. In the mid-1870s, Degas was introduced to the monotype process – drawing in ink on a metal plate that was then run through a press. Captivated by the monotype's potential, he embraced it with enthusiasm, taking the medium to radical ends. He expanded the possibilities of drawing, created surfaces with heightened tactility, and invented a new resource for new subjects, from dancers in motion to the radiance of electric light, from women in intimate settings to meteorological effects in nature. With his monotypes, Degas was at his most modern, capturing the spirit of urban life, depicting the body in new ways, and exploring abstraction.
Seeing another side to an artist's effort can strengthen the view of that artist as a deep thinker with a wide view of the world. Degas was seen as a mere "painter of dancers" by other artists of his period and little more. However his delving into another medium reinforces him as a profound thinker. He actually broke out of the traditional Impressionist mold as he sought more meaning for his art through printmaking.
Julie Crace, art teacher at Springboro High School, takes a nontraditional view of Degas's work with this lesson plan. They use the analysis of his printmaking as an incentive to produce their own prints using a monotype printmaker designed by a guest artist. They use the experimentation method that Degas used to discover new possibilities for their own artistic endeavors. Surprising results are discovered!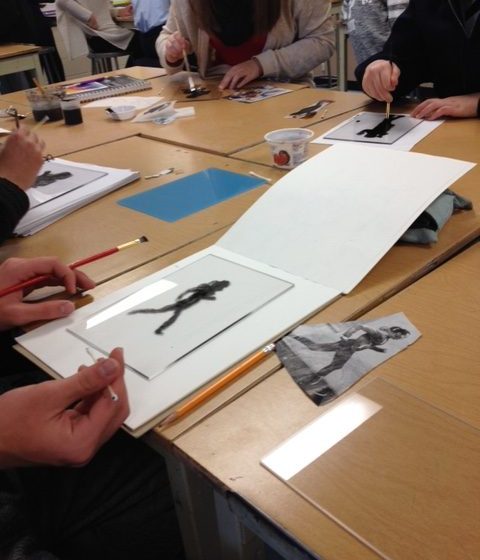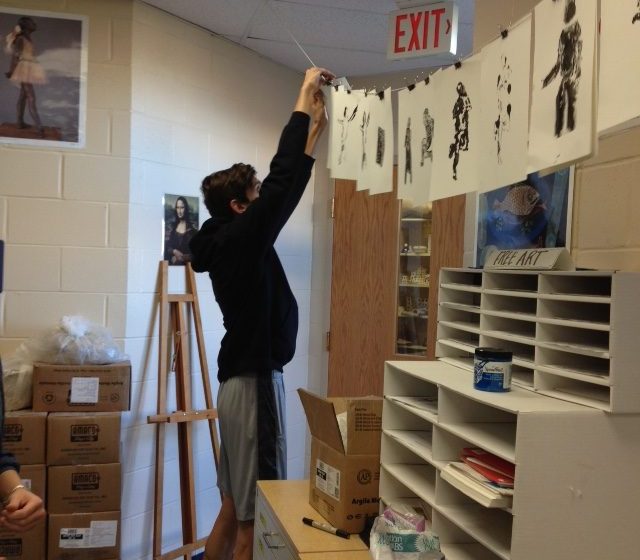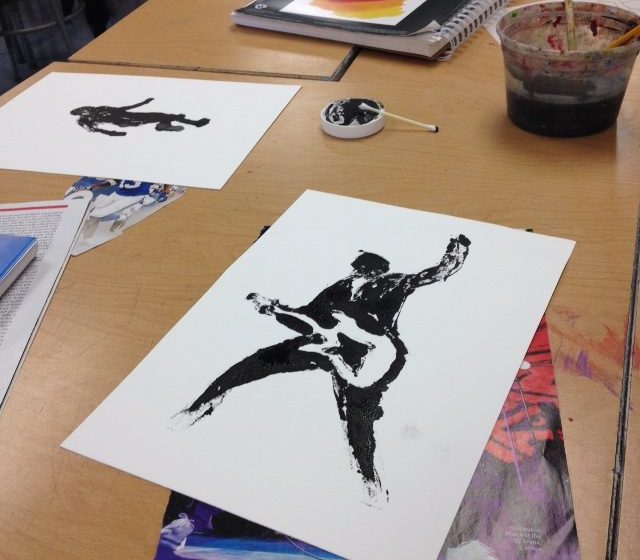 Non-Arts Discipline
Language Arts
Content Statement
Enduring Understandings
The students will gain knowledge about Edgar Degas and the less familiar work that he did with printmaking. They will make connections with his artwork with modern day printmaking.  Through research and presentation, they will engage in conversations about Degas' figures and some of the subliminal messages that he was expressing in them.
Level of Inquiry (confirmation/structured/guided/open) Circle and describe.
I showed a PowerPoint presentation of Degas' prints. The students journaled about Degas work: thoughts on the beauty/ugliness of the women; thoughts on why Degas chose to include dancers in so many of his works; thoughts on Degas sketchiness/gesture drawing/painting technique; is it beautiful, ugly, happy, sad, energetic, etc.
Arts Discipline
Visual Arts
Content Statement
Enduring Understandings
Understanding the mono printmaking process. Exploring the technique 'gesture drawing'. Understanding of how artists capture the thinking of a historical period in time.
Progress Points
Gesture drawings of wooden figures, gesture drawings of people in motion, demonstration from printmaking instructor, mono/gesture prints, oil pastel final piece.
Strand/Process
Gesture drawing/Printmaking
Essential Questions
These are all questions and discussion topics that I will initiate during the PowerPoint presentation.
What is gesture drawing?
What is print making?
Describe the difference between mono printing and other types of prints (silk screening – Andy Warhol, linoleum prints, metal etching, etc.)
What kind of artist was Edgar Degas most/least famous for and what time period was he working?
Discuss Impressionist artists (Monet, Manet, Gaugin) and how they were rejected from The Salon, the most prestigious art exhibit in France at the time.
What were some of the subliminal messages that he was sending through his art
What were Degas' views of women and were they viewed positively or negatively
Why did Degas include subliminal messages in his artwork?
Are there other artists that also included subliminal messages in their work?
Content Elaborations
Students will learn gesture drawing and mono printing making techniques. The students will experiment with gesture drawing technique and mono print making techniques.
Students will gain knowledge about Edgar Degas. This is inspired from the Degas prints exhibit and session at MoMA that we attended during the Muse Machine ATTS in New York. I personally learned things about Degas that I did not previously know. I was moved by the amount of printmaking that Degas created and the various ways that he experimented with the media. The exhibition focused on extraordinary and rarely seen monotypes and their impact on his wider practice, Edgar Degas: A Strange New Beauty was the first exhibition in the U.S. in nearly 50 years to examine these radical, innovative works—and The Museum of Modern Art's first monographic exhibition of the artist. It featured approximately 120 monotypes along with some 60 related works, including paintings, drawings, pastels, sketchbooks, and prints.
Expectations for Learning
The students will create 10 gesture drawings of the wooden figure dolls in various positions.
The students will do a series of 10 quick gesture drawings of the person in motion.
The students will produce 2-3 mono-prints.
The students will refine and add oil pastel details to ONE final mono-print.
Instructional Strategies
Students will be engaged and supported in learning by class demonstrations and one on one guidance with working. Students will be motivated through seeing famous works by Degas and creating their own personal prints.
Assessment (Pre and/or Post)
Students will know how well they are learning by producing gesture-like mono prints. They will self-evaluate on a provided rubric.
Materials & Resources
Materials list for Teachers:
PowerPoint presentation on Edgar Degas (made by me) that includes information on Degas and the exhibit that was on display at MoMA.
Guest artist, Andrew Au (Miami University printmaking professor). He will demonstrate mono-printing using plexi-glass plates and a car jack printing press. This will give the students the opportunity to learn how to print using a printing press (something that we do not have here at the HS).
Materials list for Students:
Paper
Pencils
Charcoal
Magazines
Plexi-glass
Printing press
Ink
Oil pastels
Key Vocabulary
Edgar Degas
Mono printing making
Gesture drawing
Student Performance Tasks
I will demonstrate gesture drawing.
The students will create 10 gesture drawings of the wooden figure dolls in various positions.
The students will then find a magazine picture of a person in motion (dancer, runner, biker, etc). Using charcoal, they will do a series of 10 quick gesture drawings of the person in motion.
A printmaking professor from Miami Middletown Campus will come for a print making demonstration on mono prints using a car jack press.
Students will produce 2-3 gesture-like mono prints of people in motion using plexi-glass and the printing press.
Career Connections
Journaling-Language arts
Gesture drawing, print making, oil pastels-Visual Arts
Fine arts as a career artist-drawing, painting, printmaking.
Introduction to college level printmaking class and a professional printmaker/professor
Diverse Learners
How will instruction be differentiated according to learner needs?
One on one teacher/student instruction and guidance.
Peer instruction and guidance.
Written instructions.
Verbal instructions and demonstrations.
Modification as needed.
Interdisciplinary Connections
This was a great workshop after visiting the Degas exhibit at MOMA during the Muse ATTS. Students had hands on experience with the print making process that we saw and discussed with the docent at the exhibit.
Technology Connections
PowerPoint presentation and students researching and journaling on their own device.
Home/At Work Connections
None unless students are absent and need additional time to work on projects.