Word Transformation Painting
Developed by Julie Crace
Springboro High School, Springboro
Visual Arts
Grade Levels: 9-12
Introduction
Albert Einstein claimed that words did not have much to do with his thought process. Instead, it was visual and kinesthetic images that assisted him in formulating his mathematical and scientific concepts. In this art lesson the teacher, Julie Crace, asks students to find an inspiration from writing and bring it to life in the form of a painting. They must use the rules of art to incorporate an inspirational word into a reflection of themselves. Other teachers may use this lesson as an inspiration for their own instruction by considering ways to motivate students to think "outside the box."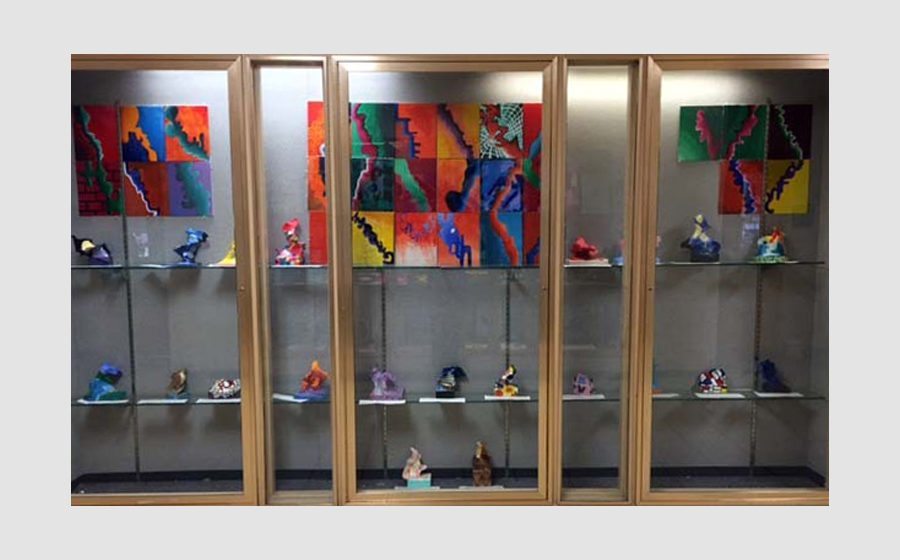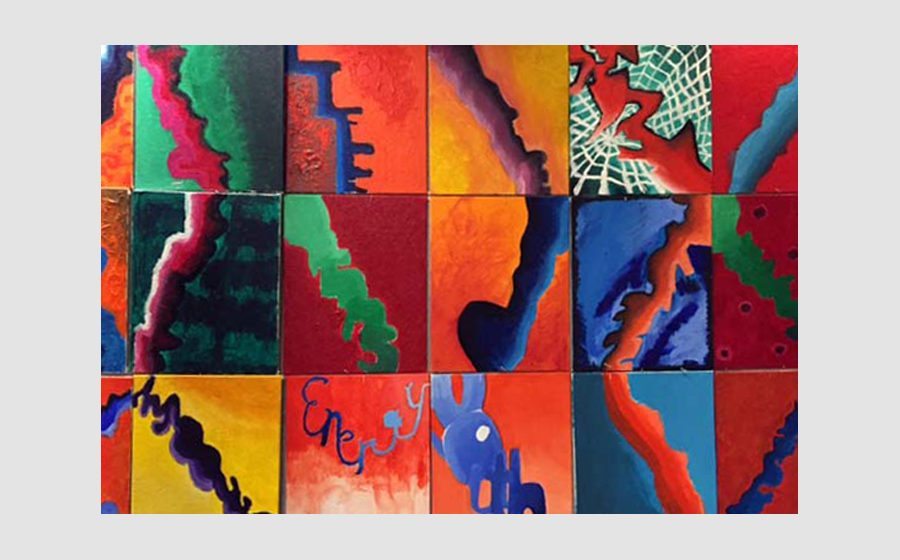 Student Performance Tasks
 The students will choose a famous artist to research and will find a quote from the artist that relates to their personal experiences. They will journal about their connection with the artist.
The students will choose a word from their journal. They will then draw the word vertically on paper using pencil. The letters should overlap each other. The letters represent the lines in the piece.
The students will draw a shape by closely tracing around the word including all of the curves and edges.
Teacher will show how a light source can create value variation by shining a light on different 3-D forms.
They will draw the shape onto tracing paper and then transfer the contour of the shape onto the canvas. The teacher will discuss what make a dynamic composition and each shape must touch at least 2 sides of the canvas.
The students will paint the shape using various shades and tints to create the illusion of form. They will then paint the background using a complimentary color. The class will put together the pieces by choosing the placement of their piece in conjunction with the rest of their classmates to create one large collaborative art installation.
Non-Arts Discipline
Language Arts
Content Statement
Enduring Understandings: Students will understand that artists get inspiration from many sources. Art is a personal or individual response to an environment.
Progress Points: After researching quotes from different artists, the students will choose one that has special meaning or connections to their lives. They will then journal about the significance of the quote and how it relates to them. They will then choose one word from the journal entry to use for their word transformation painting.
Strand/Process
Journaling
Arts Discipline
Visual Arts
Content Statement
Enduring Understandings: Artists use elements of art and principles of design to organize visual communication. The students will gain an understanding of the elements of design; line, shape, space and color theory. They will demonstrate how the combination of these elements all can be used to create an interesting composition.
Progress Points: Step by step demonstrations of how lines can become abstract shapes. These shapes then can be given the illusion of 3-D form by using shades and tints. The negative space around the form will be painted using complementary colors to create contrast.
Essential Questions
How are art elements and design principles used to organize and express ideas? How do artists express their feelings using the elements and principles of design? What is the difference between positive and negative space? How words make us feel? How do artists use words to convey different ideas/feelings?
Content Elaborations
Students will learn about line, shape, form, space, color theory, use of language, and famous artists.
Expectations for Learning
Students will demonstrate this learning by creating a word transformation painting through the use lines, shapes, and color.
Instructional Strategies
Students will be engaged and supported in learning by making personal connections to a famous artist and creating a work of art has hidden meaning.
Assessment (Pre and/or Post)
Students will know how well they are learning by teacher reinforcement throughout the project, class critiques, and rubrics.
Materials & Resources
Teachers will create examples and share with the students. We will also use 3-D forms.
Materials list for Students:
8" X 10" canvas
 9" X 12" drawing paper
Tracing paper
Pencils
Acrylic paint
Chrome Books
Sketchbooks
Key Vocabulary
Elements of Design:
Line, Shape, Form, Color Theory,
Negative/positive space
Career Connections
Journalism
Creative writer
Interior design
Studio artist
Muralist
Diverse Learners
One on one instruction as needed.
Modification as needed.
Interdisciplinary Connections
Artistic Thinking Connection
Students will be able to work with images and be able to connect the seemingly unconnected.
English, literature, creative writing, painting
Flexible perspective: Most students seen hesitant to look at a problem or situation in more than one way. They seem to look at situations linear or two-dimensional perspective. This method was used by Bing Davis with the quilt lesson, by asking us, as a group, to decide placement of our pieces into the entire class display of the quilt.
Technology Connections
Online articles from sites such as Edutopia – Arts infused Project Based Learning: Crafting Beautiful Work
Students will research an artist on chrome books.
Home/At Work Connections
Journaling
Combination of journaling with weekly sketch assignments