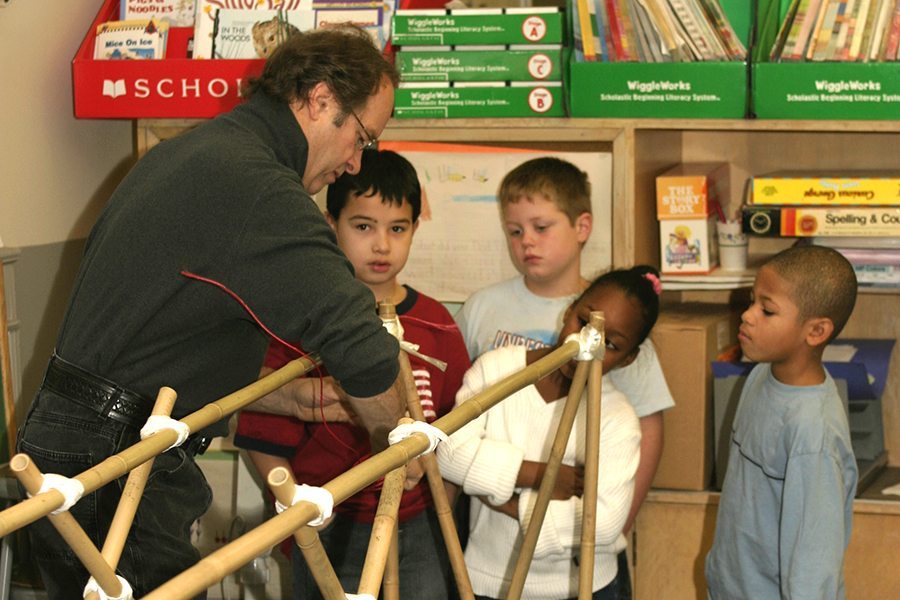 Sculptor/multi-instrumentalist Michael Bashaw is well-known for his performances, sculptures, collaborations and workshops, and has been a featured artist in hundreds of venues and events. Michael's sculptures are found in many private collections and public installations and his work has been inventoried by the Smithsonian Art Museum. Michael has performed with his Sound Sculpture Concert Ensemble and his quintet Puzzle of Light throughout the US and in Europe. Check out the Dayton music videos Michael and his wife Sandy produced at createdayton.com. In 2012, Michael was recognized for his outstanding work in arts education, when he was named Ohio Arts Council's Governor's Award for Individual Artist.
Arts Integration with Michael
Michael's hands-on, multi-media workshops and residencies stress communal aspects of visual art and music. He focuses on cross-cultural influences in the arts, the physics of sound and the uses and meanings of music all over the world. He uses a vast array of traditional, ethnic and homemade musical instruments. As a visual artist, Michael facilitates the creation of temporary or permanent art installations. Past residencies have included large temporary musical sculptures played in a culminating concert performance, or stunning sculptures created with students that became permanent fixtures in schools. Michael works closely with teachers to design a residency that integrates music and/or visual art into the curriculum of their choosing.