Student Stories Brought to Life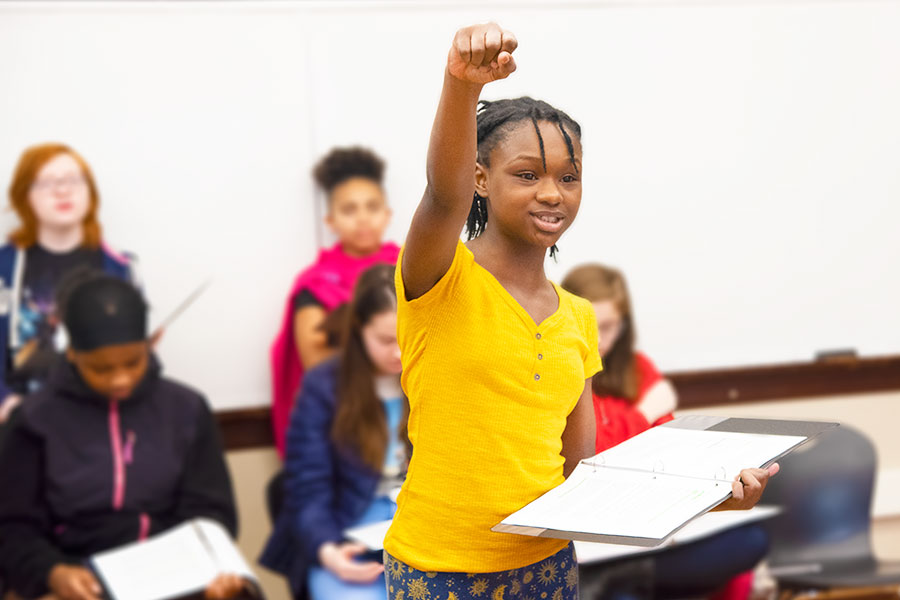 On February 12, 2020, a performance at Dayton Metro Library marked the end of four month's cultivation of students' personal stories called Making Art, Engaging Community. The collective hands of 67 young people in sixth, seventh and eighth grades as well as two teachers and two teaching artists shaped the performance.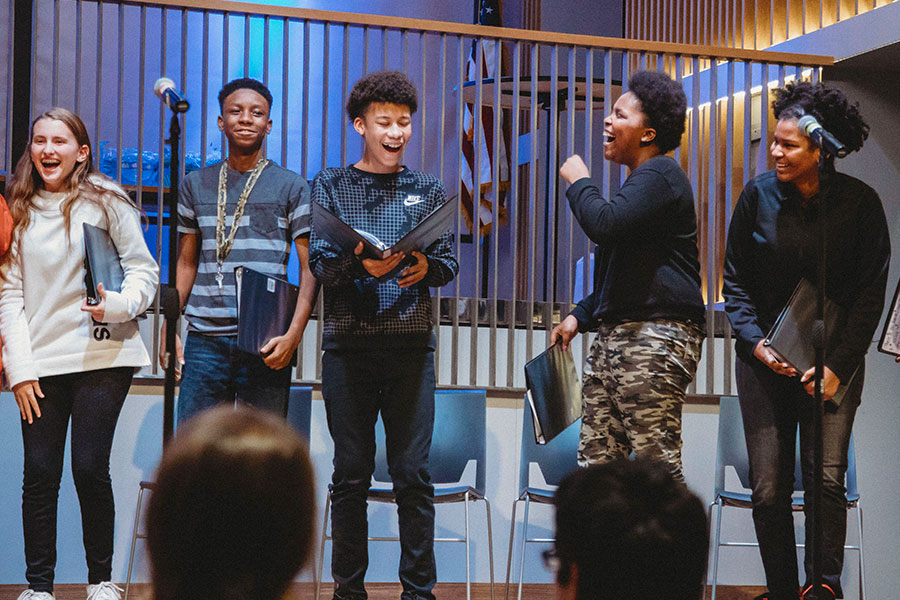 Before an audience of students, families and teachers, each student shared the stories of their birth, name origin and some of the transformative and traumatizing experiences they had captured over months in several writing assignments. Middle schoolers confided their love of home and parents; feelings about gender identity and ethnicity; their fear of abandonment or not-belonging; their proudest accomplishments and their principled angers.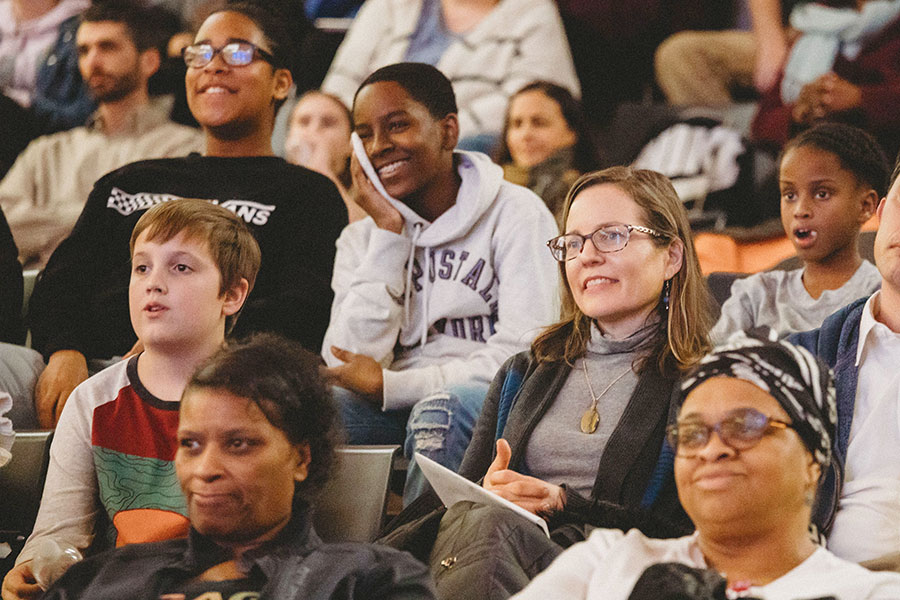 Afterward, their fear having melted into triumph, the storytellers lauded each other. These students, by bravely telling the truth of themselves, proclaimed their dignity.
From one of the students, "We came from not even being able to speak these things to each other to speaking in front of a whole crowd of family and strangers. I'm proud that we came this far."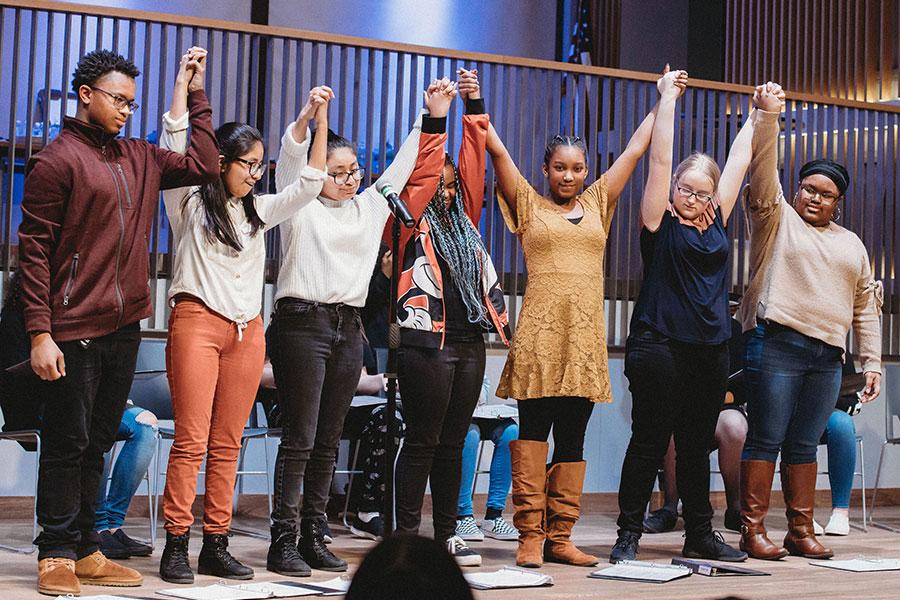 Muse Machine receives NEA grant
Muse Machine is the recipient of a $20,000 grant from the National Endowment for the Arts. The NEA announced grant recipients earlier this month and Muse Machine was selected as the only arts education recipient in Ohio.
The grant supports the project Making Art, Engaging Community, which brings together internationally acclaimed theatre company Ping Chong + Company and outstanding local artists for an eight-week residency program at Stivers School for the Arts and Ruskin Elementary in Dayton. The residencies will explore the themes of identity, belonging and sense of place. Drawing from their significant personal and family experiences, students will be creatively mentored to use oral histories to create original theatrical performances for sharing with the community during winter 2020.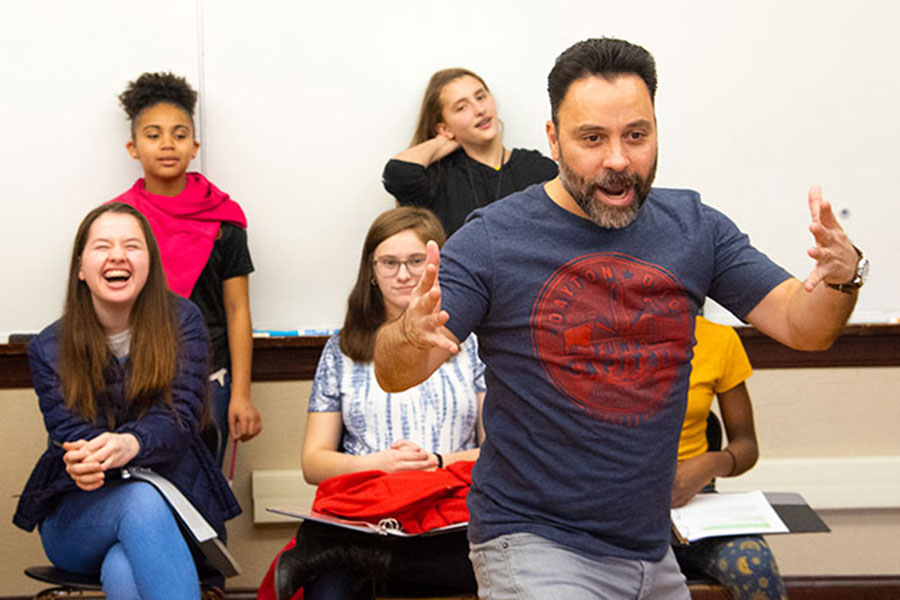 Teaching artist Eric Aviles inspires writing students at Stivers School for the Arts.
The NEA's priority in grant making is artistic excellence and merit. "We're honored to receive this recognition from the NEA. This project was recognized for its potential to celebrate cultural heritage, enrich humanity and build community," said Executive Director Mary Campbell Zopf.
Dayton has a changing demographic and there are as many as 13 languages being spoken in these schools. Campbell Zopf added that "These artists love to work with culturally and linguistically rich communities and help students develop a mutual respect for the lives that everyone brings to school each day."
"The arts enhance our communities and our lives," said Mary Anne Carter, acting chairman of the National Endowment for the Arts. "We look forward to seeing these projects take place throughout the country, giving Americans opportunities to learn, to create, to heal and to celebrate."
The project is also supported by funding from: Allegro Fund of the Dayton Foundation, Iddings Foundation, the Vectren Foundation and Janet Graul.
Project partners include Muse Machine, Ping Chong + Company, Stivers School for the Arts, East End Community Services and Ruskin Elementary.