What's For Dinner Tonight?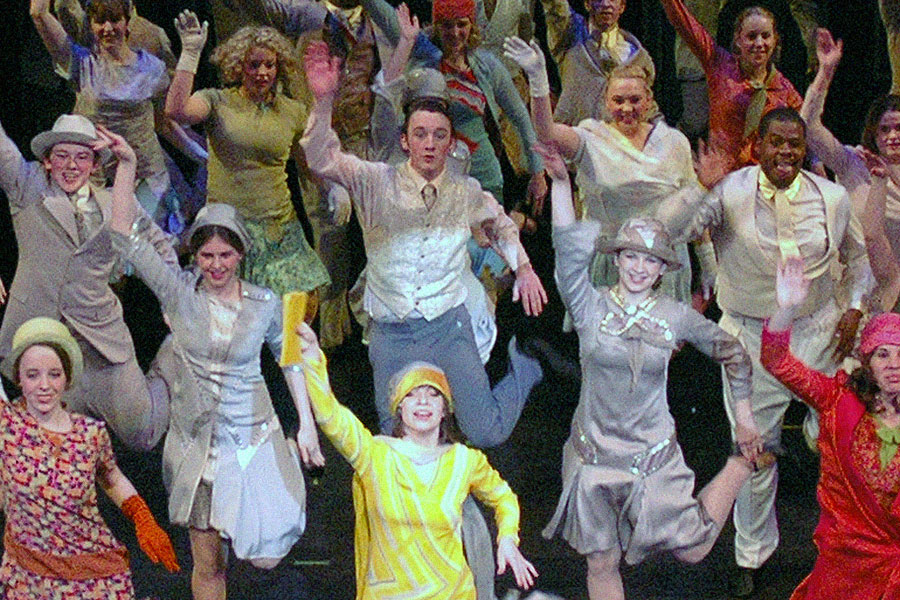 A CONVERSATION WITH GRANT MELTON
Ryan Vallo talks to Muse alum Grant Melton, who earned an Emmy for his work as a producer on The Rachael Ray Show.
RYAN  So, your mother was a guidance counselor?
GRANT  I loved having my mom as a guidance counselor and she guided me to "do what you love and figure it out."
I went to Columbia College in Chicago and discovered the TV production program and fell in love with that. So, it was great advice. I went to college, doing something I loved and ended up discovering something new and exciting that I ended up doing as a career. 
How did you end up working on The Rachael Ray Show?
I had a college internship with The Rachael Ray Show at CBS. While I was in college, I worked part-time at restaurants and bakeries which was perfect because I loved food.  So, when I interviewed at Rachael Ray, I was very interested in the food aspect. On the first day, one of the staff mentioned they needed some help in the food department, and I immediately expressed interest. Then, I basically never left. I got hired on as a production assistant that season and eventually became a Senior Culinary Producer. In 2019, we won an Emmy for best talk show. It was really a great work environment and work culture for me. I loved being there. Now, I'm freelancing and figuring things out.
Of course, I was curious what were your favorite recipes?
I was working behind the scenes on the Rachael Ray Show as a producer, but I was also creating recipes and coming up with content. Rachael noticed and she said to me: "You're good at this. You can create these recipes with me on the show." I came up with this random cheesecake recipe, and she said: "I want you to do that on the show." I was so nervous and intimidated, but I leaned on my theatre background. So, I rehearsed at home every night. Then, the next day, I found out that not only was I doing the recipe with Rachael Ray, but also with Emeril Lagasse, her cohost.  He was my food idol as a kid. I wish I could tell you how it felt but I completely blacked out from this — I can remember starting it in the beginning and finishing up at the end. Rachael said that I did a great job and wanted me to continue doing this on the show. So, I did!
The cookie recipe that I make often is an oatmeal cookie with fennel seeds, oats and raisins. Rachael loves it, and this was the cookie that made her think, "this kid has something." That recipe will always be special to me.
Julia Childs caught onto something in the 1960s and this will be 20 years for the Rachael Ray Show. What is it about food as entertainment that grabs people's attention?  Where do you see it going?
That's a great question. One of the things I learned in TV production, specifically when it comes to food is that there are tons of trends. Trends are going to come and go but there is one thing that is always relevant: "What are you going to have for dinner tonight?" That will always be relevant, so it's about reinventing that. As a producer, that has always been part of my job to find new ways to incorporate trends, while also looking through the lens of how somebody can do this at home — is it accessible, fun and unique? It comes back to when I was in Muse Machine; initially: I met all these very different people who had the same interest as me, and this made us unique, and it was also our strength.
Do you have any favorite Muse memories?
Something I'll always love about Muse… I'm from Brookville, a tiny town, farm town, and there was a small group of us who liked theatre, and it was kind of weird. And then, there was Muse — and I met all these kids who love theatre like me. And it just made me feel like: "Oh, yeah, it's not weird. It's actually really cool." It's that thing that makes you a little unique, and that uniqueness is actually a strength for me. Meeting all these people made me feel like I was at home.
It prepared you for Emeril!
Exactly! Who would have known!
Watch Grant make his favorite oatmeal cookies + recipe
Watch Grant with Rachael Ray and Emeril Lagasse
Grant was interviewed by Muse alum, writer, historian and actor Ryan Vallo.