"I'll eat some breakfast, then change the world"
Hairspray
January 12-15, 2017 • Victoria Theatre There is a subtext to Muse productions. Emanating from the stage is an authentic joy paired with a reminder of the remarkable things committed young people achieve together. It spills across the theatre leaving the audience contagiously joyous and hopeful. In Hairspray, that "Muse effect" alongside the most beautifully diverse cast of any Muse show to date and unimaginable timing (following a tumultuous Presidential election process), gave us a show that was more sharply comedic, more poignant and smarter than anyone could have predicted. With a collection of students on stage, backstage and in the orchestra pit that more closely resembled the diverse community around us, the message of celebrating one another, different as everyone may be, was shared through song, dance and humor as well as through the behaviors they modeled in real life. More than most, the stars seemed to align for this show.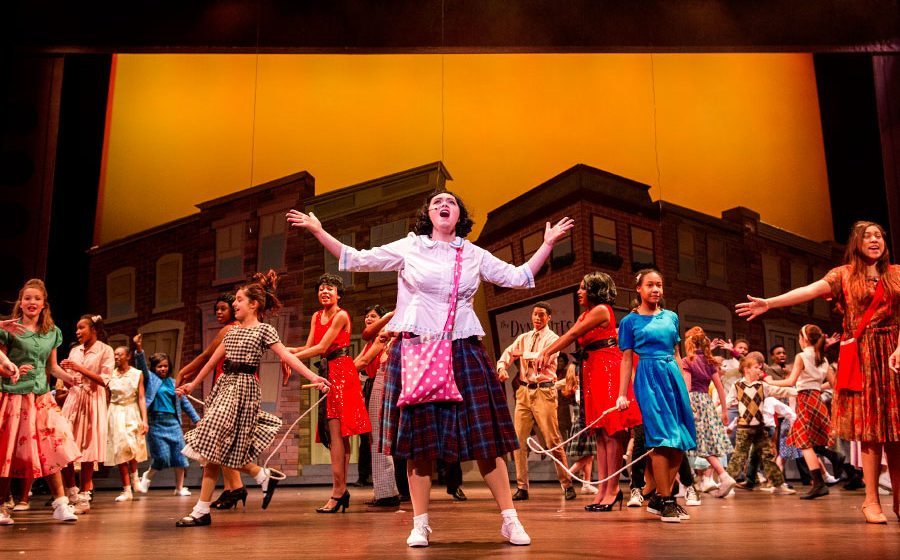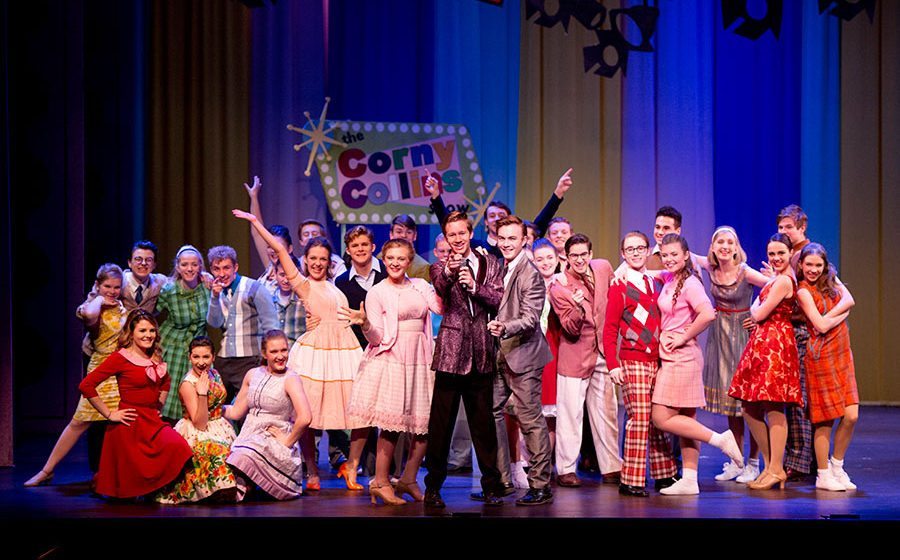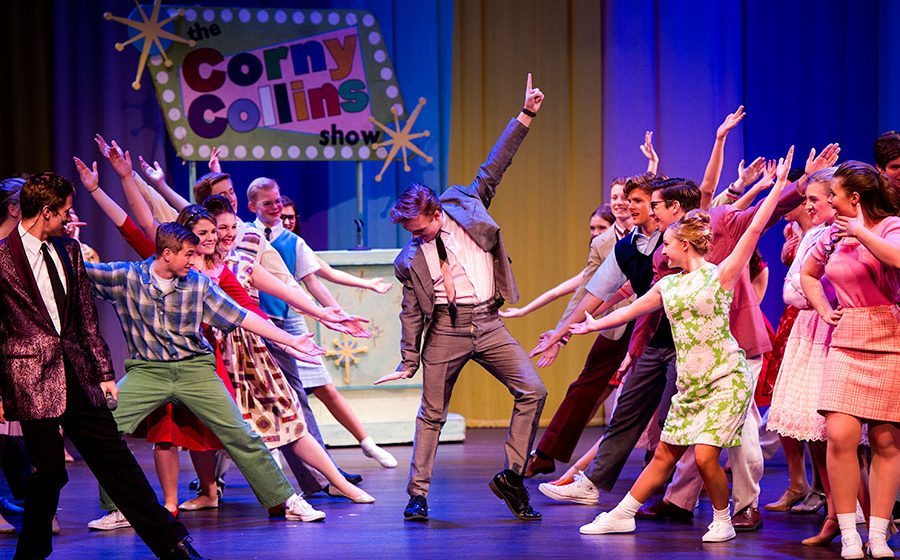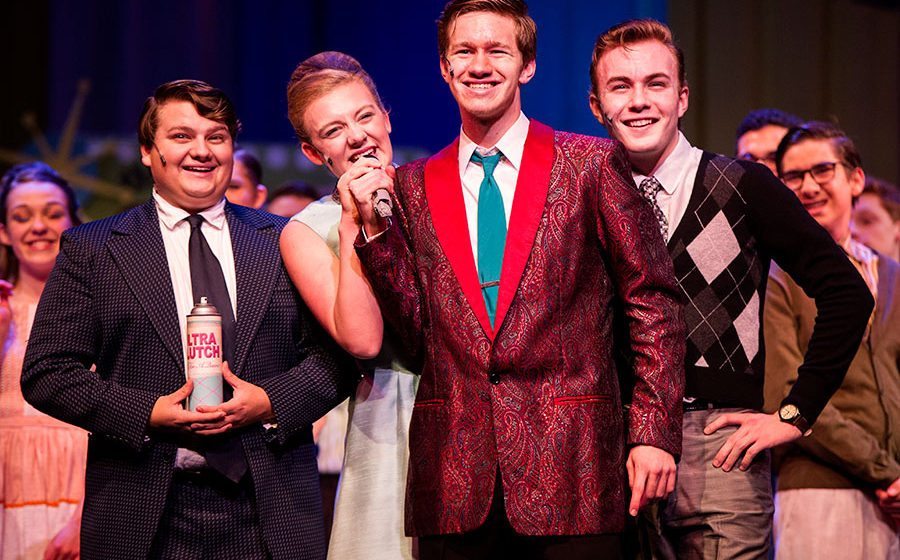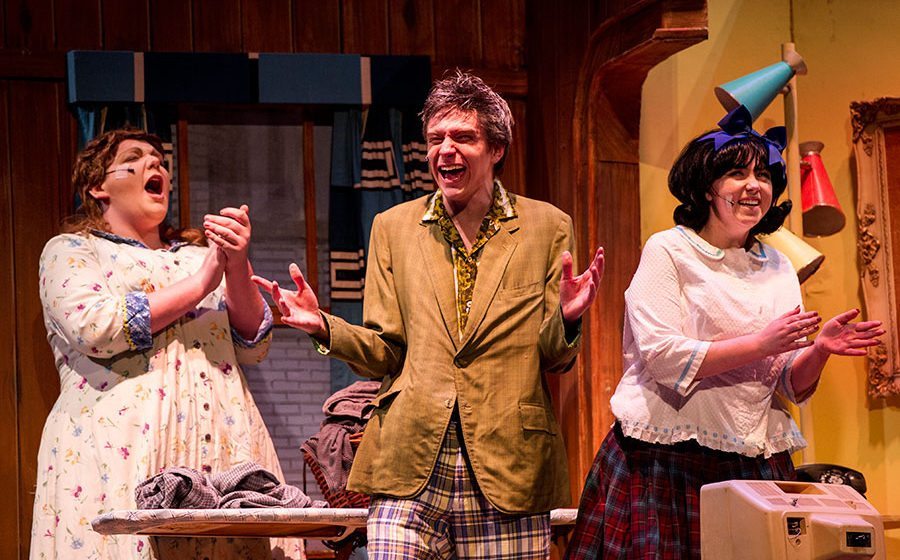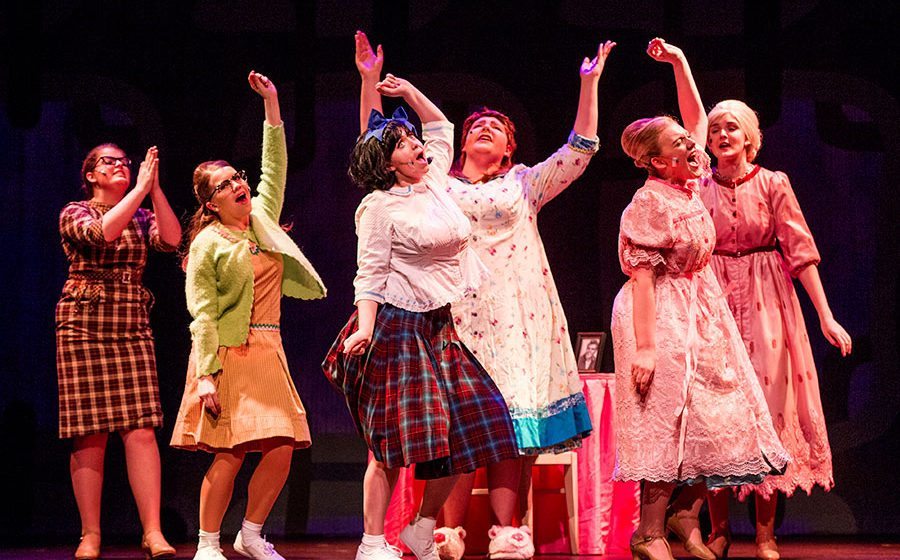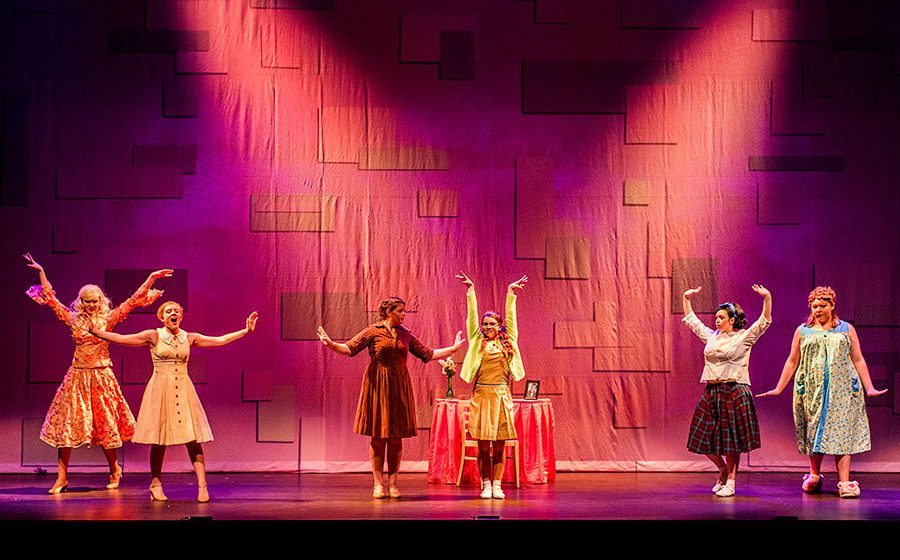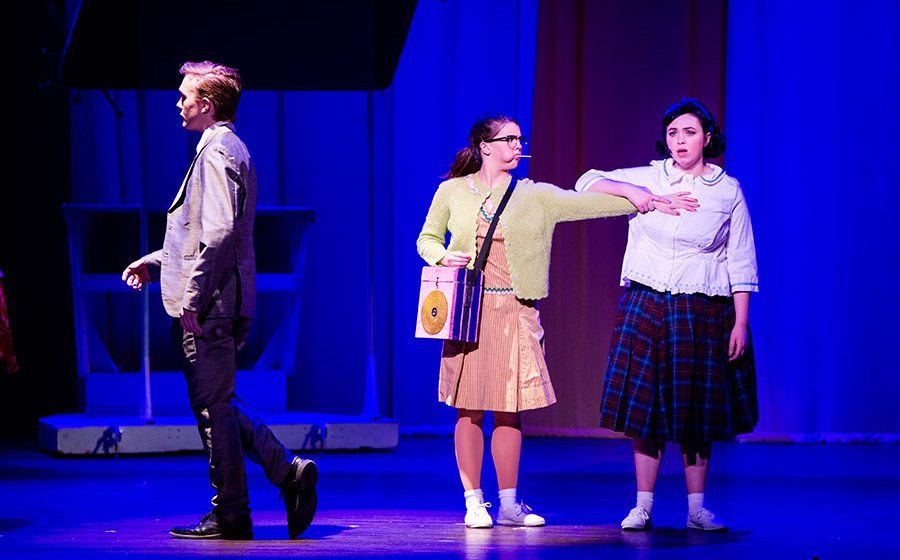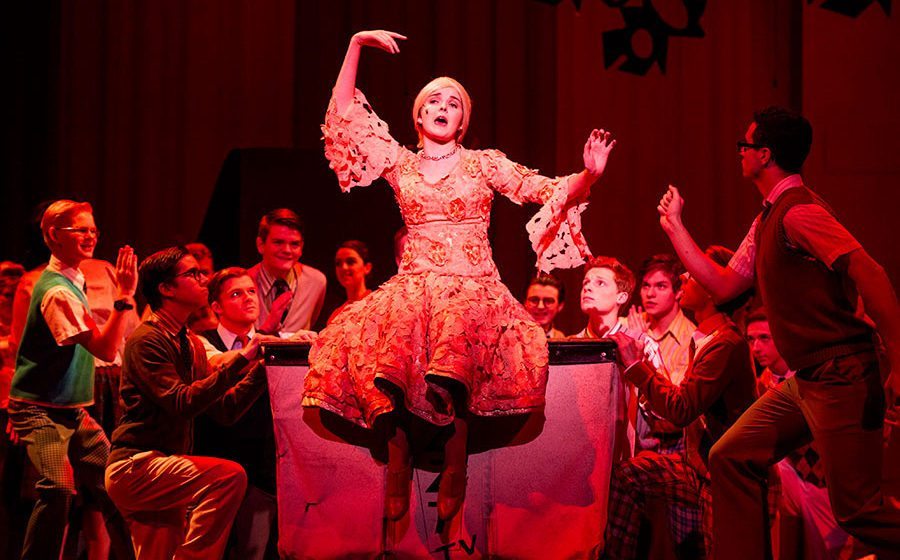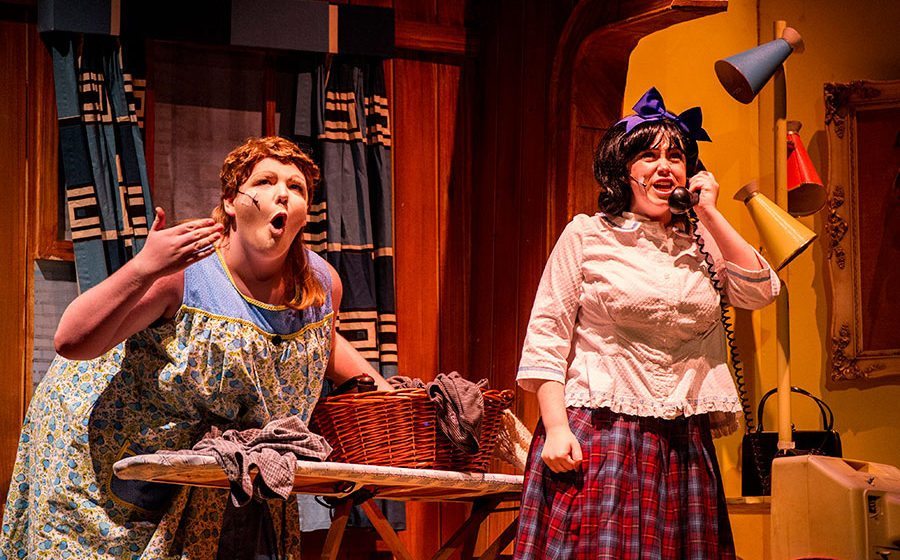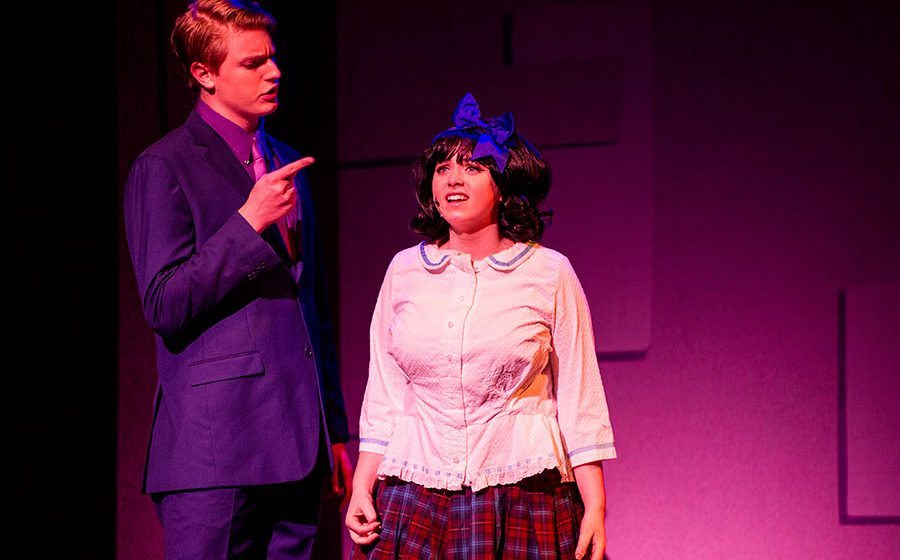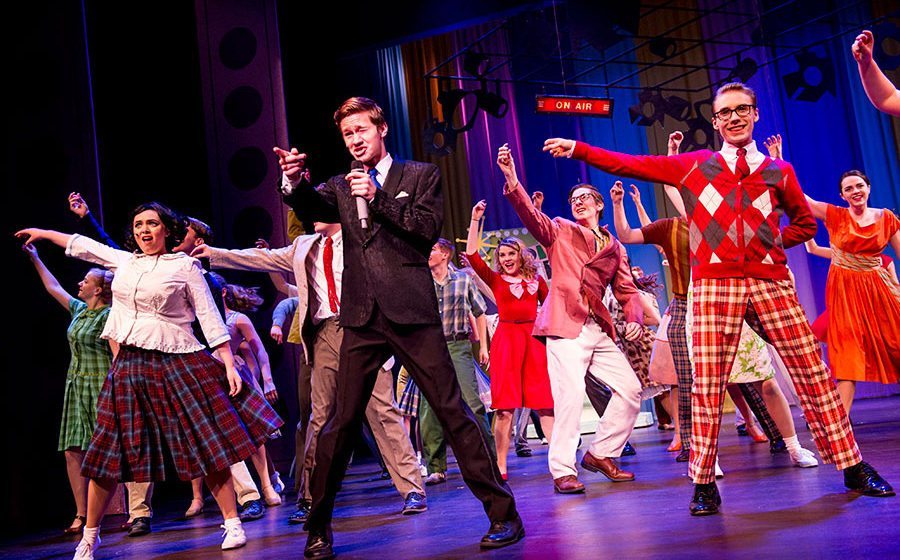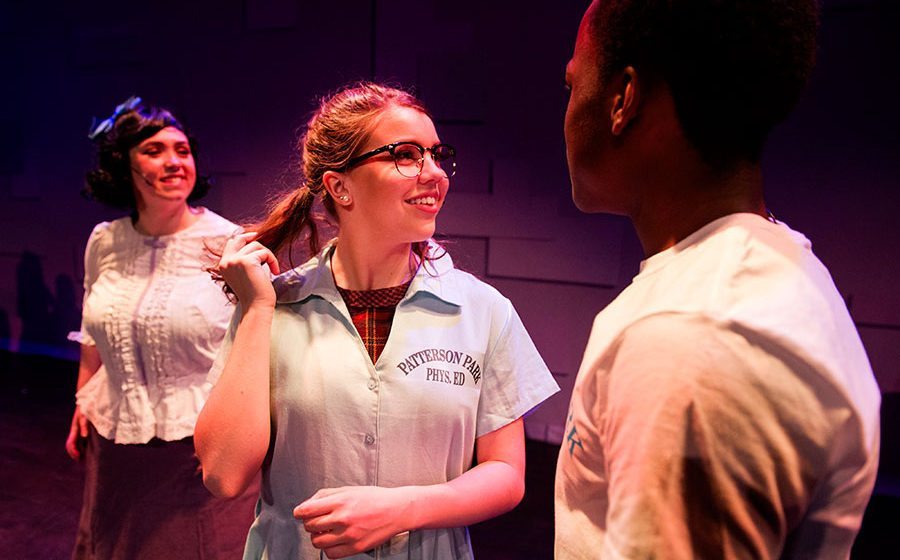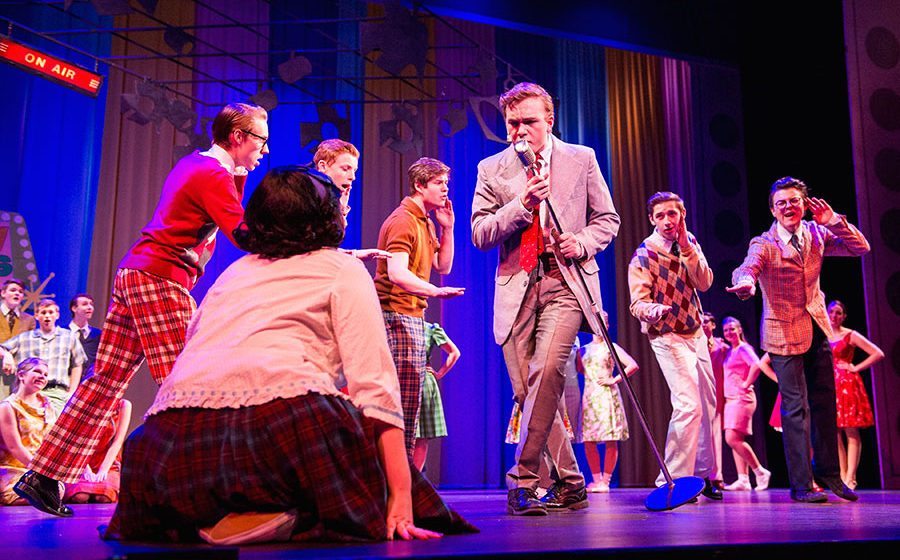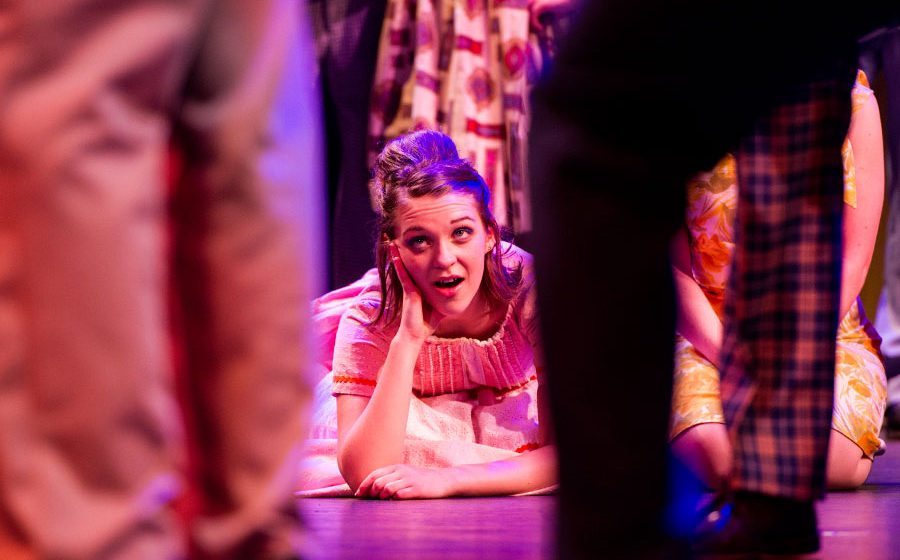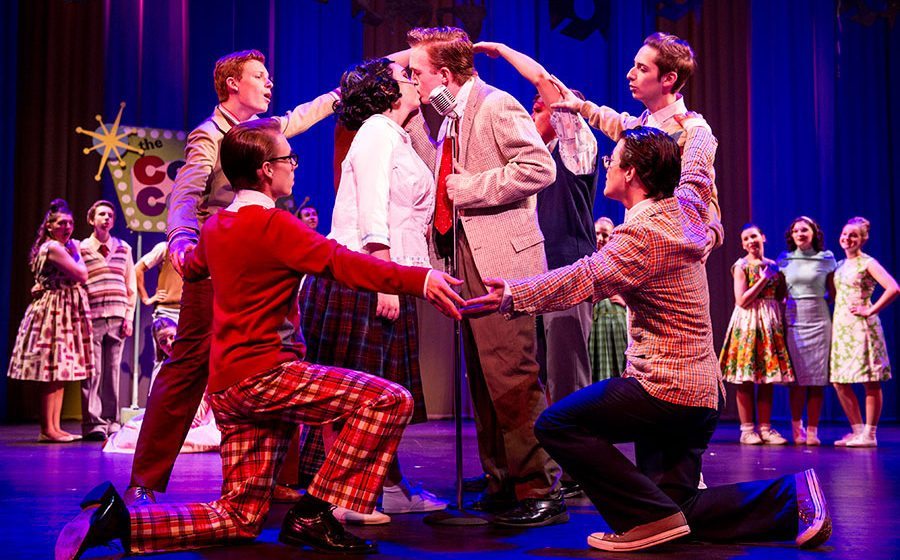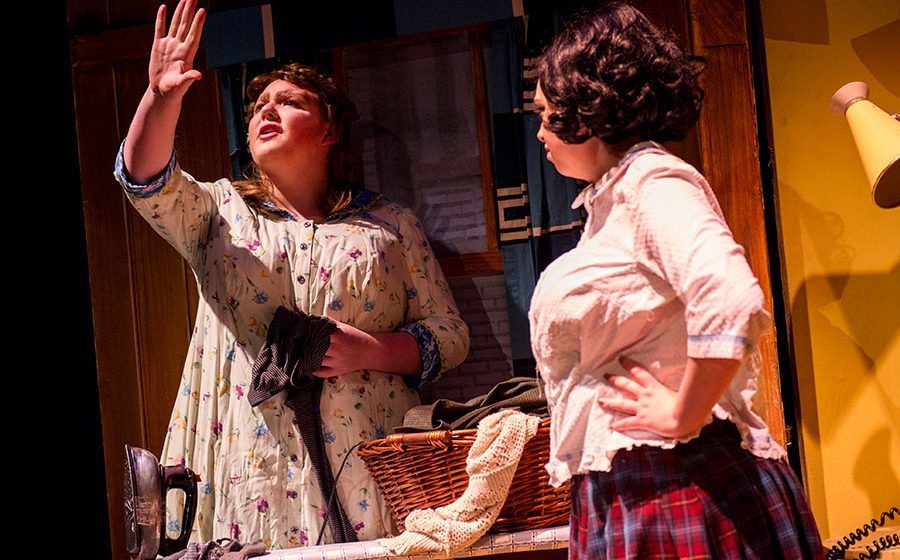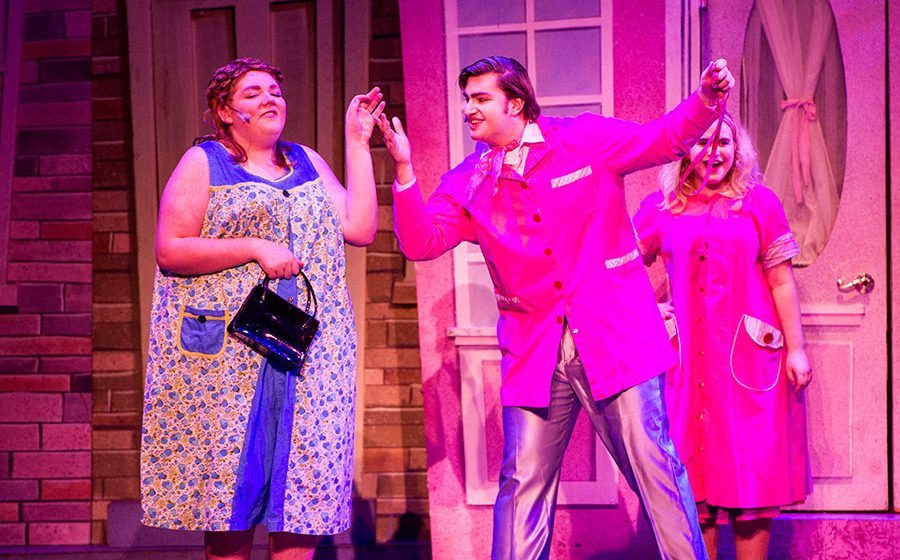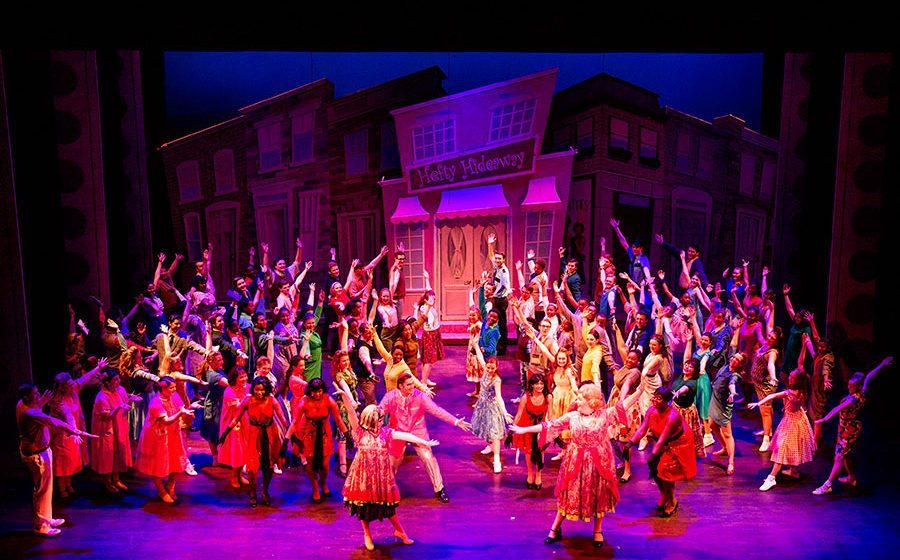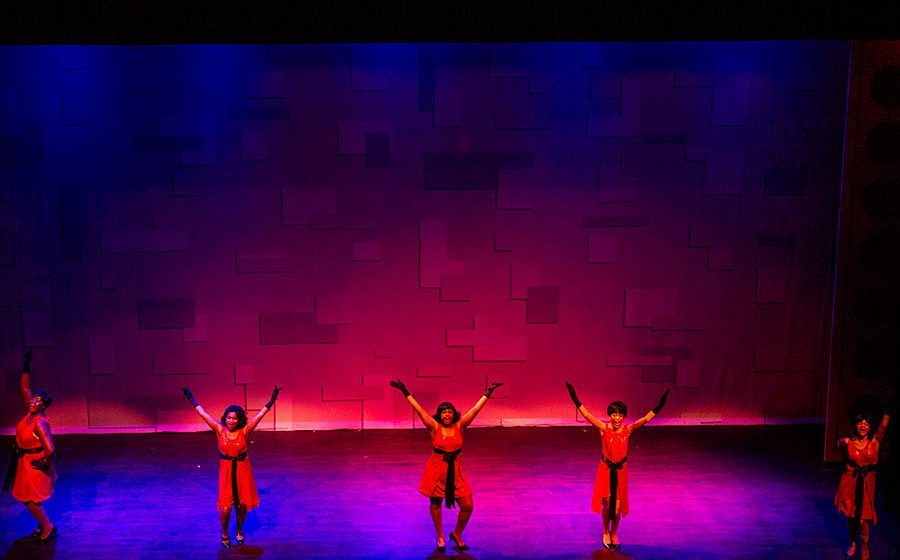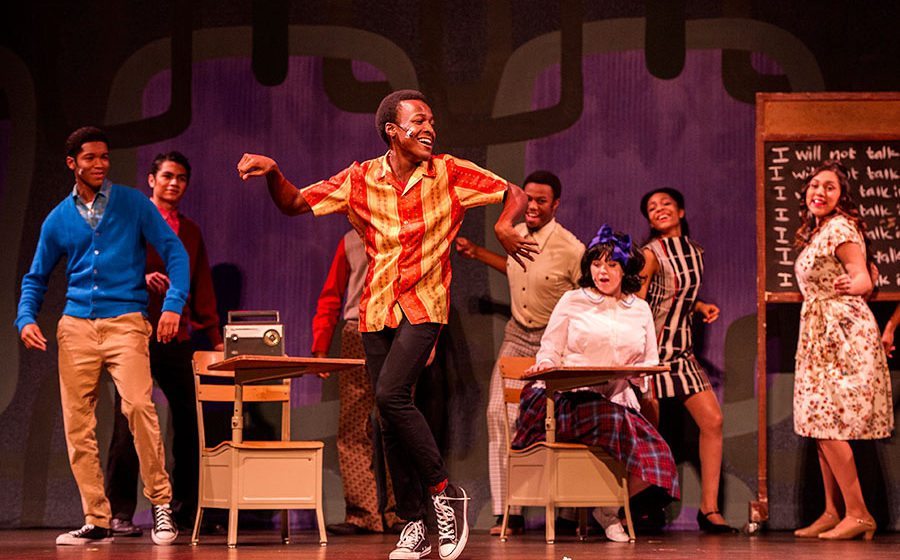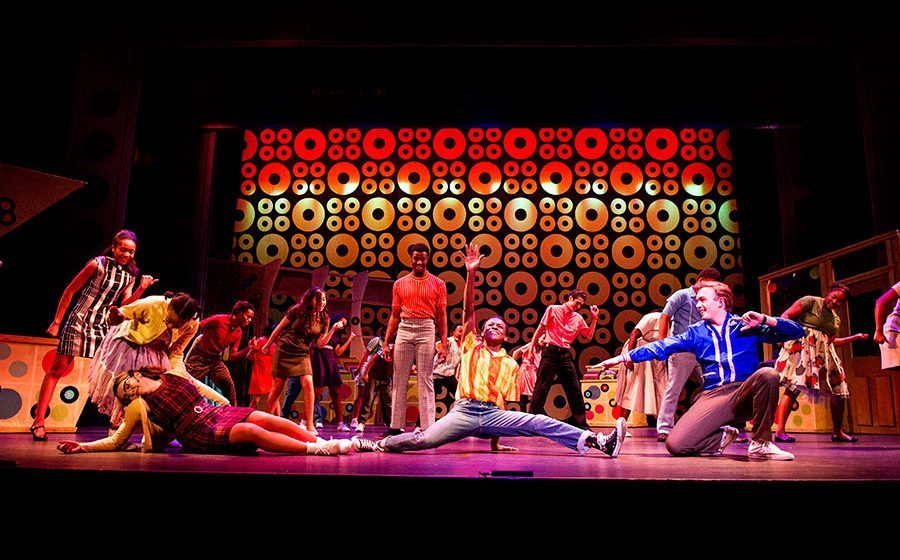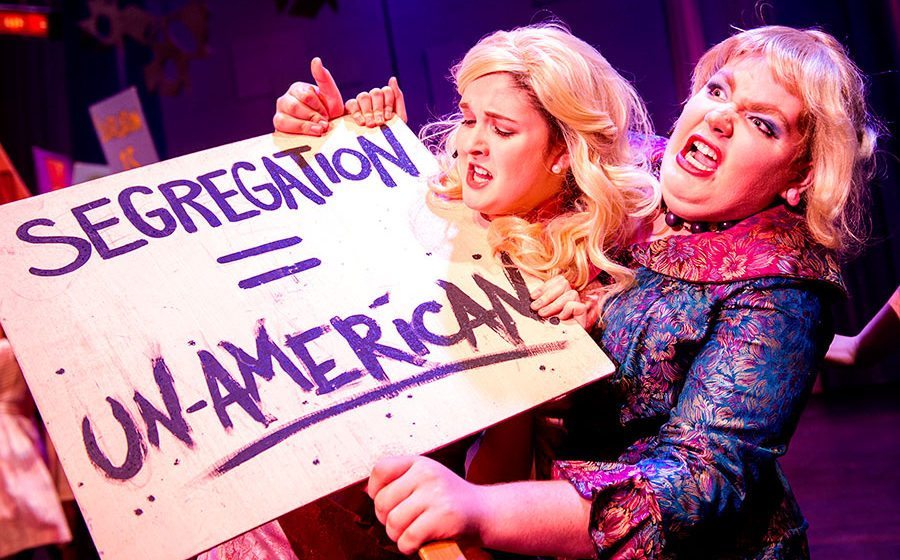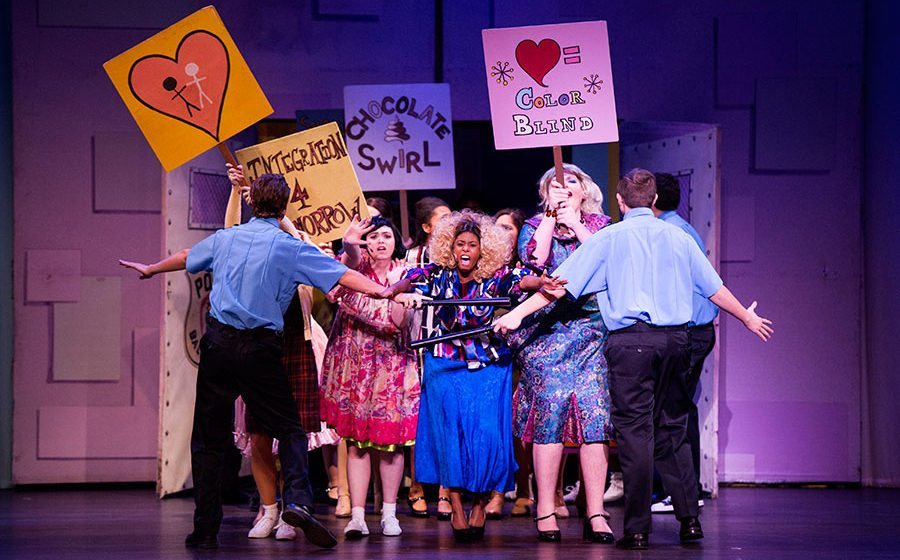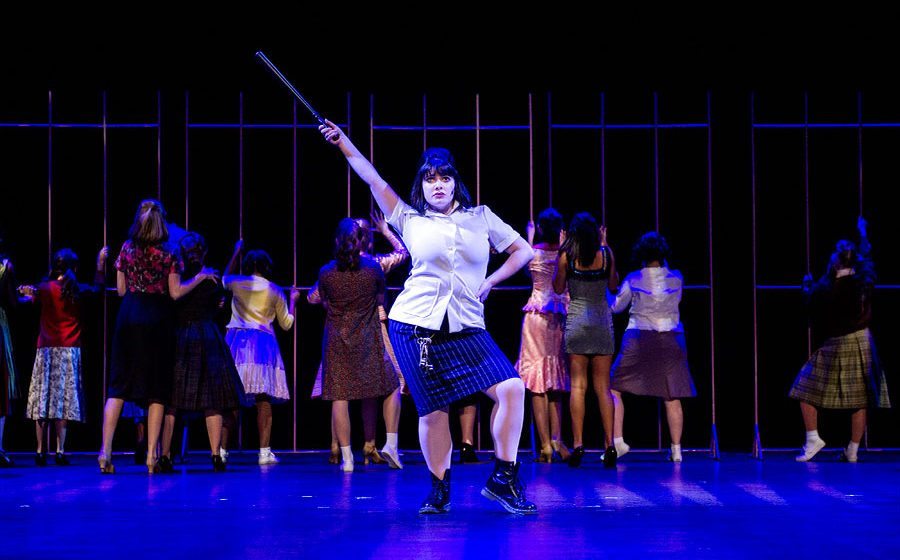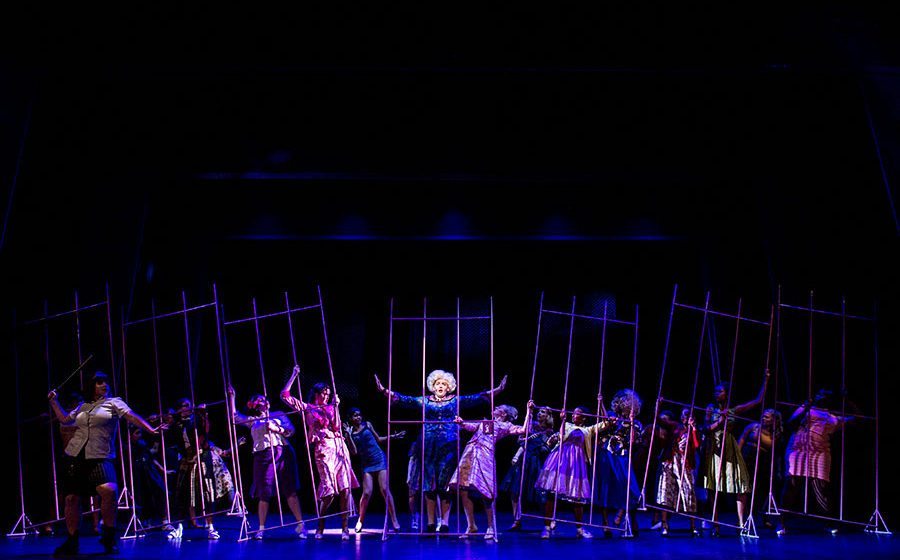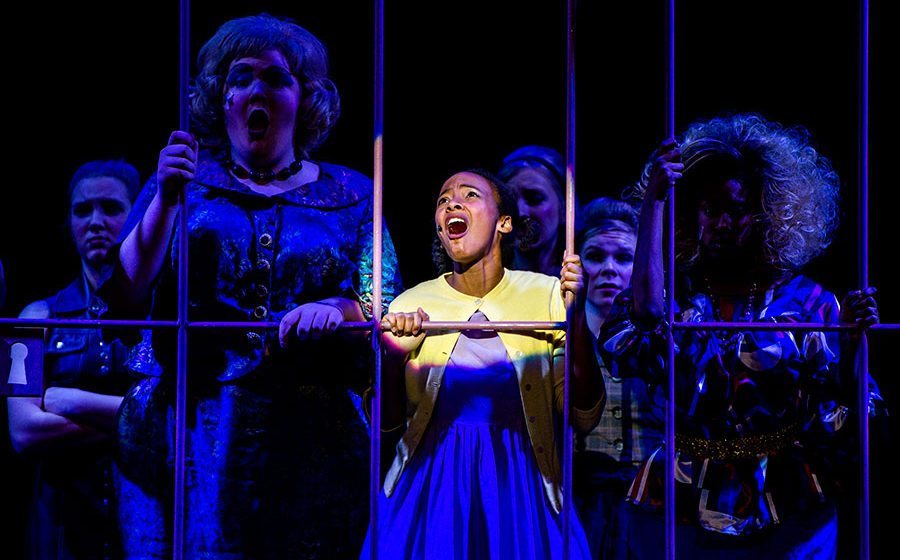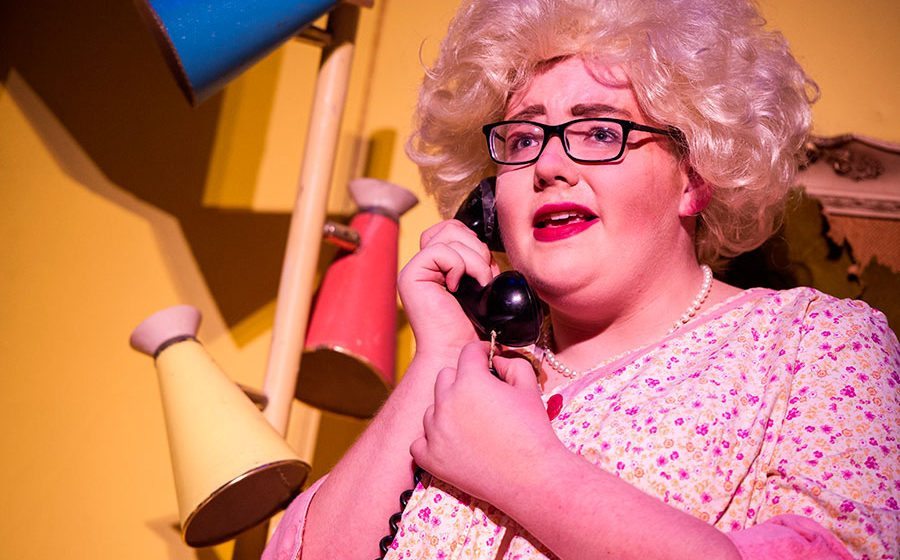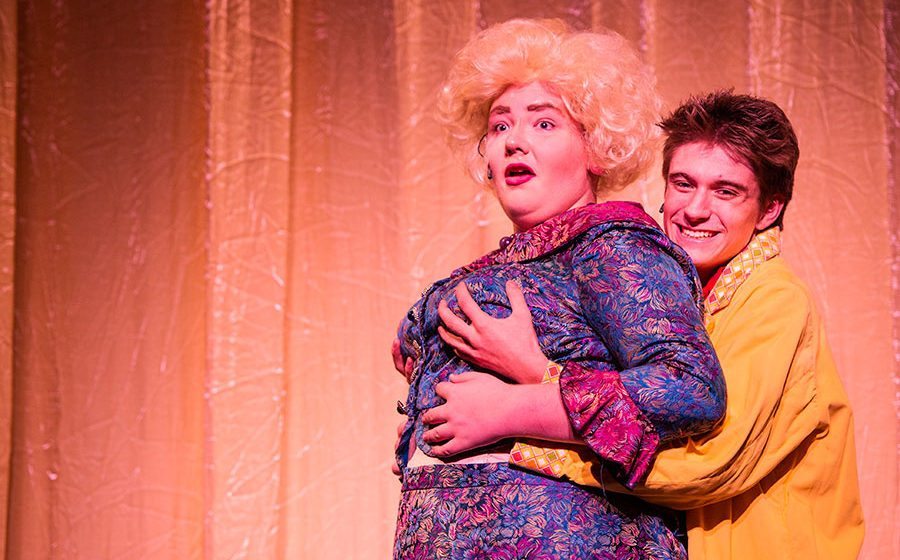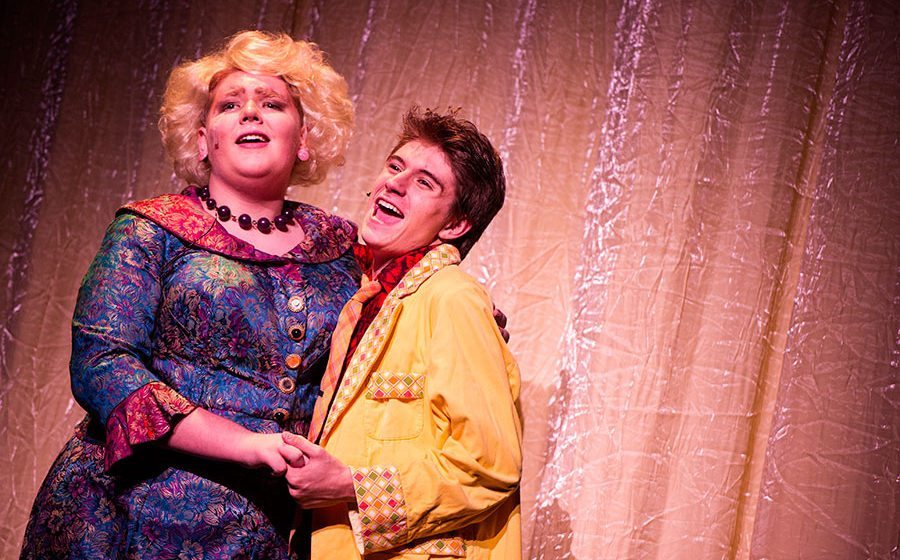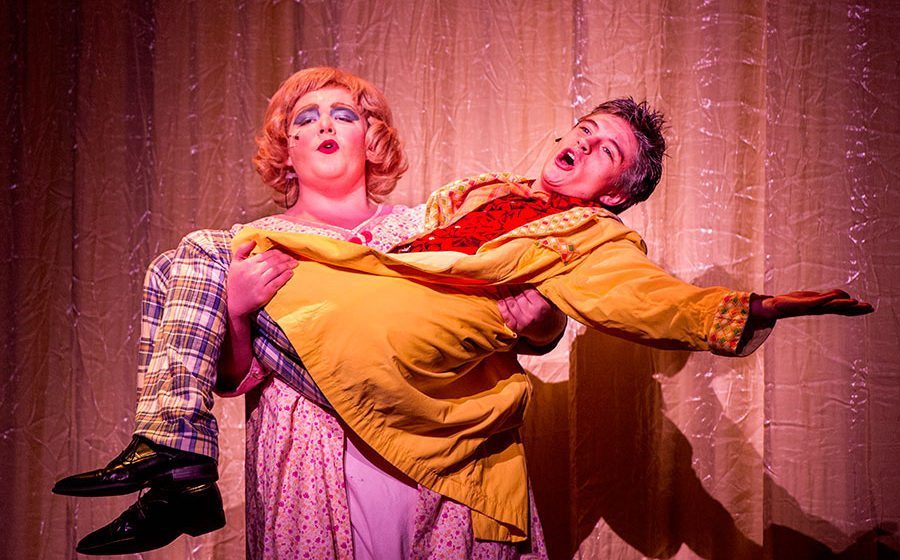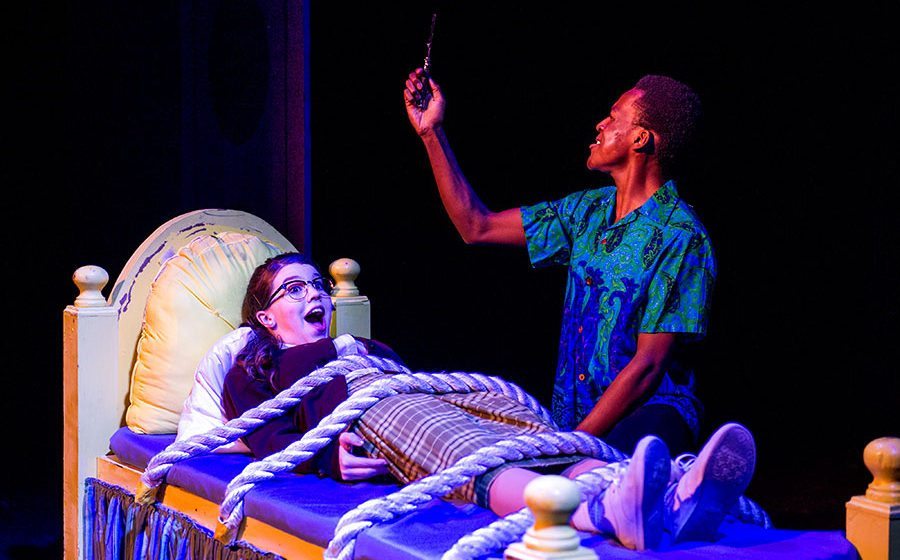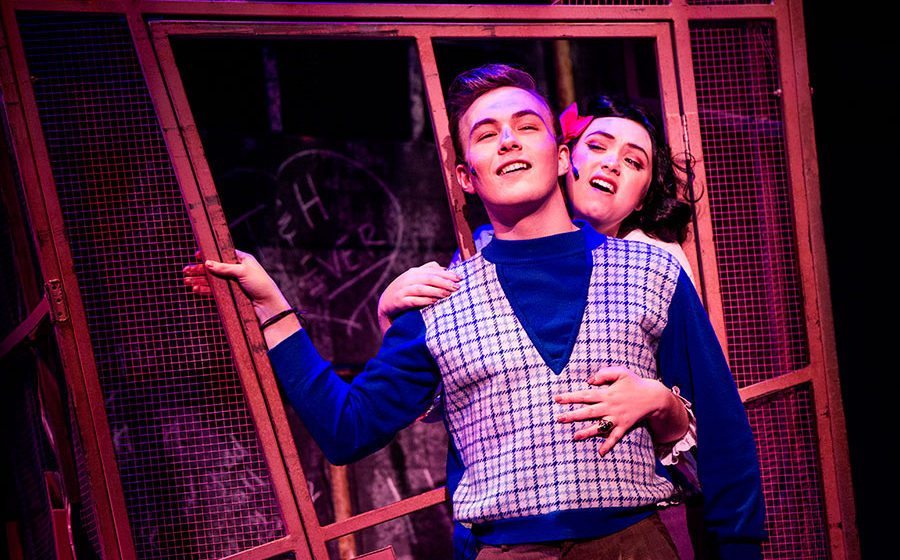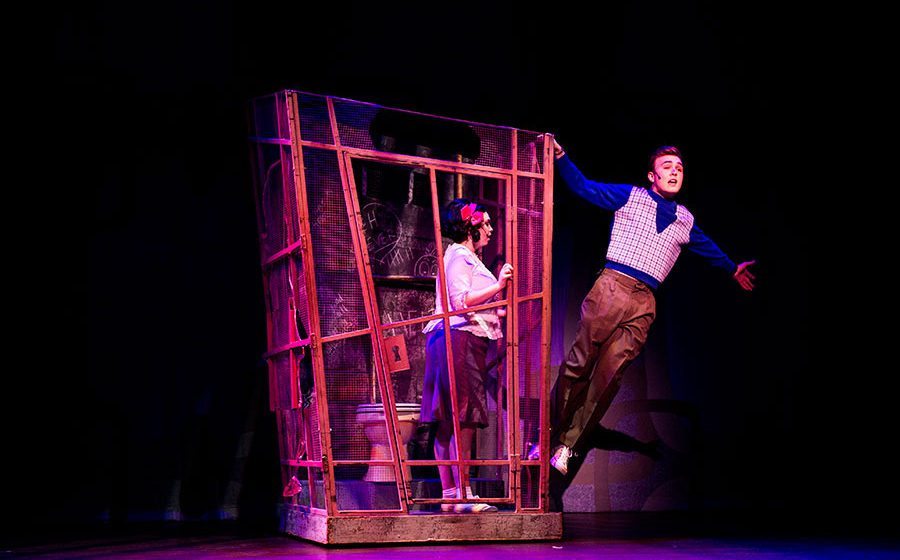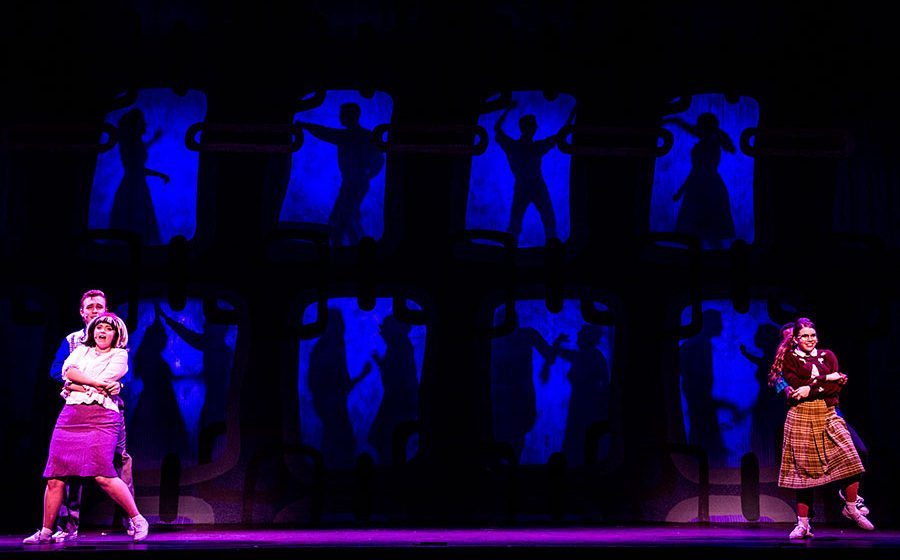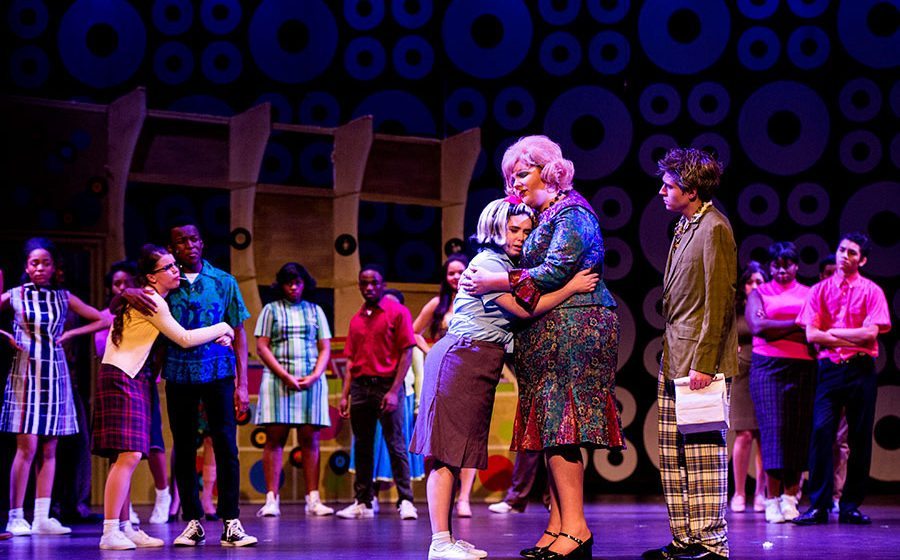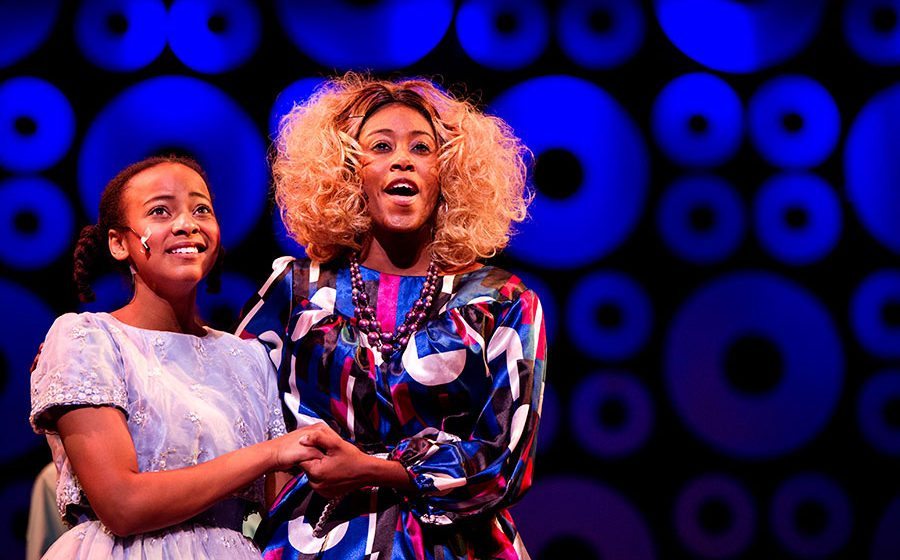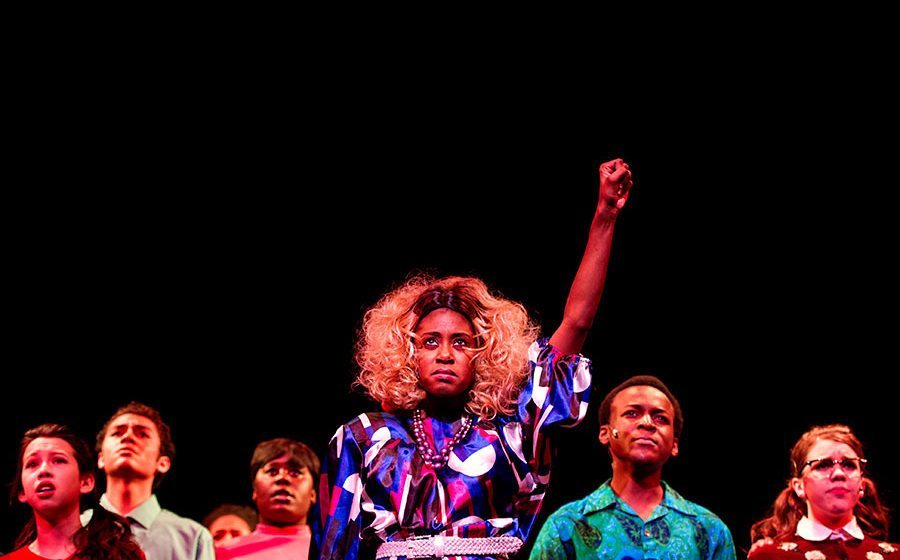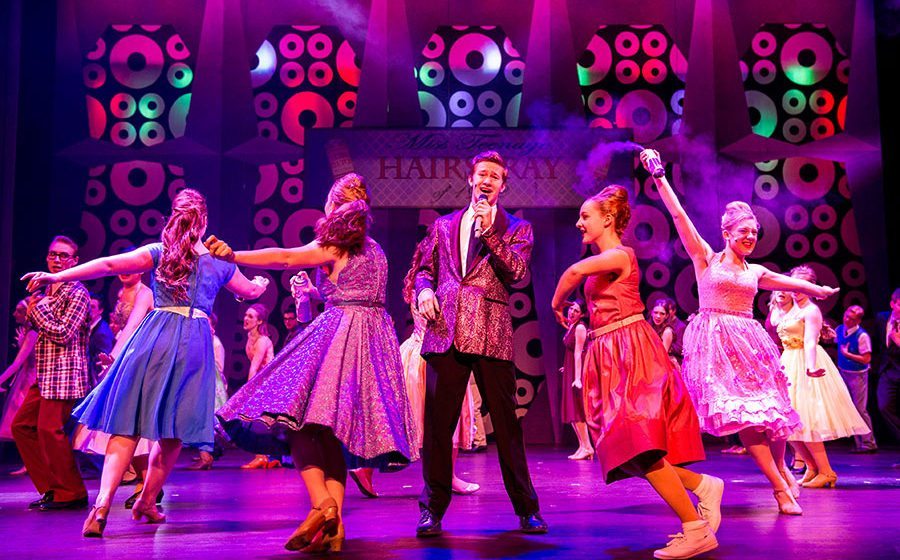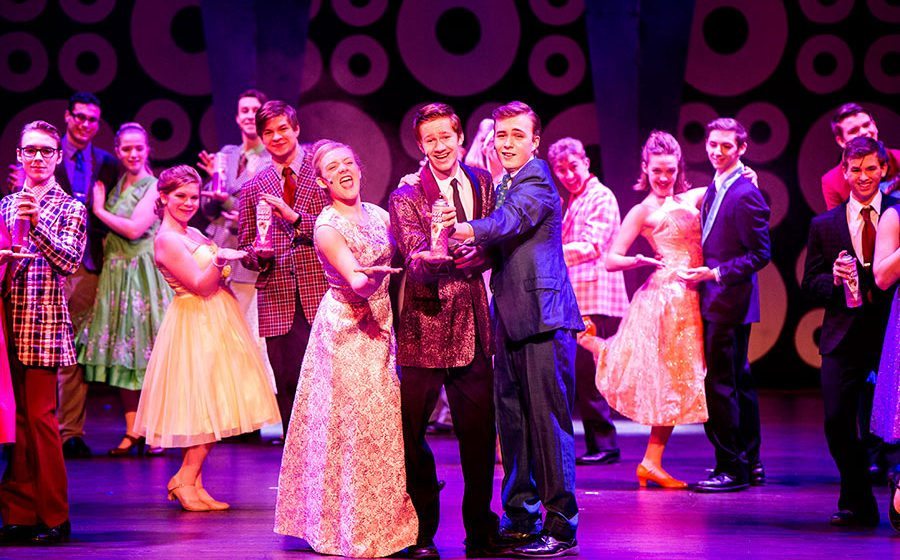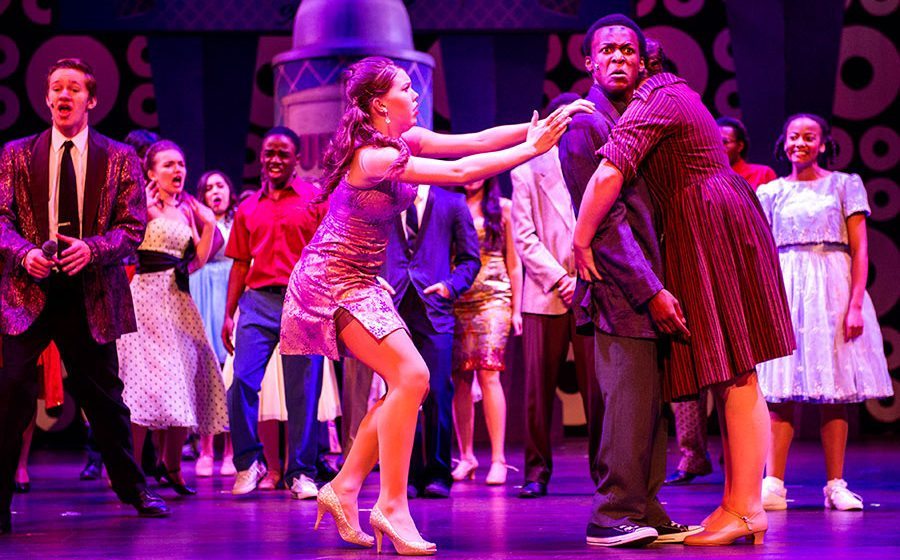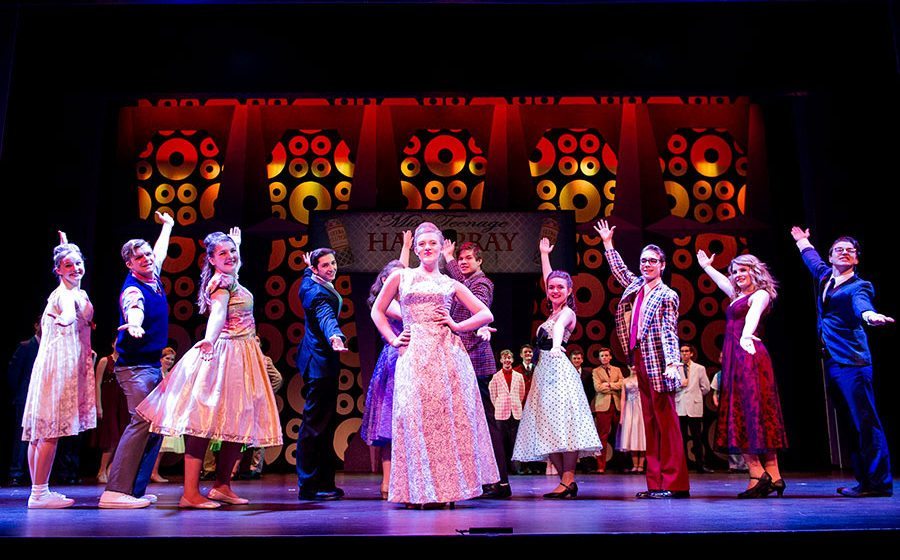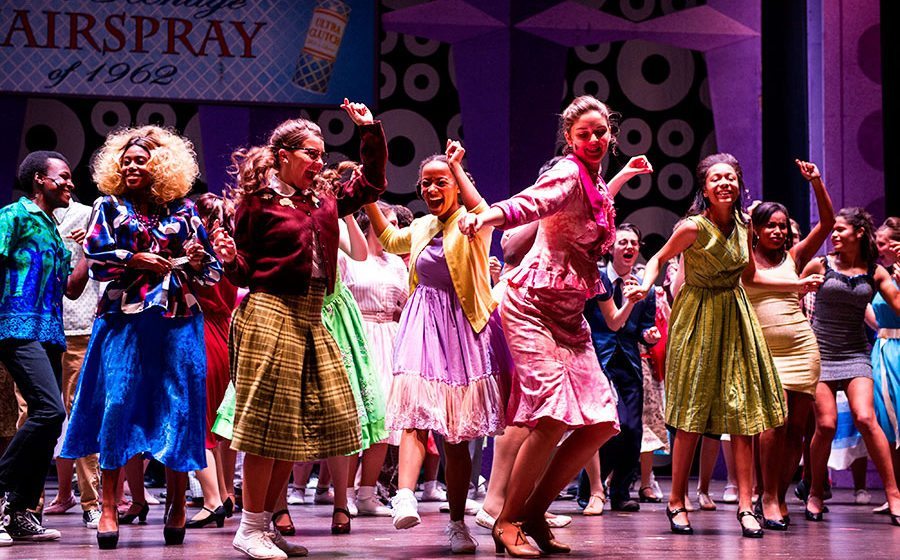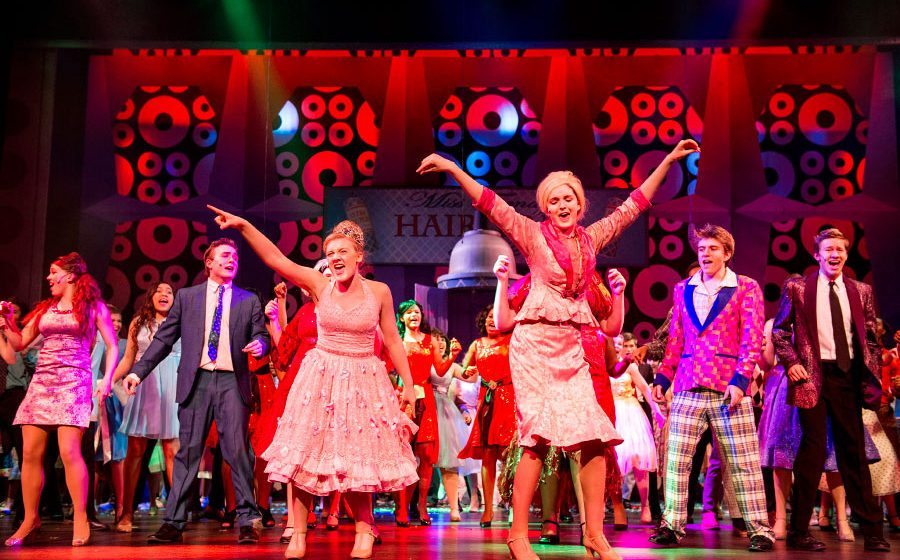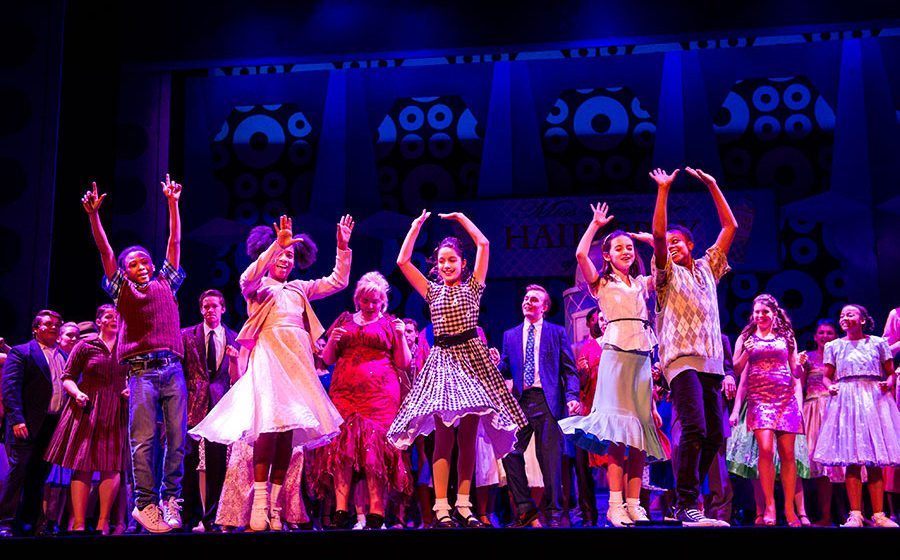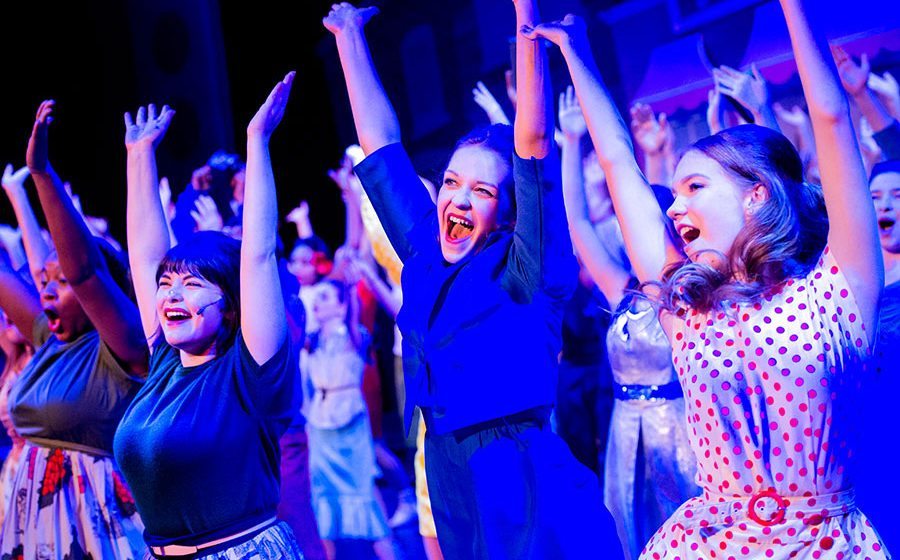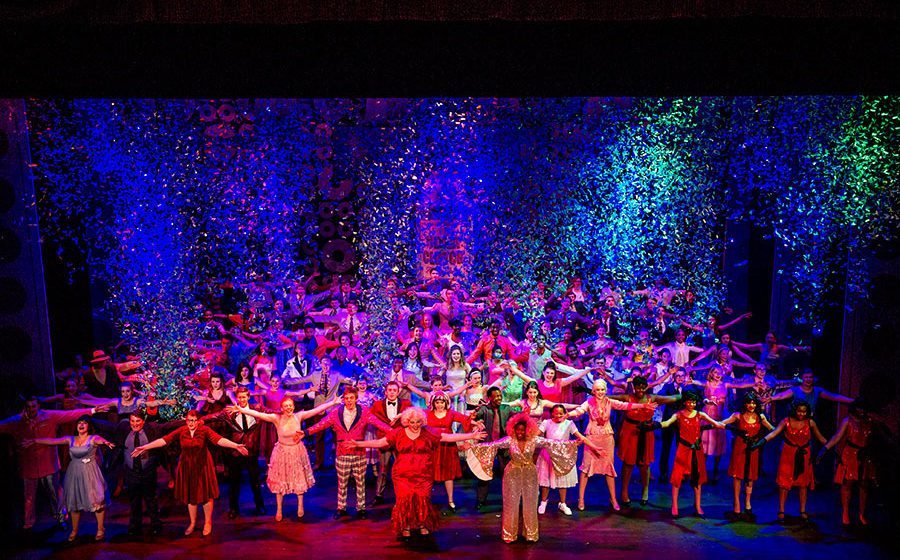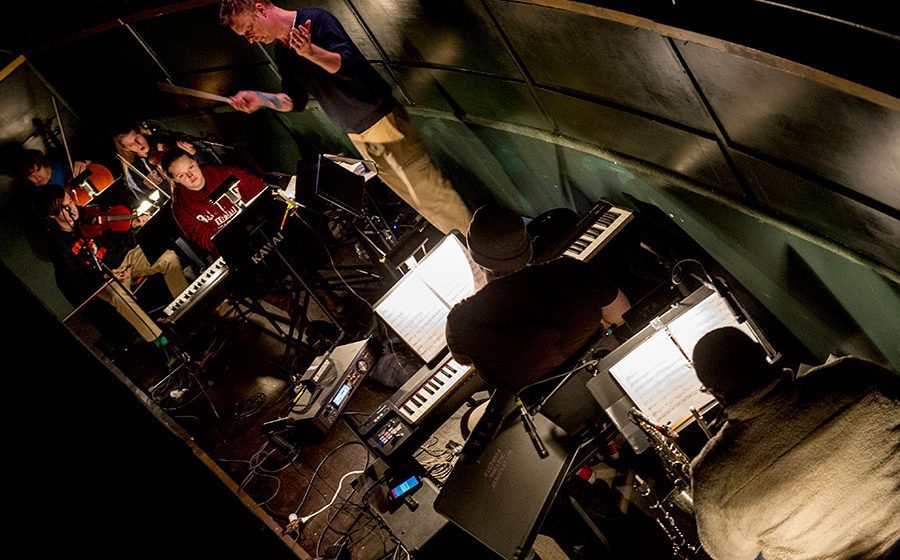 Director Joe Deer
Choreographer Lula Elzy
Music Director Sean Michael Flowers
Producer Douglas Merk
Rehearsal Stage Manager Shannon Sellars
Performance Stage Manager Stacie Bigl
Technical Director/Lighting Designer John Rensel
Sound Design David Sherman
Costume Coordinators Toni Donato Shade, Alisa Vukasinovich
Principal Photography Daniel Rader
CAST
Tracy Turnblad Kaite Hubler
Corny Collins Jack Blair
Amber Von Tussle Lauren Eifert
Link Larkin Kyle Bates
Prudy Pingleton Mackenzie Wolcott
Edna Turnblad Fischer Barnett
Penny Pingleton Ana Smith
Velma Von Tussle  Clare Kneblik
Mr. Spritzer Jacob Jones
Wilbur Turnblad  Jack Lewis
Principal Will Taylor
Seaweed J. Stubbs Mark Antony Howard
The Dynamites Hannah Bradshaw, Mae'lesha Cooper, Aliya Johnson, Nivella Ochen, Kiama Wa-Tenza
Mr. Pinky Adam Clark
Gym Teacher Michelle Strauss
Little Inez Amber Butler
Motormouth Maybelle Kennedy Cook
House of Detention Matron Michelle Strauss
TV CAST
Kyle Bates
Jo Baudendistel
Clara Bement
Isaac Bement
Tommy Cole
Cameron Combs
Lily Cutler
Austin Diehl
Melanie Dodson
Breanna Douglas
Caroline Eifert
Lauren Eifert
Branden Fisher
Abbey Fry
Steven Greenwalt
Tyler Hanson
Rebecca Helt
Aydrianne Hofschild
Jack Issler
Laura Jacobs
Bobby Klosterman
Ben Kneblik
Sam McLain
Zack Nabil
Marisha Osowski
Chloe Parks
Summer Shroyer
Zoe Singleton
Ben Slauenwhite
Maxwell Williams
RECORD SHOP KIDS
Hannah Bradshaw
Elyse Burrus
Amber Butler
DJ Calzada
Mae'lesha Cooper
James Fields
Aliya Johnson
Mark Howard
Jonathan Johnson
Charlotte Kunesh
Keshawn Mellon
Emanuel Kindred
Amirah Musa
Tiana Norvell
Nivella Ochen
Jaya Parker
Jaden Payne
Jalen Shaw
Milan Vukasinovich
Kiama Wa-Tenza
Alana Ward
Darian Watson
Mac Weatherspoon
BALTIMOREANS
Ana Adams
Nehemiah Adams
Noah Berner
Megan Braun
Luke Buell
Adam Clark
Matt Cromwell
Makayla Curington
Kaleb Dennany
Peyton Deutsch
Kasey Dingee
NaTonya Driscoll
London Eberly
Erin Fultz
Benjamin Harshbarger
Tucker Hauff
Elizabeth Hayn
Jayden Hayn
Jalon Herring
Meemo Hoey
Sophia Holmes
Camryn Holt
Jalae Holt
Griffith Jolliffe-Haas
Benjamin Jones
Libby Kaibas
Kiyla Keeley
Katie Kress
Sara LiBrandi
Ava Linder
Julie Murphy
Briana Oroszi
Atalya Pentheny
Charlize Perry
Chloe Rawlins
Isabel Rawlins
Donaven Richardson
Amelia Shade
Cheyanne Shaw
David Shockey
Noah Stamper
Michelle Strauss
Will Taylor
Maimouna Thiaw
Ben Tipton
Maggie Weckesser
Mackenzie Wolcott
Kaleb Wourms
Kaitlyn Zubrzycki
BALTIMORE KIDS
Jasmine Acuna
Khyree Banks
Jocelynn Bankston
Micah Bauman
Laila Blumer
Brooke Briscoe
Carter Burkhardt
K'ana Butcher
Micah Carnes
Donovan Ewing
Katherine Fair
Clay Graham
Jul'bria Harrison
Jalon Herring
Kamaria Hughes
Harrison Meiser
Tiyah Parker
Jamey Paul
Aianna Powell
Addie Reid
Donaven Richardson
Collin Rismiller
Tamya Roberts
Katie Ruetschle
Luke Ruetschle
Anne Sableski
Colleen Sableski
Nora Sableski
Bryce Schweikhardt
McKenzie Searcy
Nico Simmons
Emma Slauenwhite
Maggie Slauenwhite
Abbey Stamper
Jordan Thornburg
Anika Vukasinovich
Nikoli Vukasinovich
Amaria Wallace
ORCHESTRA
Kevin Anderson
Charles Bough
Justin Dawson
Noah Foskuhl
Robert Gooch
Zach Hanna
Danielle Hutchison
Craig Jackson
Shelly Lewis
Michael McCann
Eric Neuenschwander
Elizabeth Ordeman
Nelson Stone
Noah Thompson
PRODUCTION ASSISTANTS
Quinn Bennett
Ashley Bey
Jessy'ka Brown
Catherine Bryan
Jack Degenhart
Anne Hamm
Morgan Jergens
Bailey Lepley
Phoebe Magruder
Kailey Miller
Courtney Stevenson
Nick Wolcott
Avery Woodruff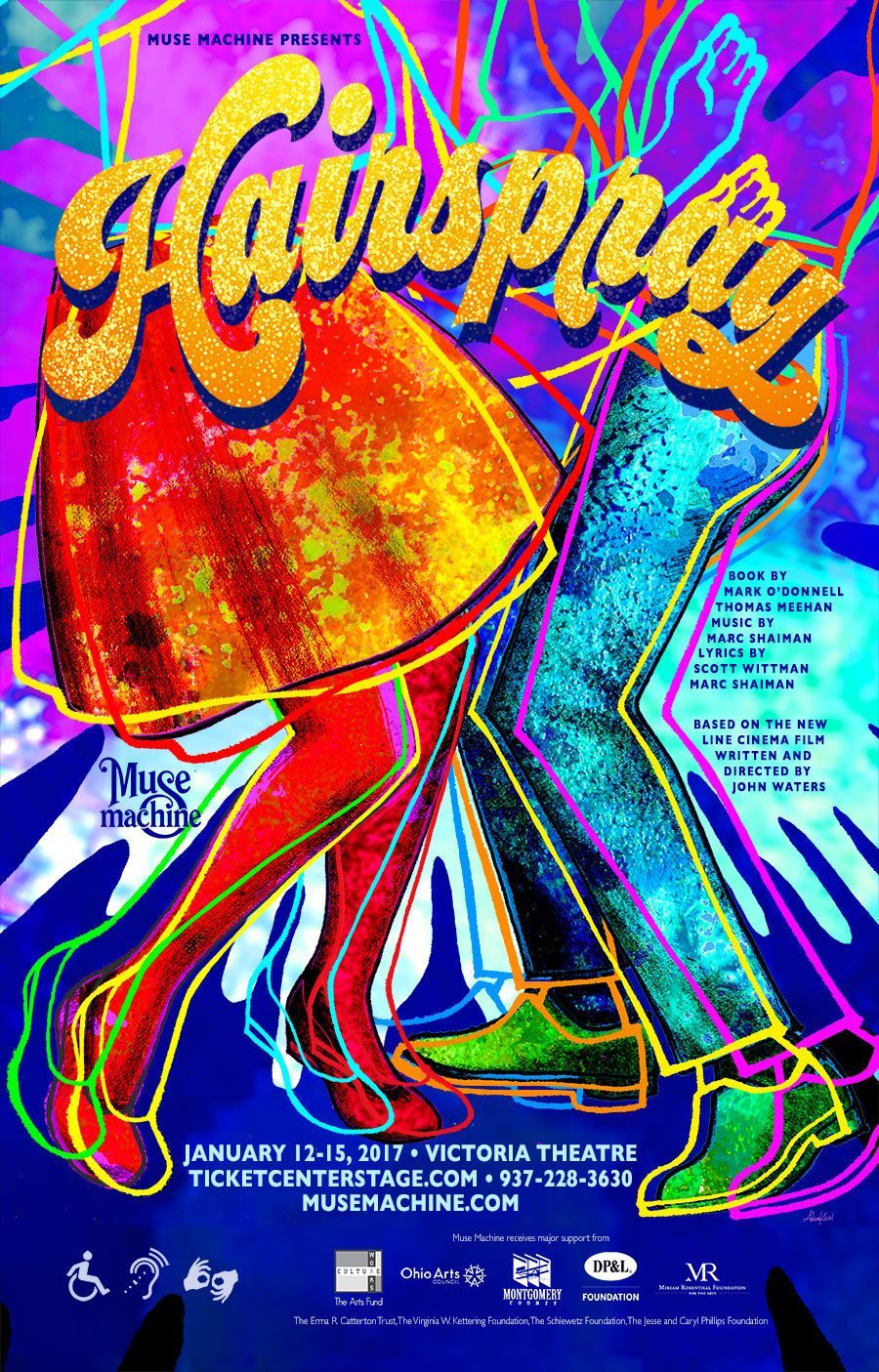 This production was dedicated to Michael Lippert.
Promotional artwork designed by Adam Koch.
Watch Video: Opening Night Backstage
Watch Video: Hairspray on WDTN
Hairspray Review: Dayton Most Metro
Provide Add'l Photos Or Correct Errors