"Whew, boy, is it normal out there!"
The Addams Family
June 17-19, 2022 • Victoria Theatre The Addams Family brings together the beautifully strange family we know and love with their own ancestors (dating back hundreds of years and visiting from the great beyond) as well as a comparatively "normal" family from Ohio. A night trapped in the mansion makes it clear that secrets have a habit of finding their way into the light — and that love is the most powerful motivator (even for an Addams). A musical return for Muse after the pandemic pressed pause for two and a half years, the sight and sound of Muse performers on stage in top form, along with the laughter and cheering from the house, made this show an especially joyful celebration.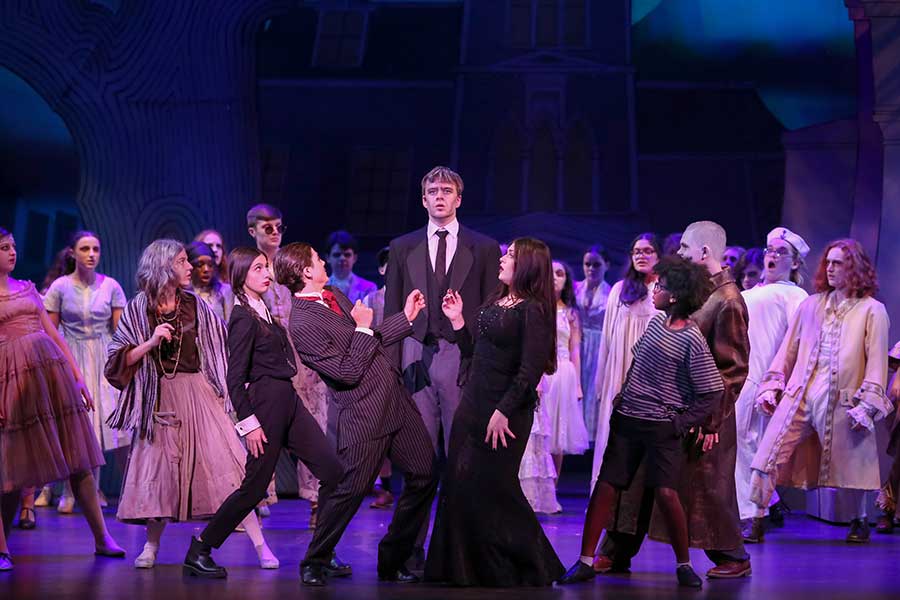 The Addams Family photo gallery coming later this year
Director Joe Deer
Choreographer Lula Elzy
Music Director Jeffery Powell
Producer Douglas Merk
Rehearsal Stage Manager Shannon Sellars
Performance Stage Manager Anna Moore
Technical Director/Lighting Designer John Rensel
Costume Coordinators Nikki Sherck, Alisa Vukasinovich
Sound Design Jacob McGlaun
Additional Choreography James Dixon
Principal Photography Faye Sommer & Matt Silver
CAST
Gomez Addams Ben Anticoli
Morticia Addams Isabel Rawlins
Uncle Fester Griffin Greear
Grandma Via Mongelli
Wednesday Addams Maggie Weckesser
Pugsley Addams Elias Stienecker
Lurch Luke Buell
Mal Beineke Jobe Vogelsong
Alice Beineke Haley Hemmelgarn
Lucas Beineke Nick Abouzeid
The Grim Reaper / The Moon Casen Kidd
THE ADDAMS ANCESTORS
Jasmine Acuña
Alejandro Alvarez
Eli Baranowski
Laila Blumer
Calla Boerger
Annabella Boley
Cade Bowden
Kiersten Bradley
Mallory Branek
Morgan Elliott
Ka'Vaughn Epps
Peyton Gant
Savannah Groff
Andrea Haros
Reese Hawkins
Elie Hoover
Reese Hornick
Benjamin Jones
Caroline Kaibas
Parker Kaibas
Casen Kidd
Peyton Knight
Grace Lacey
Nessa LeDonne
Ava Lockhart
Patrick Morrow
Ryan Pahal
THE ADDAMS ANCESTORS (CONTINUED)
Jamey Paul
China Phelps
Sophia Rapson
Collin Rismiller
Keegan Rismiller
Abriella Ruby
Noah Rutkowski
Nora Sableski
Lily Sellars
Ella Sherck
Kara Silver
Emmaline Slauenwhite
Abbey Stamper
Phoenix Turner
Anika Vukasinovich
Nikoli Vukasinovich
Amaria Wallace
Maggie Weckesser
Ella Wessel
Lily Wittman
Jack Wyant
THE ORCHESTRA
Violin Nicole Fyutoransky
Cello Andrea Olivas, Aidan Sullivan
Trumpet, Fluegelhorn Kendall Todd
Trombone Emma Fitzpatrick
Clarinet, Alto Sax, Flute Leena Fyutoransky
Tenor Sax, Soprano Sax Sabrina B. Barraclough
Clarinet, Bass Clarinet Anthony Whitt
Drums Andrew Haines
Percussion Spencer Morelock
Acoustic Bass, Electric Bass Nick Greenberg
Guitars Jay Brunner
Keyboard 1 Jeffrey Powell
Keyboard 2 Zoe Brunner
PRODUCTION ASSISTANTS
Celeste Acuña
Derek Alex
Faith Coleman
Maria Ely
Benjamin Moore
Nico Reynolds
Sabine Reynolds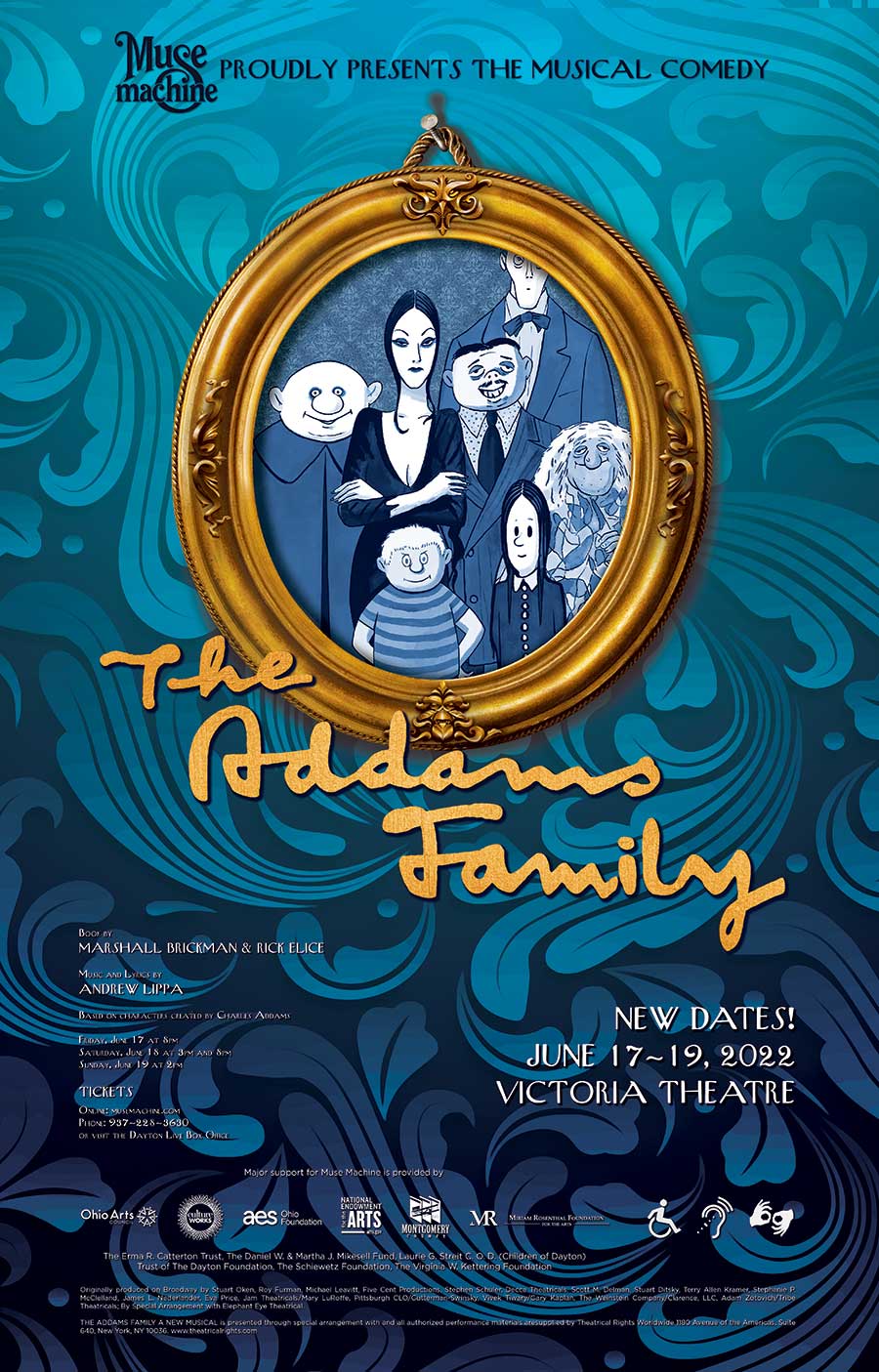 This production was dedicated to the Muse Machine teachers.
Promotional artwork design by Douglas Merk (family illustration by Charles Addams).
Read the Preview from Dayton Daily News