"Everybody's got a dream"
In The Heights
January 16-19, 2020 • Victoria Theatre In The Heights is the thoughtful, funny and emotional musical from the creator of Hamilton, Lin-Manuel Miranda. It blends hip hop, Latin musical styles and musical theatre in new, organic ways that the Muse cast and musicians embraced. Miranda expressed his wishes that the show would be performed by communities everywhere and, in so doing, they would come to learn more about, celebrate and respectfully represent those in the story's predominantly Dominican-American neighborhood. Through an expanded creative team, language coaches and cultural presenters, Muse endeavored to honor those wishes. In addition to the remarkable reaction from the public, Lin-Manuel Miranda himself, along with other Broadway and Hollywood creators and performers aligned with the original stage production and upcoming film adaptation, reacted lovingly to the Muse cast (more on that below)!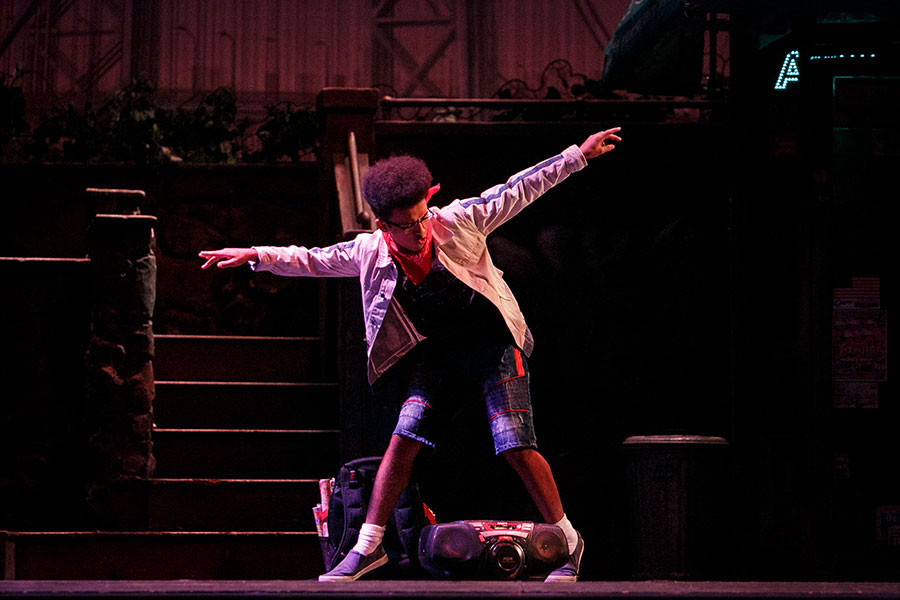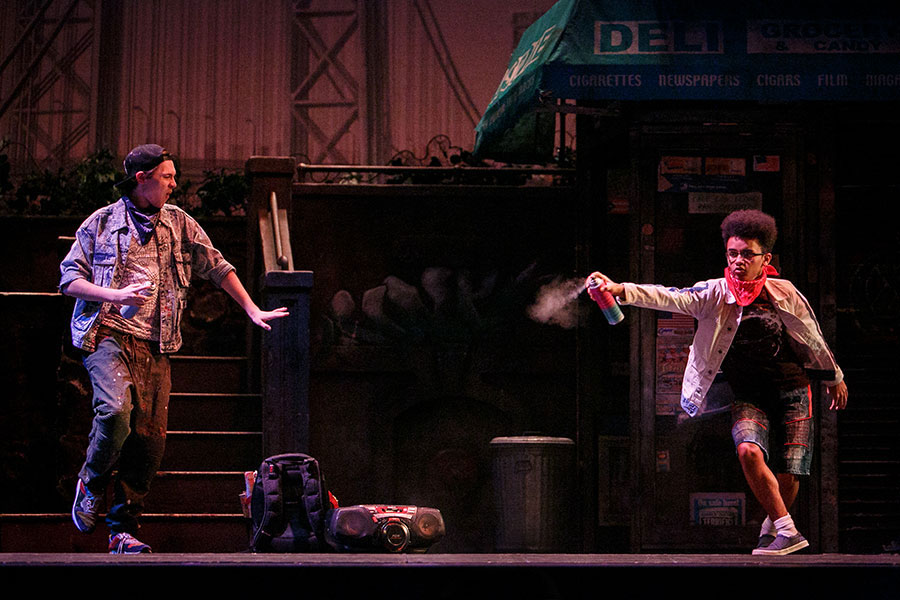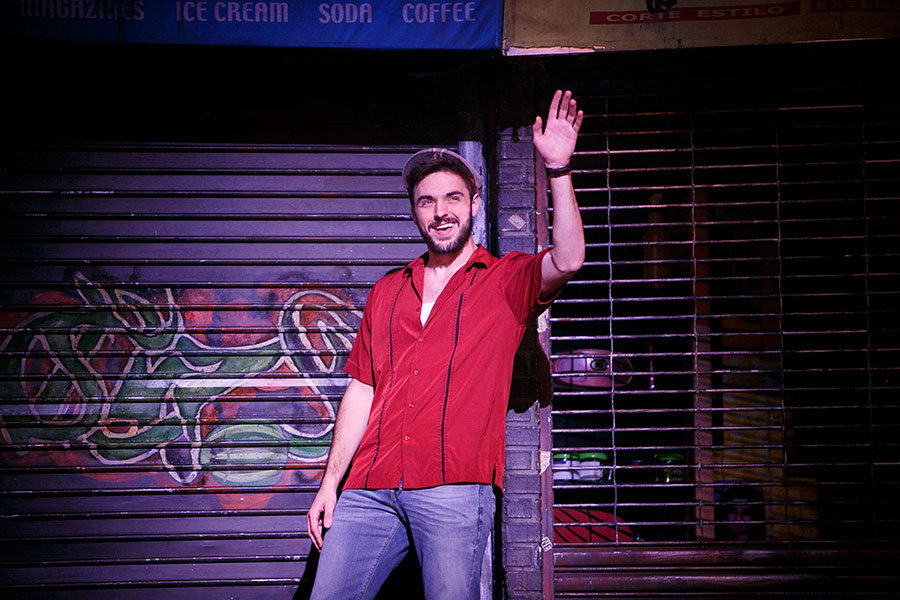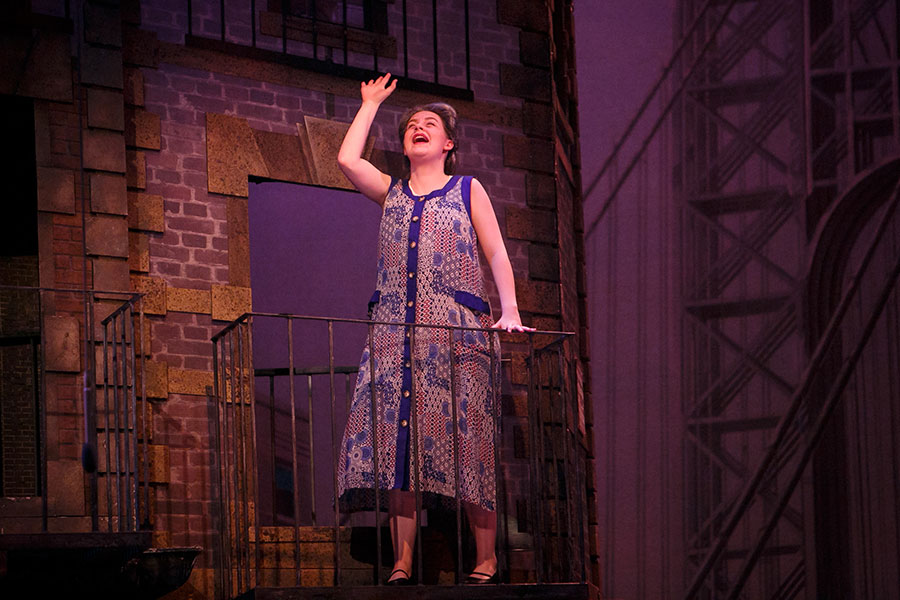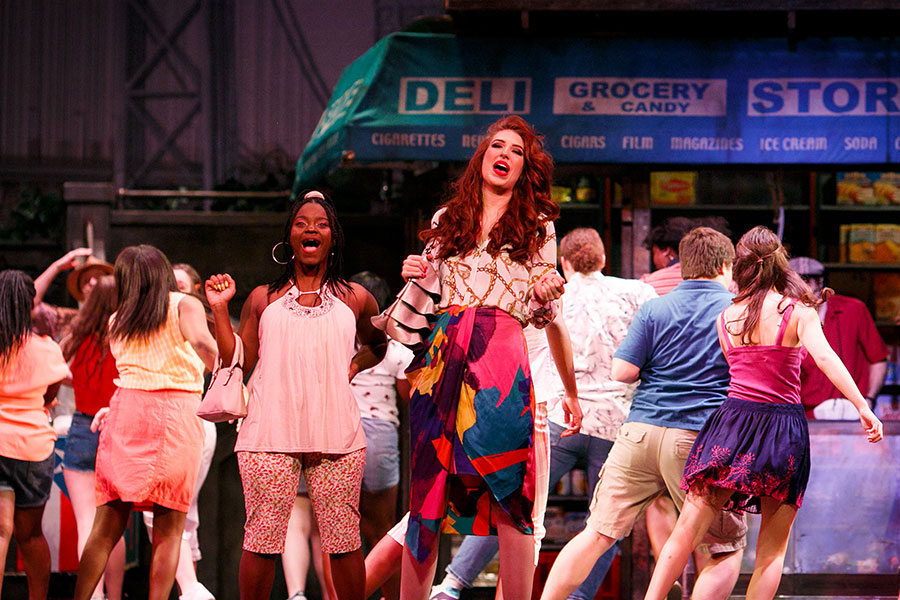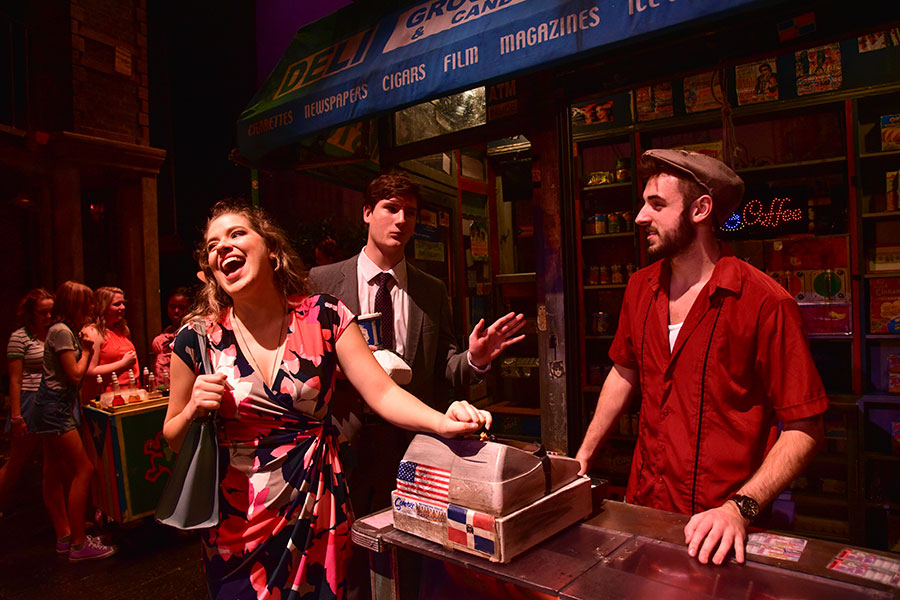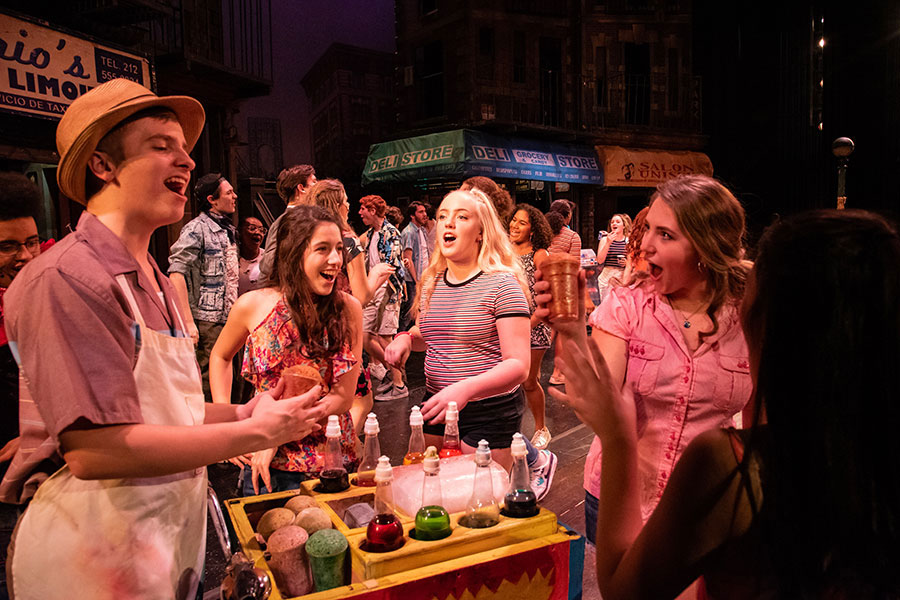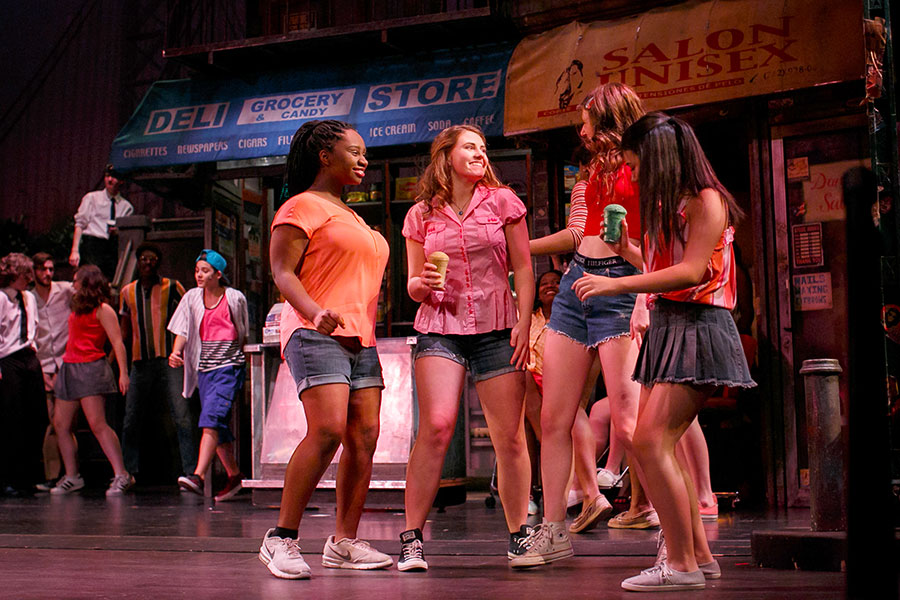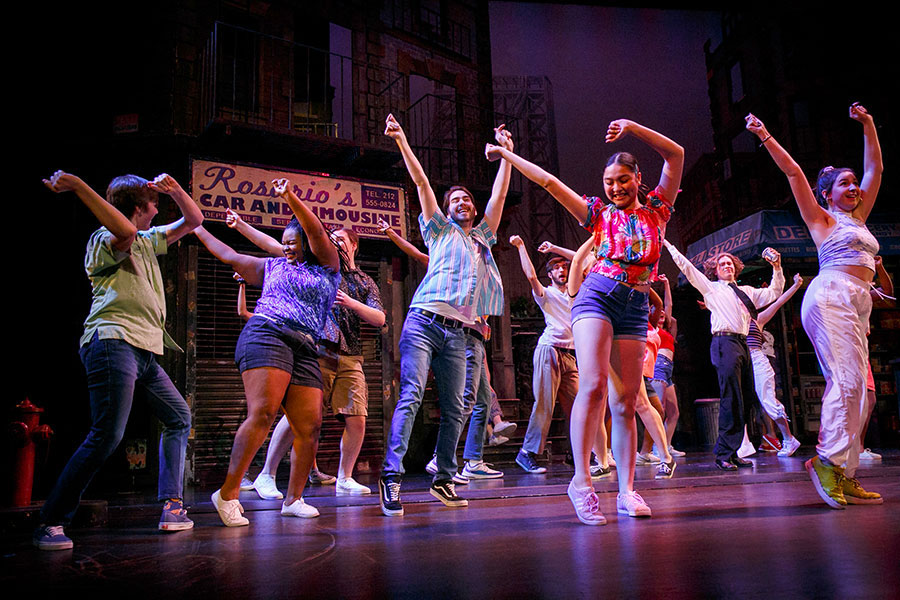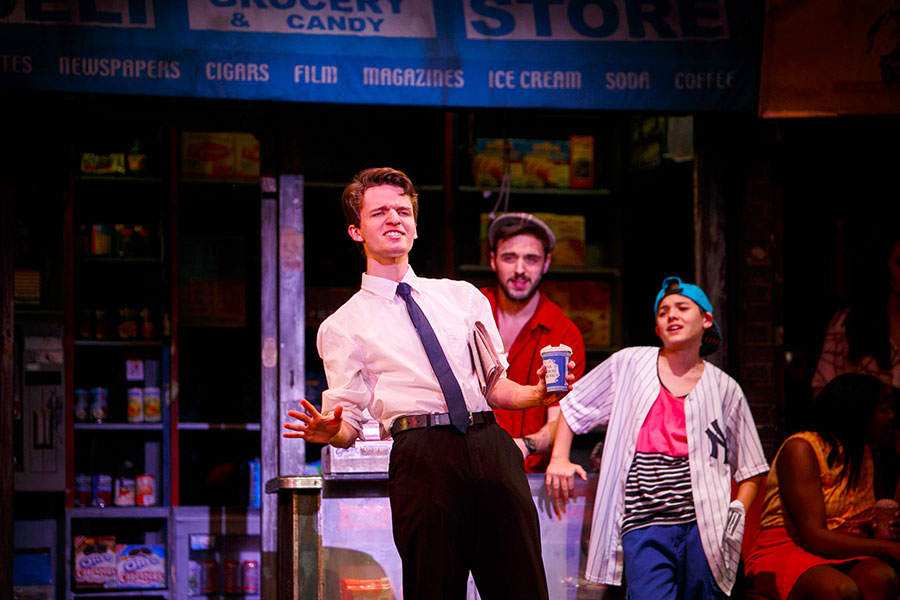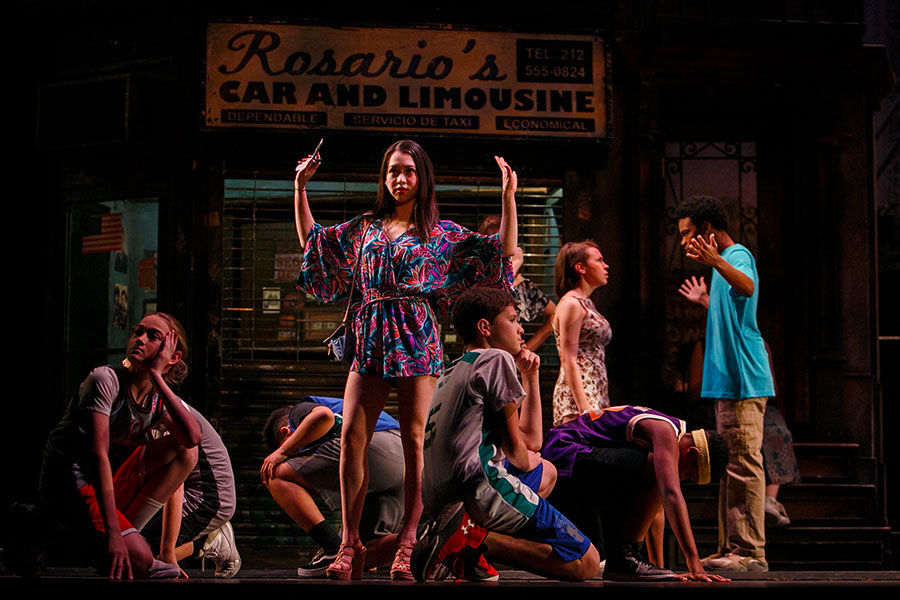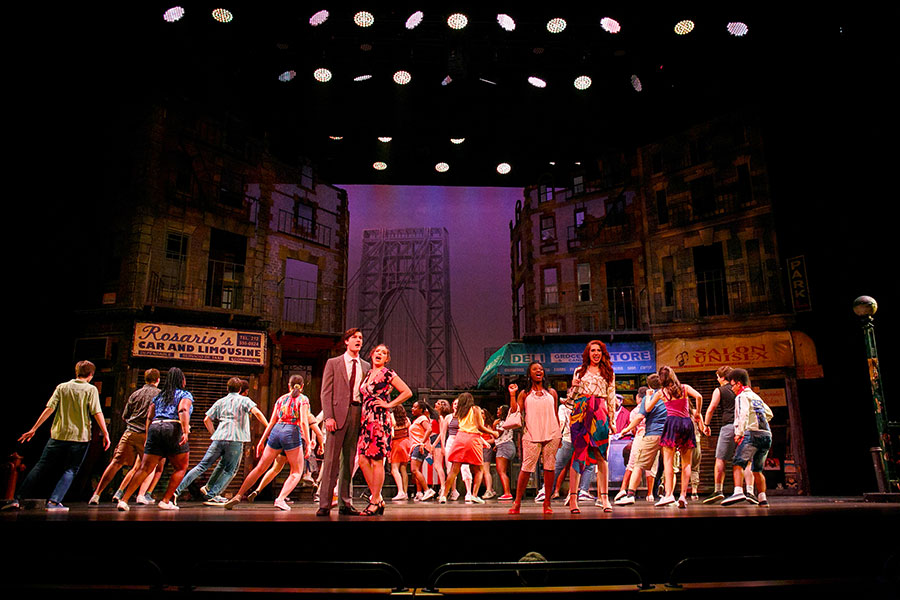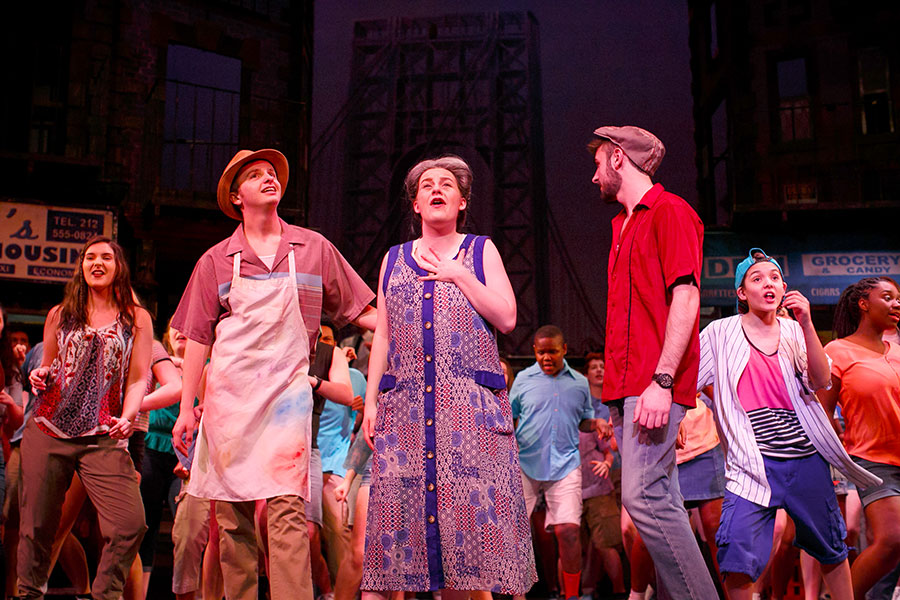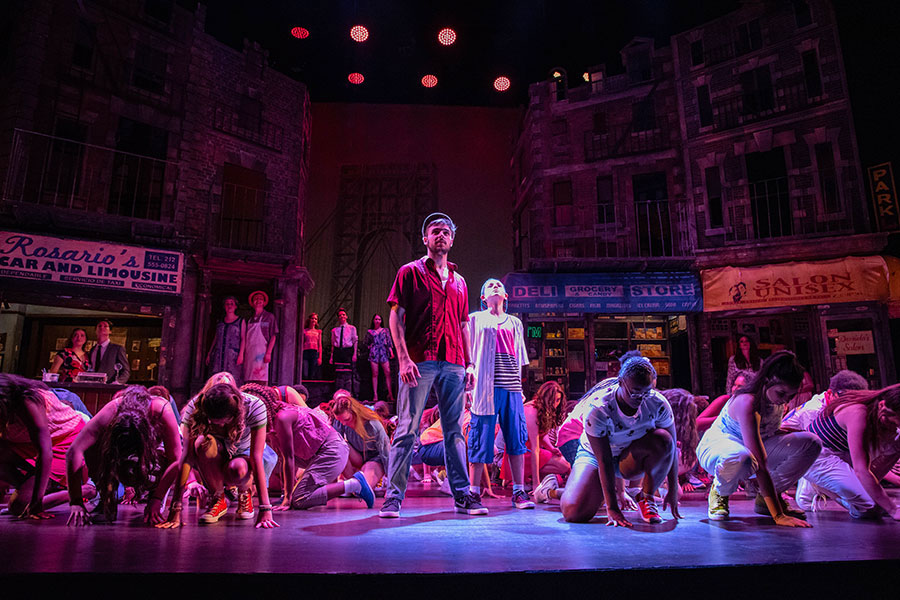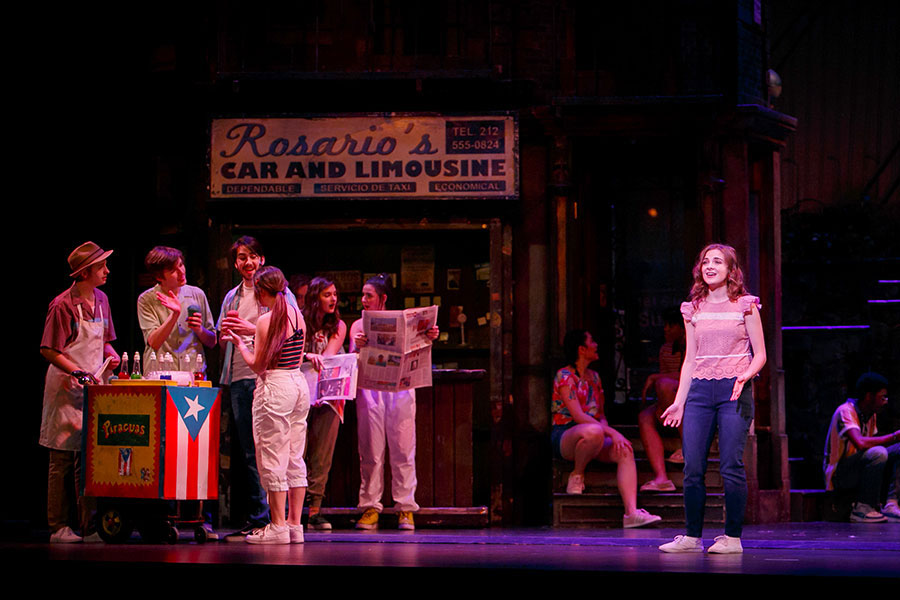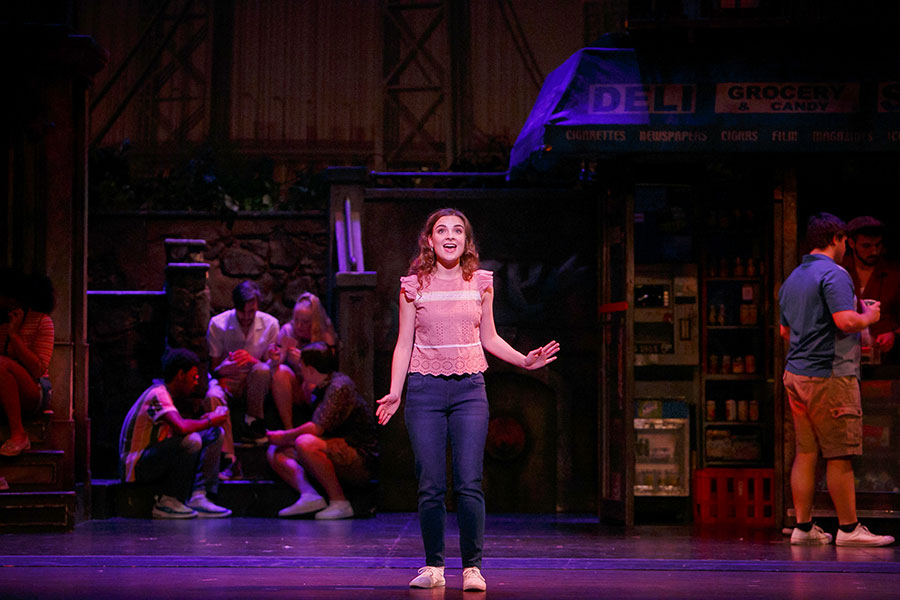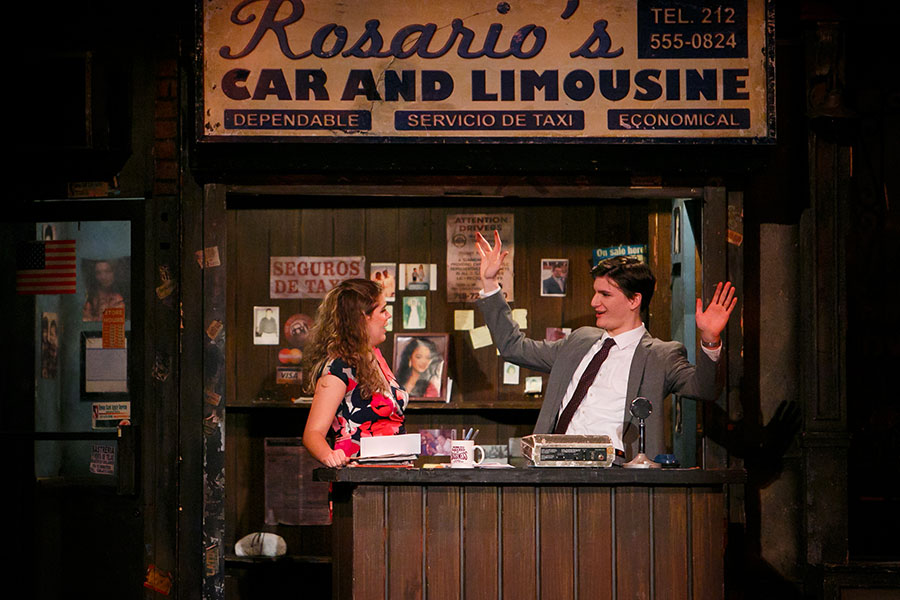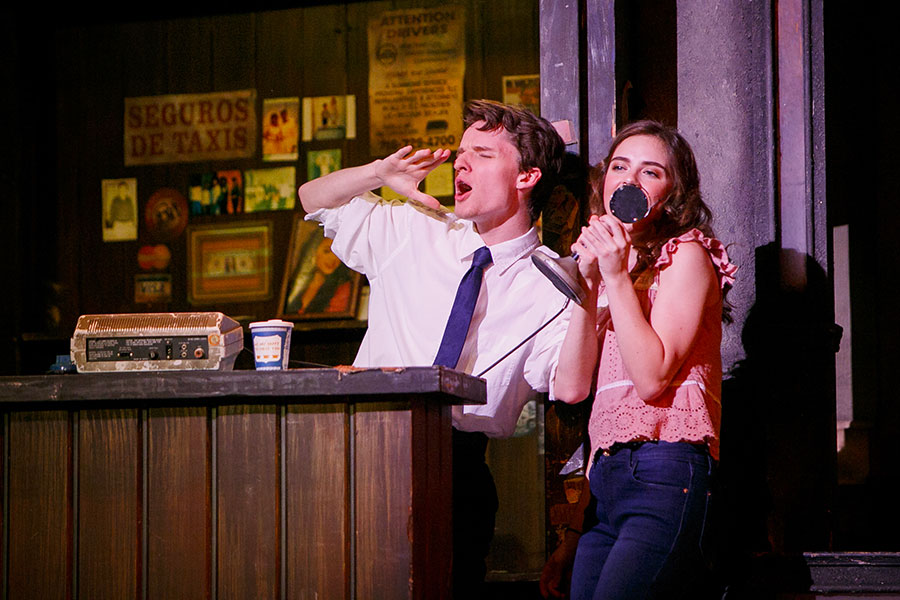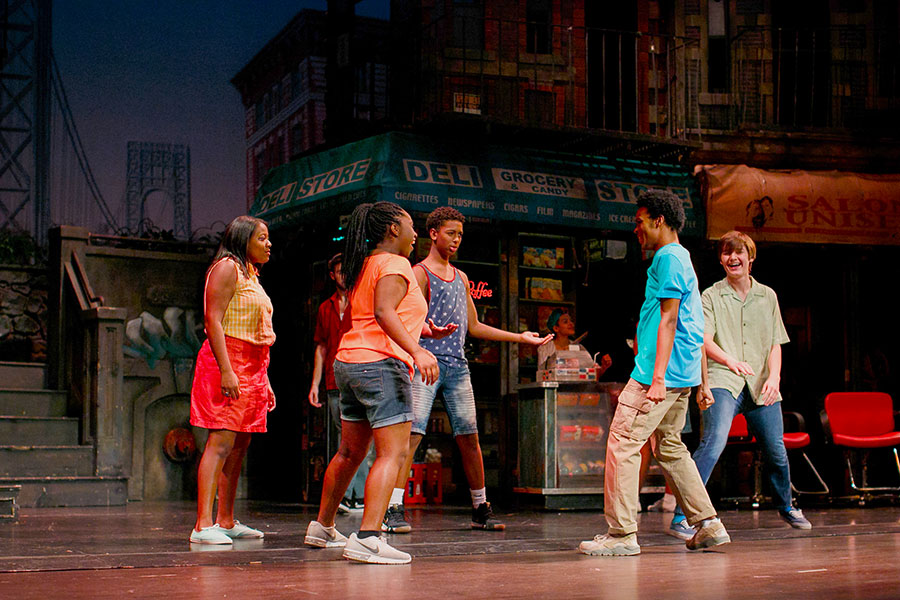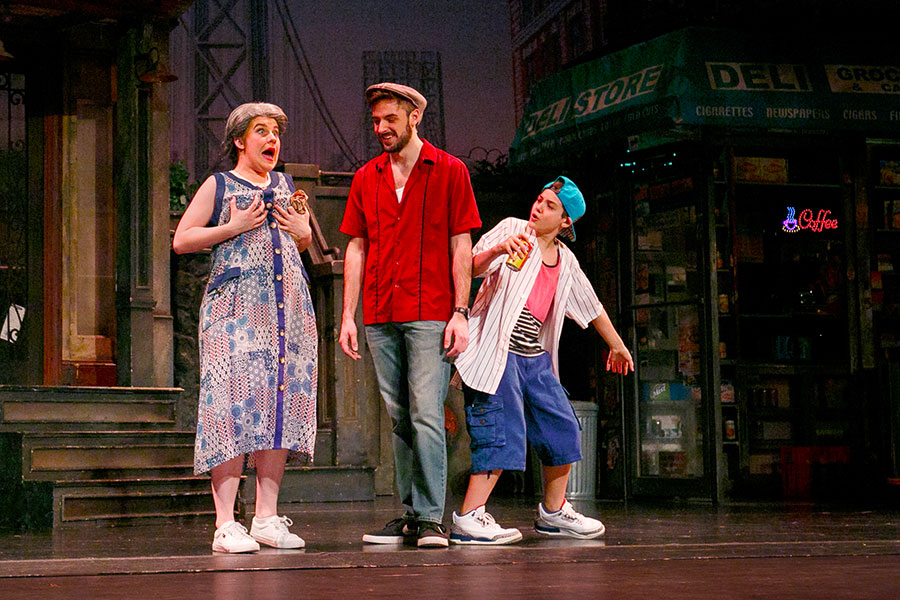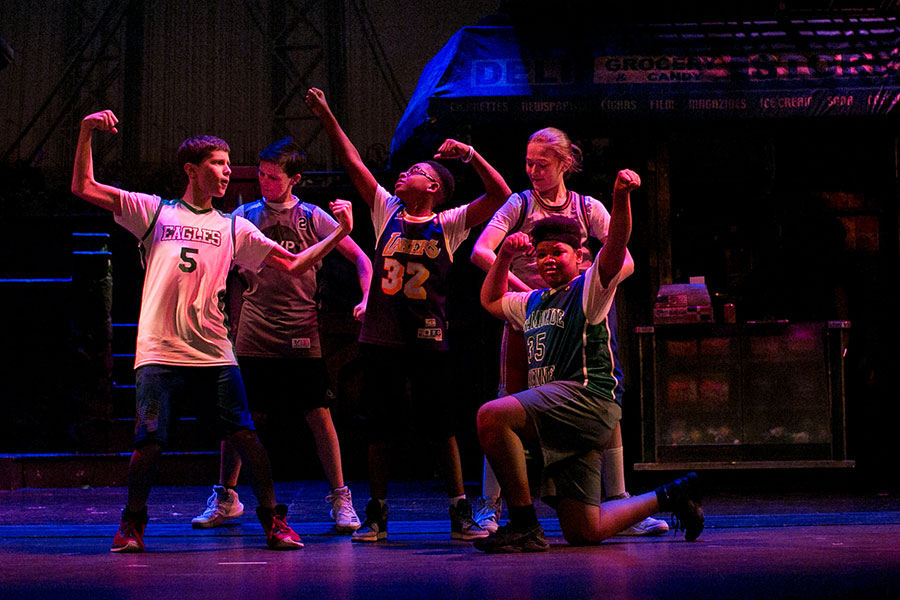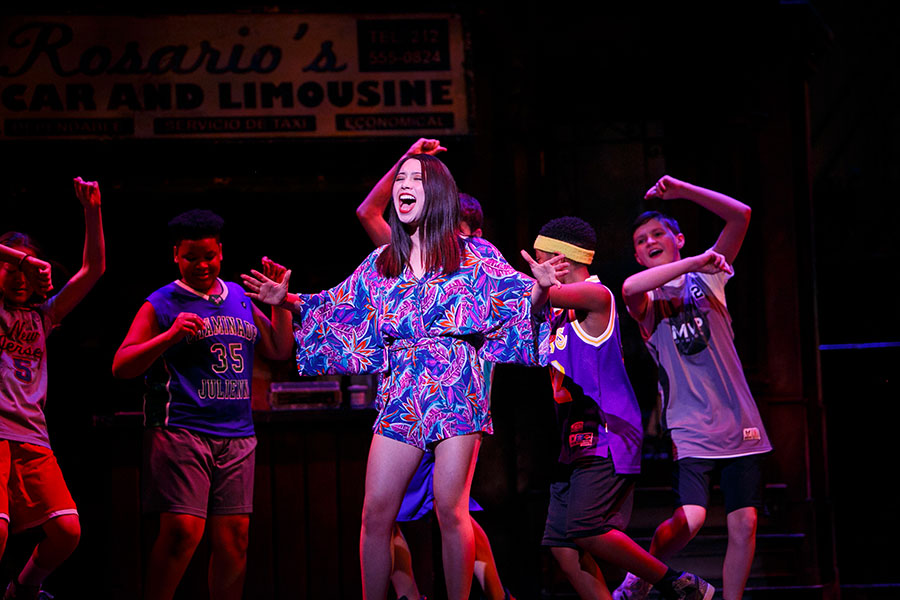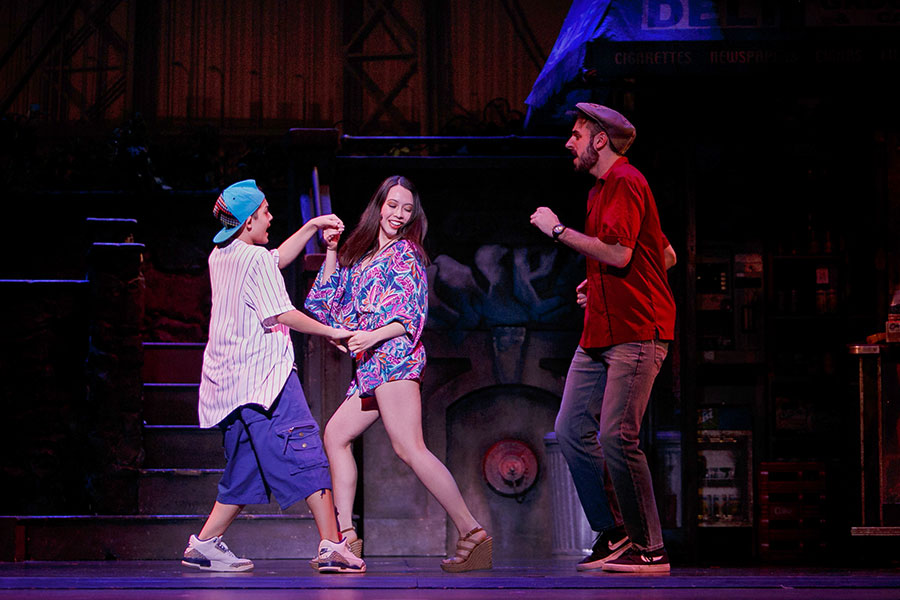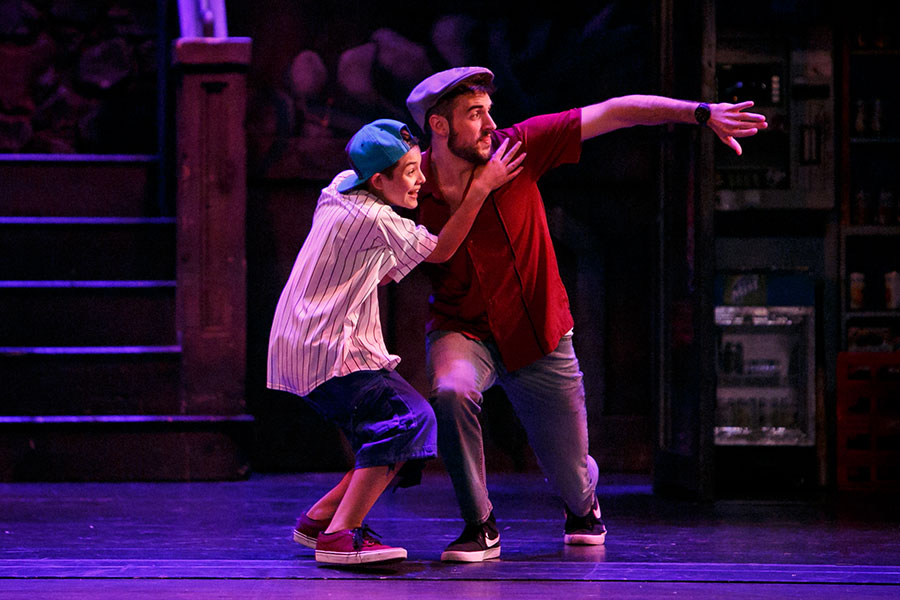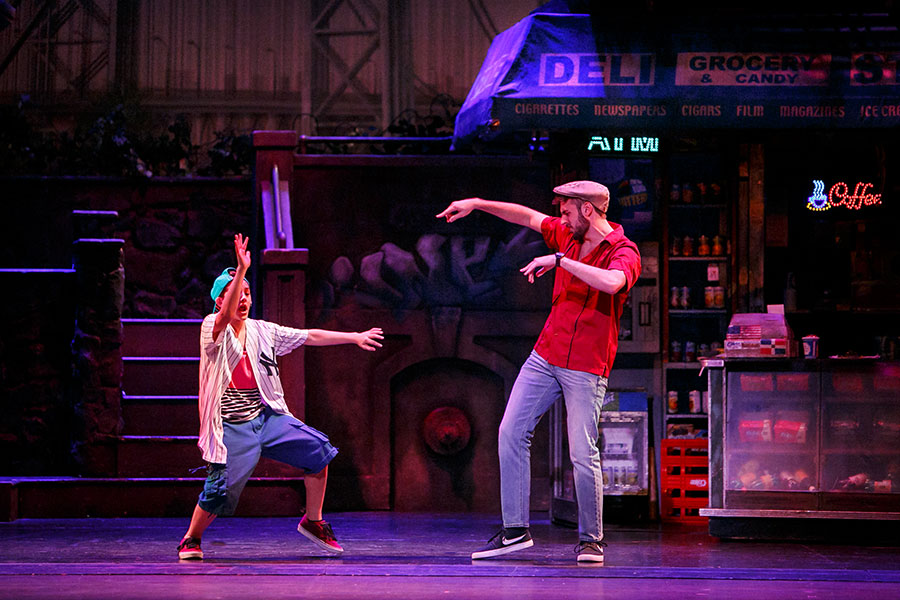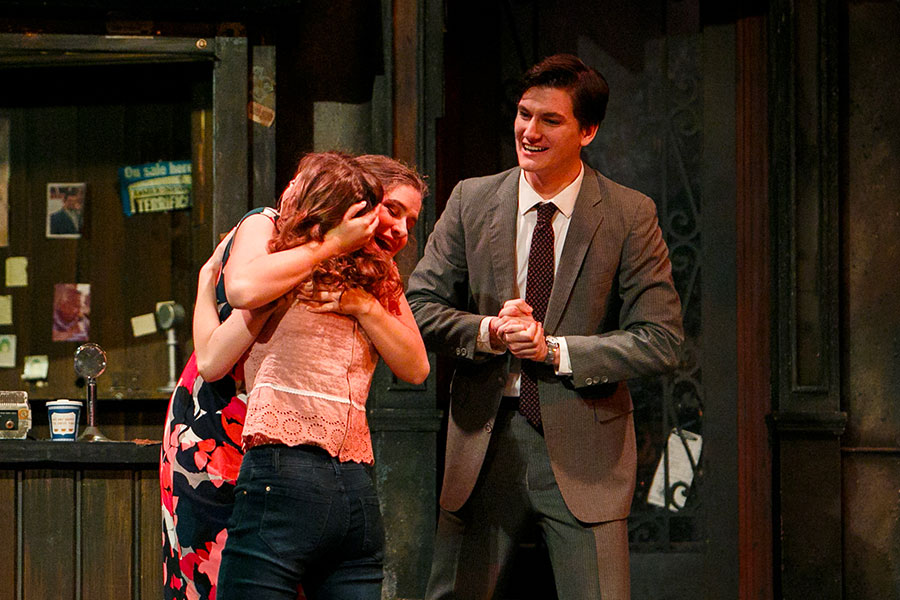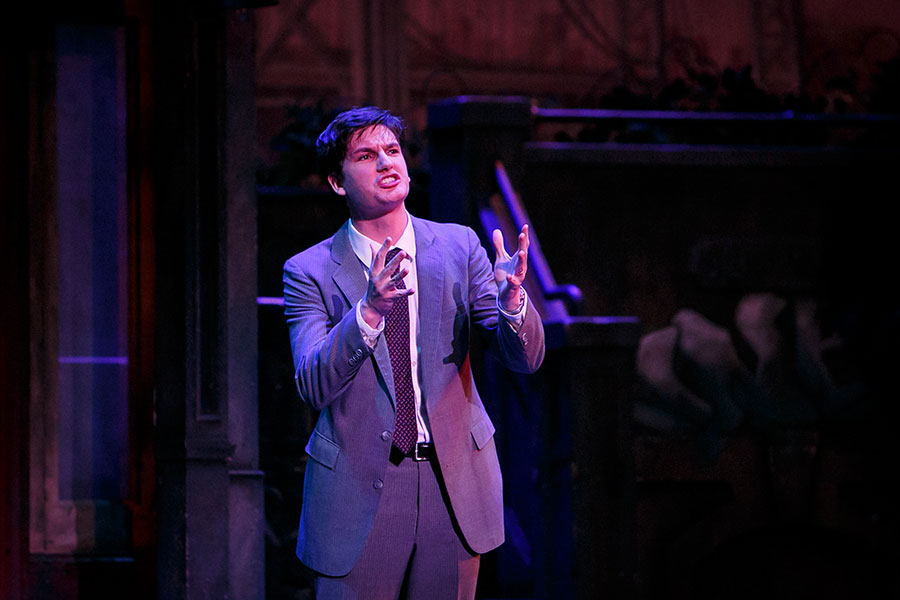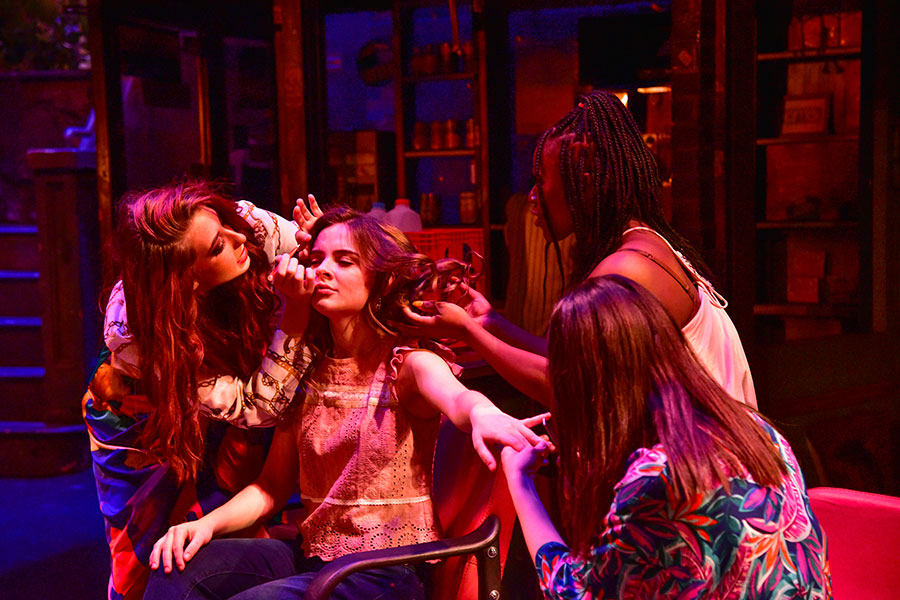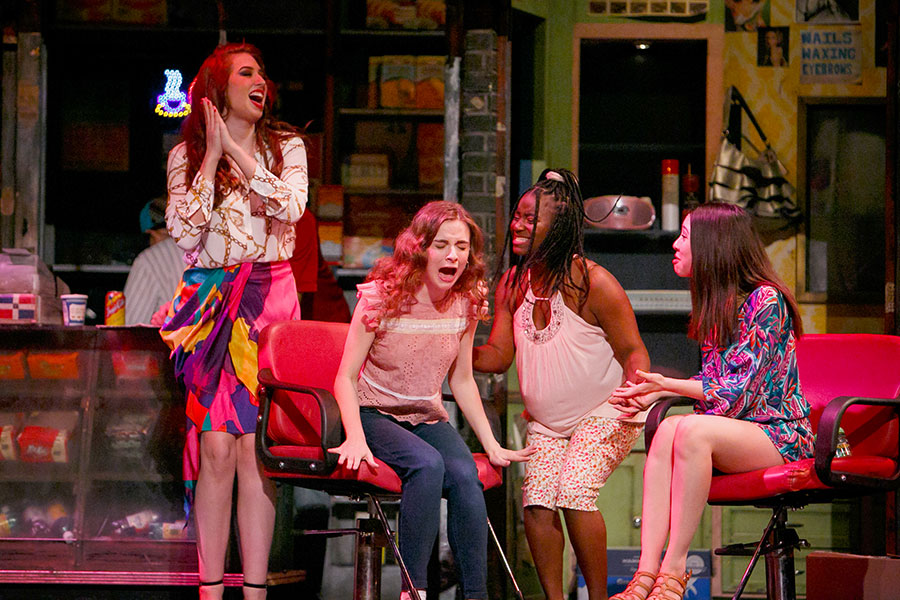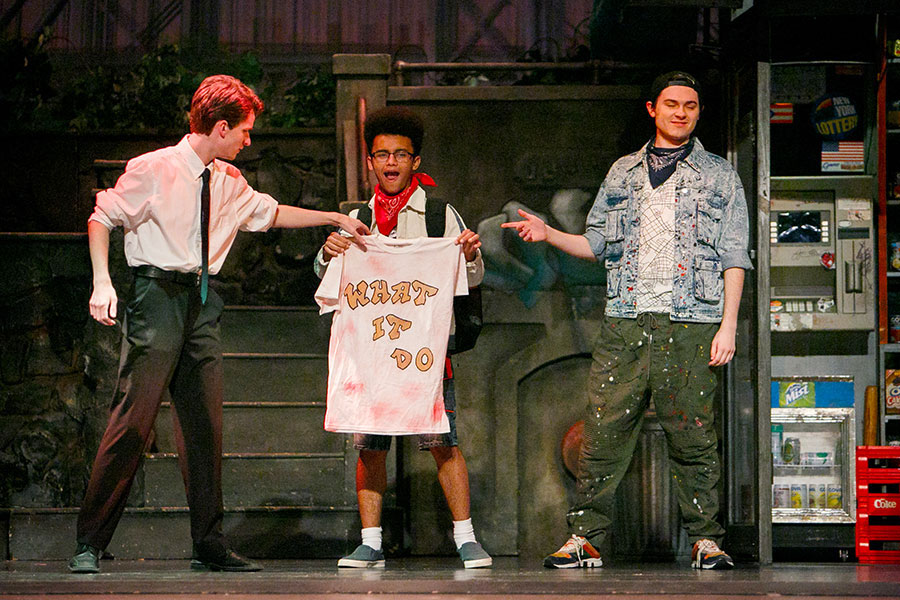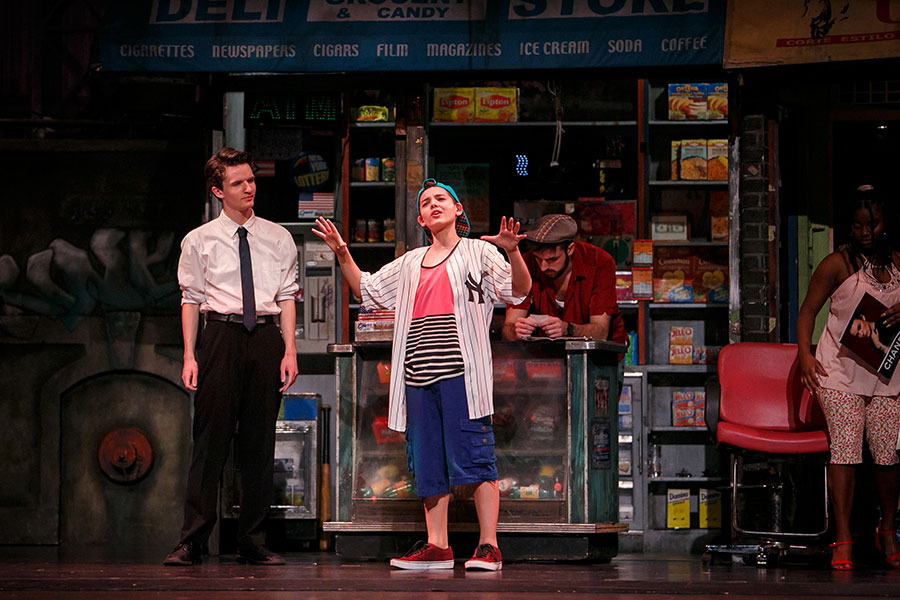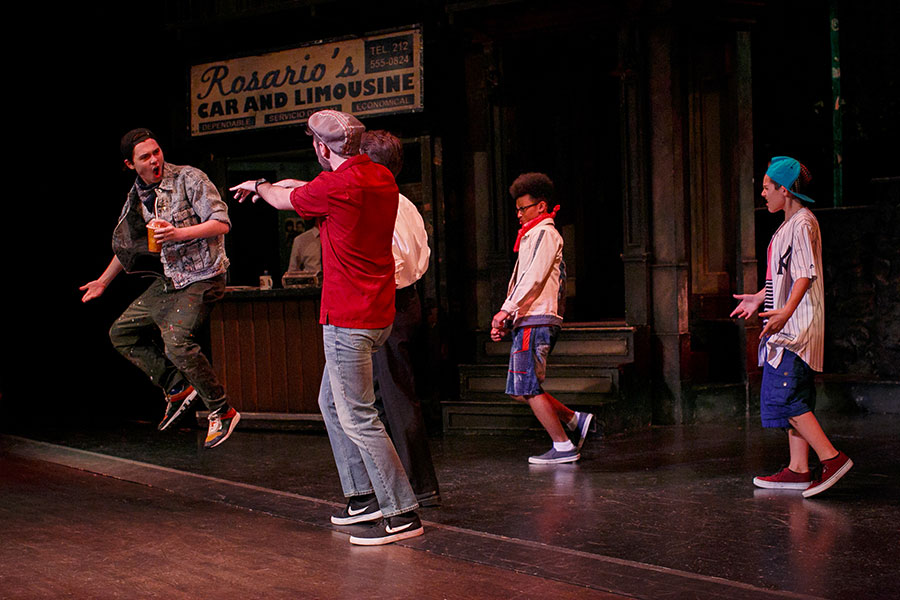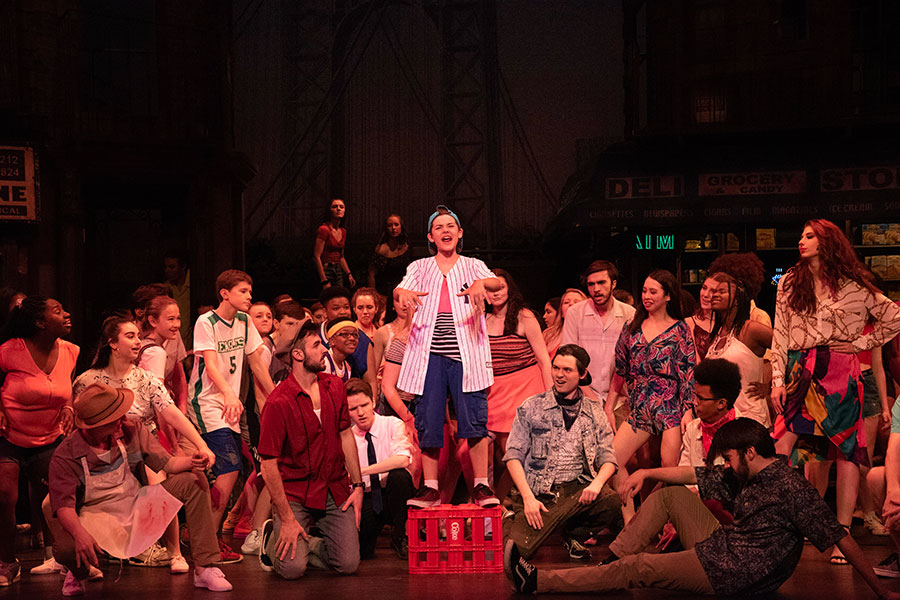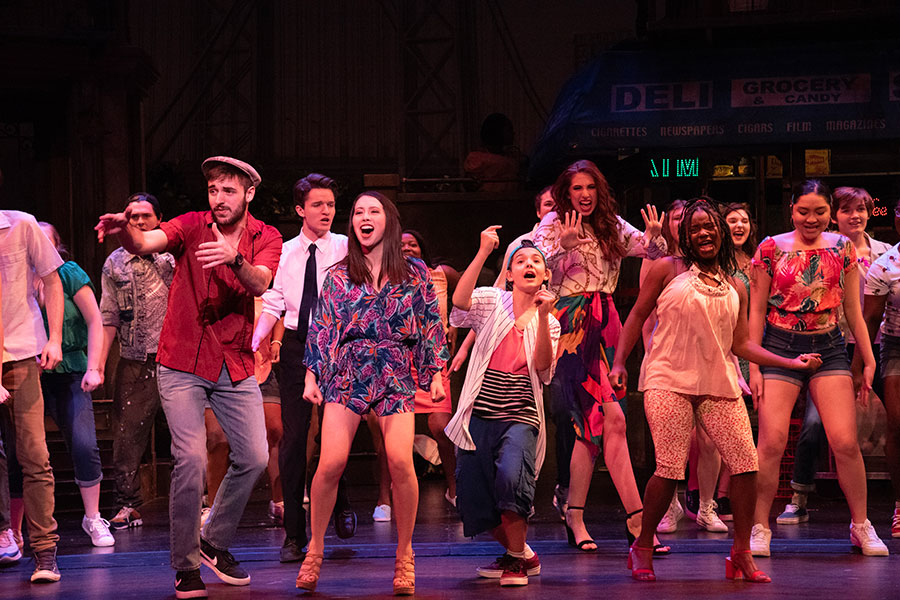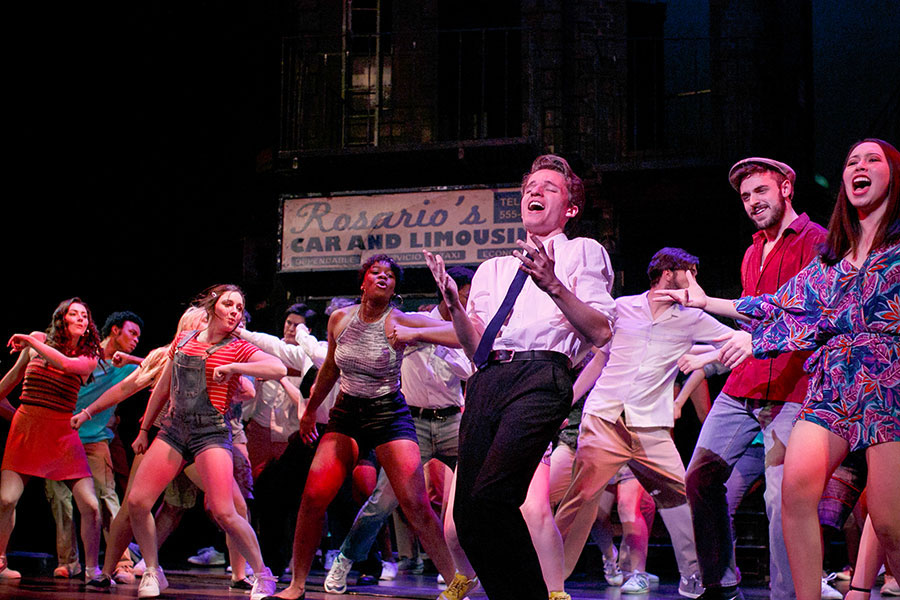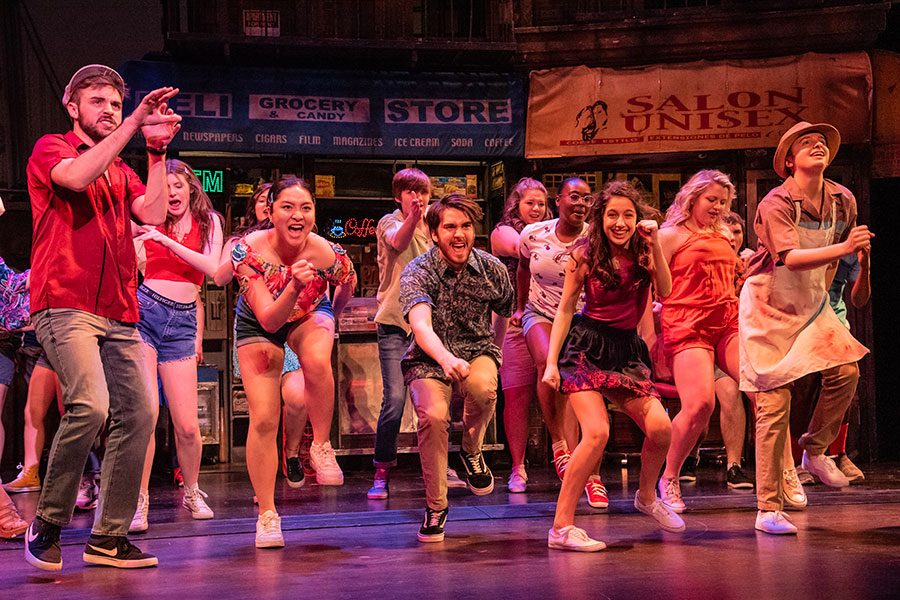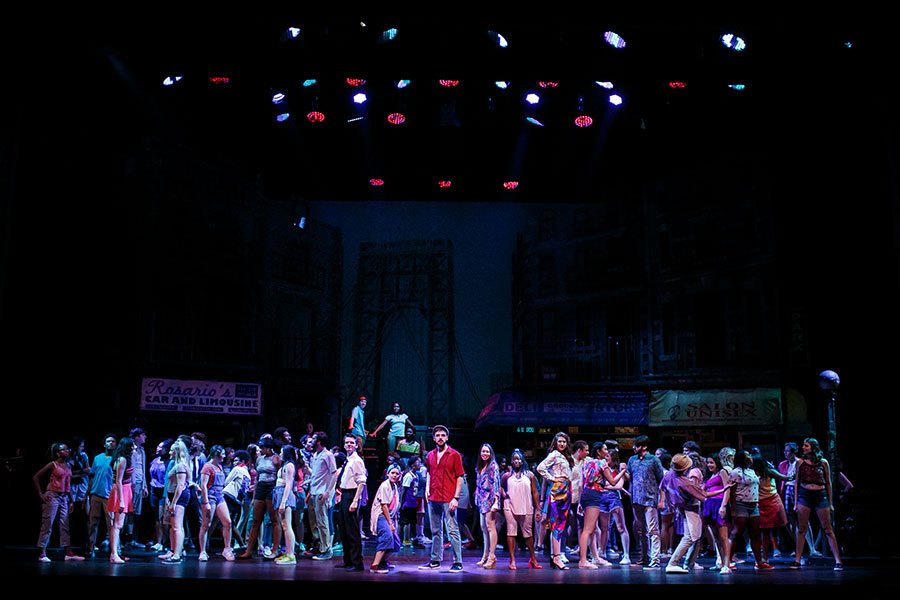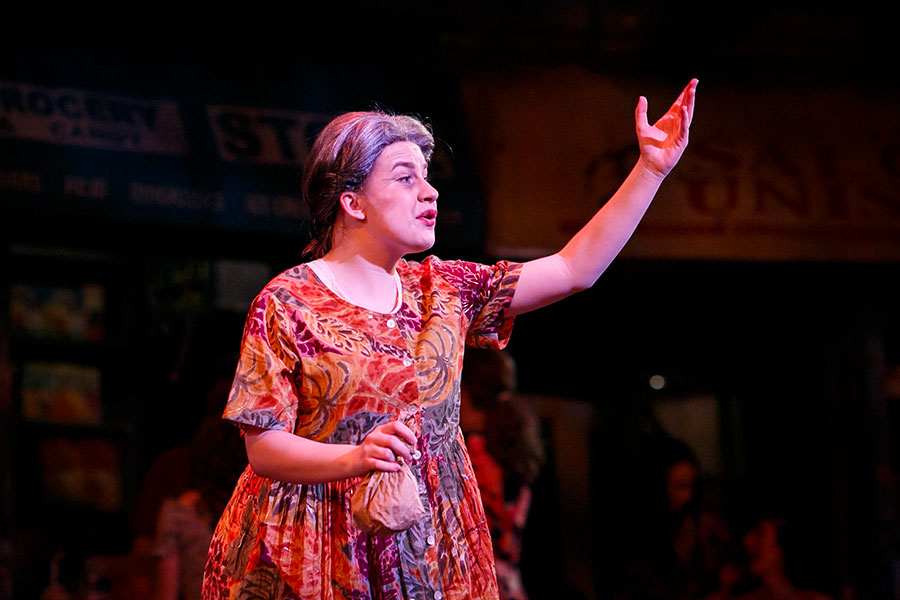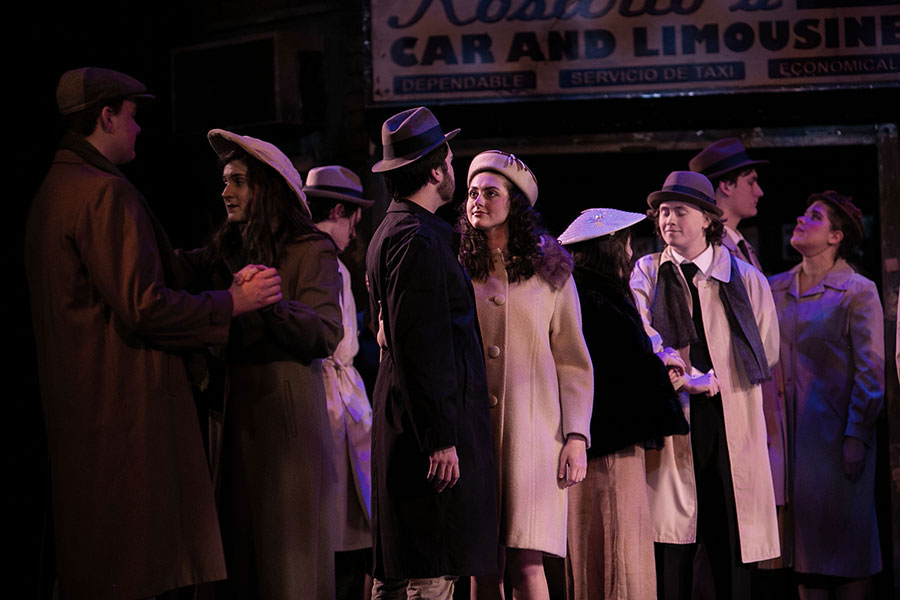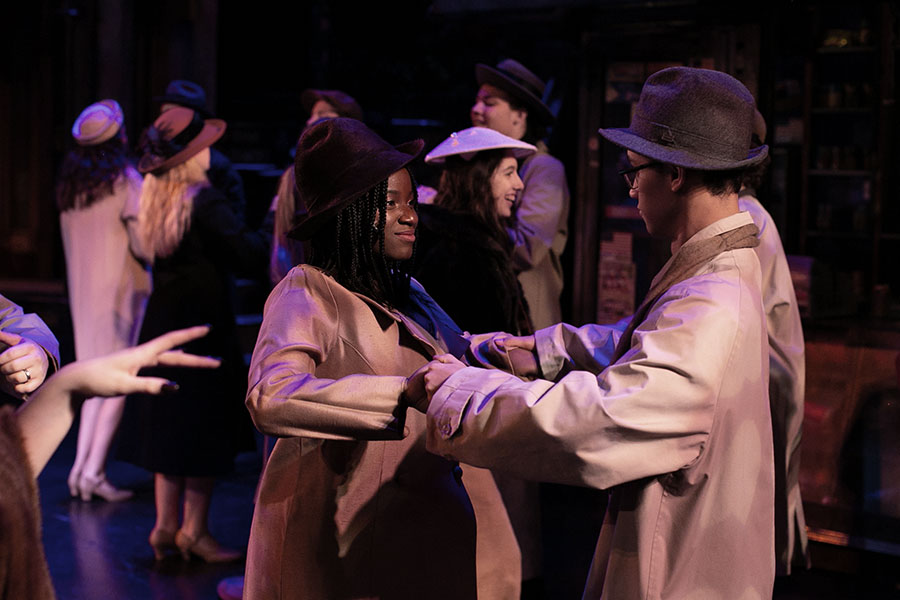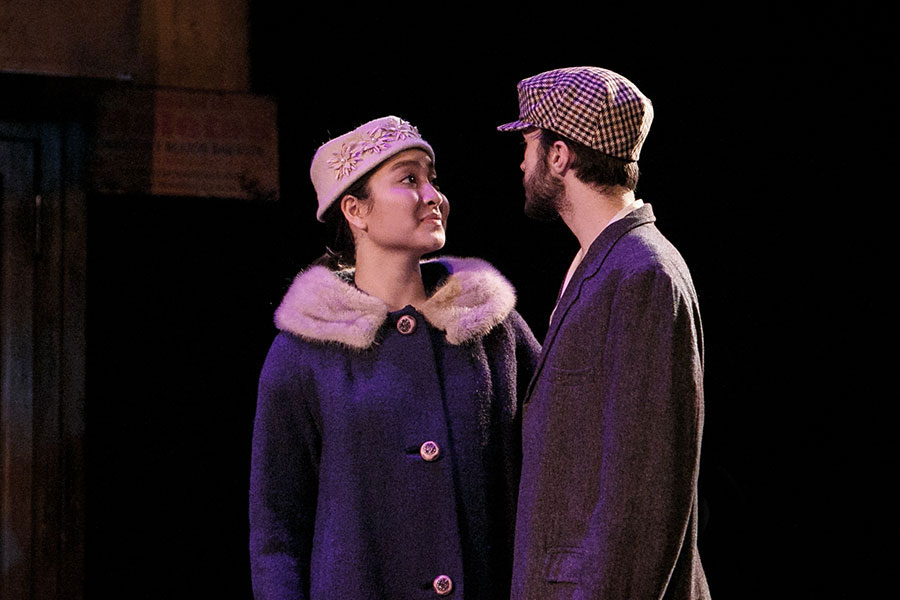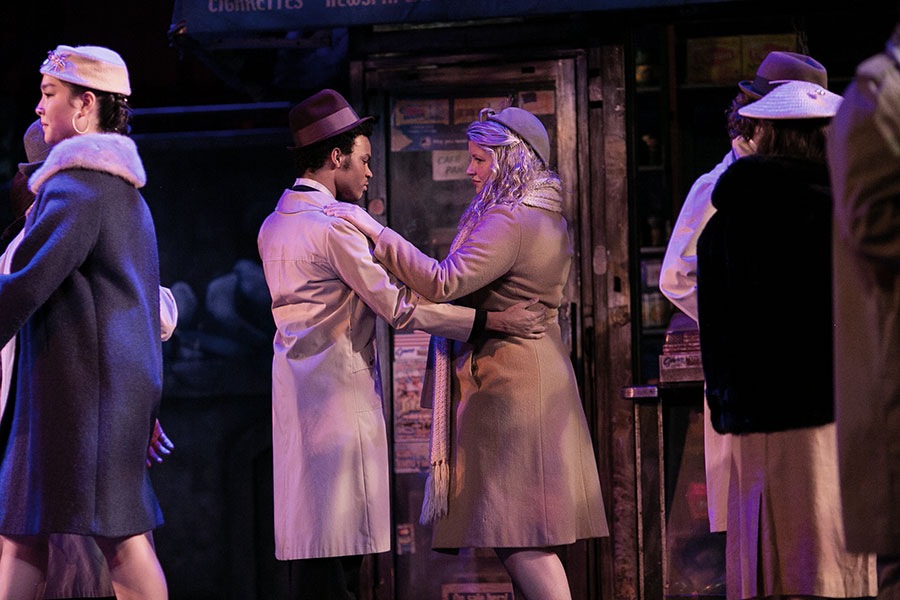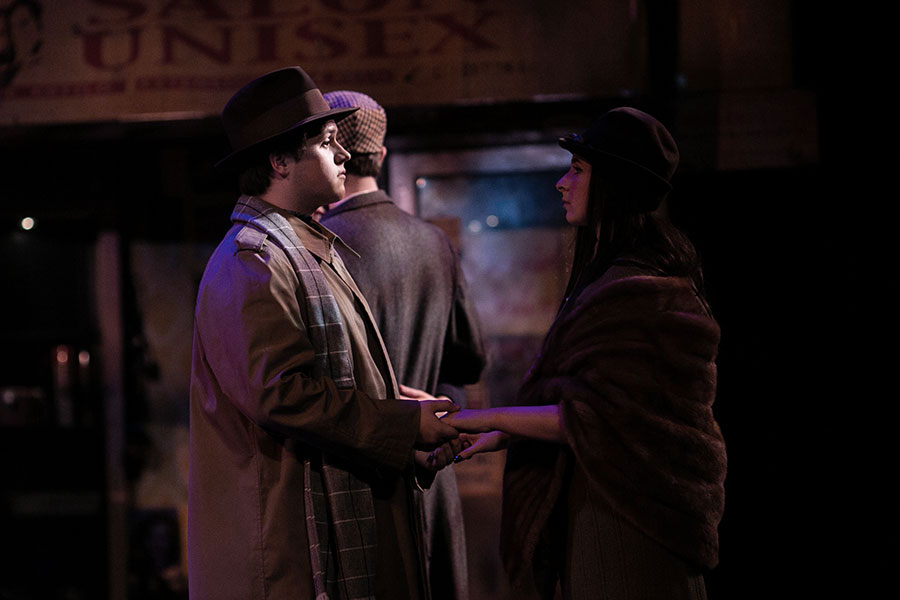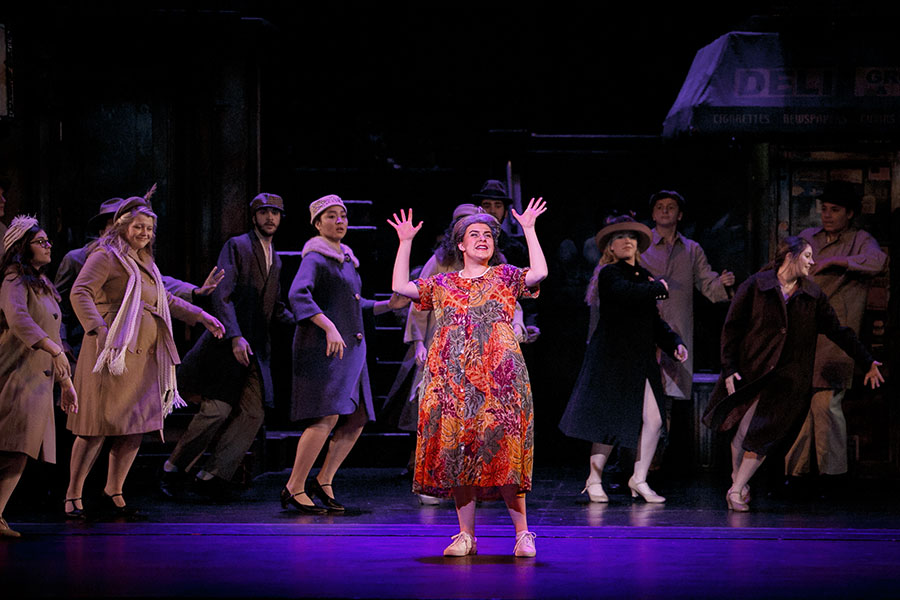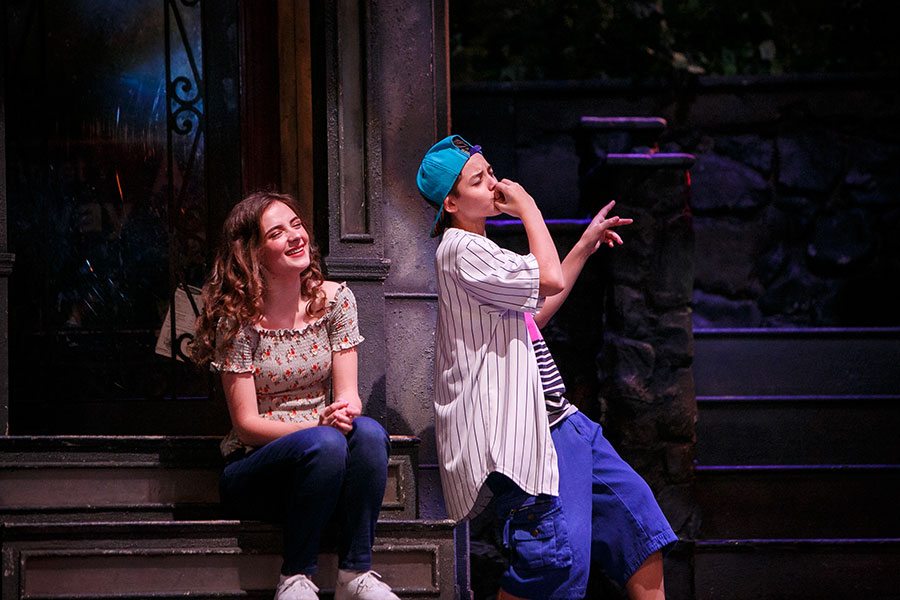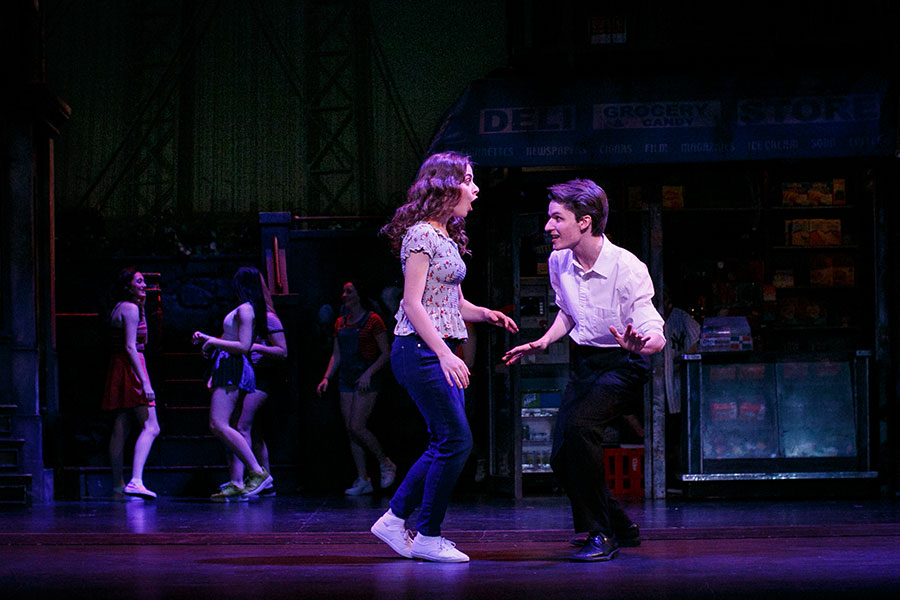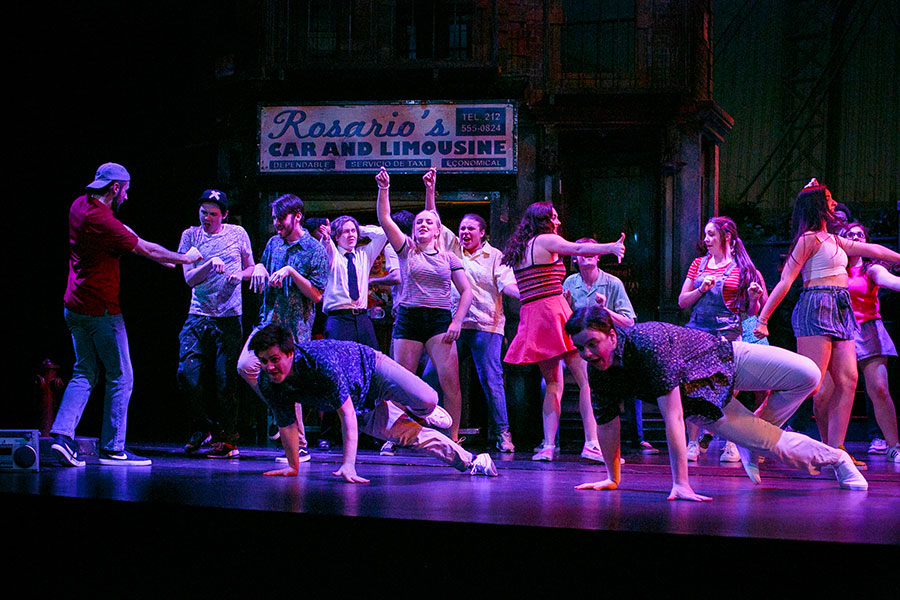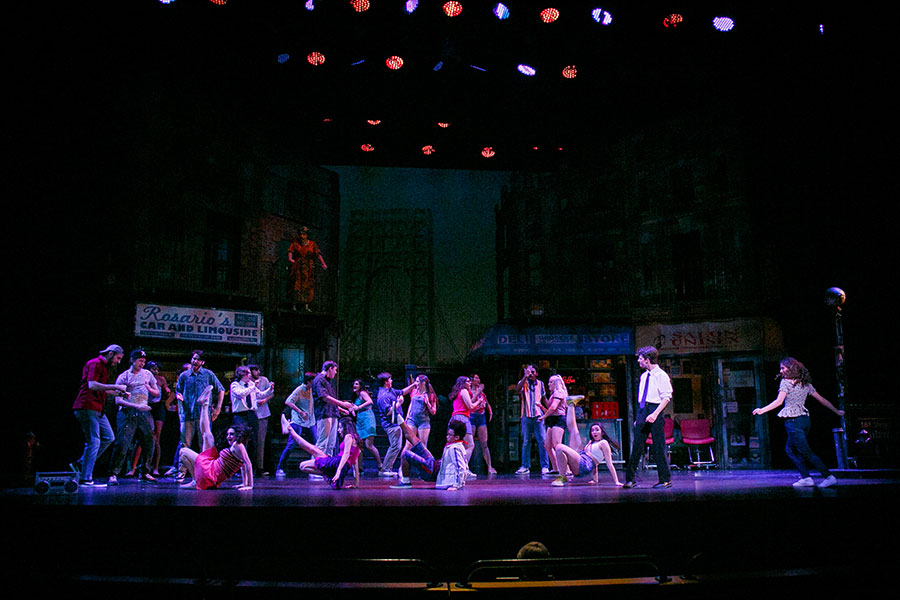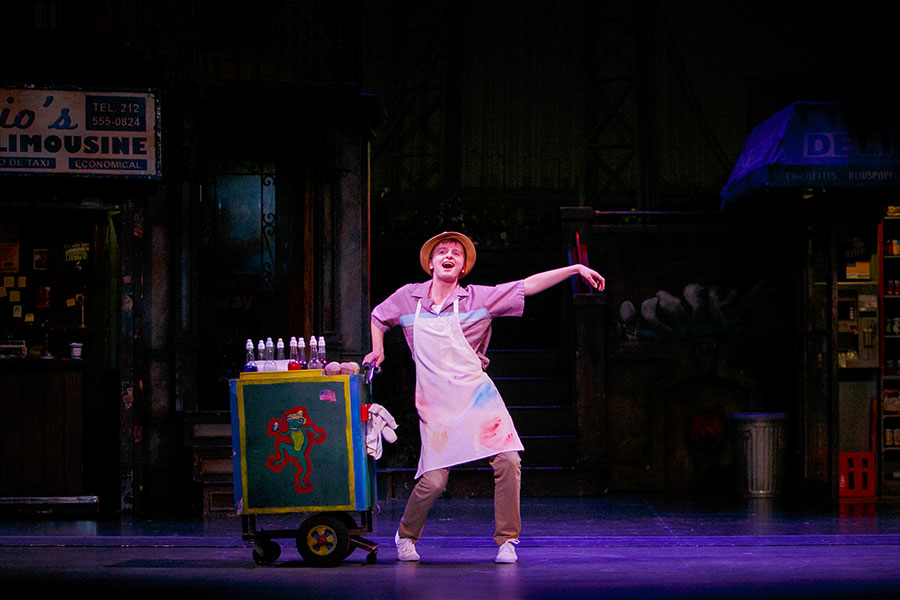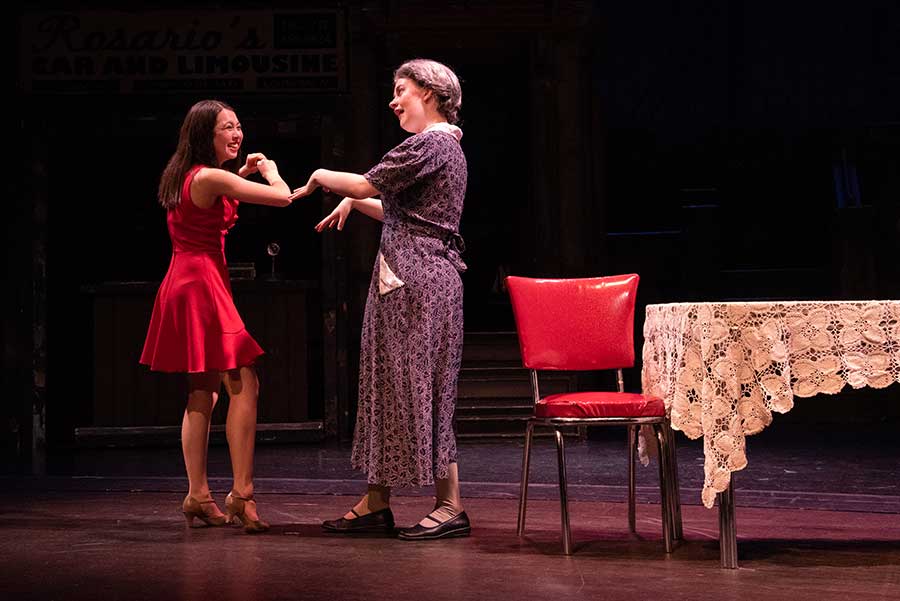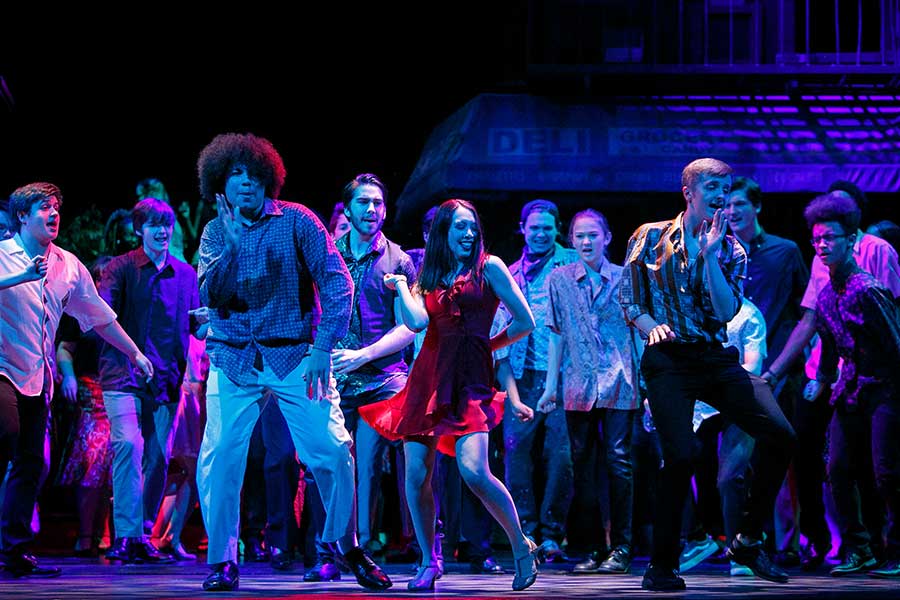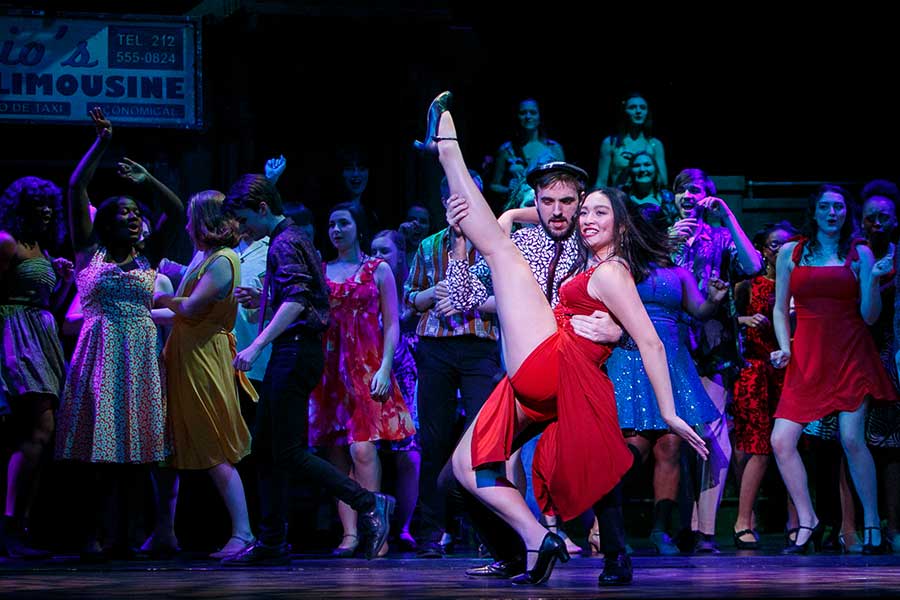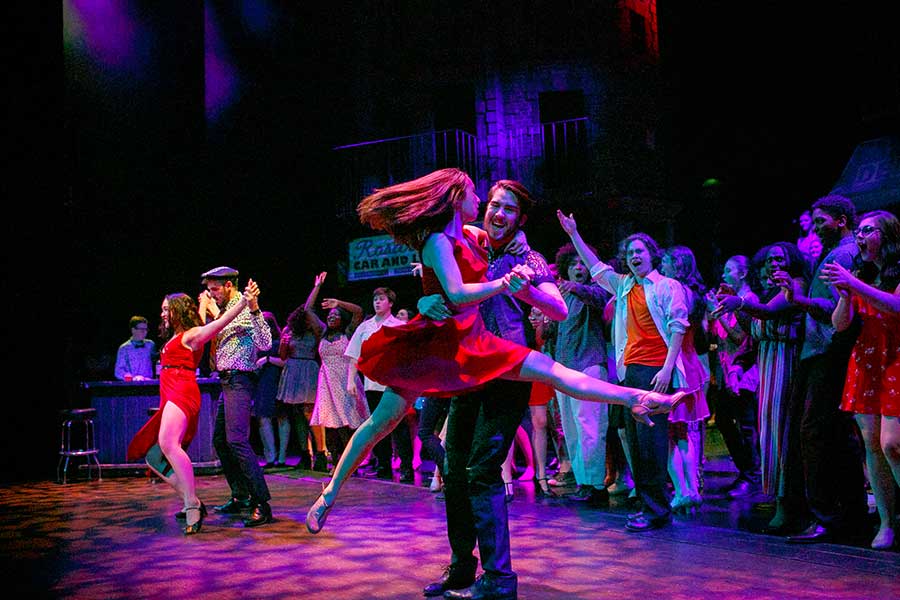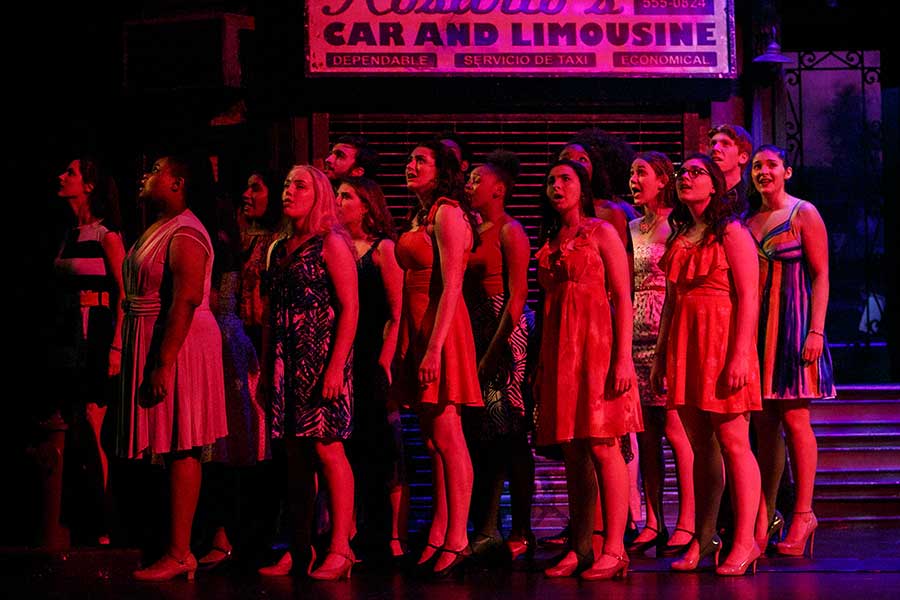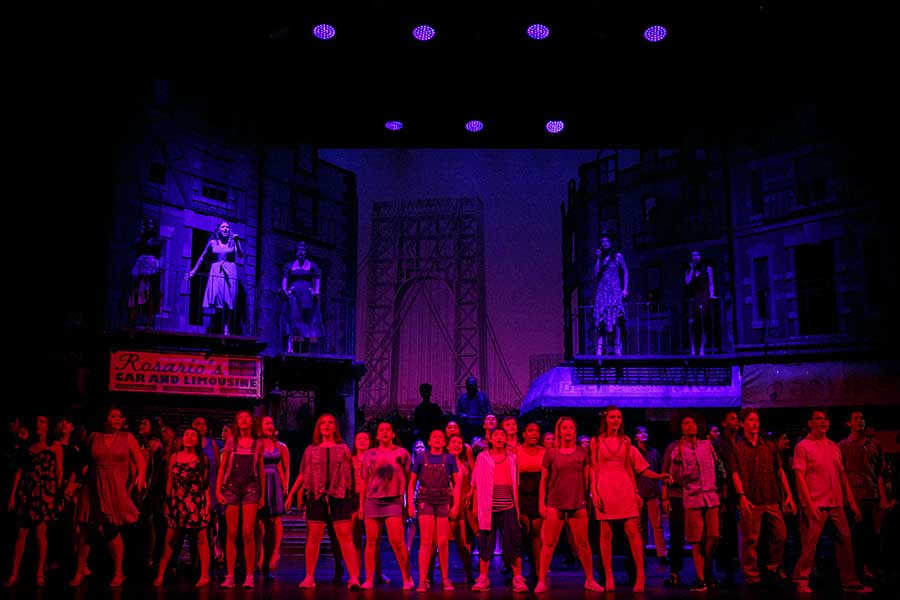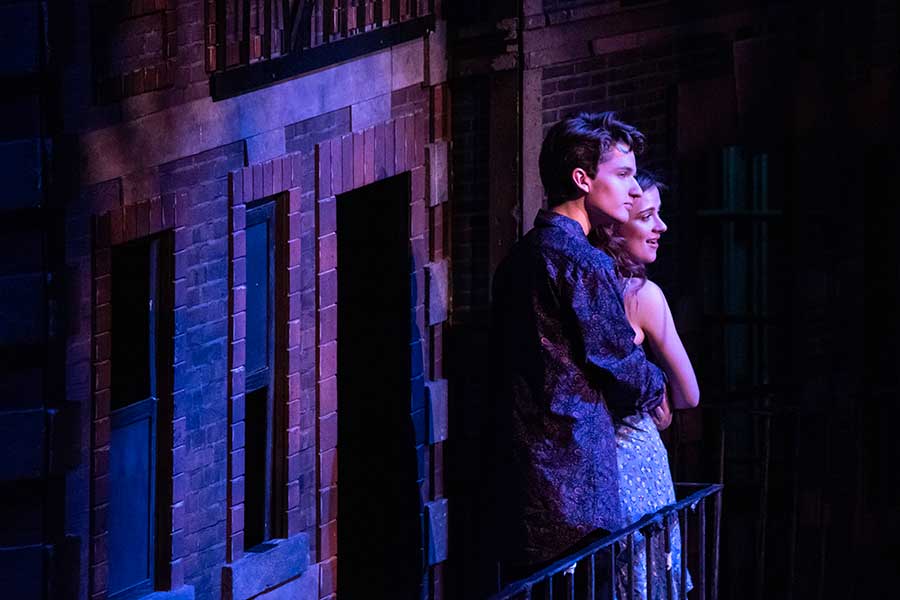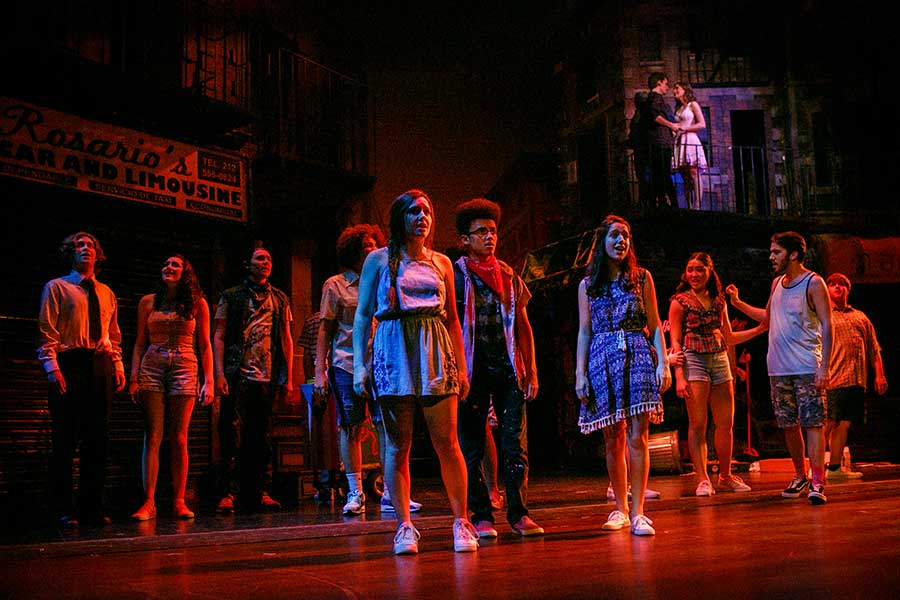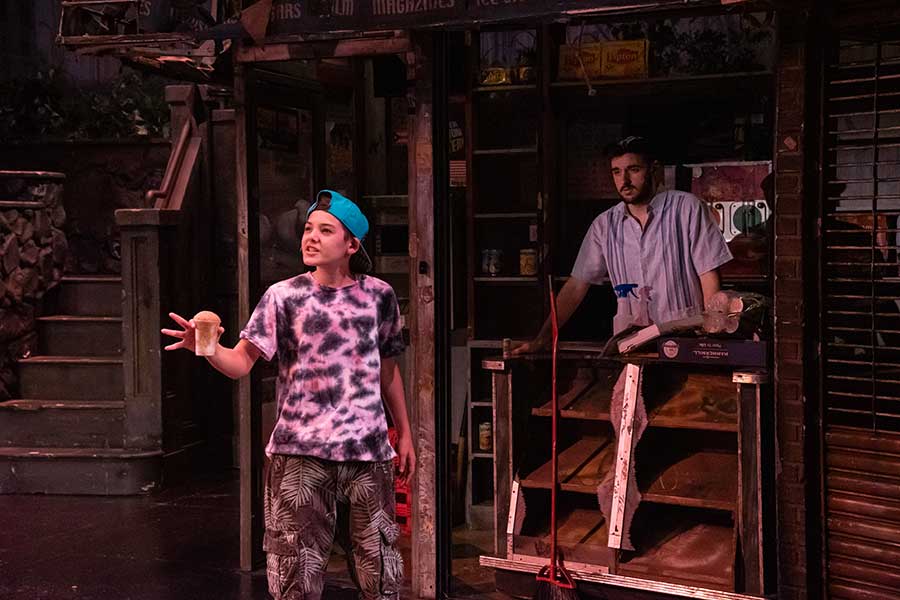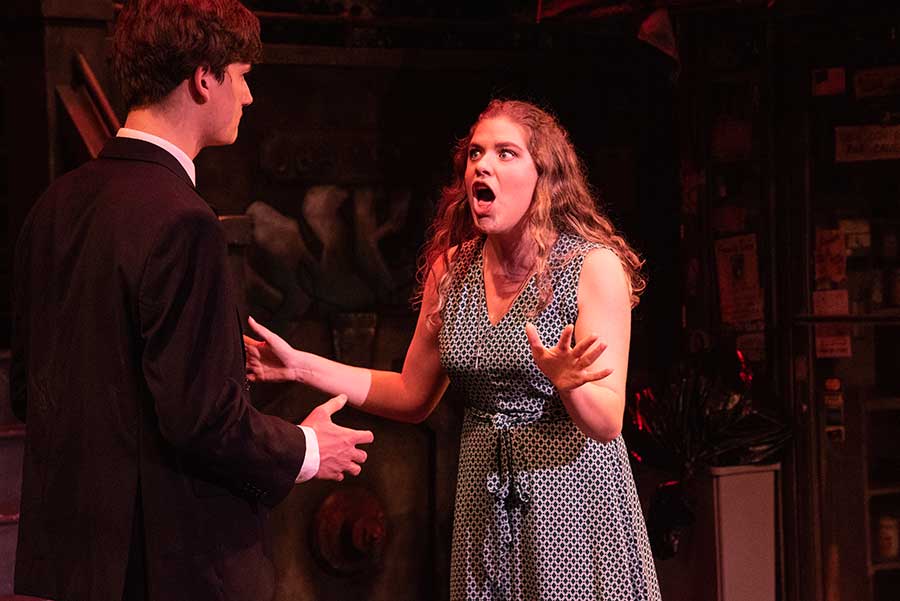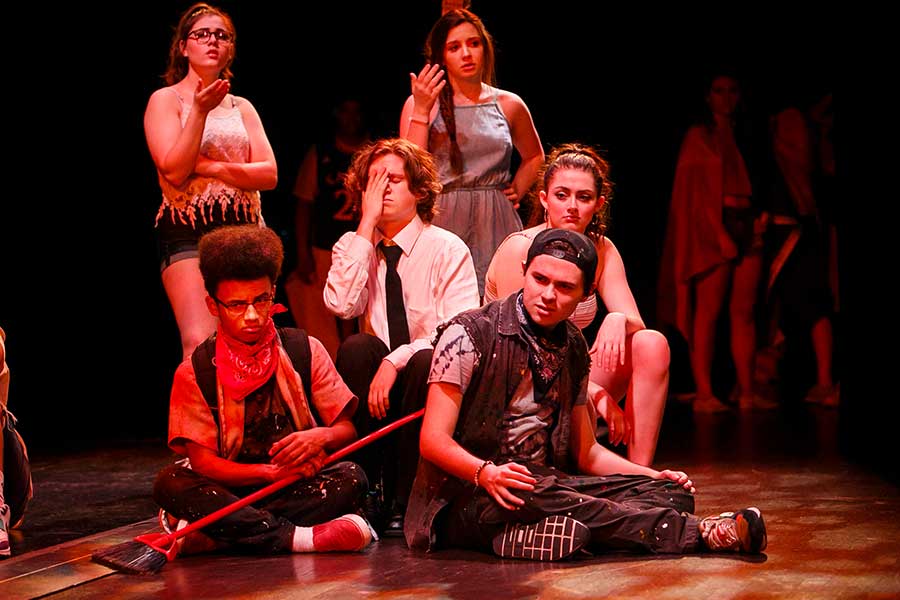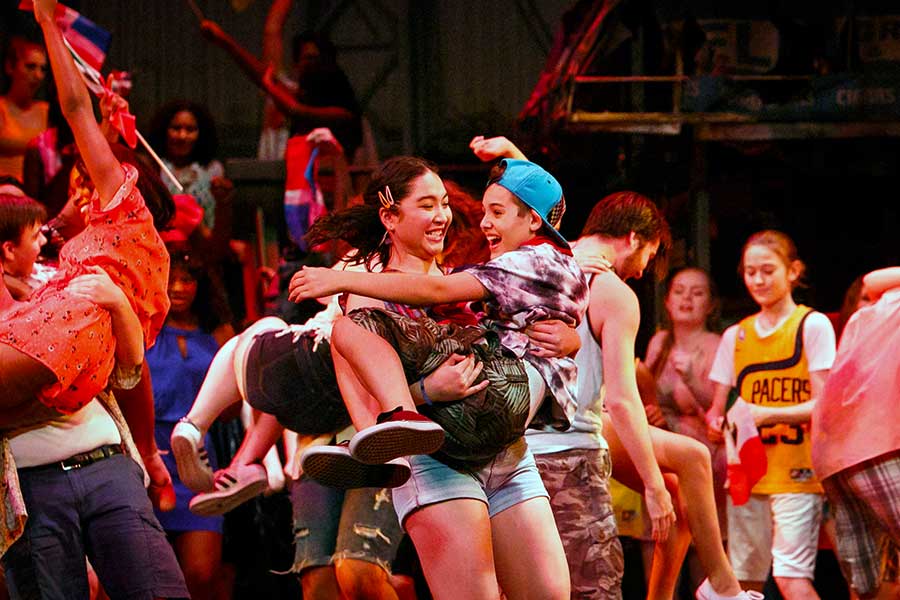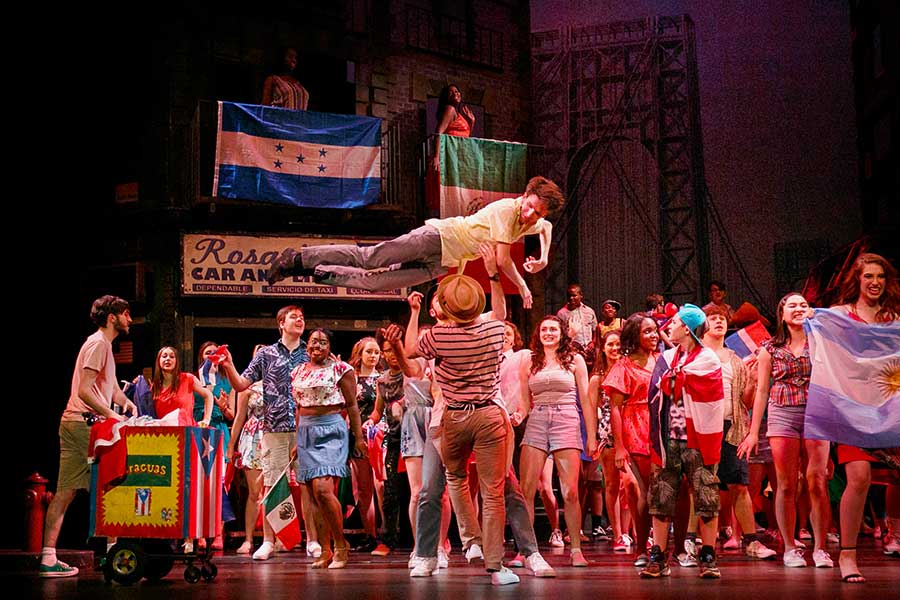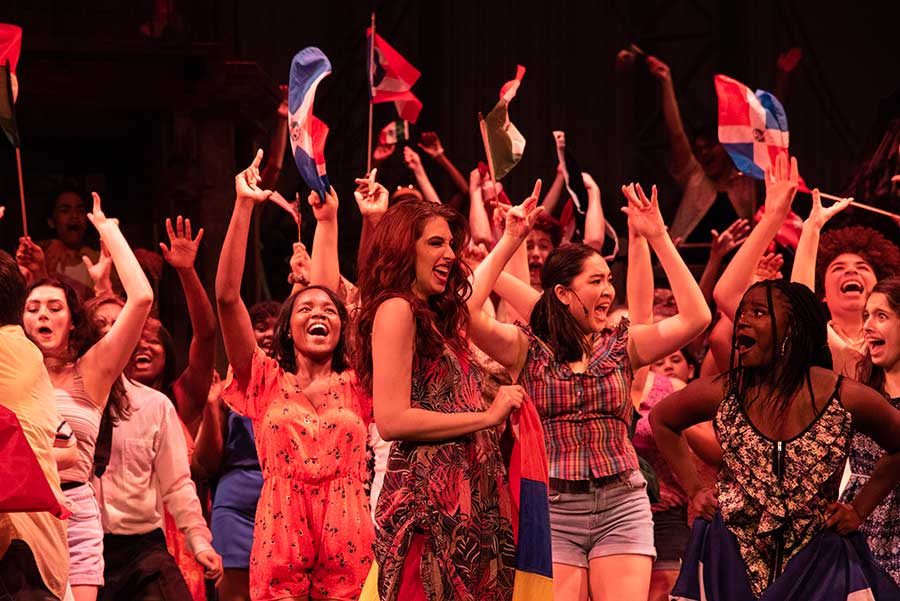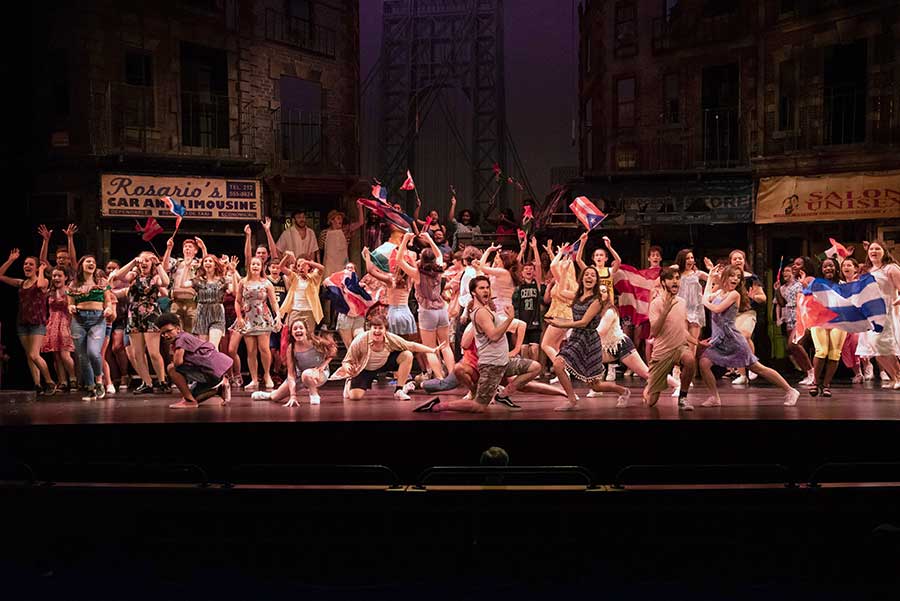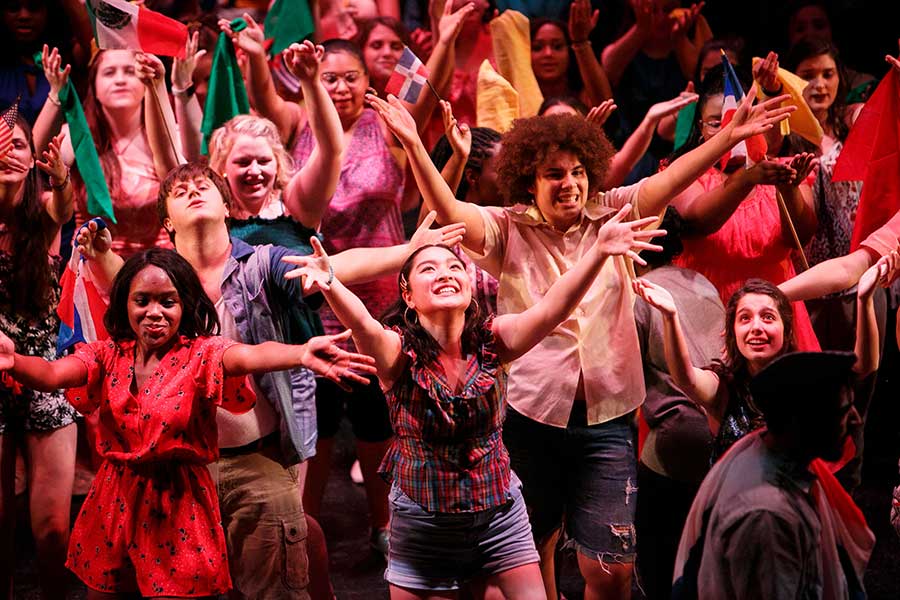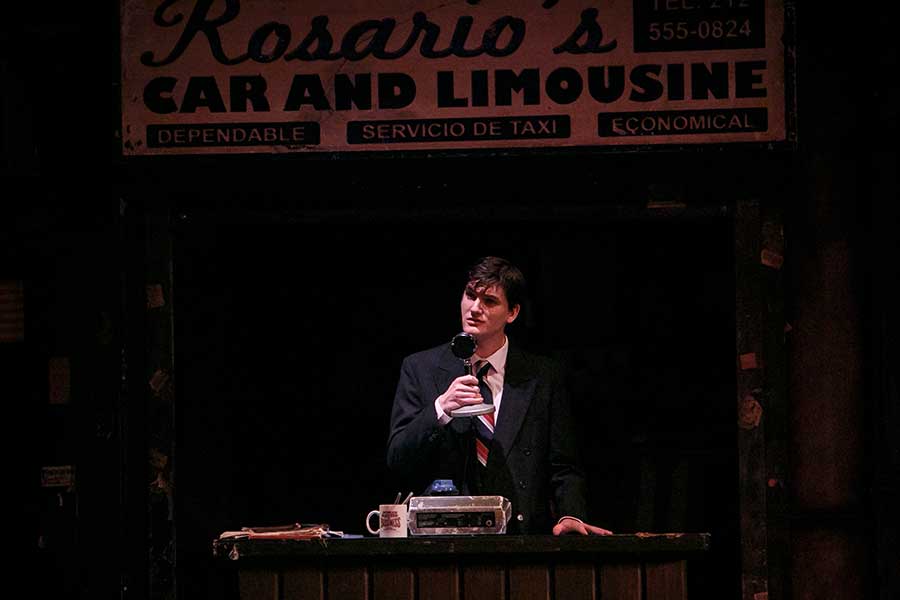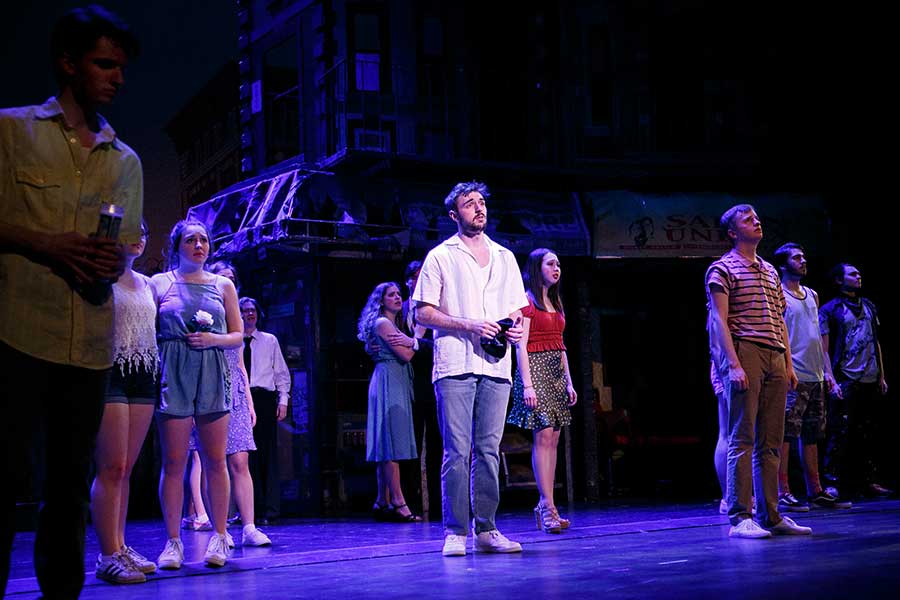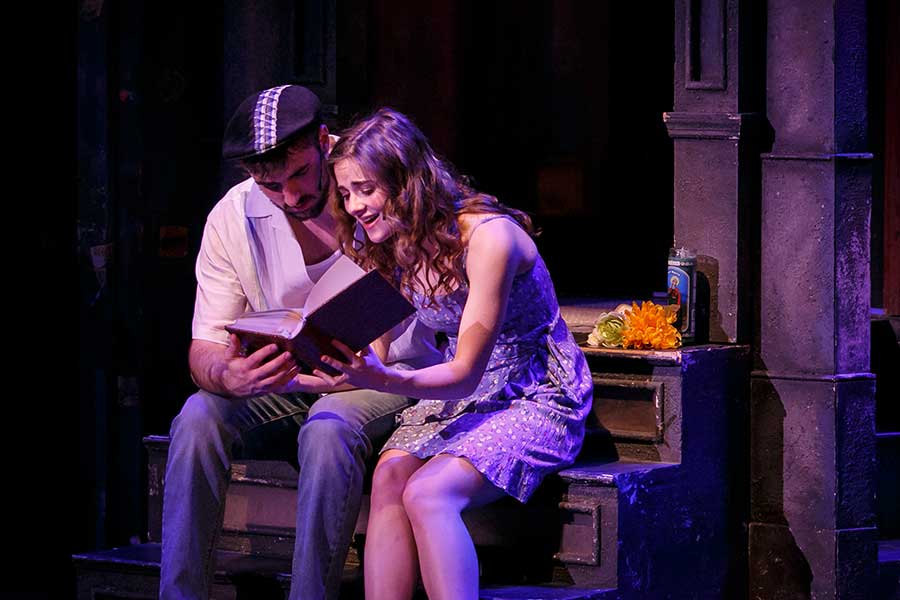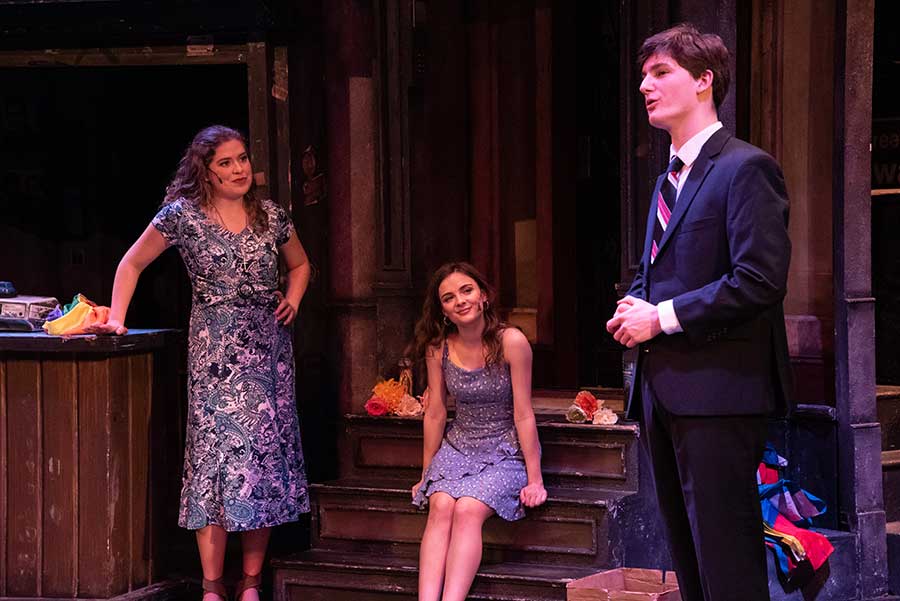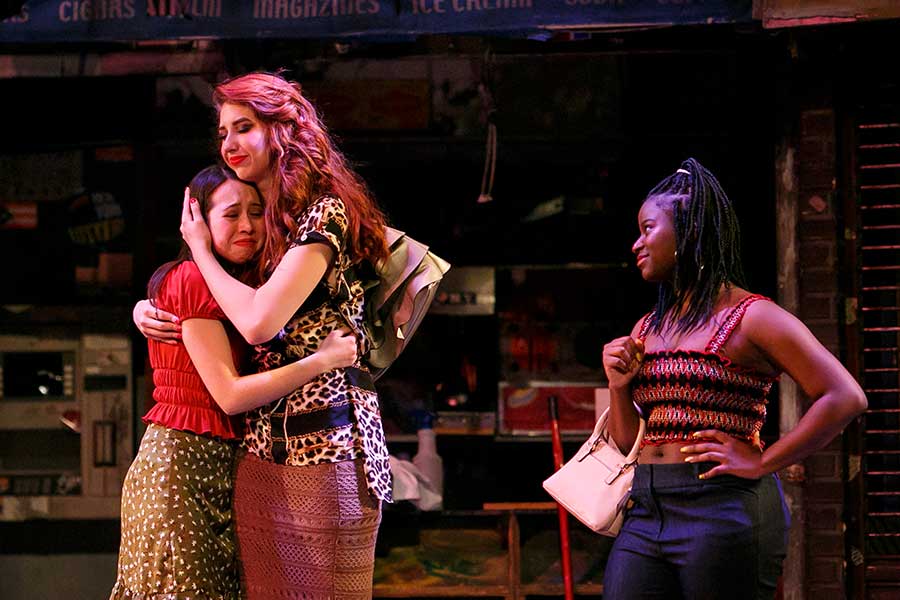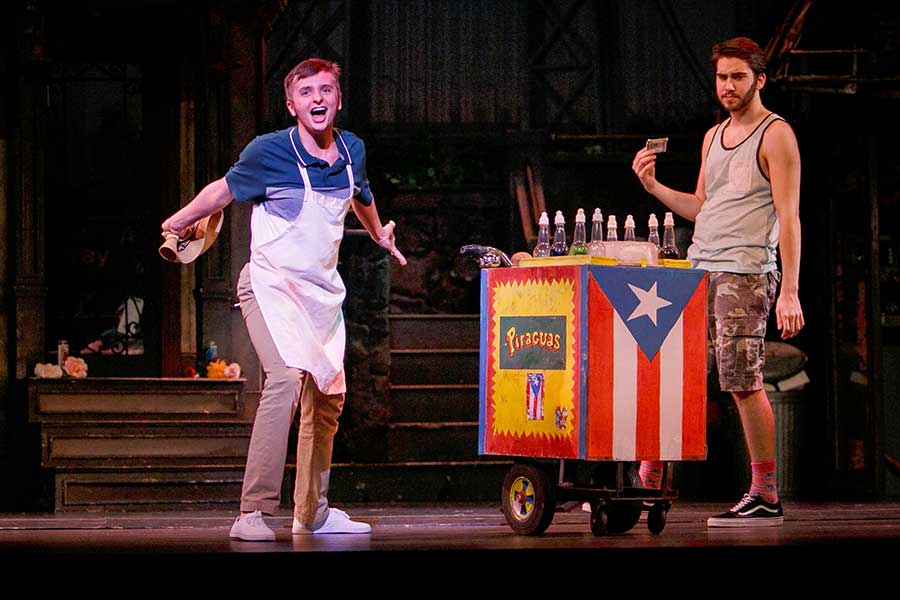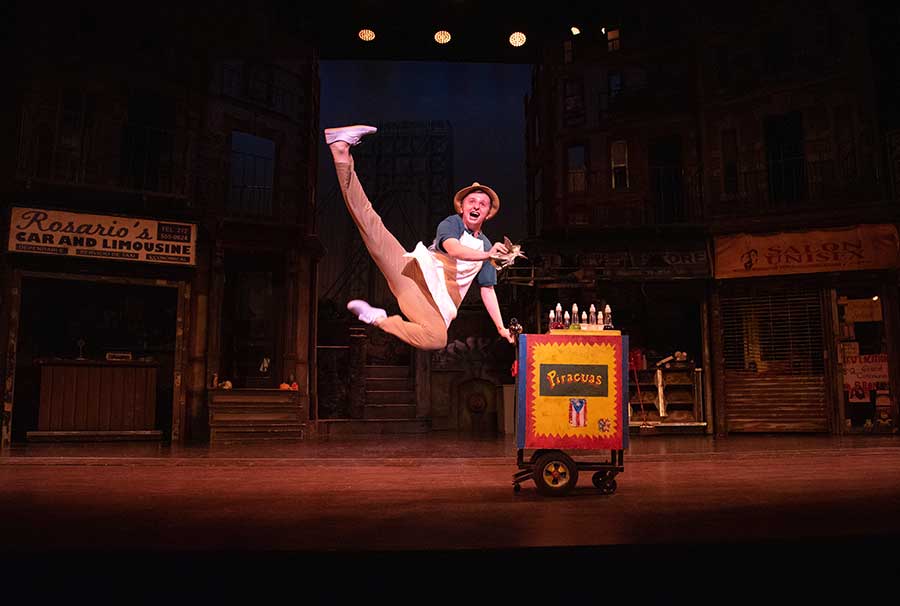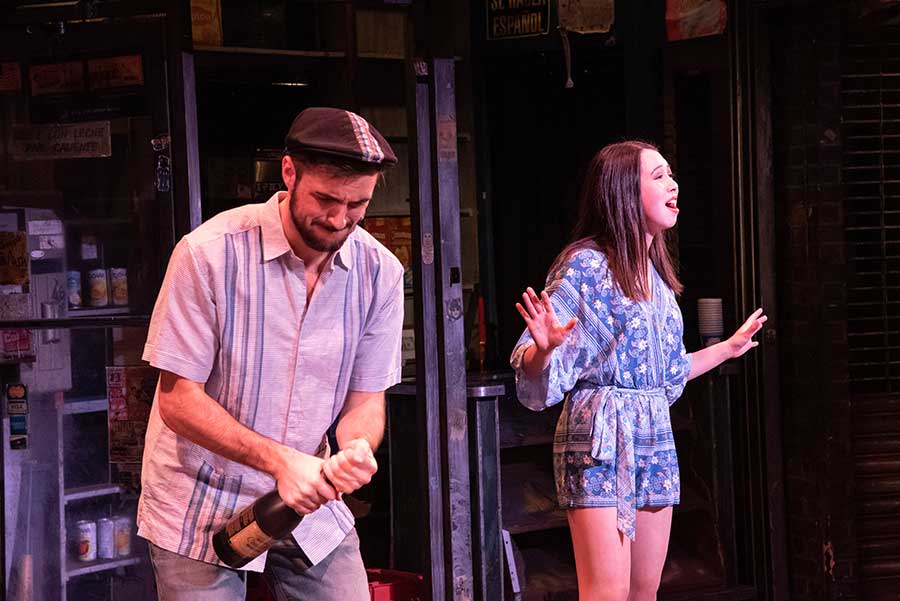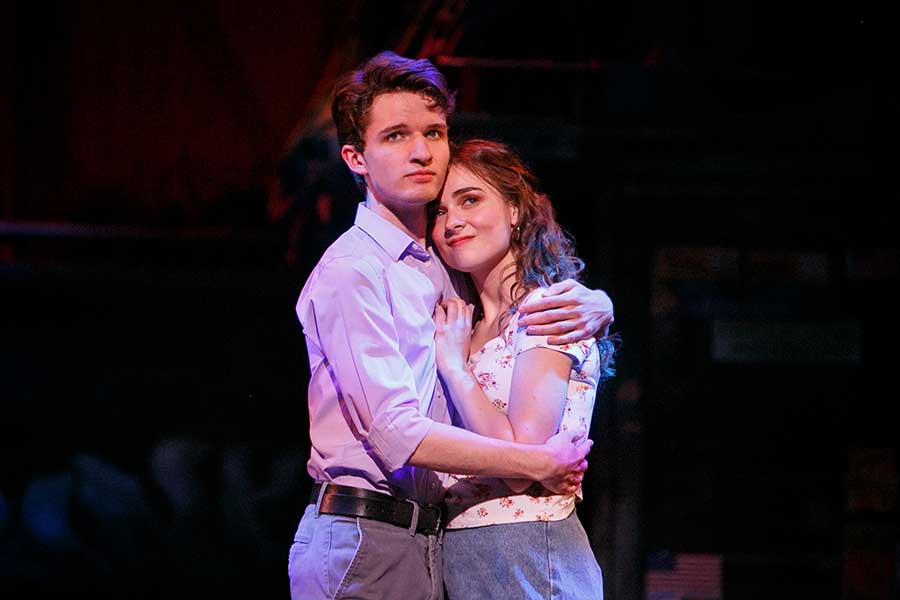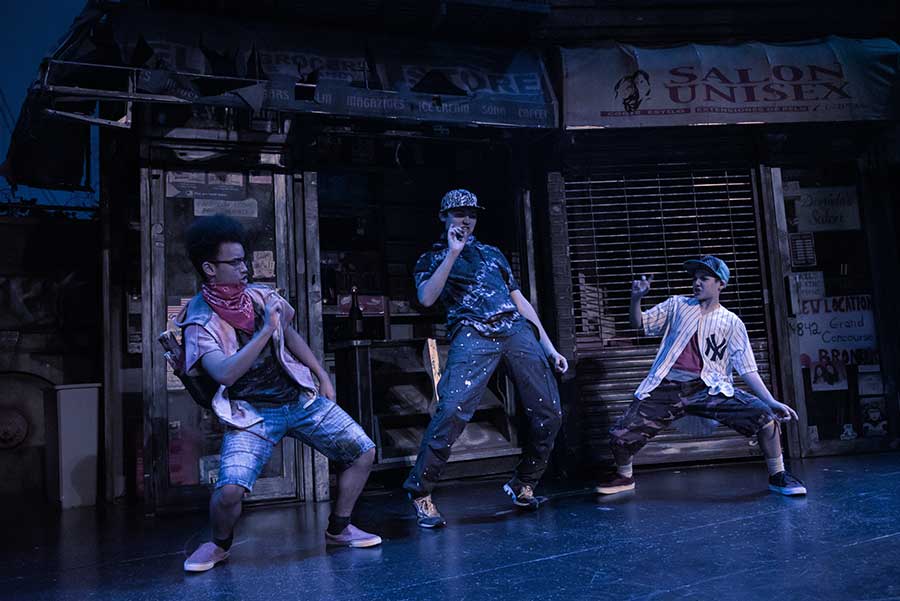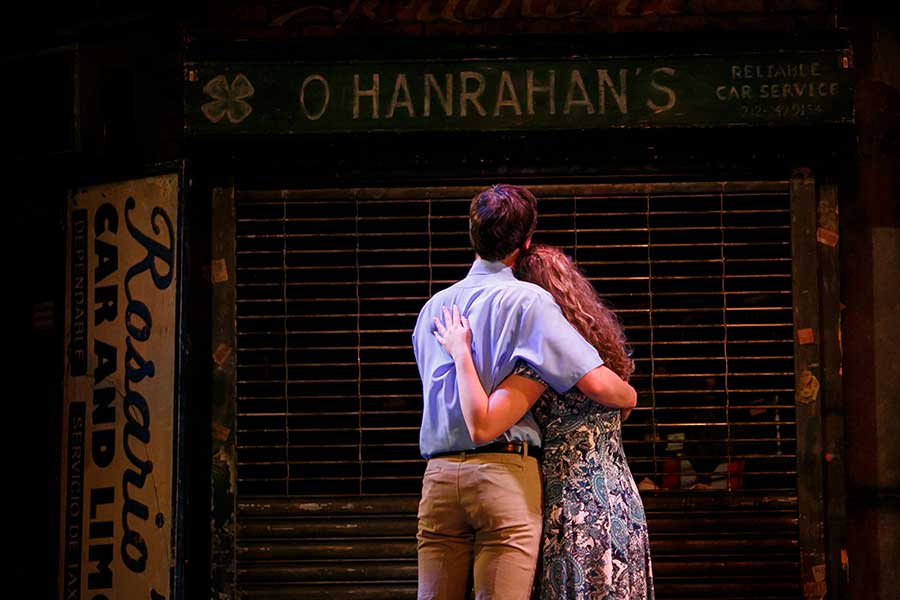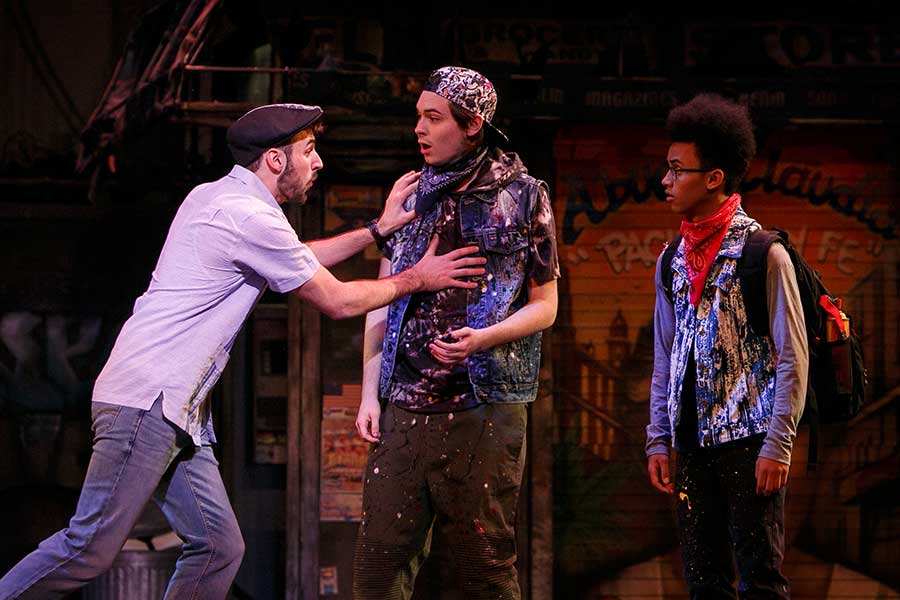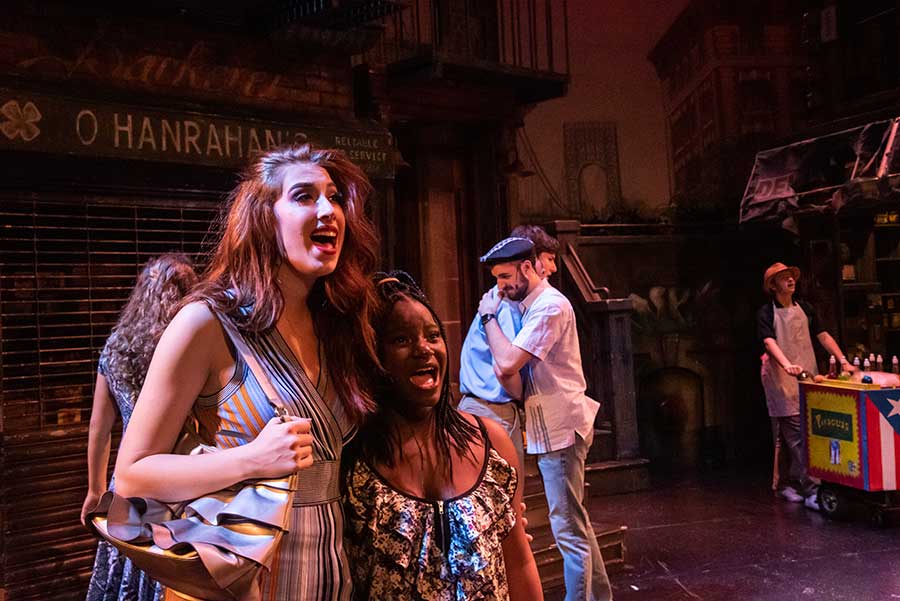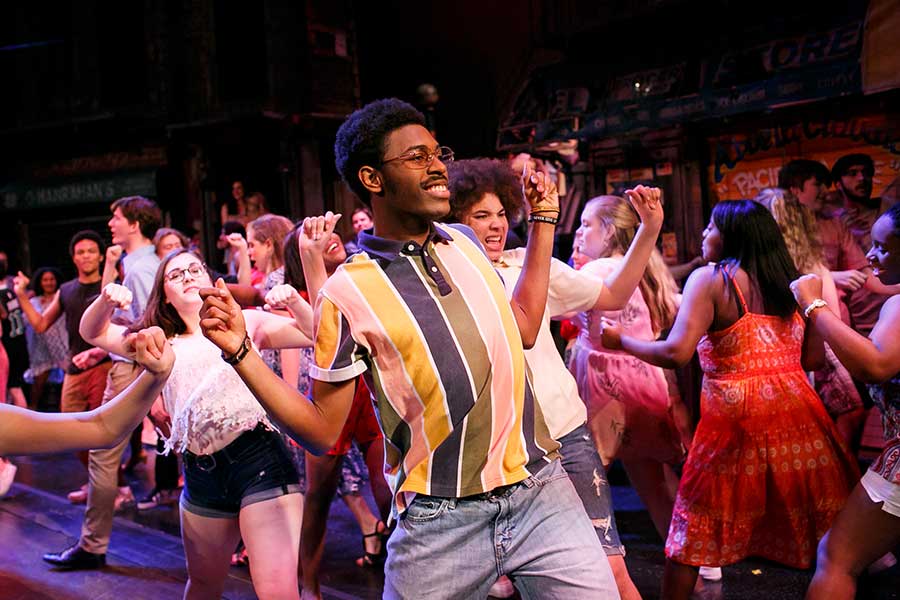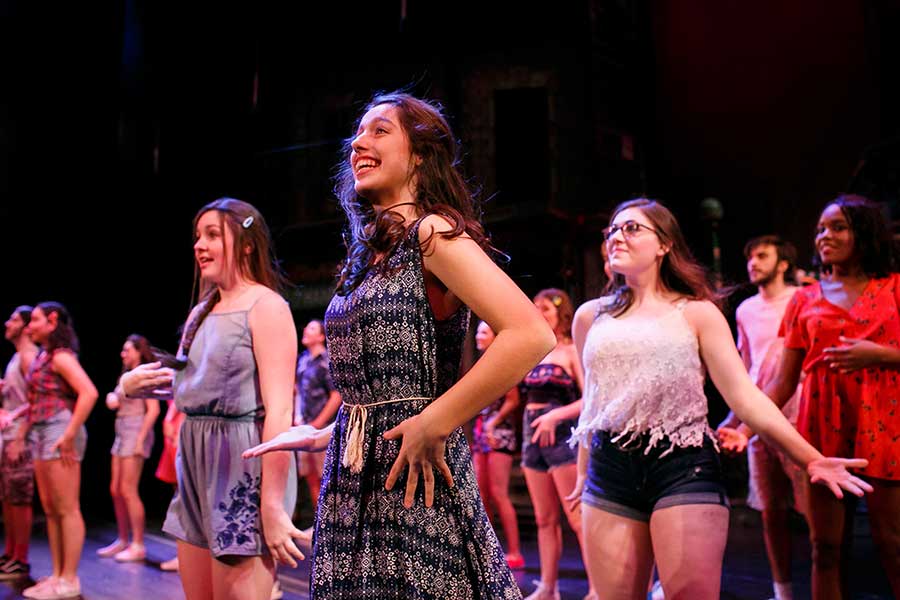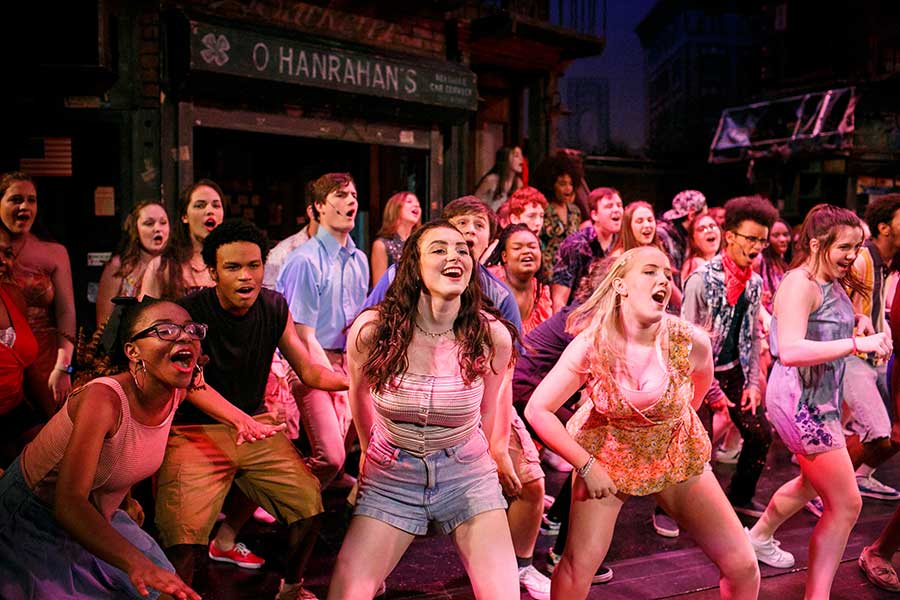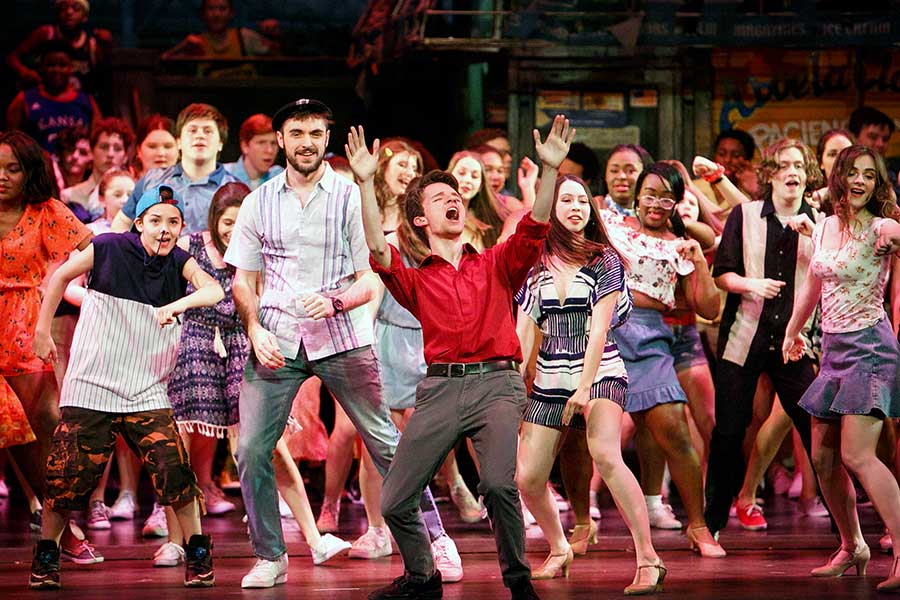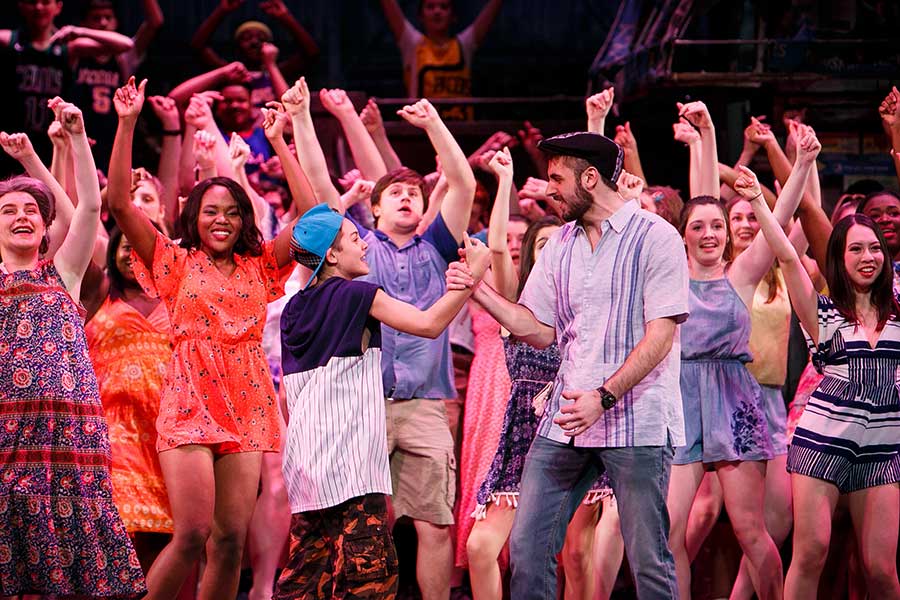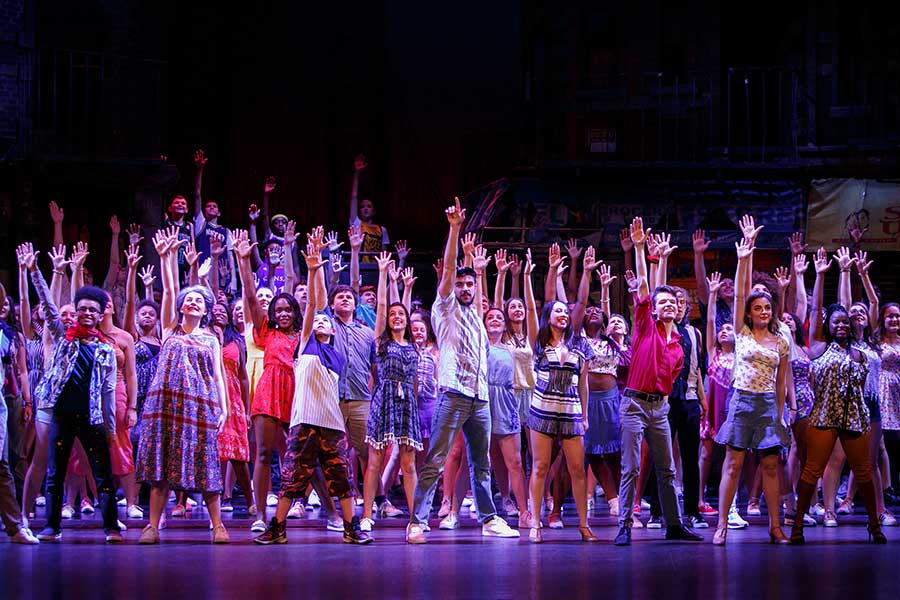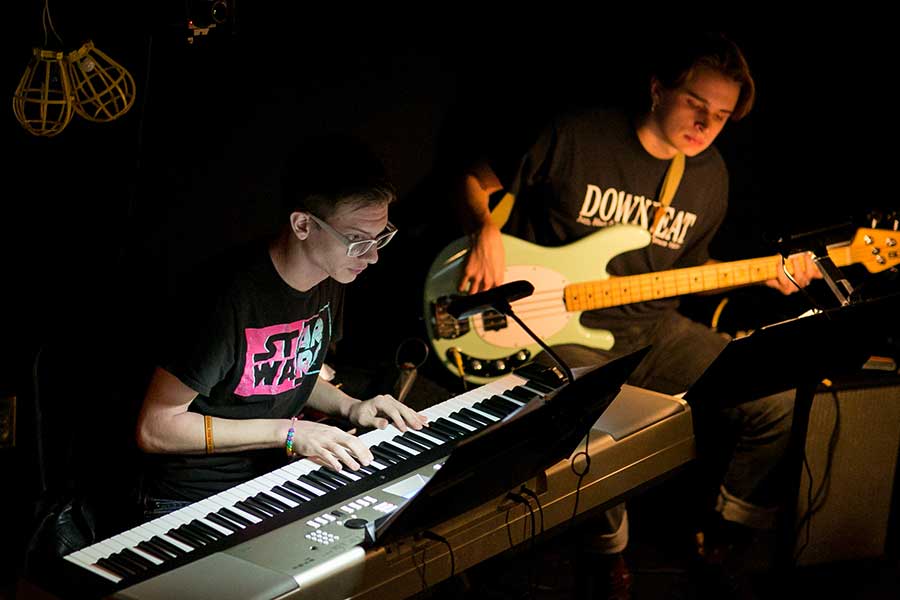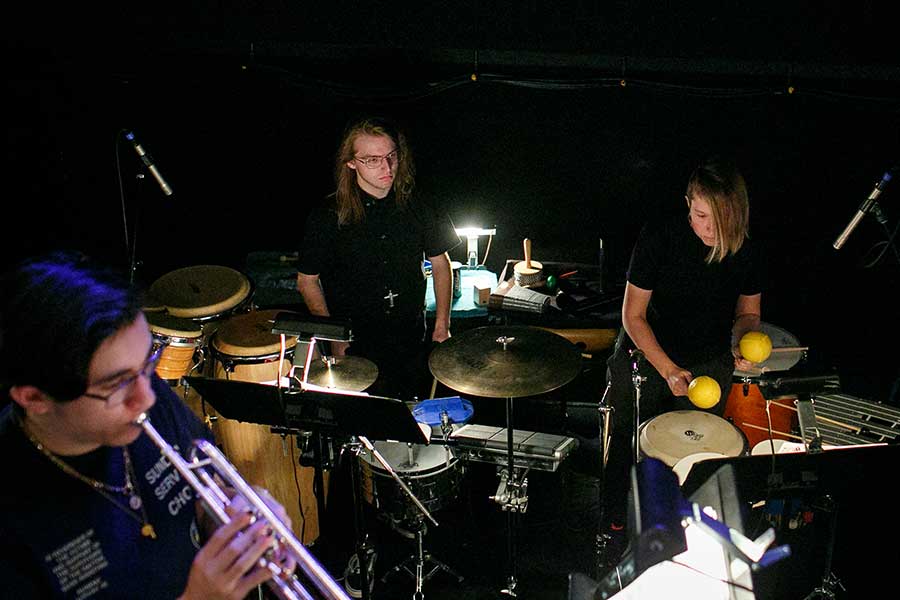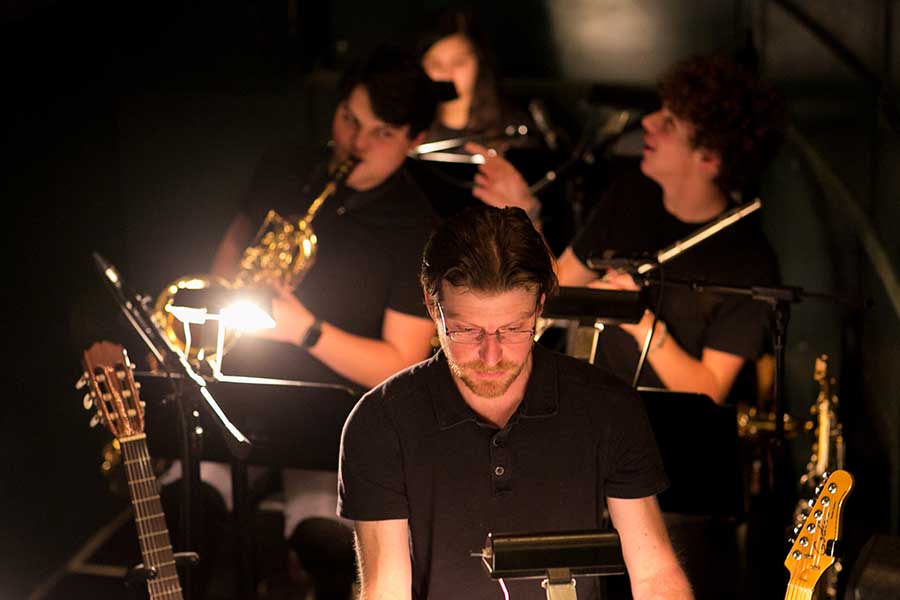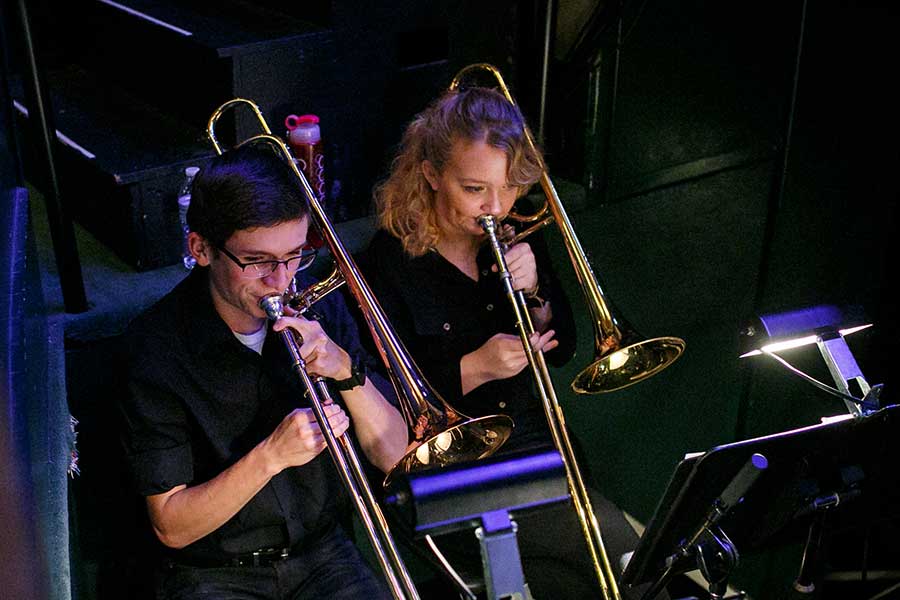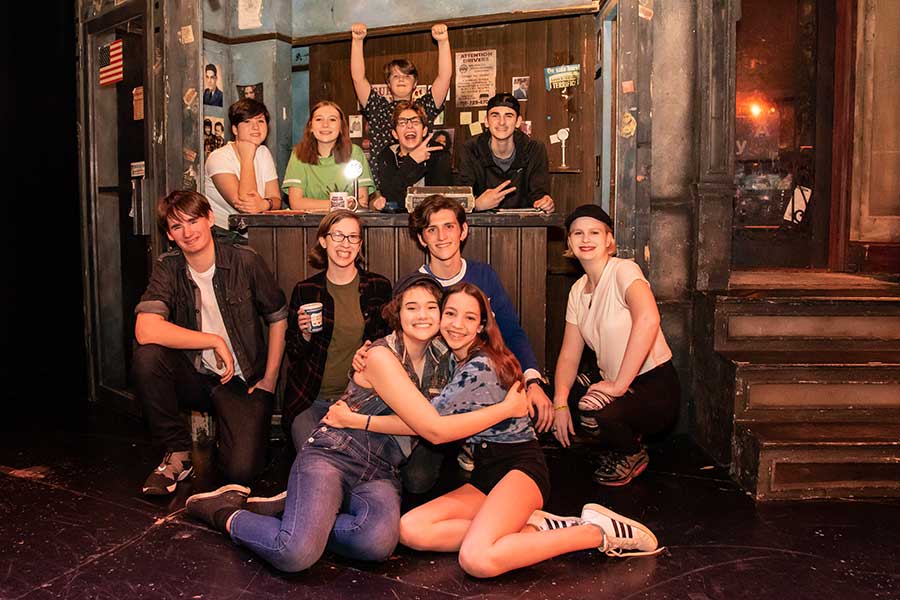 Director Jeffrey Polk
Choreographer/CoDirector Lula Elzy
Music Director Jeffery Powell
Producer Douglas Merk
Rehearsal Stage Manager Shannon Sellars
Performance Stage Manager Morgan Jergens
Technical Director/Lighting Designer John Rensel
Costume Coordinators Nikki Sherck, Alisa Vukasinovich
Sound Design Ryan Vallo
With Additional Creative Contributions From
G. Armando Silva, Joe Deer, Tyson Randolph
Spanish Language Coaching
G. Armando Silva, Lynda Casto
Principal Photography Faye Sommer & Ben Morrison
CAST
Graffiti Pete Quinn Bennett
Pete Darian Watson
Usnavi Nate Saner
Piragua Guy Nick Bradley
Abuela Claudia Gabby Casto
Carla Chynia Crane
Daniela Courtney Collinsworth
Kevin Rosario Michael Taylor
Camila Rosario Sara LiBrandi
Sonny Chavin Medina
Benny Desmond Kingston
Vanessa Charlotte Kunesh
Nina Rosario Julie Murphy
Domingo Hunter Dale
José Steven Greenwalt
Yolanda Leila Halili
THE COMPANY
Jasmine Acuña
Ana Adams
Sophie Arcusa
Khyree Banks
Quinn Bennett
Kristopher Bicknell
Laila Blumer
Calla Boerger
Nick Bradley
Mallory Branek
Megan Braun
Christina Briggs
Luke Buell
Gabby Casto
Sophie Caton
Julia Circele
Courtney Collinsworth
Chynia Crane
Matt Cromwell
Hunter Dale
Ryann Davis
Kasey Dingee
Madison Eller
Ka'Vaughn Epps
Ashlynn Favors
Jack Grandfield
Steven Greenwalt
Leila Halili
D'Milion Hammett
Benjamin Harshbarger
Reese Hawkins
Elizabeth Hayn
Jayden Hayn
Lindsay Hinds
Reese Hornick
Cassidy Jackson
Benjamin Jones
Libby Kaibas
Casen Kidd
Desmond Kingston
Peyton Knight
Charlotte Kunesh
THE COMPANY (CONTINUED)
Nessa Le Donne
Cathryn Leies
Sara LiBrandi
Ava Lockhart
Mai Martinez
Chavin Medina
Patrick Morrow
Julie Murphy
Amirah Musa
Angel Odumodu
Chigozie Odumodu
Ryan Pahal
Chloe Parks
Charlize Perry
Kayla Perry
Regin Potter
Isabel Rawlins
Maddie Riddle
Danae Riley
Collin Rismiller
Megan Rismiller
Abriella Ruby
Nate Saner
Lily Sellars
Caleb Sherck
Ella Sherck
Madeline Sherck
Zoë Singleton
Sydney Snoddy
Abbey Stamper
Abbie Stone
Michael Taylor
Maimouna Thiaw
Anika Vukasinovich
Nikoli Vukasinovich
Amaria Wallace
Issac Washington
Darian Watson
Mac Weatherspoon
Maggie Weckesser
Kevin Willardson
Evette Williamson
Kaleb Wourms
Jack Wyant
Caitlyn Zook
THE BAND
Ryan Boyer
Hiram Dodd
Leena Futoryansky
Marcos Gray
Rachel Hornbrook
Joshua Johnson
Noah Lovely
Claire Miller
Isaac Moore
Spencer Morelock
Deonte Owensby
Jacob Slomko
Drew Powell
Jeffrey Powell
PRODUCTION ASSISTANTS
Derek Alex
Megan Baron
Eloise Bennett
Trey Blevins
Angela Henning
Gabby Kennedy
Jillian Langford
Benji Moore
Brenden Pigg
Sabine Reynolds
Eleanor Rhynard
Sabrina Sedlacko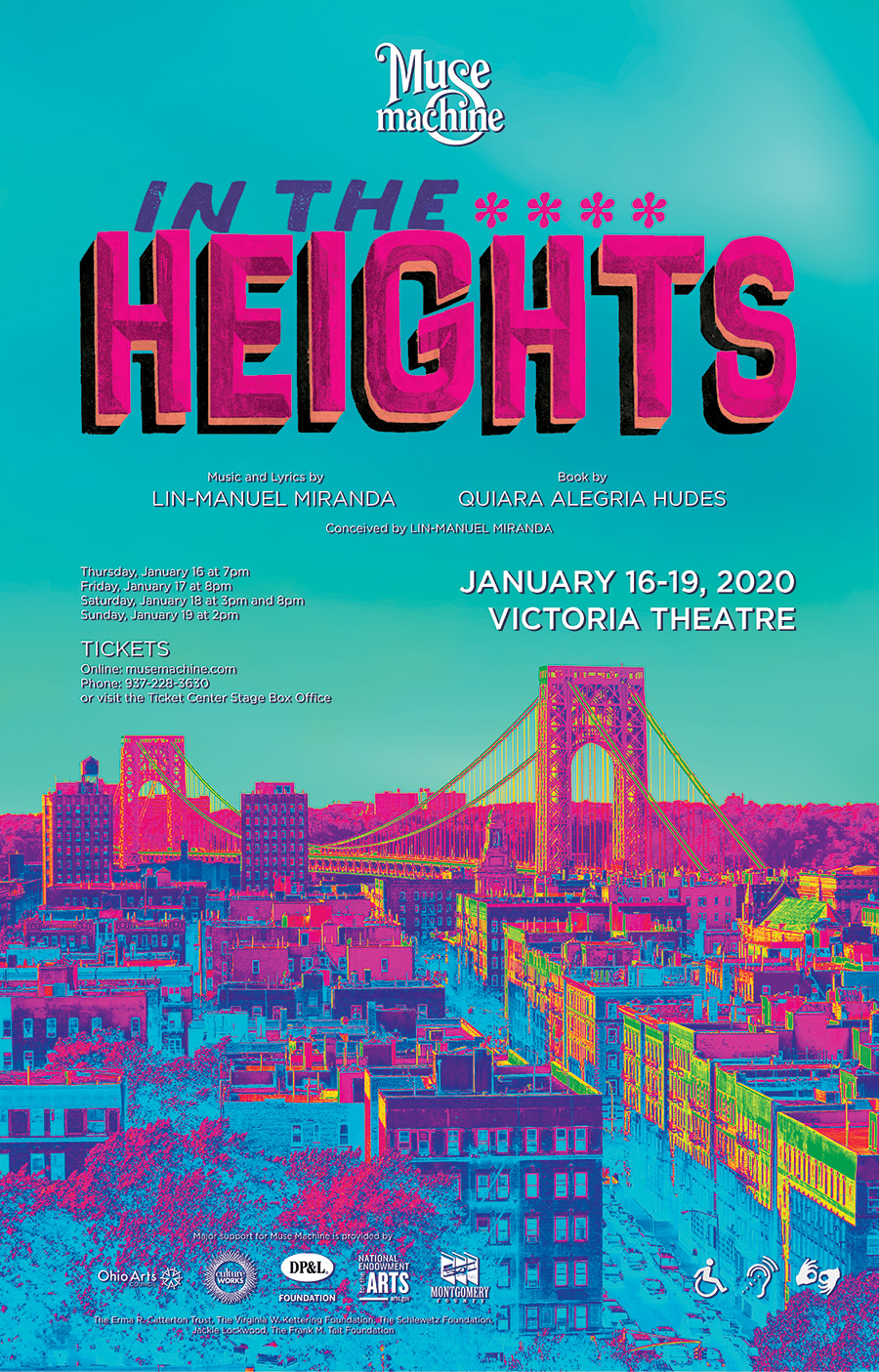 This production was dedicated to Susan & Budd Zupp.
Promotional artwork designed by Douglas Merk.
Read the Review: Dayton Most Metro
Watch the Preview: Spectrum News 1
Watch the Preview: ABC 22/Fox 45/Dayton 24/7 Now
Read the Preview: Dayton Daily News
In The Heights/Project YOUsnavi – Recorded and mixed by Quinn Bennett
Study Guide
Lin-Manuel Miranda and movie team send emotional messages to Muse cast
Lin-Manuel Miranda tweeted "All I want for Christmas is for you to post footage of your reactions when you watch the In The Heights movie trailer…" So here we are, the young Dayton cast of Muse Machine's In The Heights, watching the trailer… and reacting with all our hearts:
Jon Chu (director of the In The Heights movie and Crazy Rich Asians) shared the Muse Machine reaction video, saying, "Good morning! Wow yesterday was surreal. I'm still shaking. Here's one of my favorite reactions to the trailer of the In The Heights movie. THIS is why I've wanted to make movies since I was a kid in a class just like this one."
Lin-Manuel Miranda, who conceived In The Heights and Hamilton, commented on the Muse Machine cast, "Jon sent this to the movie cast group chat and everyone is crying. To be in a high school musical again…" Miranda then sent a loving video message to the Muse cast:
Quiara Alegria Hudes, who wrote the book of the In The Heights stage musical and the screenplay of the movie, said, "Young Dayton Ohio cast of In The Heights reacts to In The Heights movie and my heart overfloweth."
Olga Merediz (principal cast member in Orange Is The New Black, the In The Heights movie and Tony nominated for In The Heights on Broadway), commenting on Muse Machine's reaction, "This. This made me cry!"
Melissa Barrera (singer and principal cast member of the In The Heights movie) responded to Muse with, "Bawling (with crying and heart emojis)."
Stephanie Beatriz (cast member of Brooklyn Nine-Nine and the In The Heights movie) reacted to Muse through emojis as well, with tears and hearts.
The official In The Heights movie tweeted, "BRB SOBBING We love you Muse Machine, Dayton Ohio!"
Muse Machine's story was retweeted by Leslie Grace (singer/songwriter and principal cast member of the In The Heights movie) and the story was covered by Broadway World.
With over 43,000 views across platforms, as well as kind reactions coming in from across the globe, we are overwhelmed by the outpouring. Nothing could make us happier than to express our love for this story to the creators who bring it to life. The loving responses from Lin-Manuel and the movie team have infused our project with excitement and emotion.
Joining the creative process
When Muse musical director Rufus Bonds Jr. was invited to teach at Syracuse University, people were curious who will direct Muse's next show. We are thrilled to introduce our new director, along with a few other new faces who will help to shape our production of In The Heights.
Muse welcomes Jeffrey Polk as the director of In The Heights. Jeffrey is an actor (television, Broadway, national tours), director and choreographer with a powerful international reputation (our Muse conversations began while he completed a directing project in Japan this summer). As a resident of a largely Hispanic American community on the West Coast, Jeffrey is excited to join the Muse family and to tell this particular story.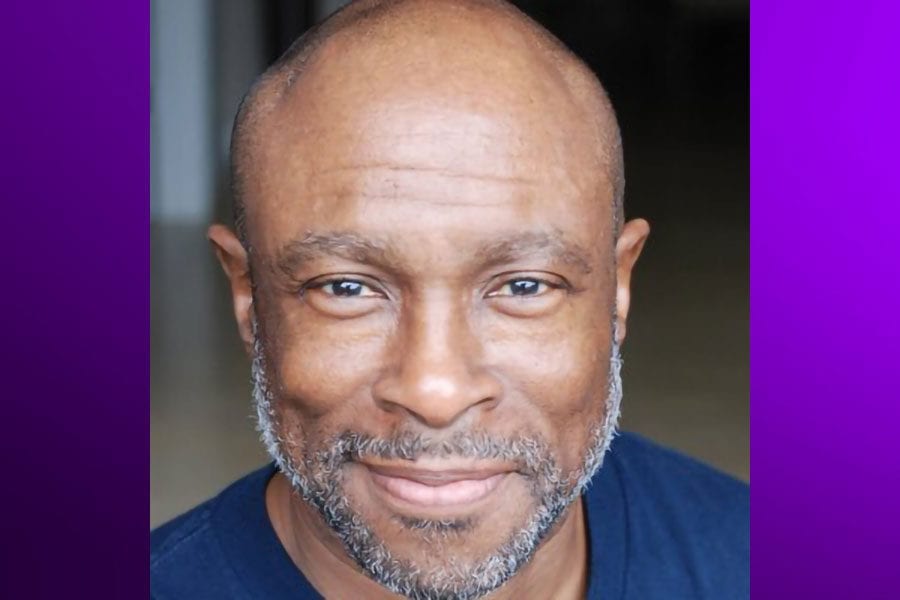 Choreographer Lula Elzy returns from New Orleans to Muse for her 21st season, and this time combines forces with two visiting choreographers. A collaborator on past Muse summer performances, dancer, choreographer and teacher Armando Silva returns to Muse Machine from Houston, where his students are predominantly new arrivals to the U.S. and/or first generation Americans from Mexico, Latin America, South America and the Philippines.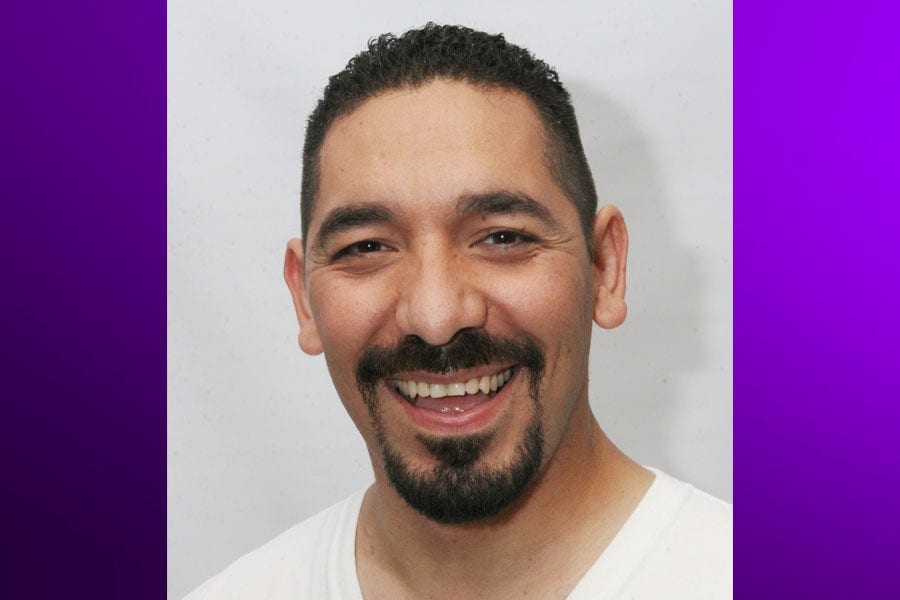 Tyson Randolph, a dancer and choreographer based in New Orleans, returns to Muse after contributing to our production of Hairspray several years ago. Most of our cast experienced his unparalleled energies during their auditions and he will collaborate on the creation of selected dances for our version of the show.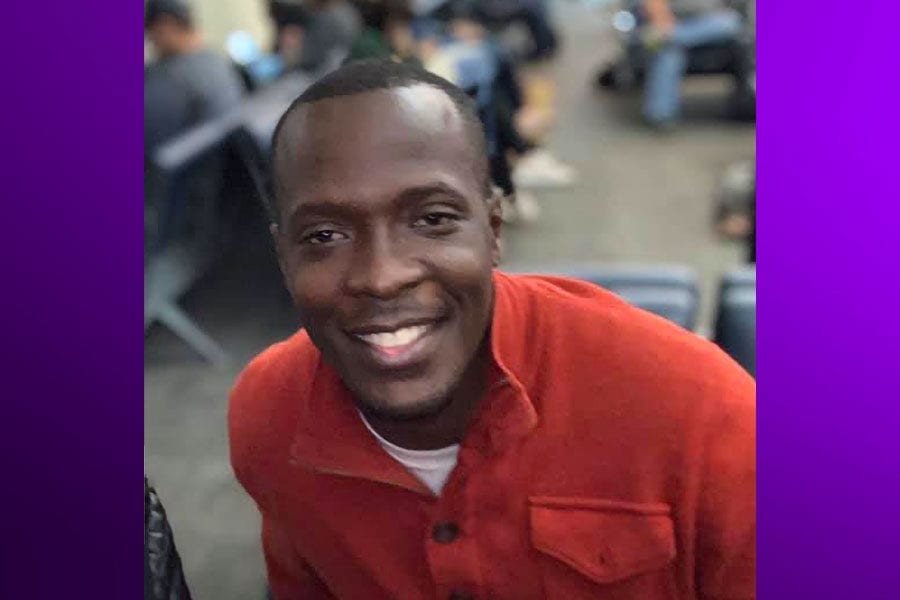 Yvonne Wathen from The Puerto Rican, American and Caribbean Organization (PACO) will speak to the group about Hispanic cultures and community, as well as reflecting on the students' performances.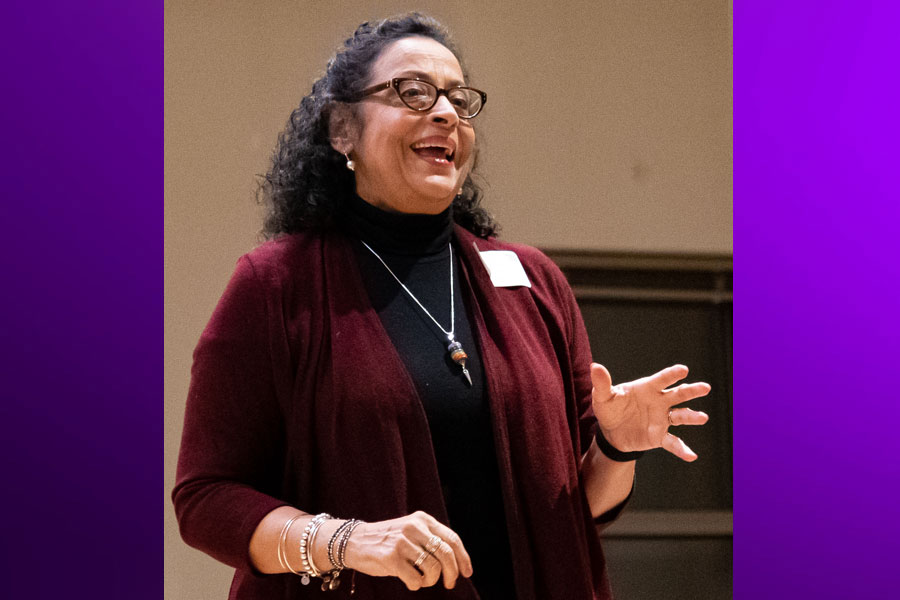 Each new production is an opportunity to grow the creative skills and life skills of more than 100 students who work together to make something wonderful. Some shows open additional doors to educate students and audiences alike about other periods, places and cultures. The new contributors to this creative process, alongside returning team members and our students, are eager to explore and celebrate the culture and people around which this story is based!