"Hard to see the light now—Just don't let it go''
Into The Woods
January 13-16, 2011 • Victoria Theatre - By the time Muse Machine announced its production of Into the Woods to the public, it was already ten years in the making, that's how long the creative team worked to scale up a show traditionally devoid of a chorus to incorporate roughly 100 actors, dancers and musicians. The end product, the first of two Muse shows under the direction of Rufus Bonds Jr., employed the ensemble to create a more lively world for the story's central fairy tale characters to inhabit. At the top of the show, the village the Baker and his Wife called home was abuzz with preparations for the King's festival, and the woods themselves came alive as mysterious spirits aided The Witch with her magic. The ensemble's occasional absence added weight to lonesome points in the second act, and a remarkable senior class carried off those moments as deftly as they did the comedy of act one or the hopeful but melancholy closing number, Children Will Listen.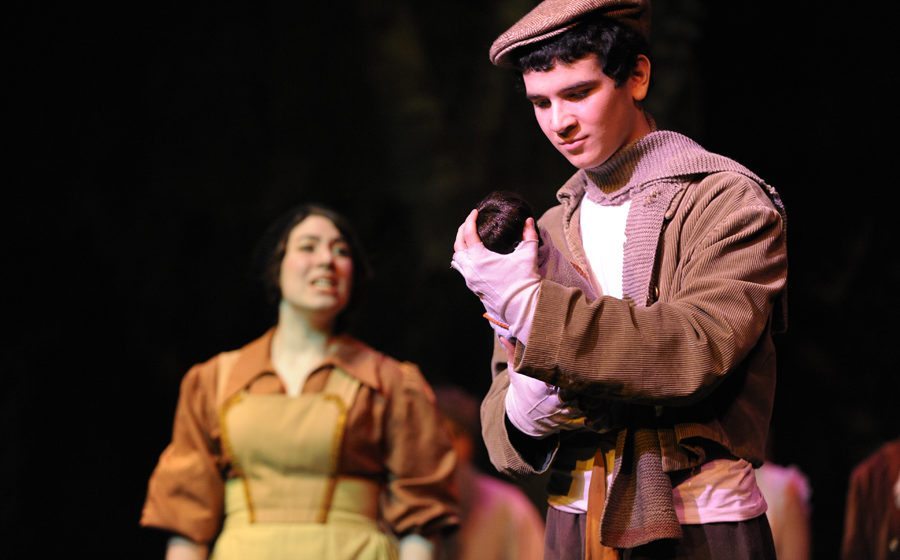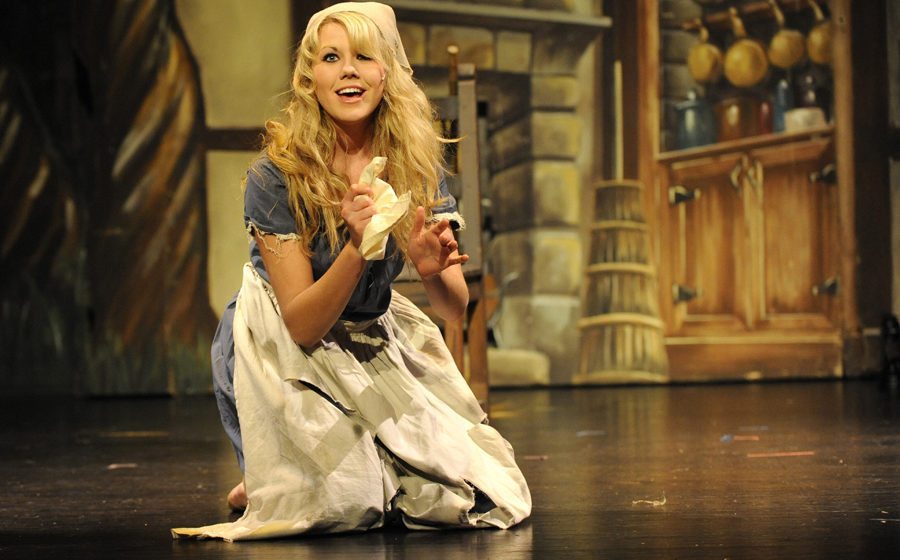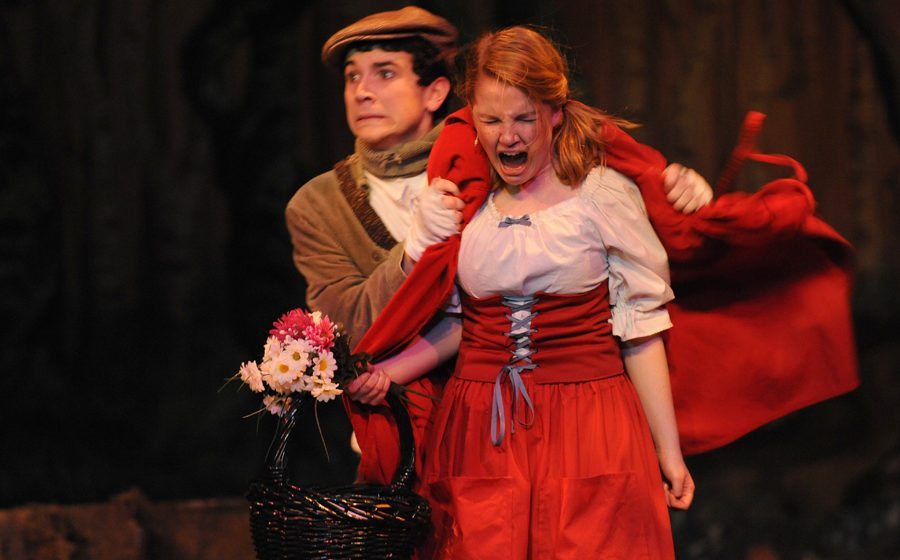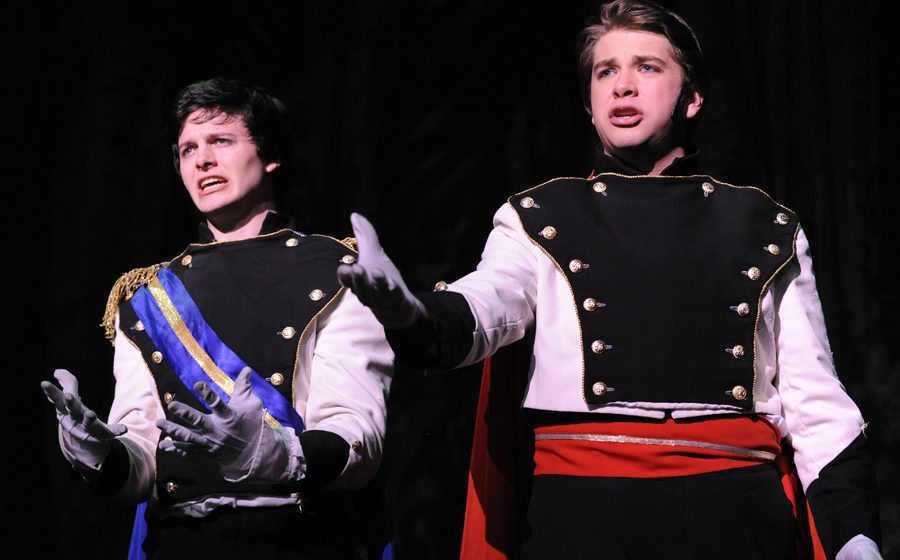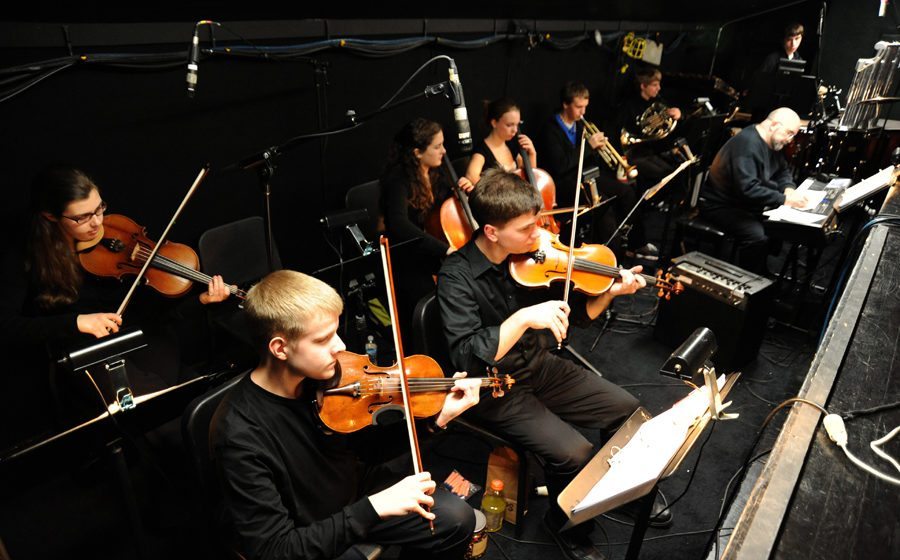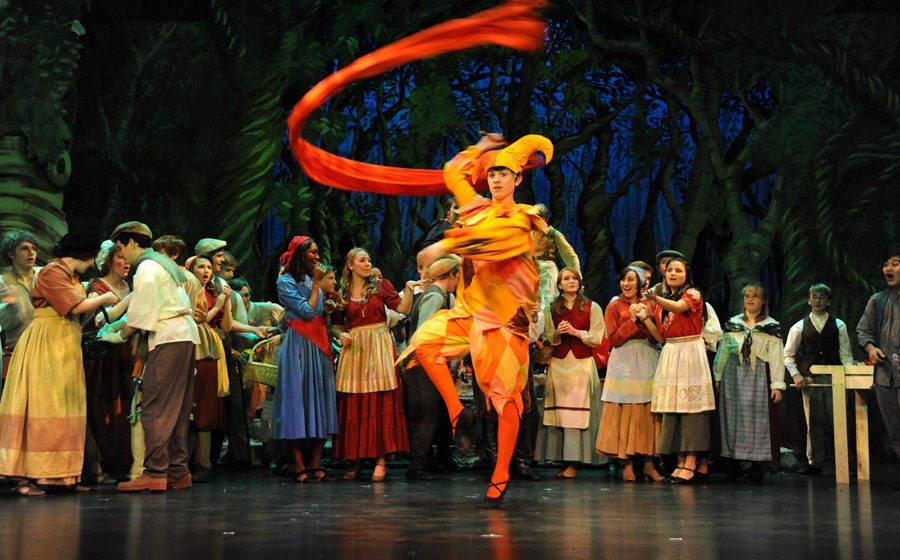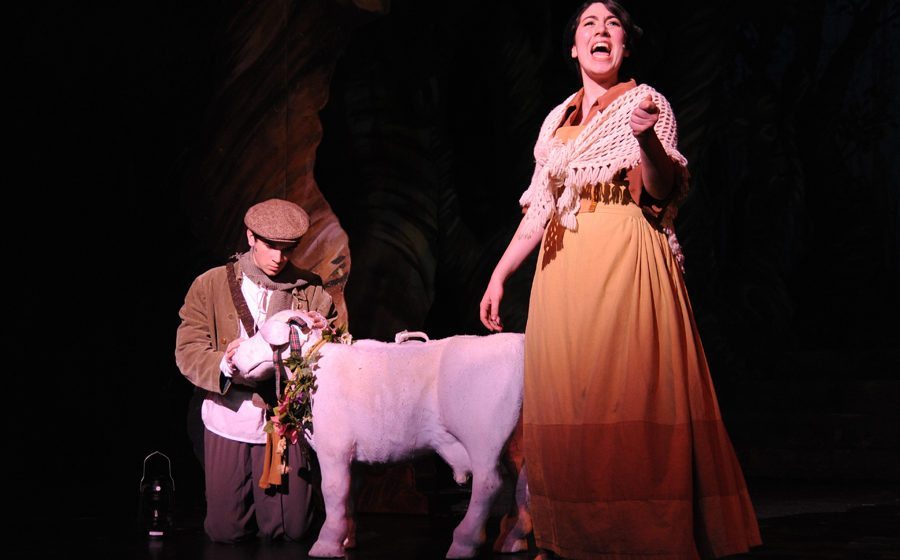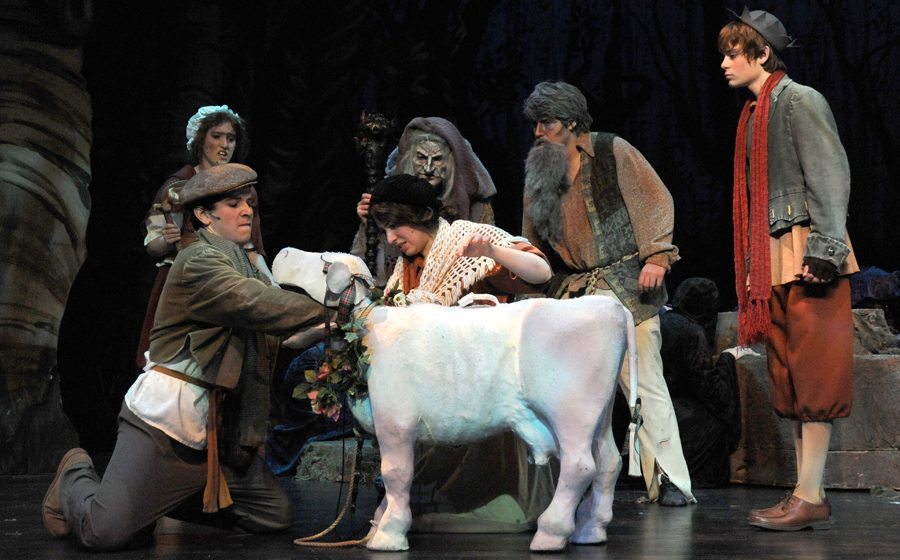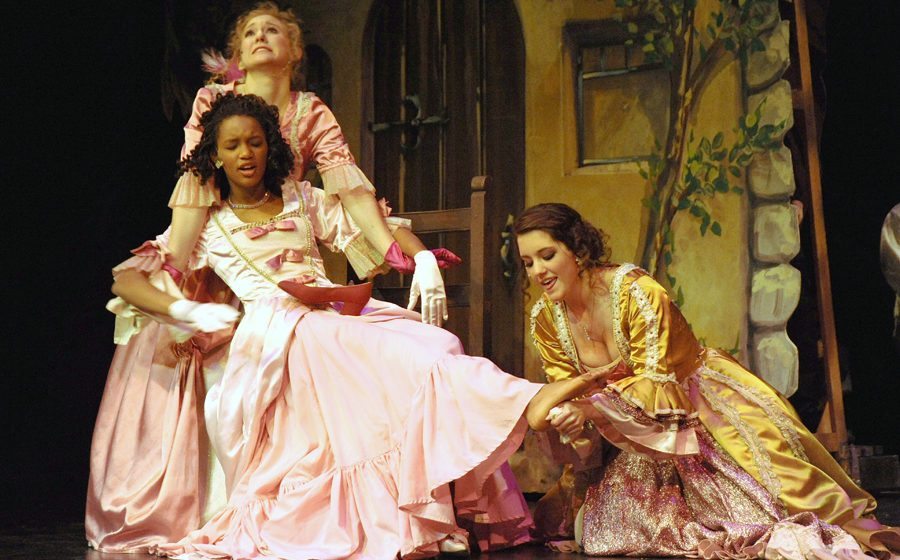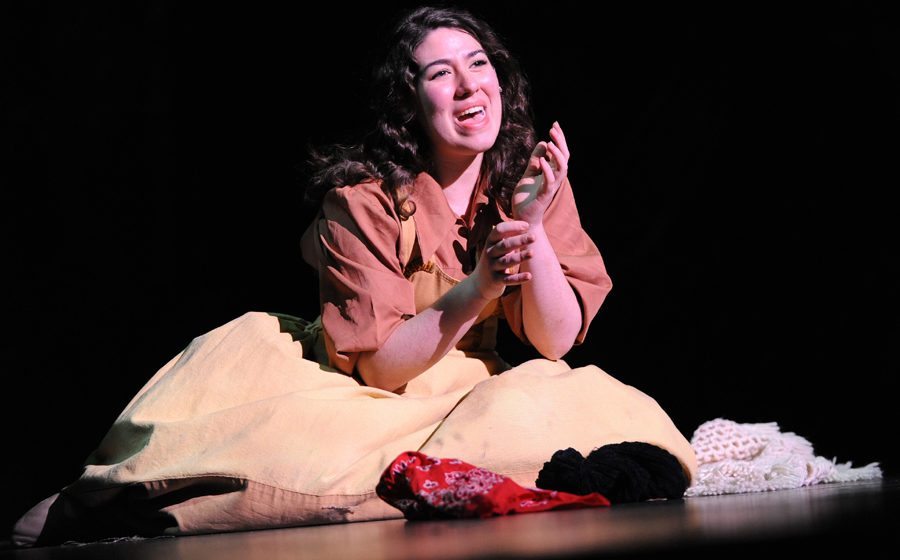 Director Rufus Bonds, Jr.
Director/Music Director David Düsing
Choreographer Lula Elzy
Producer Douglas Merk
Associate Conductor Ann Snyder
Rehearsal Stage Manager Shannon Sellars
Costume Cordinator Amber Harris
Performance Stage Manager Stacie Bigl
Technical Director/Lighting Designer John Rensel
Sound Design/Film Design David Sherman
Rehearsal Accompanist Bryon Dobbs & Ann Snyder
Principal Photography Thom Meyer
CAST
Jester/Town Cryer Daniel Baughn
Pied Piper/Acrobat Michael Pretorius
Old Jester Cameron Elliott
Narrator, age 10 Kyle Bates
Cinderella Bradley Farmer
Jack Davis Sullivan
Baker Micah Trout
Baker's Wife Mary Kate O'Neill
Cinderella's Stepmother Leigha Witt
Florinda Amanda Koslow
Lucinda Kaja Burke-Williams
Jack's Mother Rachel Snyder
Little Red Ridinghood Carly Snyder
Witch Samantha Eastman
Cinderella's Father Brennan Paulin
Cinderella's Mother Kathleen Baudendistel
Mysterious Man Noah Berry
Wolf Ian Benjamin
Rapunzel Madeline Shelton
Rapunzel's Prince Coleman Hemsath
Granny Laura Walters
Cinderella's Prince Trevor Coran
Steward Rob Mitchell
Narrator, age 14 Mitchell Rawlins
Narrator, age 18 Cameron Elliott
Narrator, age 22 Daniel Baughn
Giant Allison Janney
Cinderella's Dancing Prince Cameron Elliott
Snow White Kate Fiala
Rapunzel's Dancing Prince Daniel Baughn
Sleeping Beauty Kimberly Gepfrey
Snow White's Dancing Witch Anastasia Martimyan
Narrator, age 29 Ian Benjamin
ENSEMBLE
Terry Adkins Jr
Kyle Bates
Kathleen Baudendistel
Daniel Baughn
Ian Benjamin
Taylor Benjamin
Noah Berry
Keta Burke-Williams
Monique Cooper
Alyssa Coyle
CJ Destefani
Erin Donnelly
Joanna Draper
Cameron Elliott
Patrick Espy
Daniel Ferguson
Kate Fiala
Rollie Fisk
Ellen Geiselman
Kimberly Gepfrey
Michael Greene
Caroline Grogan
Odette Gutierrez del Arroyo
Benjamin Harshbarger
ENSEMBLE (CONTINUED)
Coleman Hemsath
Steven Hix
Travis Johnson
Sydney Jones
Hannah Konicki
Evan LaChance
Beatrice Lovett
Nicholas Lynch-Voris
Jonathan Lynn
Anastasia Martimyan
Taylor Martin
Jackie Mulay
John Neff
Katie O'Leary
Hayley Penchoff
Evan Powell
Michael Pretorius
Mitchell Rawlins
Brooke Robinson
Madeline Shelton
Zoe Singleton
Kennedy Smith
Philip Stock
Callia Tellez
Rachel Tepe
Anne-Marie Trabolsi
Peter Veley
Milan Vukasinovich
Nikoli Vukasinovich
Laura Walters
Grant Warden
Anne Weigand
Natalie Wilson
Greta Wolking
Molly Woodhull
ORCHESTRA
Erin August
Nicholas Ballester
Sara Bechtel
David Berger
Ryan Betts
Christina Condon
Peter Crim
Bryon Dobbs
Hannah Duckro
Kylen Franz
Michael Greene, Jr.
Bradey Hangen
Erica Harvey
Cory Kleiser
Liana Kong
Amy Malone
Katie Williams
Matthew Quinn
Sara Sutton
Michael Thomsen
Elizabeth Wareham
Grant Wareham
PRODUCTION ASSITANTS
Jennifer Berkey
Lucas Brown
Libbi Burgan,
John-Paul Hill-Spann
Bradley Krauskopf
Lorin Murray
Kelsea Peck
Daniel Rader
Natalie Schmidt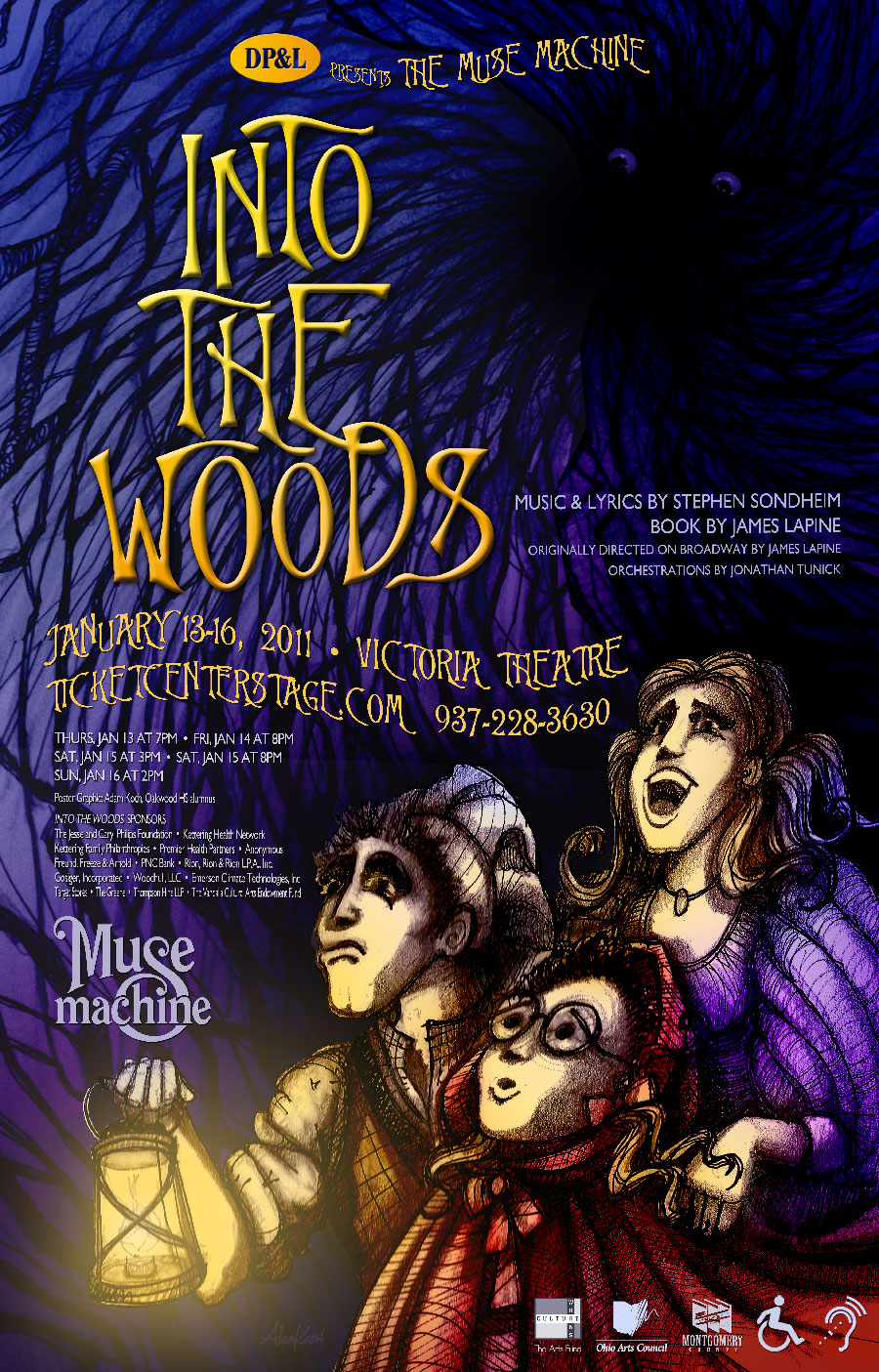 This production was dedicated to Dr. Kent and Wendy Scholl.
Promotional artwork designed by Adam Koch.

2 News TV Spot
Provide Add'l Photos Or Correct Errors