"We'll have love, laughter, be happy ever after''
Me And My Girl
January 8-11, 2009 • Victoria Theatre - For over 18 years, the legendary Nat Horne lent Muse Machine students his expertise and wisdom from a lifetime on stage as their director. For his final show with Muse, the cast revisited the 1930s for the second of two productions of Me And My Girl. After months of searching, the creative team managed to track down the same set Muse used when it first produced the show twelve years prior—complete with a rotating two-story British country manor and an automobile which the home's weekend guests assembled from their luggage in the opening number. The bad news: it had been lying dormant outdoors in California for five years. The good news: thanks to the balmy west coast weather and a few tarps, it was in miraculously good shape. So back Muse Machine went for another weekend at Hareford, sending off the great Nat Horne with one last Lambeth Walk.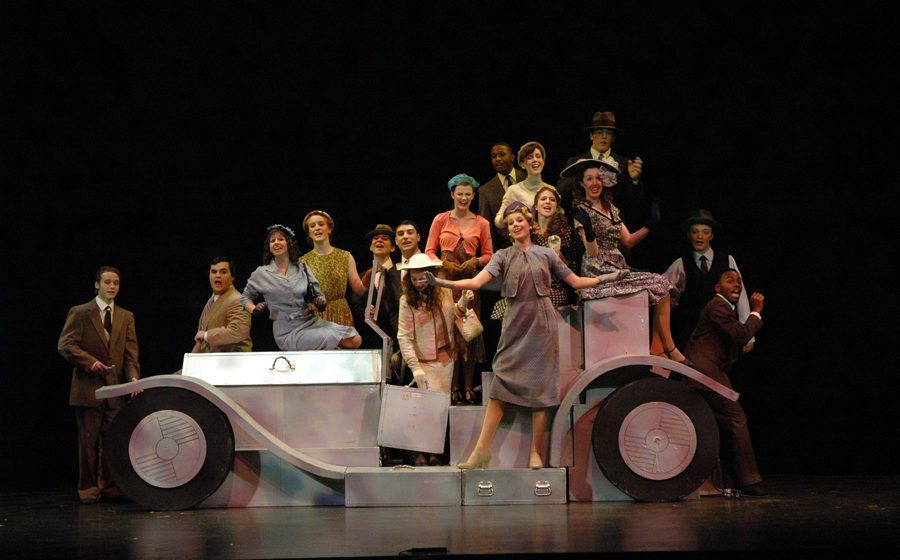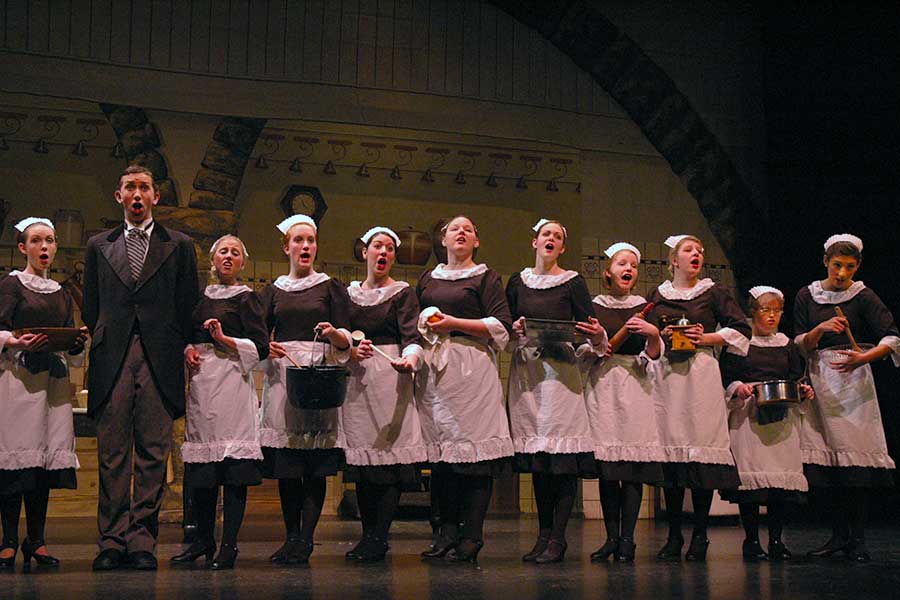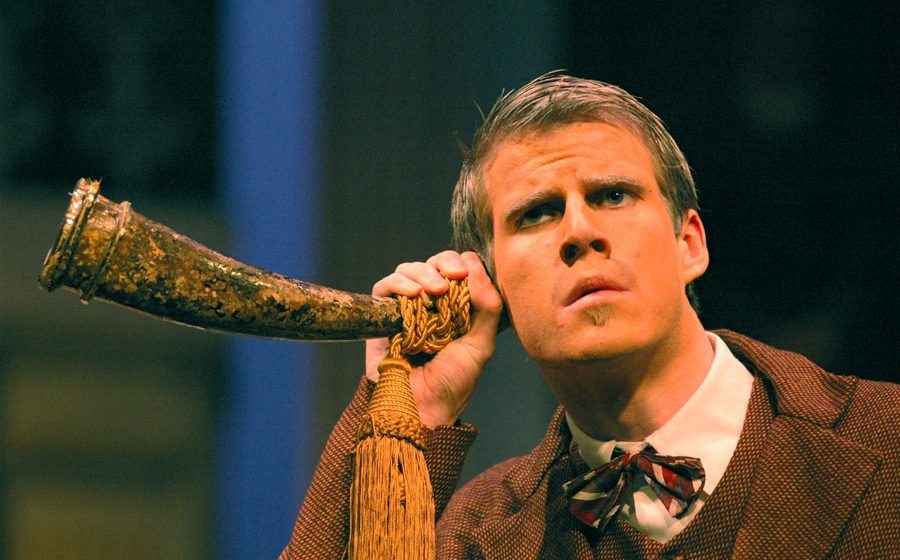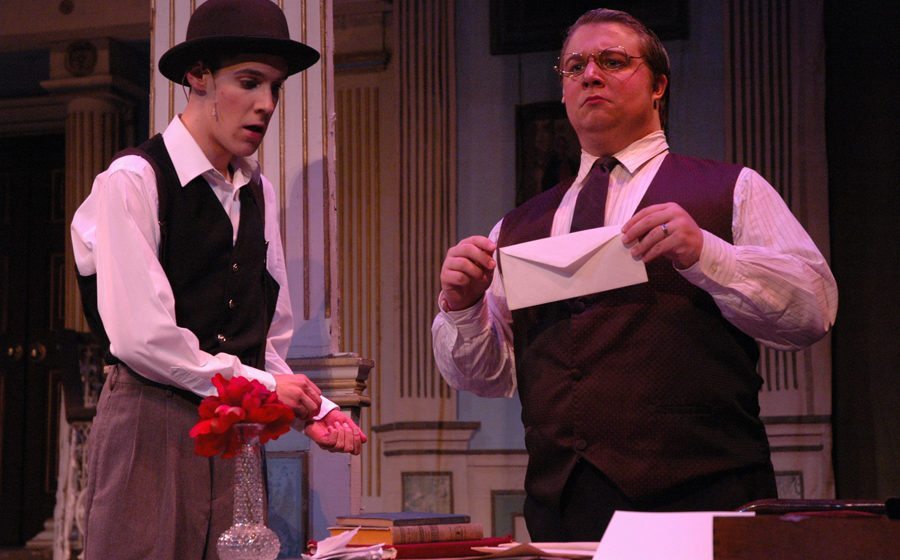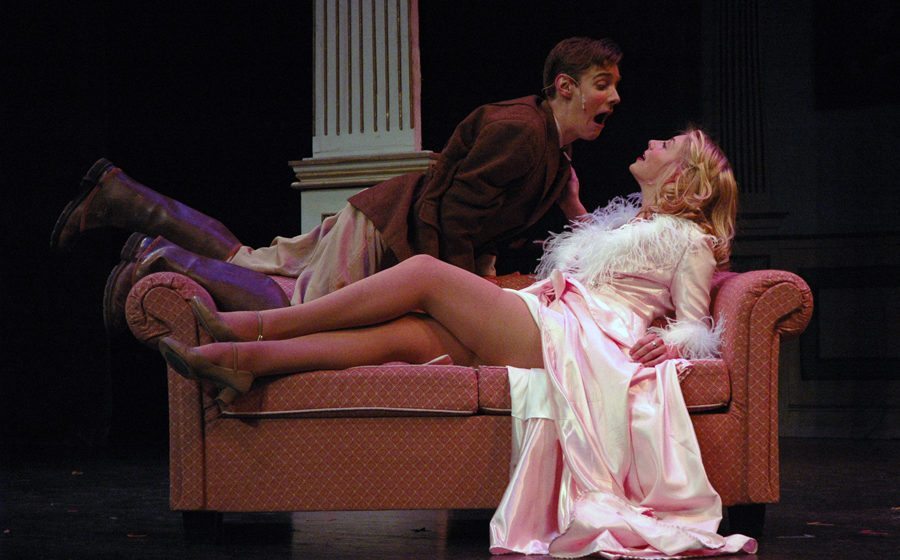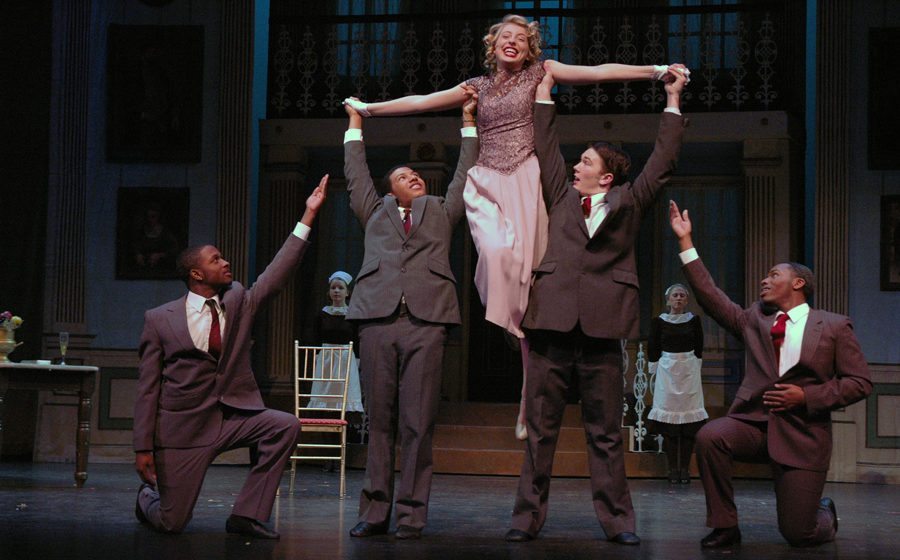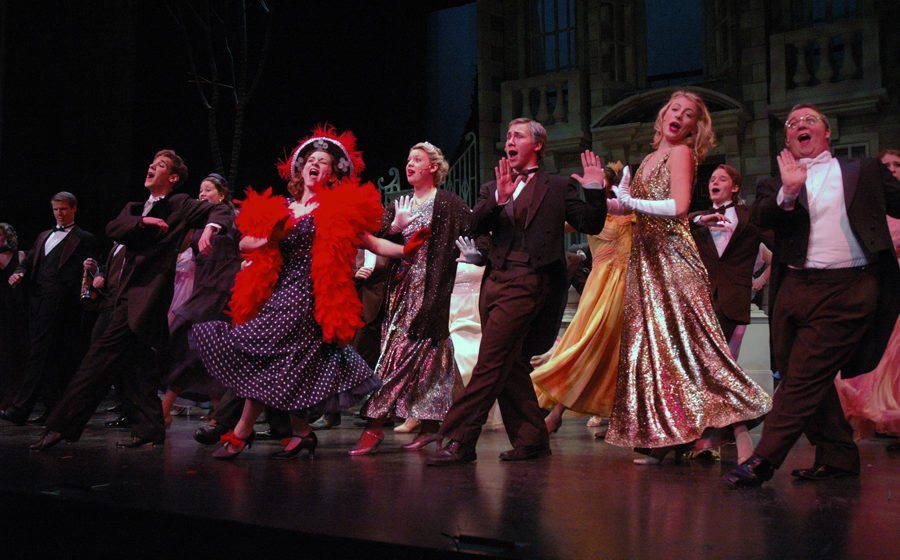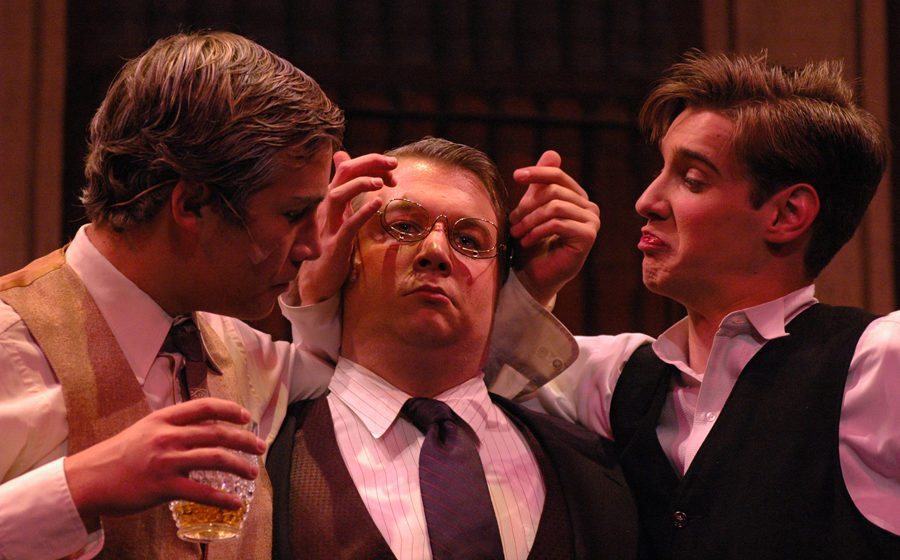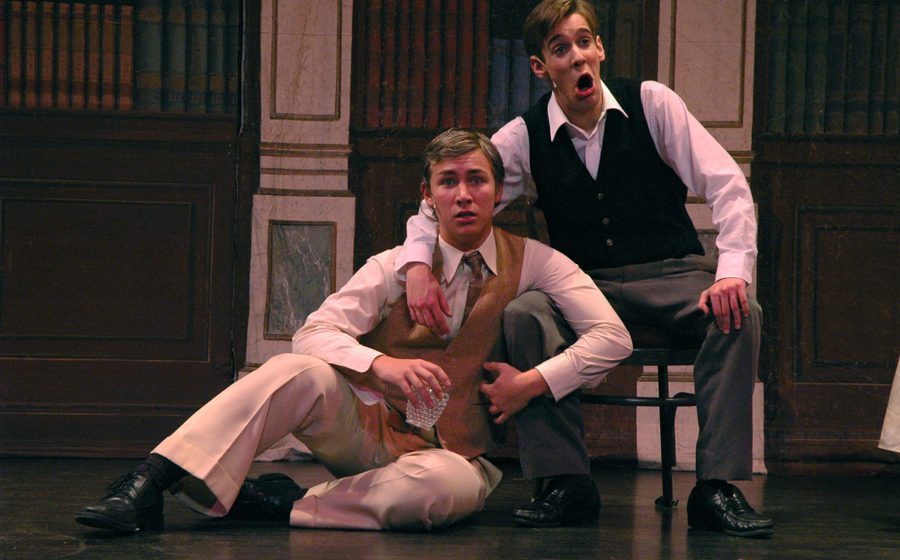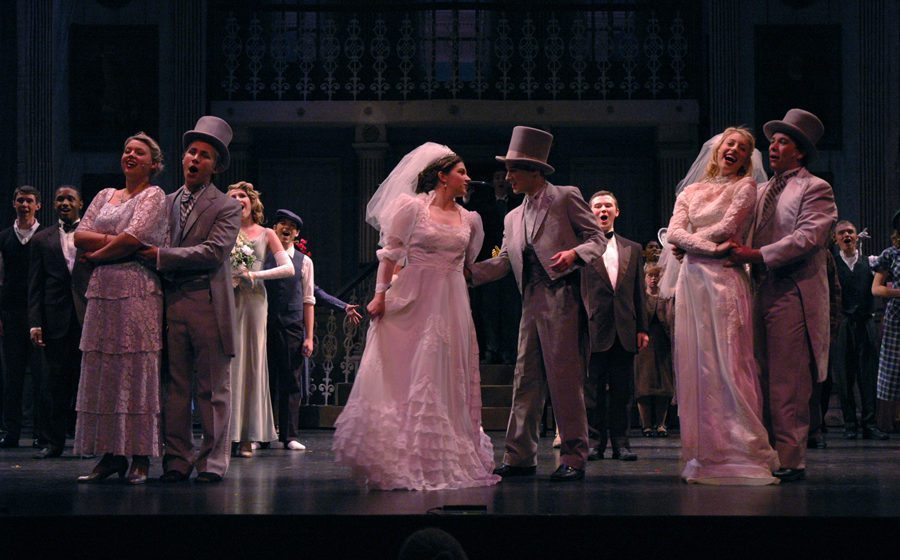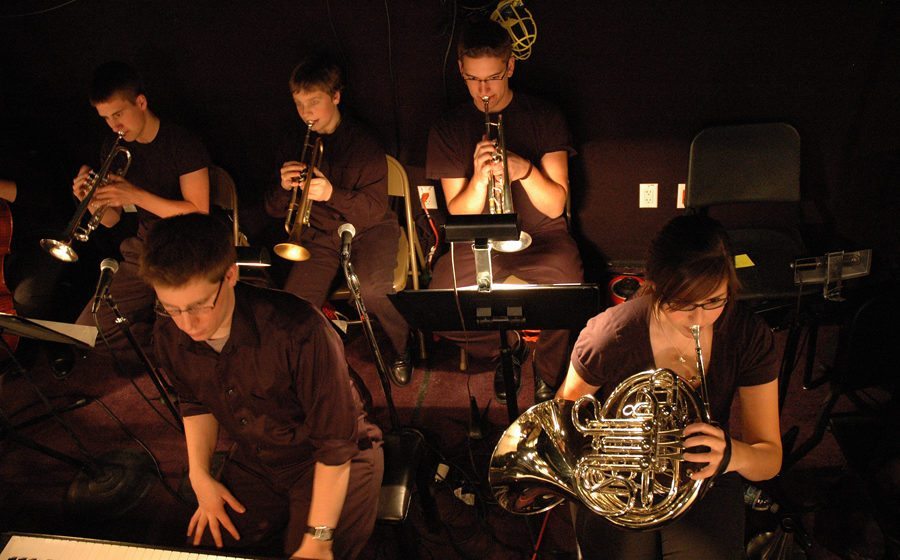 Director/Choreographer Nat Horne
Co-Director/Music Director David Düsing
Producer Douglas Merk
Assistant Director/Associate Choreographer Lula Elzy
Rehearsal Stage Manager Shannon Sellars
Costume Coordinator Amber Harris
Tap Choreographer Lea Glass
Performance Stage Manager Stacy Bigl
Technical Director/Lighting Designer John Rensel
Rehearsal Accompanists Andrew Pester, Danielle Snyder
Principal Photography Thom Meyer
CAST
Lady Jaqueline Carstone Kendall Young
Gerald Bolingbroke Coleman Hemsath
Lord Frederick Battersby Jacob Brown
Lady Clara Battersby Grace Olmsted
Herbert Parchester Tommy Skelton
Sir Jasper Tring Kyle Himsworth
Maria, Duchess of Dene Annabeth Kane
Sir John Tremayne Jordan Knecht
Charles Hethersett Bryan Burckle
Bill Snibson Tyler Rife
Sally Smith Abby Brown
Major Domo Trevor Coran
Pub Pianist Danielle Snyder
On-Stage Violinist May Miles, Bradley Farmer
Mrs. Worthington-Worthington Katie Mauch
Lady Diss Rebecca Ruttle
Lady Brighton Rachel Stock
Simon de Hareford Trevor Coran
Thomas de Hareford Jay Richardson
Richard de Hareford Sterling Faust
Telegraph Boy Patrick Espy
Mrs. Anastasia Brown Rachel Snyder
Bob Barking Josh Marks
Lambeth Girl Mackenzie Whitworth
Constable Jamison Meyer
STOCKBROKERS
Sterling Faust
Darius Fincher
Zach King
Jay Richardson
ENSEMBLE
Daniel Baughn
Kelli Baughn
Nicholas Boyer
Chelsea Bolger
Steven Brotherton
Jacob Brown
Keta Burke-Williams
Damon Condon
Trevor Coran
Joanna Draper
Mitchell Duperee
Cameron Elliott
Patrick Espy
Sterling Faust
Bradley Farmer
Kate Fiala
Darius Fincher
Lisa Glover
Korey Harlow
Brandon Kennedy
Zach King
Mimi Klipstine-Dick
Amanda Koslow
Kellen Loyle
Jonathan Lynn
Josh Marks
ENSEMBLE (CONTINUED)
Katie Mauch
Jamison Meyer
Rob Mitchell
Nora Murphy
Mary Kate O'Neill
Brennan Paulin
Jon Payne
Madison Reger
Jay Richardson
Samantha Rucker
Maranda Rossi
Rebecca Ruttle
Carly Snyder
Rachel Snyder
Rachel Stock
David Stone
Blake Stuerman
Brianna Sullivan
Rachel Tepe
Molly Troller
Micah Trout
Mackenzie Whitworth
Leigha Witt
Molly Woodhull
ORCHESTRA
Benjamin Anderson
Brandon Blankenship
Christina Condon
Benjamin Crim
Peter Crim
Brent Eresman
Kylen Franz
Michael Fu
Josh Halpern
Phillip Hangen
Caleb Herrmann
Cheryl Hoag
Clara Holfeldt
Cory Kleiser
Caleb Lamb
Stephanie Llacuna
Amy Malone
Ellen Milligan
Andrew Pester
Christian Schlorman
Danielle Snyder
Sara Sutton
Michael Thomsen
Elizabeth Warehan
Kevin Waters
Chuck Young
Benjamin Valley
Matthew Quinn
PRODUCTION ASSISTANTS
Lucas Brown
Libbi Burgan
Stephen Davis
Lucas Hall
Cameron Imbrogno
Bradley Krauskopf
Michele Lynch
Lindsay McWilliams
Abby Rapp
Michael Wagner
Krista Weltner
Lauren White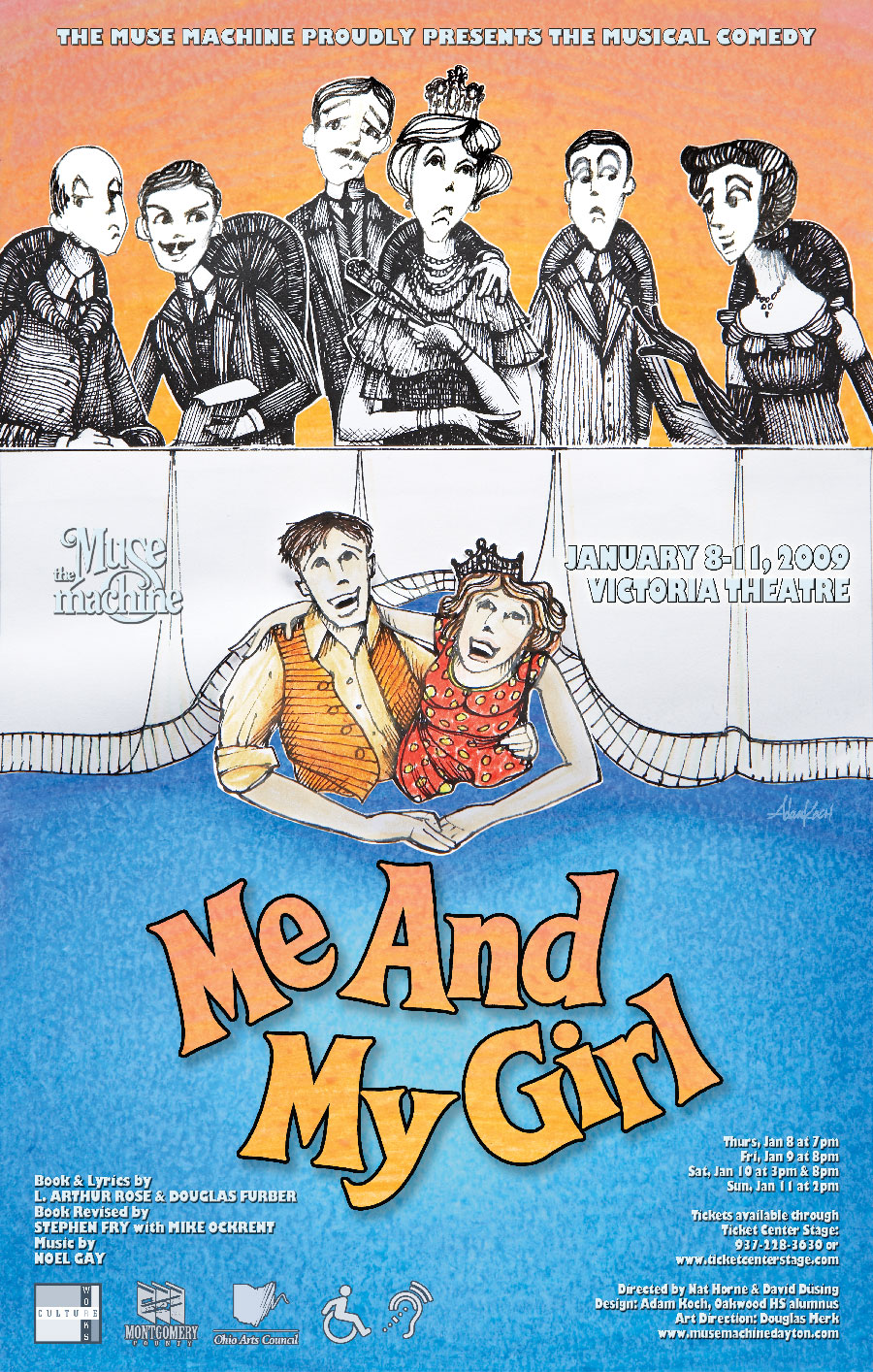 Promotional artwork designed by Adam Koch.
This production was dedicated to Jackie Lockwood.
Provide Add'l Photos Or Correct Errors