"A mose is a mose! A rose is a rose! A toes is a toes! Hooptie doodie doodle!''
Singin' In The Rain
January 14-17, 2010 • Victoria Theatre - Producing the iconic movie musical often billed as the greatest of all time on stage, especially when its most beloved scene occurs in the midst of a downpour, is challenging to say the least. Fortunately, for a Muse cast and creative team, no challenge is too large. Classic songs like Broadway Rhythm and Beautiful Girl played to Muse Machine's knack for boisterous chorus numbers, Moses Supposes included a small army of tap-dancing diction coaches, and when the title track rolled around at the end of the first act, the rain came. Muse's Don Lockwood (and a few passersby) got just as soaked as Gene Kelly did all those years ago. A few lucky patrons in the first row might have, too.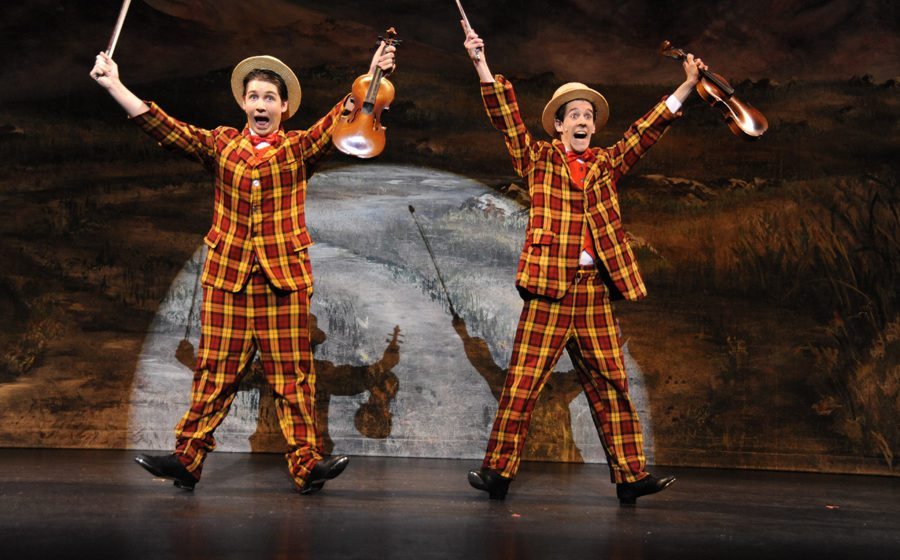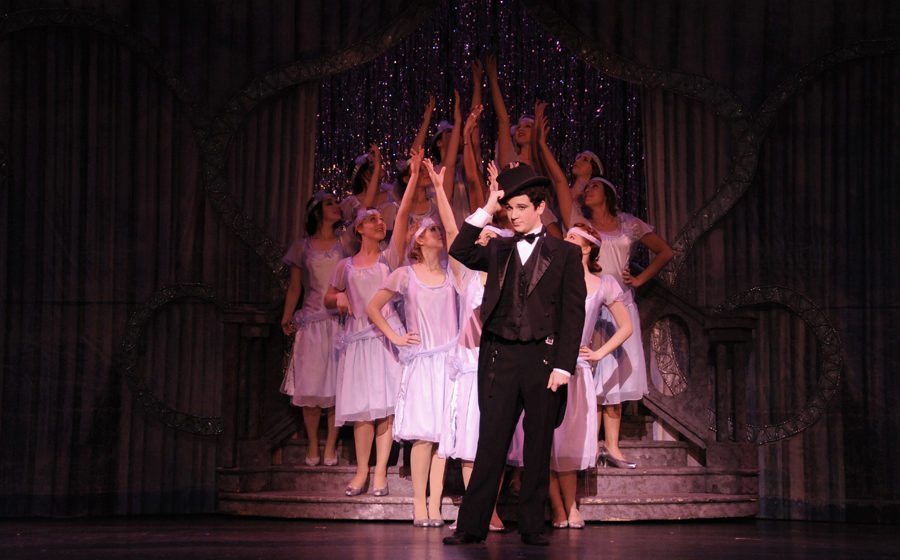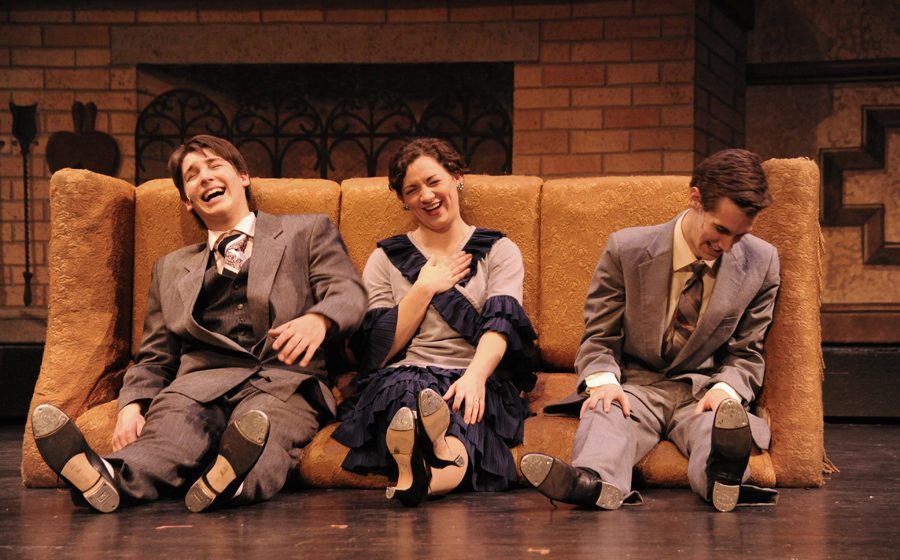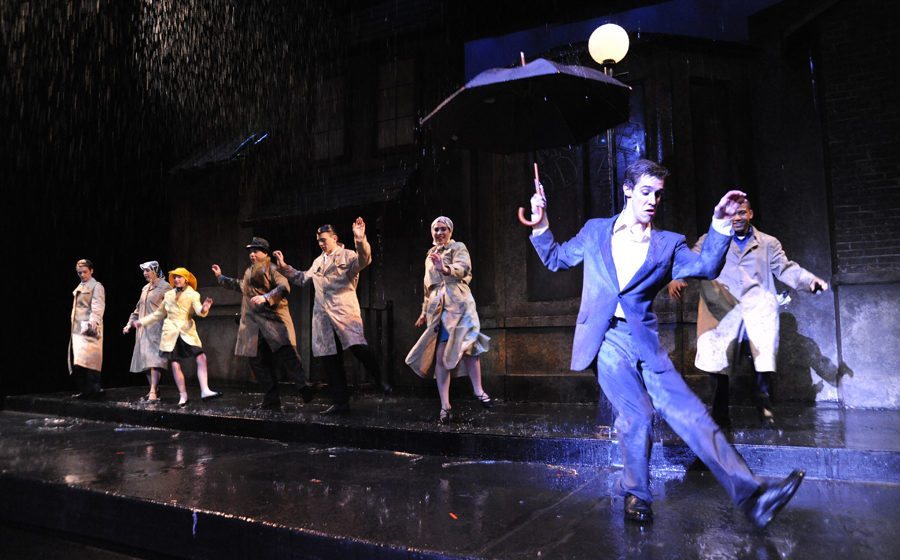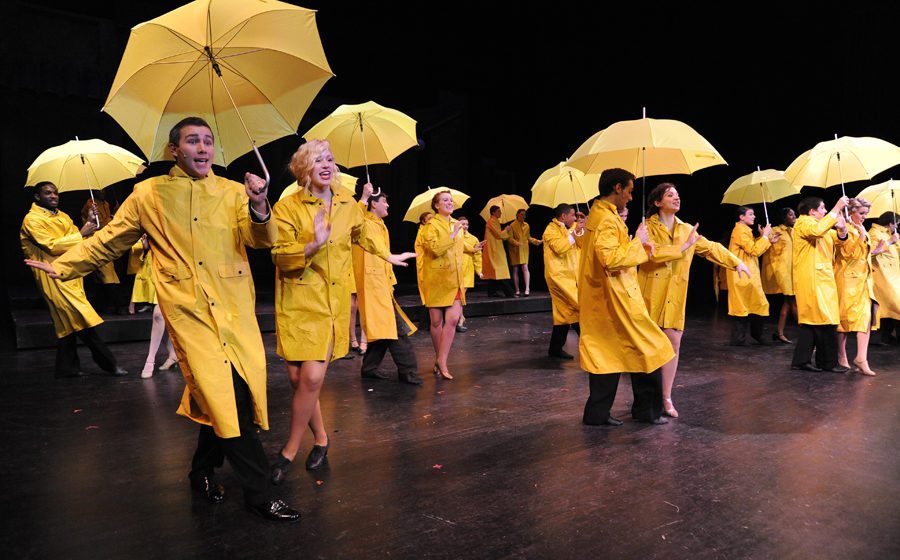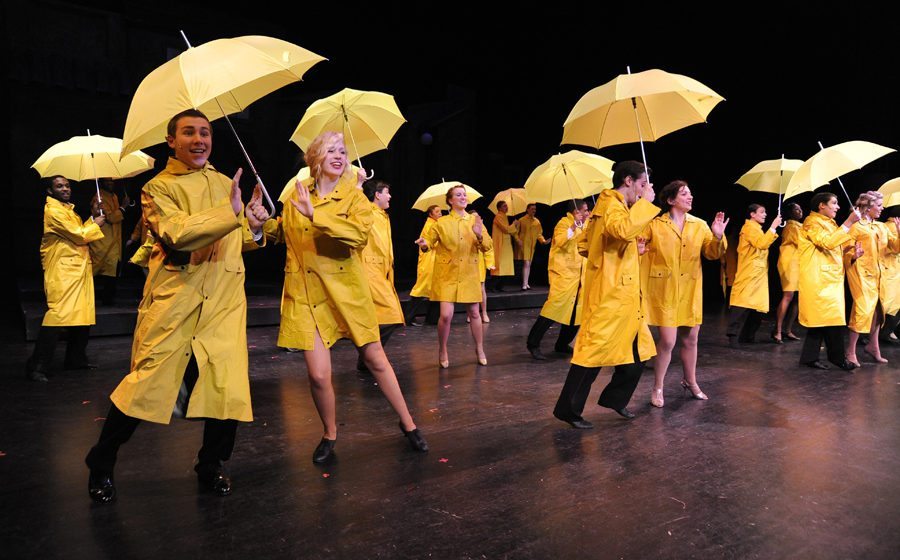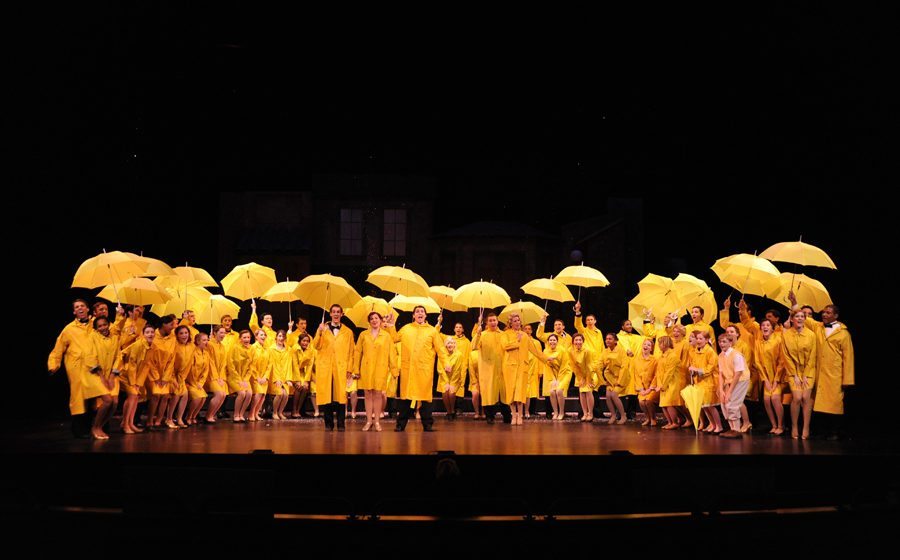 Director/Music Director David Düsing
Choreographer Lula Elzy
Producer Douglas Merk
Rehearsal Stage Manager Shannon Sellars
Costume Coordinator Amber Harris
Performance Stage Manager Stacy Bigl
Videographer/Editor David Sherman
Technical Director/Lighting Designer John Rensel
Rehearsal Accompanists Danielle Snyder, Bryon Dobbs, Ann Snyder
CAST
Dora Mimi Klipstine-Dick
Zelda Hayley Penchoff
R.F. Simpson Jordan Knecht
Roscoe Dexter Trevor Coran
Cosmo Brown Noah Berry
Lina Lamont Bradley Farmer
Don Lockwood Tyler Rife
Young Don CJ Destefani
Young Cosmo Kyle Bates
Bartender Nicholas Baldesare
Exotic Dancer Lauren Scott
Clowns Bryan Burckle, Andy Fairbanks
Silent Film Henchmen Sterling Faust, Darius Fincher, Evan LaChance
Gaspard de la Nuit (Silent Film Villain) Arber Troni
Professorial Man Brennan Paulin
Lady in Waiting Odette Gutierrez del Arroyo
Rod Rob Mitchell
Kathy Seldon Abby Brown
Policeman Shaun O'Neill
Sam the Butler Bryan Burckle
Director's Assistants Korey Harlow, Evan LaChance, Brennan Paulin
Wardrobe Mistress Rachel Snyder
Hairdresser Keta Burke-Williams
Tenor ("Beautiful Girl") Micah Trout
Sid Phillips Shaun O'Neill
Miss Dinsmore (Diction Coach) MaryKate O'Neill
Mr. Augustus (Diction Coach) Coleman Hemsath
Sound Engineer Micah Trout
Film Voice of Lady in Waiting Kendall Young
Dueling Cavalier Villain Patrick Espy
ENSEMBLE
Nicholas Baldasare
Kyle Bates
Kathleen Baudendistel
Daniel Baughn
Noah Berry
Chelsea Bolger
Breann Bourelle
Abby Brown
Bryan Burckle
Kaja Burke-Williams
Keta Burke-Williams
Damon Condon
Trevor Coran
Alyssa Coyle
CJ Destefani
Erin Donnelly
Samantha Eastman
Cameron Elliot
Patrick Espy
Andy Fairbanks
Bradley Farmer
Amanda Farrow
Sterling Faust
Kate Fiala
Darius Fincher
Odette Gutierrez del Arroyo
Korey Harlow
Coleman Hemsath
Kenesha Hunter
ENSEMBLE (CONTINUED)
Shayla James
Brandon Kennedy
Hyun-Ji Kim
Mimi Klipstine Dick
Jordan Knecht
Amanda Koslow
Evan LaChance
Nicholas Lynch-Voris
Marley Masterson
Rob Mitchell
John Neff
MaryKate O'Neill
Shaun O'Neill
Brennan Paulin
Hayley Penchoff
Dallas Pritt
Madison Reger
Tyler Rife
Brooke Robinson
Lauren Scott
Madeline Shelton
Carly Snyder
Rachel Snyder
Davis Sullivan
Rachel Tepe
Arber Troni
Micah Trout
Leigha Witt
Molly Woodhull
ORCHESTRA
Benjamin Anderson
Nicholas Ballester
Crystal Cichanowicz
Christina Condon
Peter Crim
Nia Joi Dewberry
Kylen Franz
Josh Halpern
Bradey Hangen
Clara Holfeldt
Sara Kasten
Amy Kasten
Cory Kleiser
Amy Malone
Ellen Milligan
Jaclyn Moorman
Matthew Quinn
Christian Schlorman
Danielle Snyder
Michael Stipich
Corrinne Sullivan
Michael Thomsen
Benjamin Valley
Elizabeth Wareham
Kevin Waters
PRODUCTION ASSISTANTS
Jessica Barton
Jennifer Berkey
Anna Brown
Lucas Brown
Libbi Burgan
Naomi Crowder
Bresean Davidson
Nathan Denton
Bradley Krauskopf
Lorin Murray
Katie O'Leary
Abby Rapp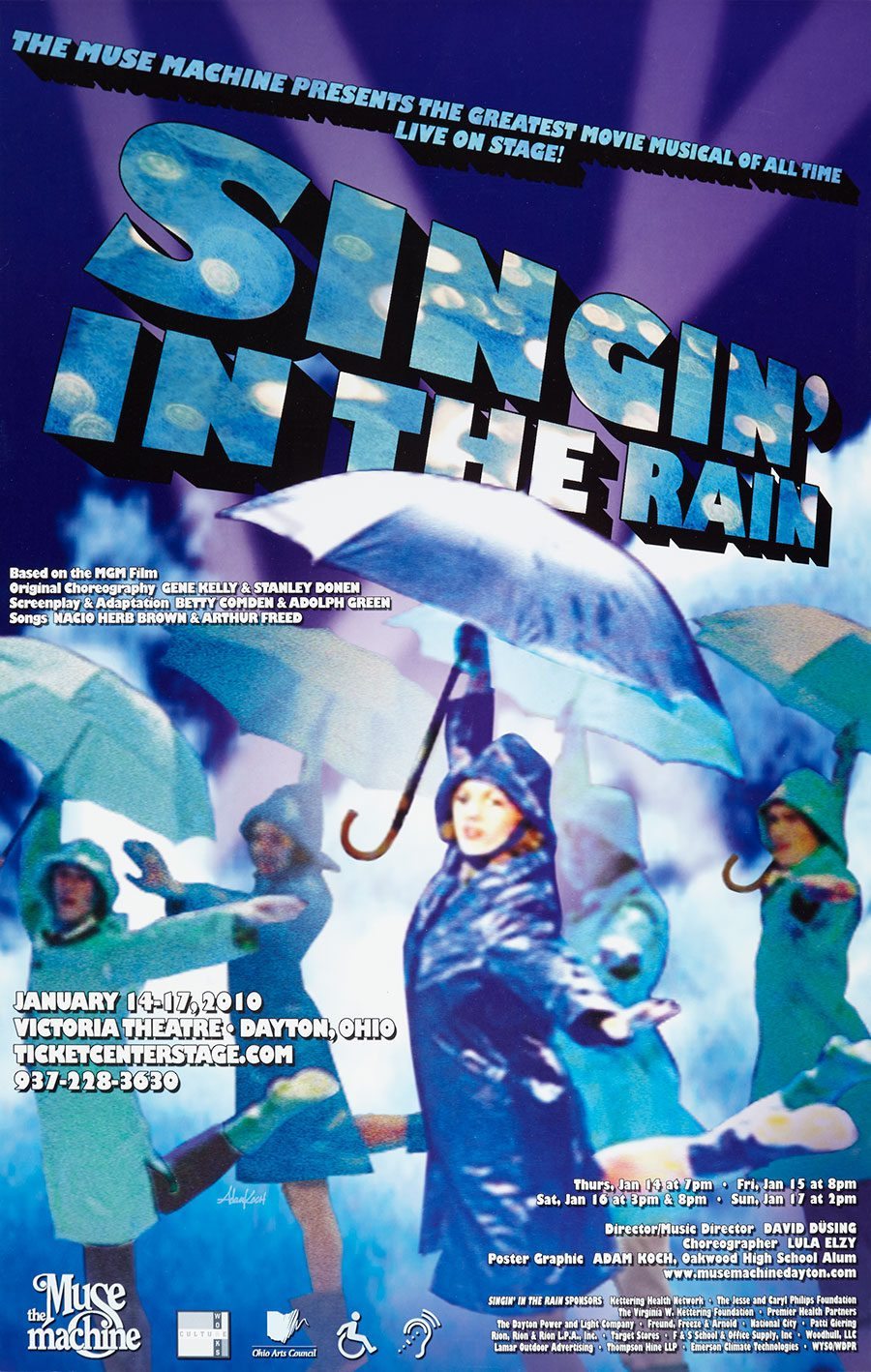 This production was dedicated to Nat Horne.
Promotional artwork designed by Adam Koch.
2 News TV Spot 
2 News TV Spot – Singin In The Rain
Provide Add'l Photos Or Correct Errors